Ultimate Carrot Cake with Carrot Cake Jam Filling made with a luscious nut free carrot cake with pineapple, cream cheese frosting and the most amazing Carrot Cake Jam.
We love our Classic Carrot Cake covered with Cream Cheese Frosting but this recipe takes that recipe to a whole new level with the introduction of the best jam you will ever eat.
 Ultimate Carrot Cake
Luscious (nut free) carrot cake made with pineapple and filled with homemade Carrot Cake Jam (this may be the best thing I've ever put on toast) and cream cheese frosting. Instructions included for making extra layers too. This is the ultimate in carrot cakes and a perfect holiday dessert!
This Carrot Cake is hands down the best, most amazing, ultimate carrot cake. Yes, I know, I am biased. But here's the thing, I am a pretty by the book person and I give you all the classics. So when I gave you all the classic Carrot Cake recipe a month ago I meant it. That recipe is a perfect classic Carrot Cake.
This recipe? This recipe is like the Carrot Cake you bake for someone but don't want to give it to them after it is done baking. You want to keep it for yourself because you tasted the crumbs, you tasted the jam and now it's like you've turned into Joey from Friends and you don't share food anymore.
It is that good. It does require a bit more work than the classic version though, so lets dive in.
How many layers for the perfect Carrot Cake:
This recipe as written will make a double layer cake. I used three 10″ cake pans because I made a double recipe for my husband's office. When making a single recipe you can fit it into two 8 or 9″ cake pans quite easily.
I love my stand mixer but you really don't need it for this cake recipe, save the extra wash and just use it for your frosting. Add to your pans and bake at 350 degrees for 30-35 minutes until the cake springs back when touched. Let the cakes cool completely.
Is the buttermilk necessary for this Carrot Cake?
Yes, there is a very unique mix of ingredients going into this recipe to create a balance of flavors.
Buttermilk and cream cheese frosting are both adding tangy flavors that help to even out the flavors of sweetness in the cake while pineapple helps to cut some of the sweetness with acidity. Buttermilk also creates a chemical reaction in the baking proces
s that aids in creating the moist and tender texture of the cake.
All of them are balanced intentionally, so any substitutions here would throw the flavors off balance.
If you want to edit the ingredients please try it as written the first time. The only substitute I'd make is listed next.
CAN I SUBSTITUTE APPLESAUCE FOR OIL IN THIS CARROT CAKE RECIPE?
Yes applesauce can be used in place of the vegetable oil, but it will impact the texture of the cake. This is also true if you use half applesauce and half oil. The oil works to keep the crumb moist and tender and while applesauce does it to a degree, it will still create a drier cake.
How to Frost a layer Cake with Jam Filling:
This cake requires a bit more attention with the frosting. Since we are adding a jam filling to the middle you want to be sure you don't ooze the jam out of the sides of the cake. To do this I pipe a circle of frosting around the perimeter of the layer to hold in the jam.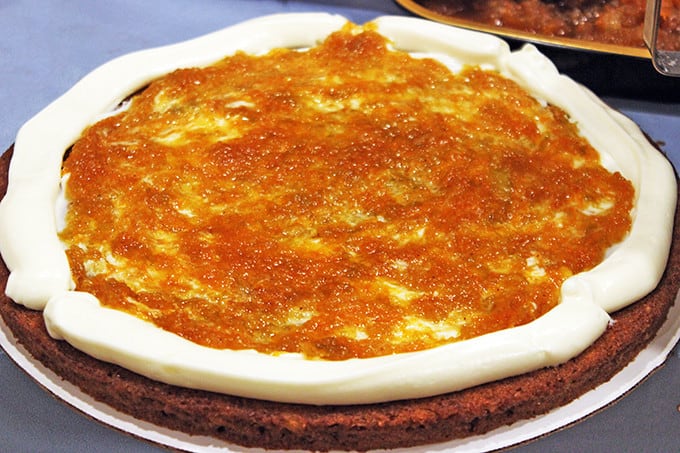 This means none of the jam comes spilling out of the sides of the cake.
In the style of a German Chocolate Cake we actually use the last third of the Carrot Cake Jam to decorate the top of the cake too. It looks beautiful and festive too because the color of the jam is a gorgeous orange.

Create a free account to

Save Recipes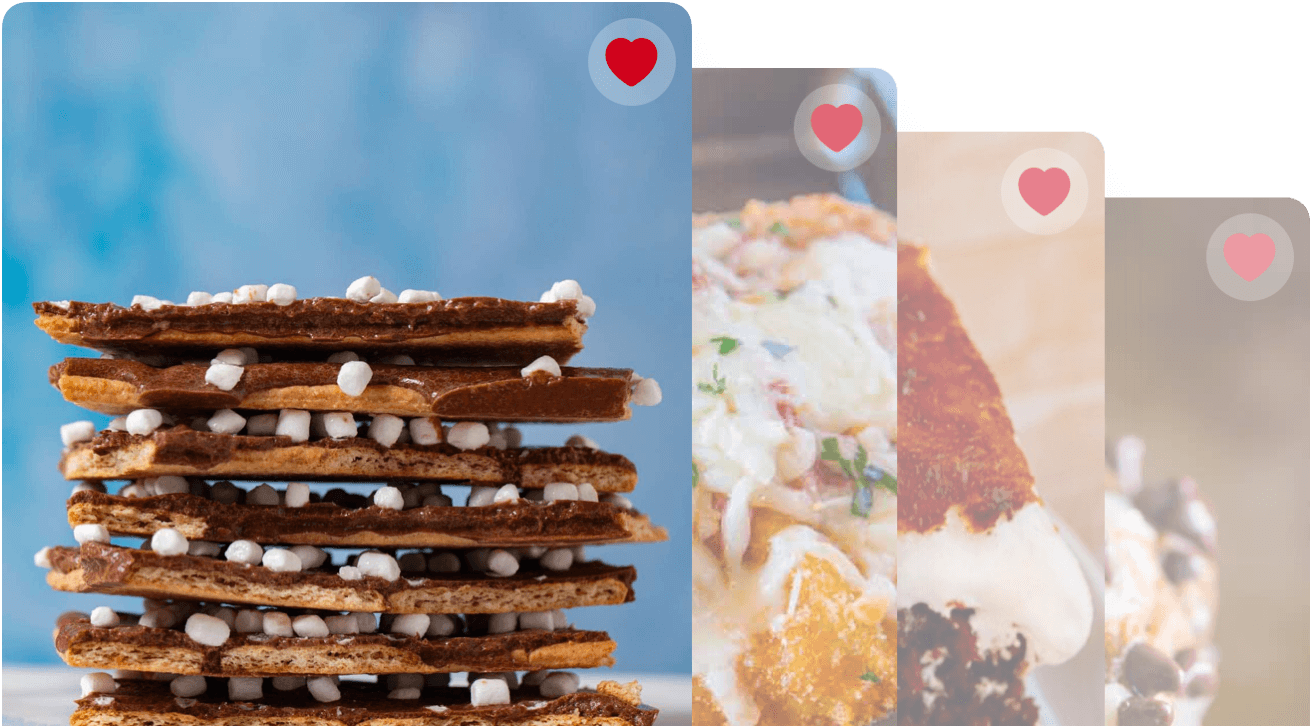 How to make this a three or four layer cake:
If you would like to make this into a four layer cake, double the frosting recipe.
Slice each baked layer into two.
Add the same amount of carrot cake jam to each layer as before, and frost like normal.
If you'd like this to serve a larger crowd you can also double the cake recipe and bake this in 3 10″ cake pans and bake them for 35-40 minutes. You should still double the frosting and the carrot cake jam. This could also become a six layer cake, but then you would require even more frosting.
TIPS FOR MAKING THIS CARROT CAKE RECIPE
Add a cup of raisins to this carrot cake recipe for extra sweetness. For this cake I'd recommend golden raisins.
You can make this recipe in cupcake tins, core out the center, fill with the carrot cake jam then pipe the tops with the cream cheese frosting. Just keep a little cap of the cupcake you cored out to cover the top of the jam.
Toasted Coconut flakes would make a great decorative touch to the top of the cake.
Sifting dry ingredients is essential to the lightness of the cake, please don't skip this step.
Many people use a food processor or a box grater to grate their carrots. If you use a handheld fine cheese grater to do it you'll get a finer texture which allows the carrots to all but melt into your cake and it makes the cake even moister.
Make this cake in a bundt pan, then slice the bundt pan in half, make a small well to put the jam in, put the top half back on and frost the top.
As a general rule, you want to bring cakes to room temperature before serving, or they may be mistaken for stale when they're actually just cold.
If you're making this for someone with an allergy, substitute the 3 large eggs with 1 1/2 mashed bananas, or 1/2 cup applesauce.
Because you're using cream cheese in the frosting, please do not leave this cake out overnight, the cream cheese needs to be refrigerated.
Other decorative ideas: nuts, whipped cream, caramel sauce, buttercream (as shown above), pineapple bits, crumbled cake pieces you may have trimmed to level your cake.
MORE CAKE RECIPES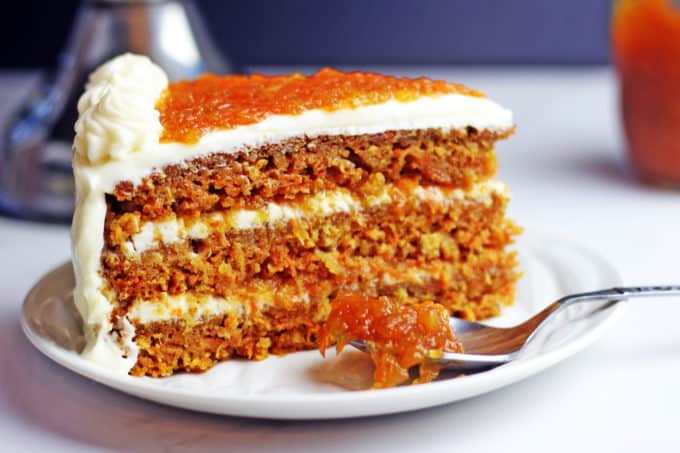 Ultimate Carrot Cake
Luscious (nut free) carrot cake made with pineapple and filled with homemade carrot cake jam and cream cheese frosting.
Total Time
1
hour
35
minutes
Ingredients
Instructions
Ultimate Carrot Cake:
Preheat oven to 350 degrees and spray two 8" cake pans with baking spray.

Sift the flour, baking soda, salt and cinnamon into a bowl and set aside.

In a large bowl, mix the eggs, buttermilk, oil, sugar, carrots, pineapple and vanilla then whisk in the flour mixture, pour it into the two cake pans and bake for 30-35 minutes until a toothpick comes out clean, then let cool completely.
Cream Cheese Frosting:
Add the cream cheese and butter to your stand mixer on medium speed and beat until fluffy, about 30 seconds.

Add in the vanilla and powdered sugar and beat until fluffy, 1-2 minutes.
To Assemble Cake:
Start with a cake layer and add a thin layer of frosting to the bottom then add 1/3 cup of the Carrot Cake Jam to each layer and spread evenly.

Pipe 1/3 of your frosting to the perimeter of layer, then add the next layer of your cake and frost with the remaining frosting and spread on a second helping of the carrot cake jam.
Recipe Notes
Uses the Carrot Cake Jam I made previously.
This post contains affiliate links.
Nutrition Facts
Ultimate Carrot Cake
Amount Per Serving
Calories 612
Calories from Fat 324
% Daily Value*
Fat 36g55%
Cholesterol 116mg39%
Sodium 412mg18%
Potassium 216mg6%
Carbohydrates 66g22%
Protein 7g14%
Vitamin A 6190IU124%
Vitamin C 1.9mg2%
Calcium 82mg8%
Iron 1.5mg8%
* Percent Daily Values are based on a 2000 calorie diet.