Oreo Cake is the PERFECT combo of incredibly moist chocolate cake from scratch layered with sweet buttercream frosting made with crushed Oreo cookies.
Oreo recipes are something I can't get enough of including Oreo Cheesecake, Oreo Balls and Chocolate Covered Oreos.
OREO CAKE
Oreo Cake is moist chocolate cake layered with buttercream frosting that's blended with Oreo cookie crumbs. This is an Oreo version of my go-to Easy Chocolate Cake, which is my all-time favorite because it uses coffee to really add an extra depth of flavor to the chocolate. I recommend saving some Oreos on the side, for decorating the cake later.
You can use chocolate frosting for this recipe, but I like how the lighter color of the buttercream looks agains the dark color of the Oreos. I've also made this with a drizzle of chocolate ganache over whole Oreos on the top of the cake.
HOW DO YOU STORE OREO CAKE?
How you store the cake depends on what type of frosting you are using. Chocolate cake by itself is fine to leave at room temperature for about a week.
The Oreo buttercream with this cake recipe will last 2-3 days at room temperature, because it's made with a lot of sugar. If you use cream cheese frosting, you should refrigerate the cake, which will last up to a week.
WHY IS MY CHOCOLATE CAKE DRY?
This recipe happens to have one of the best cake textures I've ever made, and the flavor of the Oreos just throw it over the top. If your cake is coming out dry instead of moist, there are a few ways you can troubleshoot.
Set your oven timer for a few minutes before the cake is supposed to be done. If your oven is cooking hotter than it should be, your cake might accidentally over-bake. I also recommend getting an oven thermometer, to check the temp.
If you're going to substitute lower calorie ingredients, your cake texture might suffer. Try to keep some of the higher fat ingredients in there, like the oil and eggs. If you absolutely must substitute the oil, I've had some success with using equal parts of applesauce.
Don't over-mix your cake batter, and measure your ingredients properly. Make sure you're leveling the measuring cups, adding too much flour can dry out a cake.
If your cake is still dry after trying these steps, you can add some sour cream to the batter to add some extra moisture to the cake.
CAN YOU FREEZE OREO CAKE?
This chocolate cake will keep for about 6 months, fully decorated, in the freezer. It's perfect for when you have an event coming up but not a lot of time to spend in the kitchen, because all you have to do is pull it out the day before to defrost!
If you're going to decorate this cake before freezing it, I recommend leaving the cake uncovered to freeze for about an hour. This gives the frosting a chance to freeze, before wrapping it in plastic wrap and aluminum foil. This way, the plastic wrap won't disturb the shape of the frosting on the cake.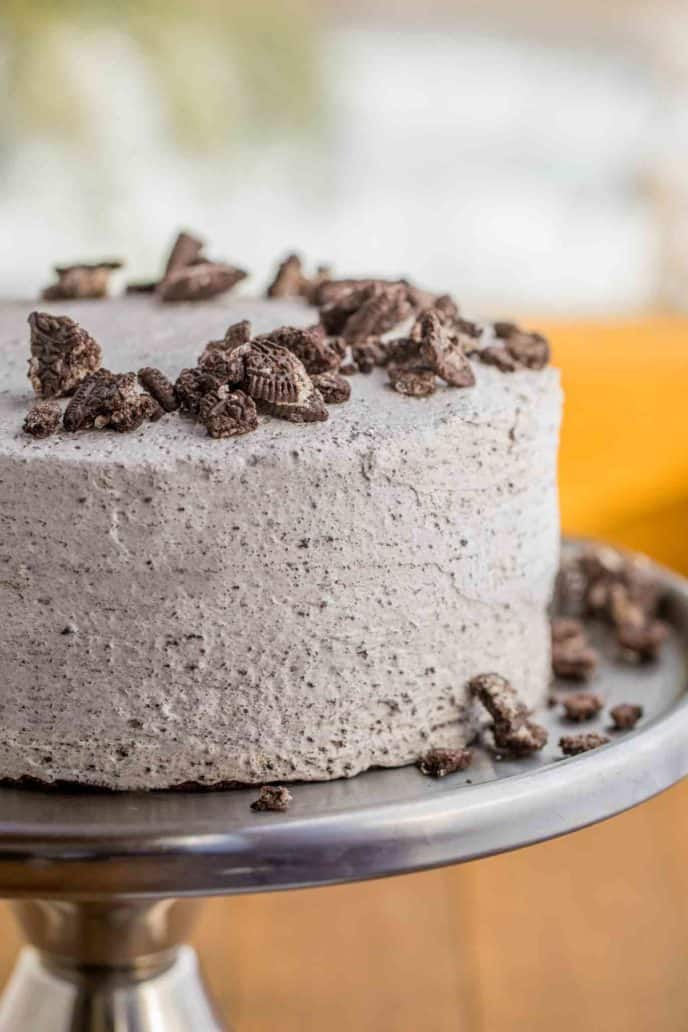 Create a free account to

Save Recipes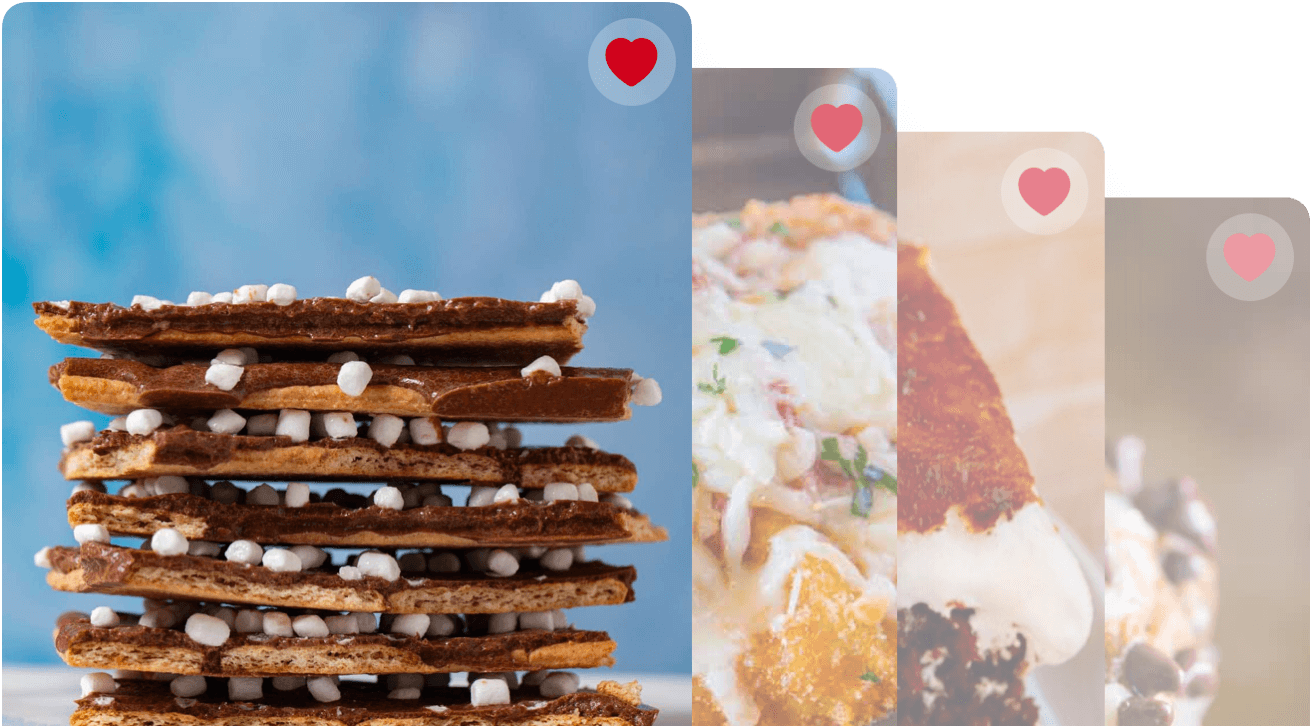 MORE CAKE RECIPES
TIPS FOR MAKING OREO CAKE
The Oreo flavor comes from the crushed Oreos in the frosting, but you can also add crushed Oreos decoratively to the top of the cake. Or, add whole Oreos in a ring around the top of the cake, and crushed Oreo cookies to the middle and sides.
Try topping this with my Chocolate Covered Oreos, or Valentine's Day Chocolate Oreos! I've even topped this with meringue cookies before.
Add semisweet chocolate chips to the batter for even more chocolate.
This recipe calls for making cake layers, but you can also use this to make cupcakes. Use a #2 tip to pipe the Oreo cookie frosting onto the top of the cupcakes. You want to use the bigger tip so the cookie crumbs don't get stuck in the piping bag.
This dessert uses vanilla extract in the frosting, but you can also try peppermint extract. For the actual cake, you can replace the vanilla extract with almond or peppermint extract for great-tasting recipe variations.
You can make this cake recipe with cream cheese frosting or my homemade cool whip, blended with the finely processed Oreo crumbs.
We're using two round non-stick cake pans to make cake layers for this dessert. You can double this recipe to make a larger cake, or add more layers. I like to dust my pans with cocoa powder, but you can use all purpose flour, too.
In a large bowl, crumble this cake and mix with the Oreo frosting to make Oreo cake pops, or dip in melted chocolate to make Oreo cake truffles!
This Oreo frosting calls for milk, but you can use heavy cream, heavy whipping cream, or regular whipping cream if that's what you have on hand.
You can easily make Oreo crumbs by pulsing the cookies in the food processor, or adding Oreo cookies to a plastic ziplock bag and crushing them with a rolling pin. Try different flavors of Oreos to mix it up!
If you're really short on time, just bake the chocolate cake using cake mix, then top with the Oreo buttercream frosting for the cookie flavor.
Use a toothpick to check if the cake is done. Insert it into the middle of the cake, if it comes out clean, it's done baking.
I always bake desserts with unsalted butter because the level of salt in the butter is not always the same each time you buy it, and this way you can control the flavor of your cake.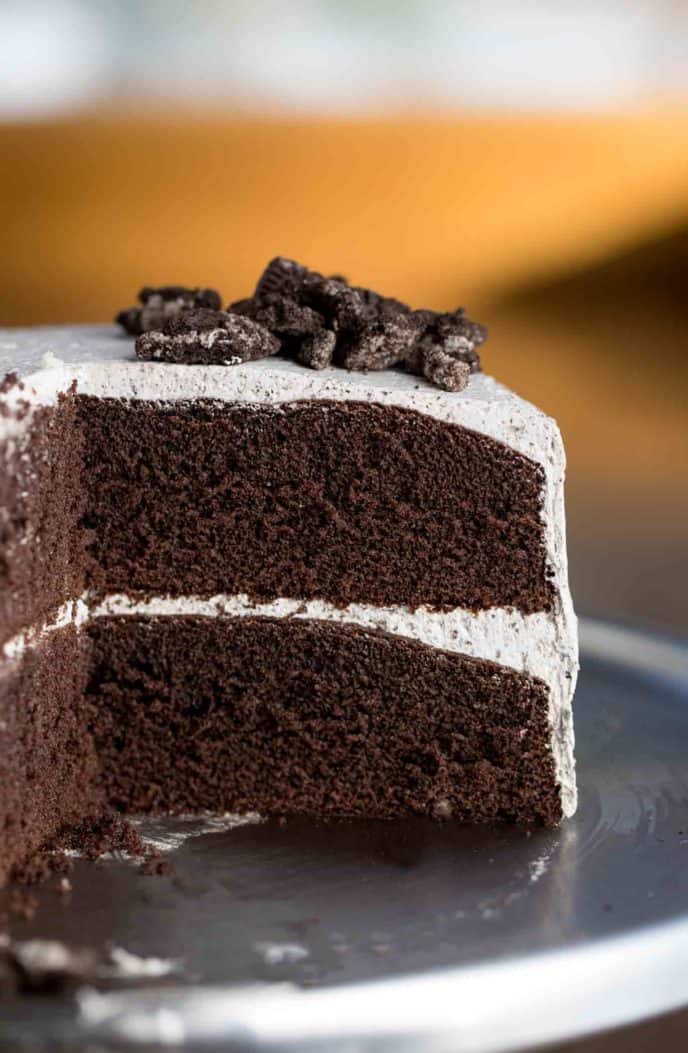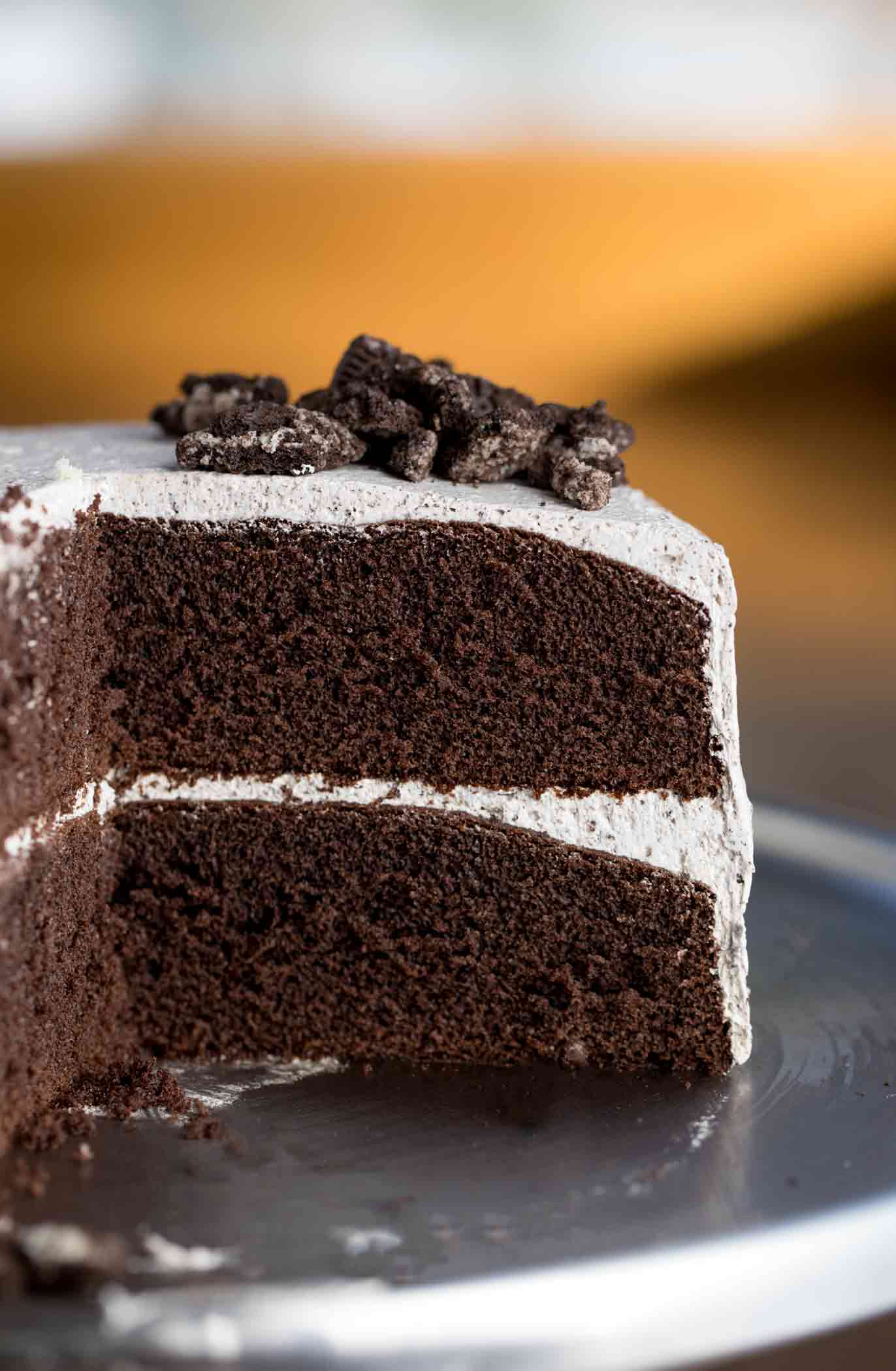 Oreo Cake
Oreo Cake is the PERFECT combo of incredibly moist chocolate cake from scratch layered with sweet buttercream frosting made with crushed Oreo cookies.

Ingredients
Chocolate Cake
2

cups

sugar

1 3/4

cups

flour

1

cup

unsweetened cocoa powder

1 1/2

teaspoons

baking powder

1 1/2

teaspoons

baking soda

1

teaspoon

salt

2

large eggs

1

cup

whole milk

1/2

cup

vegetable oil

1

tablespoon

vanilla extract

1

cup

hot coffee you can substitute boiling water
Oreo Frosting
1 1/2

cups

unsalted butter

6

cups

powdered sugar

1/3

cup

milk

1

cup

oreo crumbs

finely processed

1

tablespoon

vanilla
Instructions
Preheat the oven to 350 degrees and butter and dust with cocoa powder two 9" cake pans.

In a stand mixer on low speed mix together the sugar, flour, cocoa powder, baking powder, baking soda and salt,

In a small bowl whisk together the eggs, milk, oil and vanilla then add it to the stand mixer on low then medium speed until just combined and finally add in the water carefully and stir it in by hand until just combined (do not turn on the mixer, it may splash on you).

Pour half of the batter into each of the pans and bake for 30-35 minutes then remove, let cool completely and frost with the chocolate frosting.

To make the frosting add the butter to your stand mixer on medium speed for 30 seconds until light and fluffy then add in the powdered sugar and milk in alternating amounts.

Add in the oreo crumbs and vanilla last until just combined.

To frost cleanly without crumbs showing through add frosting to the middle of the cake as normal, a thin layer to the outside of the cake and refrigerate 2 hours before frosting a second finished layer.
Recipe Notes
Note: click on times in the instructions to start a kitchen timer while cooking.
Nutrition Facts
Oreo Cake
Amount Per Serving
Calories 617
Calories from Fat 252
% Daily Value*
Fat 28g43%
Cholesterol 68mg23%
Sodium 316mg14%
Potassium 202mg6%
Carbohydrates 91g30%
Protein 4g8%
Vitamin A 595IU12%
Calcium 59mg6%
Iron 2.4mg13%
* Percent Daily Values are based on a 2000 calorie diet.