Easy Whipped Cream is light and sweet, insanely easy to make the PERFECT addition to any dessert, ready in under 5 minutes with only 3 ingredients!
Our kitchen is always busy coming up with the next amazing dessert recipe, and we love adding this whipped cream to Ultimate Apple Crisp, Easy Strawberry Shortcake, and Ultimate Pumpkin Cheesecake!
Easy WHIPPED CREAM
Easy Whipped cream is light and fluffy, with a creamy sweet vanilla flavor that is the PERFECT addition to almost any dessert. It's surprisingly easy to make and only takes a few short minutes and three ingredients, heavy cream, powdered sugar, and vanilla extract.
I always make my own because you can make twice as much for half the cost. Plus if you just add everything to the stand mixer, the most you have to do is wait for it to be done!
Depending on what dessert I'm making this for, I usually add different flavors to the cream. My favorite go-to is almond flavoring, because it adds a really rich indulgent flavor to the cream recipe that goes perfectly with any chocolate dessert, especially hot chocolate! I've also added a teaspoon of peanut butter powder in the past to go with my peanut butter chocolate molten lava cakes.
I've also added cocoa powder, freeze dried fruit powder of any variety (banana powder is my favorite though!), or any other extracts you love. I once had a client who loved me adding root beer extract to the mixture and topping sundaes with it.
WHEN IS WHIPPED CREAM READY?
This whipped cream recipe is ready when the cream forms stiff peaks that hold their position. If you keep going after this phase, you will make butter instead. If you've over-whipped your cream recipe, you can add a splash of cream and whisk gently until incorporated.
WHY IS MY WHIPPED CREAM RUNNY?
Whipped cream can start to become runny if you've over beat or under whip it. Try taking the beater out of the cream as soon as you start to see the stiff peaks appear. It could also be because you're using a lower quality cream, or the cream has too many added ingredients. Try to find a fresh cream with the least amount of added ingredients possible. I ALWAYS use store-bought cream, and just find the highest quality there.
HOW LONG DOES WHIPPED CREAM LAST?
Homemade whipped cream will last in the refrigerator for 2-3 days. If it starts to lose its texture, you can whisk it a few more times to bring it back. You can also put this cream recipe in the freezer for 2-3 months, defrosting in the refrigerator when you're ready to use it.
WHAT CAN BE USED INSTEAD OF WHIPPING CREAM?
Instead of whipping cream, you can also use full fat coconut milk (the kind in the can), just remember to chill it first.
WHAT'S THE DIFFERENCE BETWEEN HEAVY CREAM AND WHIPPING CREAM?
Heavy cream and whipping cream are really similar, with only slight differences. Heavy cream has a slightly higher fat percentage, which is what we're looking for. But you can use either for this recipe and honestly they are all but interchangeable in most recipes you need them for. Other milk products, like half and half for example, do not have enough fat, and will not form correctly.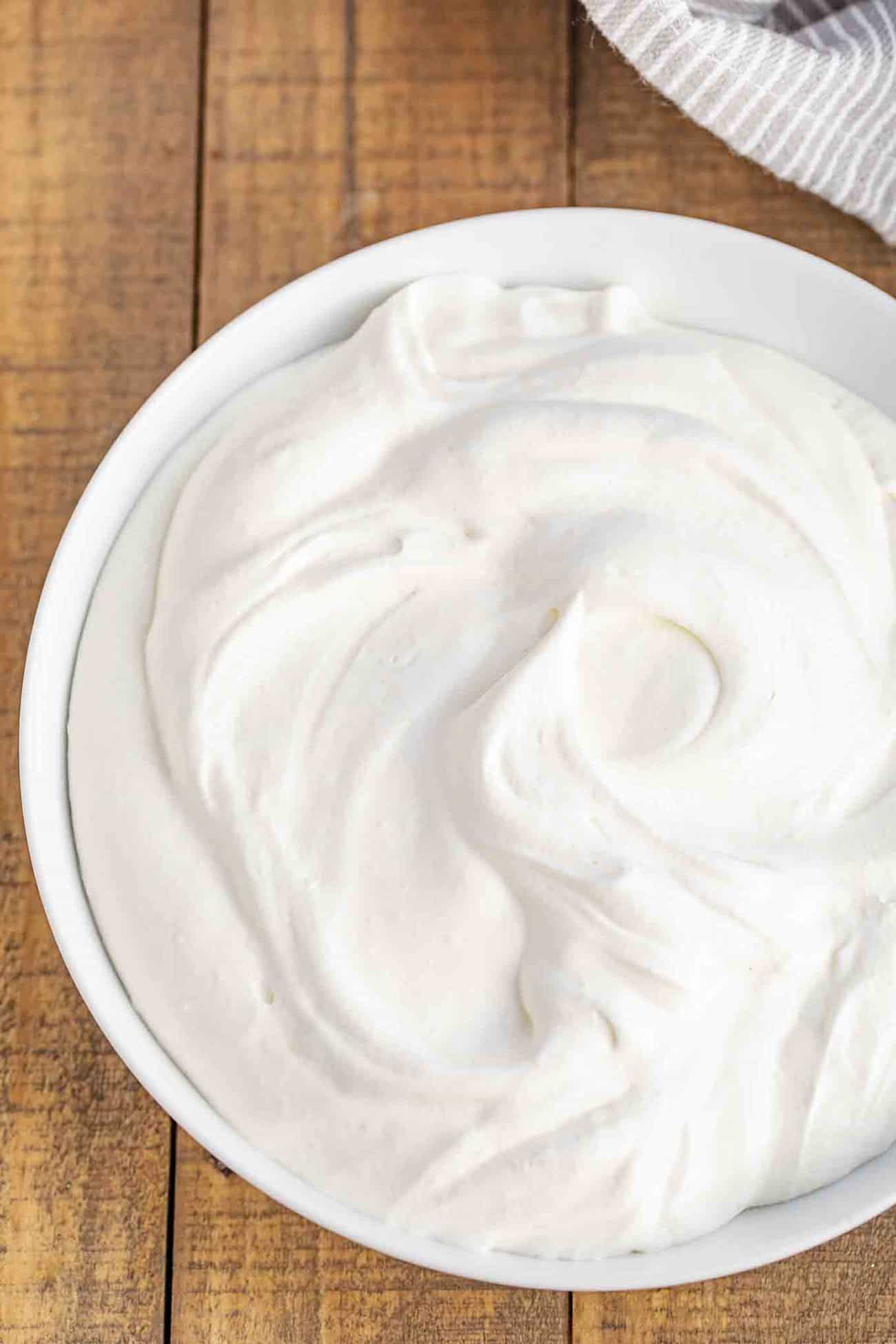 Create a free account to

Save Recipes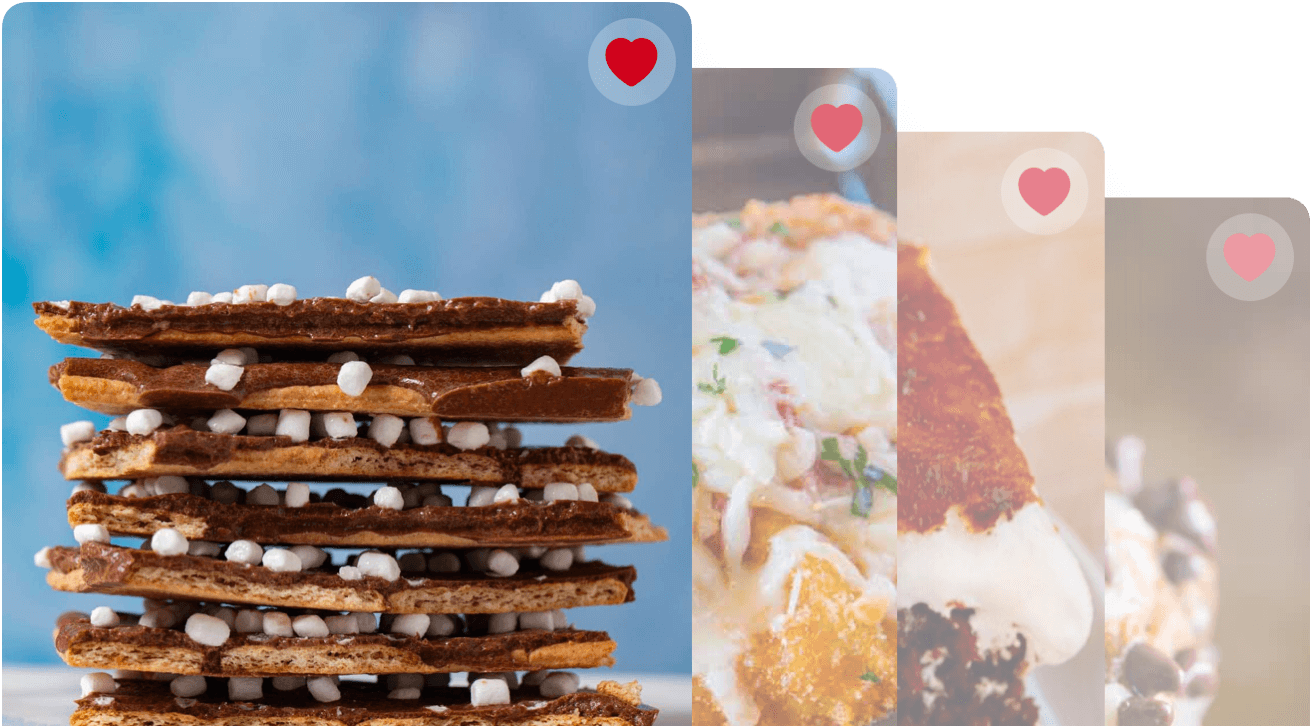 WHAT CAN I ADD TO WHIPPED CREAM?
You can make all different flavored recipes by adding extracts, like vanilla extract, peppermint extract, or lemon extract. You can also sweeten the whipped cream with a tablespoon of honey or maple syrup for some more indulgent flavor, or throw in some lemon or lime zest for a summer recipe.
DESSERTS TO DOLLOP WITH WHIPPED CREAM
TIPS FOR MAKING HOMEMADE WHIPPED CREAM
You want your ingredients to be really cold, so use whipping cream that's just been taken out of the refrigerator or you can even put it in the freezer for a half hour before using it.
If you're using a stand mixer like I do, put store the bowl in the freezer before you use it to speed up the whipping process.
If you don't have a stand mixer you can make it with a hand held electric beater (on medium speed).
You can also do it the old fashioned way with just a chilled bowl and a whisk, or place your ingredients in a jar and shake until ready.
You can also make it with a bowl placed over a larger bowl of ice water to keep your ingredients cold as you whisk.
The cream will double in volume once it's ready, so if you have 1/2 cup of cream, expect 1 cup.
For an adult version, add a tablespoon of bourbon or your favorite liquor.
Add a teaspoon of melted chocolate or cocoa powder to make a chocolate version.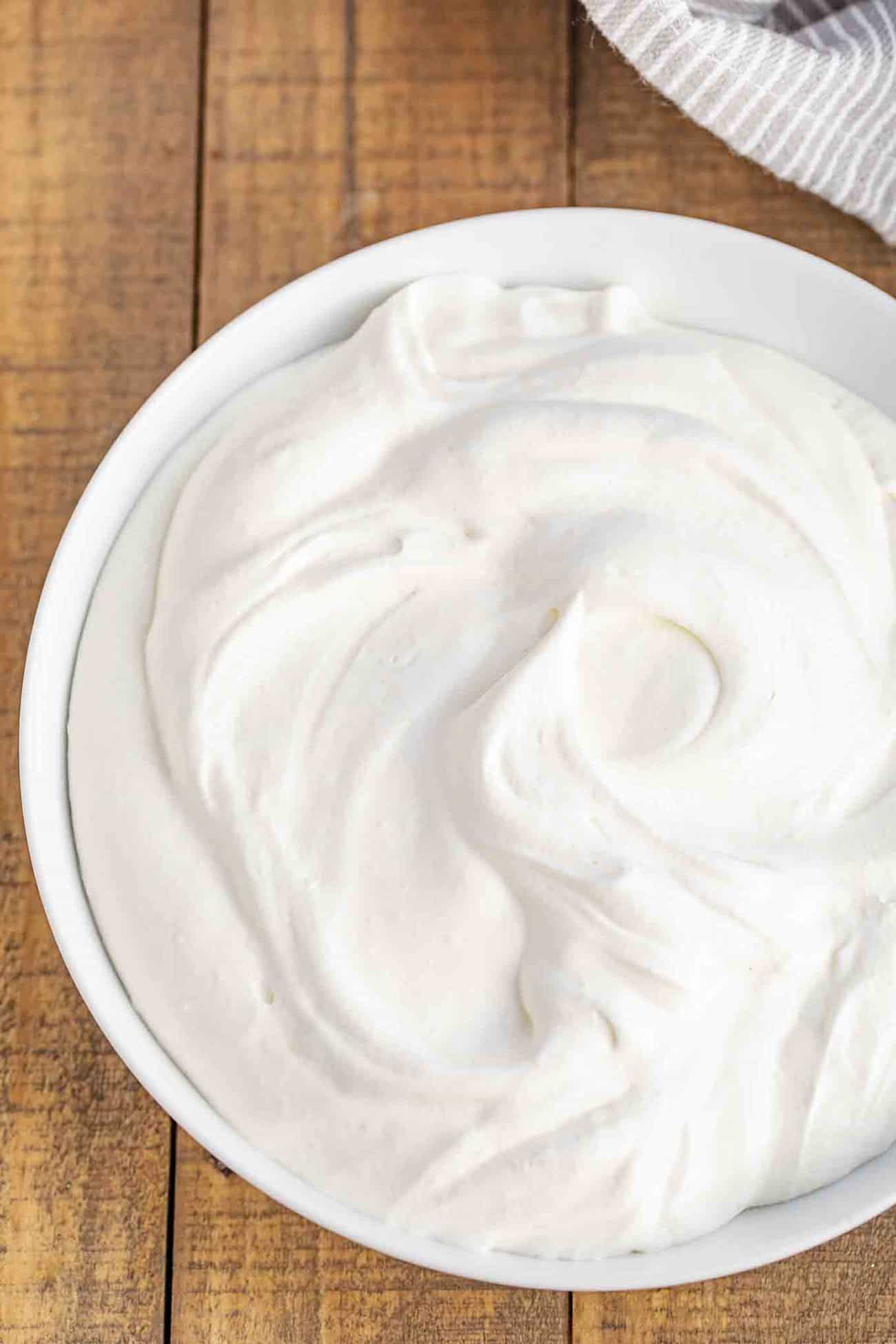 Easy Whipped Cream
Easy Whipped Cream is light and sweet, insanely easy to make the PERFECT addition to any dessert, ready in under 5 minutes with only 3 ingredients!

Ingredients
2

cups

cold heavy whipping cream

4

tablespoons

powdered sugar

1

teaspoon

vanilla
Instructions
Using an ice cold bowl or stand mixer bowl and whisk attachment add the heavy whipping cream, powdered sugar and vanilla to the bowl, whisking or beating with the whisk attachment on high for about 1 minute or until stiff peaks form (careful not to over beat or you will make sweetened butter).
Recipe Notes
Note: click on times in the instructions to start a kitchen timer while cooking.
Nutrition Facts
Easy Whipped Cream
Amount Per Serving
Calories 111
Calories from Fat 99
% Daily Value*
Fat 11g17%
Cholesterol 40mg13%
Sodium 11mg0%
Potassium 22mg1%
Carbohydrates 2g1%
Vitamin A 435IU9%
Vitamin C 0.2mg0%
Calcium 19mg2%
* Percent Daily Values are based on a 2000 calorie diet.