Porcupine Meatballs are an easy, budget, weeknight dinner. Tasty ground beef meatballs with onions, breadcrumbs and rice, simmered in a rich tomato sauce.
What's not to love about Homemade Meatballs? These retro meatballs are budget friendly, delicious, and can just as easily be a Main Dish as an Appetizer Recipe.
PORCUPINE MEATBALLS
Just like Baked Spaghetti, these tasty, old fashioned meatballs are a delicious walk down memory lane with every bite. For almost a century this classic American recipe has been a delicious easy way to feed your family on a budget. Simple ingredients baked in a casserole dish, for easy clean up, this is the ultimate nostalgic weeknight dinner.
If you've been around a while, or just really love vintage advertising, you may recognize Porcupine Meatballs from retro Campbell's Tomato Soup ads. They were given the funny name from the uncooked rice that puffs up while baking, making your meatballs look like they have quills.
Usually topped with a can of tomato soup or tomato sauce, Porcupine Meatballs are designed to be low cost and use everyday pantry items. And of course, what would an old fashioned recipe be without Worcestershire Sauce? It's been a staple in beef recipes and no wonder. Just a little bit of it adds a lot of signature smoky, salty flavor so it's an ingredient that stretches far.
This Porcupine Meatball recipe swaps out the tomato sauce for a little bit more flavorful marinara. You can use any jar of your favorite marinara or try this easy Homemade Marinara recipe. We always keep a few batches in the freezer for recipes like these Porcupine Meatballs.
Another traditional ingredient that was swapped out in this recipe is onion mix. Instead of the dry seasoning mix, this Porcupine Meatballs recipe uses fresh onions and garlic plus dried spices. It gives so much more flavor and also makes it easier to substitute or swap out spices to adjust to your taste.
These hearty Porcupine Meatballs are delicious served over Mashed Potatoes or White Rice. You want a starchy side to soak up every bite of the extra sauce. To round out this inexpensive old fashioned dinner serve with simple side of seasonal vegetables like Sautéed Green Beans.
EASY SIDE DISH RECIPES:
More easy side dishes for your dinner table!
VARIATIONS ON PORCUPINE MEATBALLS
Meat: Using ground chicken or ground turkey works just as well as lean ground beef since you want less fat in these meatballs.
Sauce: Instead of marinara sauce, try Cream of Mushroom Soup, Enchilada Sauce, or a brown gravy. Go retro with a can or two of Campbell's Tomato Soup!
Veggies: You can add finely chopped carrot, mushrooms, or bell peppers to your meatballs to make them heartier and healthier.
Rice: Use any long grain rice in this recipe. You could also substitute brown rice by increasing to 2 hours cook time.
Spices: You can easily adjust the spices in this recipe. Try other ground spices like dry mustard, cumin, paprika, or herbs like ground thyme and oregano.
Porcupine Hamburgers: Shape the meatballs into 6 patties instead and bake as usual. In the last 10 minutes of cooking, cover each patty with a slice of mozzarella cheese and bake until melted.

Create a free account to

Save Recipes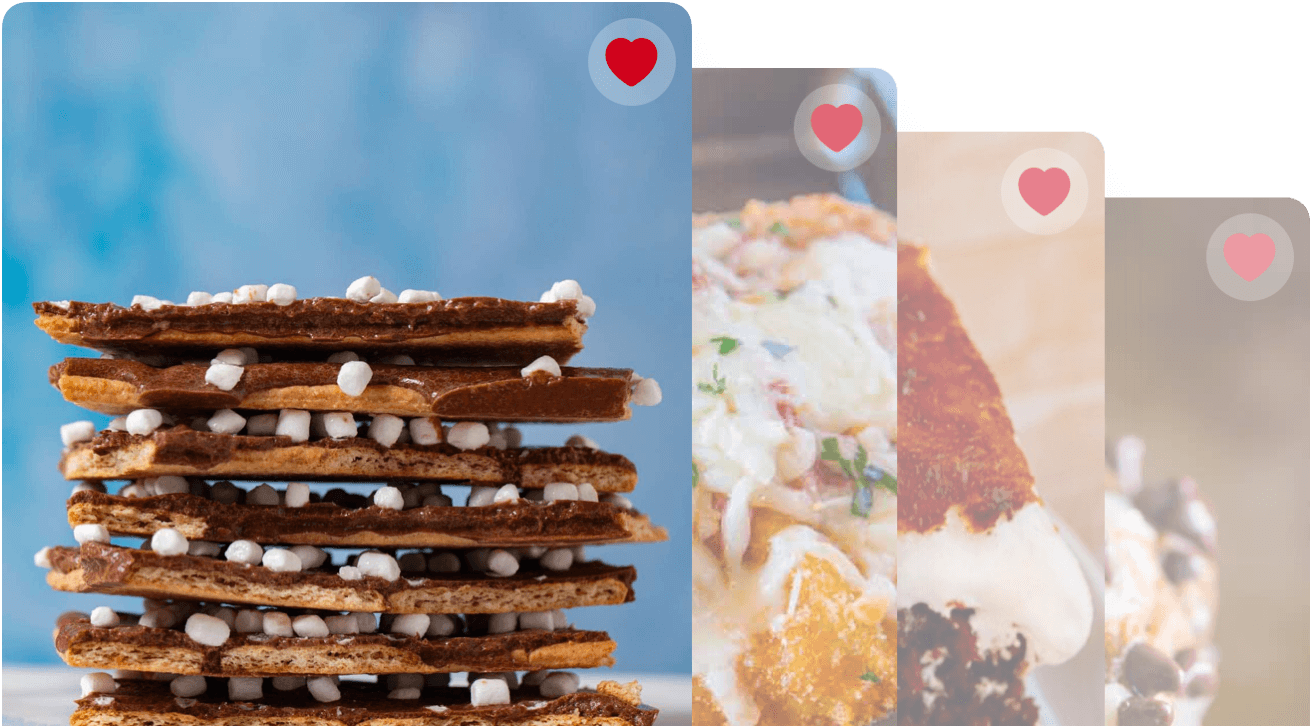 Porcupines in Skillet
Brown ground beef in skillet. Drain and set aside.
Add onion and cook until until soft, about 3-4 minutes. Add garlic and cook 30 more seconds.
Pour 1/2 cup water and 1 cup marinara and return to beef to pan.
Stir in 3/4 cup uncooked rice.
Cover skillet and cook for 25 minutes. Top Porcupine Skillet casserole with cheese if desired.
Slow Cooker Porcupine Meatballs
Prepare the meatball ingredients as usual, rolling and squishing together until tight condensed.
Optional: Broil meatballs 3-4 on both sides to help keep the together if your mixture is too loose.
Mix sauce ingredients together. Spray crockpot with cooking spray.
Add 1/2 cup tomato sauce bottom of slow cooker. Cover sauce with meatballs in 1 layer.
Top meatballs with 1 cup sauce. Repeat layering meatballs and covering with sauce.
(You can't stir these meatballs so it's important to add sauce between layers).
Cover with lid and cook on low 5-7 hours or high for 3-4 hours, until meatballs are fully cooked.
MORE CLASSIC DINNER RECIPES
HOW TO STORE PORCUPINE MEATBALLS
Serve: Store Porcupine Meatballs after no more than 2 hours at room temperature. You can keep this dish warm in a slow cooker with the sauce for up to 4 hours.
Store: Transfer meatballs to an airtight container and refrigerate for up to 4 days. Reheat on the stovetop at medium heat.
Freeze: Freeze either pre-cooked or raw meatballs for up to 3 months. Flash freeze on a baking tray for one hour before transferring to a container to keep from sticking together.
Porcupine Meatballs
Porcupine Meatballs are an easy, budget, weeknight dinner. Tasty ground beef meatballs with onions, breadcrumbs and rice, simmered in a rich tomato sauce.
Cook Time
1
hour
30
minutes
Total Time
1
hour
45
minutes
Ingredients
1/2

cup

long grain rice

, uncooked

1/2

cup

water

1/3

cup

onion

, chopped

1

teaspoon

salt

1/2

teaspoon

celery salt

1/4

teaspoon

black pepper

1/2

cup

breadcrumbs

1 1/2

pounds

lean ground beef

2

cloves

garlic

, minced

2

tablespoons

canola oil

4

cups

marinara sauce

1

cup

water

1

tablespoon

Worcestershire sauce
Instructions
Heat oven to 350 degrees F.

In a large bowl combine the rice, water, onion, salt, celery salt, pepper, ground beef, breadcrumbs, garlic and vegetable oil.

Roll into 2 inch sized balls.

Place in baking dish.

Mix together marinara sauce, water and Worcestershire sauce and pour it over the meatballs (make the sure sauce level is higher than the meatballs.

Cover and cook for 90 minutes.
Nutrition Facts
Porcupine Meatballs
Amount Per Serving
Calories 388
Calories from Fat 198
% Daily Value*
Fat 22g34%
Cholesterol 77mg26%
Sodium 1544mg67%
Potassium 929mg27%
Carbohydrates 23g8%
Protein 25g50%
Vitamin A 707IU14%
Vitamin C 13mg16%
Calcium 49mg5%
Iron 4mg22%
* Percent Daily Values are based on a 2000 calorie diet.