Ditch the can, this Homemade Enchilada Sauce will make you feel like you're at your favorite Mexican restaurant in ten minutes!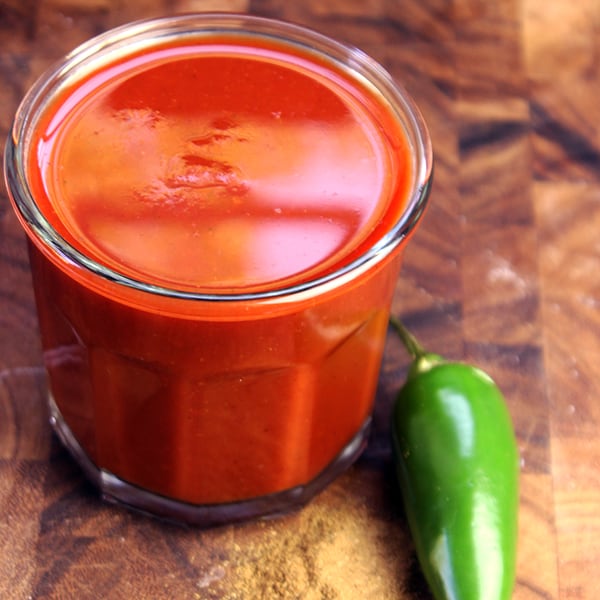 This Homemade Enchilada Sauce (which I am actually surprised I hadn't posted yet) is the base recipe I use in more than half of my recipes. You haven't seen a lot of Mexican recipes on the blog to this point and that seems to be in spite of the fact that we eat it a LOT. It is so easy to make I usually have it in my fridge and ALWAYS have it in my freezer because truth be told, I make it in 8 times the size. I scaled it down so you could make a quantity for one meal, but trust me, after you make it once you'll be doing in it bulk too!
It can be hard sometimes to introduce spice into the diet of young kids, so this recipe is a perfect one not only for our toddler, but even our infant who at grilled chicken that was marinaded in this sauce overnight for dinner on Sunday. I find that probably 35-40% of our meals on a weekly basis work off of one of my "mother" sauces. No not the original mother sauces, our family's version of them.
We have a small pool of sauces that get repurposed into a dozen or so meals each. They're so easy I keep them on hand at all times so when it is 6:00 pm and I am completely drawing a blank on dinner I can go into the deep freeze, grab a sauce and make dinner. Want another one of our favorites? Zankou Chicken Armenian Garlic Paste. We use that sauce on so much I need to write a love letter to Zankou thanking them for this recipe. When you find a good sauce that will get eaten by everyone in the house, trust me you will get creative and use it on as much as you can. Speaking of using it on everything, here are some of the ways we use this sauce!
Ways to use this enchilada sauce:
Duh, enchiladas. I mean what else would've been #1?
Mexican Lasagna (I make mine with homemade tortillas, recipe forthcoming…soon)
Chicken Tamale Bake (coming tomorrow)
Taco Sauce
Burritos "Enchilada Style" (This is a throwback to Baja Fresh's enchilada style burritos…SO GOOD) – top the burrito with the Homemade Enchilada Sauce, some shredded cheese and bake at 375 degrees for 10 minutes.
Mix with sour cream for a creamy spicy sauce (top almost anything with this, like the Cheesecake Factory Tamale Corn Cakes)
Mix with sour cream as a dip too, for things like taquitos
Mix with Ranch Dressing for a taco salad
Top your eggs with it for easy huevos rancheros
Works as a great marinade for chicken/pork too. I sort of scrape off the excess and grill on my cast iron griddle.
So I was going to include photos of the process here, but as I edited them it felt so dull and not necessary. There are really no tricky parts to worry about here. This Homemade Enchilada Sauce is amazing and easy. That being said, if you have any questions, please feel free to sound off below! I am happy to answer any questions I can!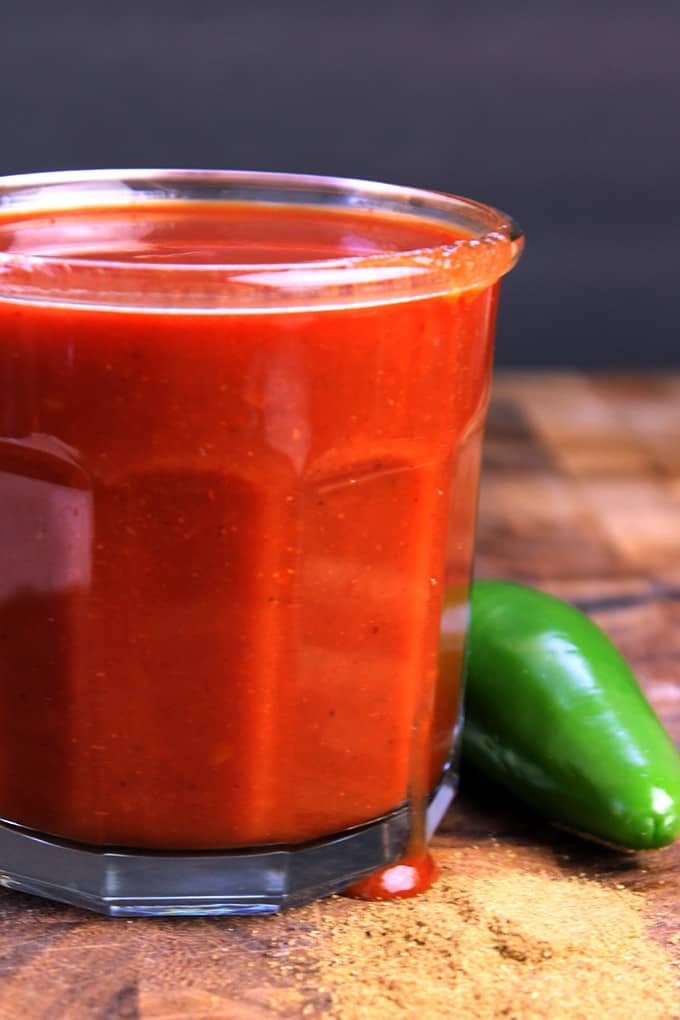 PS, the glass in the picture is pretty much one of my favorite kitchen items (and from our wedding registry at Crate and Barrel no less!) They are old school French glasses that you buy with lids that you can put on the top and store. They are inexpensive and heavy duty (I haven't broken one yet!) and they double for drinking glasses.S
Food Processor: Because pre-shredded cheeses contain an additive to avoid clumping they also don't melt as well as you'd hope so I always shred my own
Best Homemade Enchilada Sauce (And Quick!)
Ditch the can, feel like you're at your favorite Mexican restaurant in ten minutes! Homemade Enchilada sauce that is so good you'll top it on everything, even your eggs!
Ingredients
1/4

cup

canola oil

2

tablespoons

flour

3

tablespoons

chili powder

1

(8 ounce) can

tomato sauce

1

cup

chicken broth

(water can work too)

2

teaspoons

ground cumin

1

tablespoon

garlic

, minced

1/2

teaspoon

onion powder

1/4

teaspoon

salt
Instructions
Heat the canola oil in a saucepan on medium heat.

Add the flour and chili powder and stir.

Cook until the bright red color turns a bit brown while stirring.

In a small bowl mix the tomato sauce with the rest of the ingredients until it is fully blended.

Add to your saucepan and whisk until fully mixed.

Cook for 8-10 minutes on medium heat until thickened.
Nutrition Facts
Best Homemade Enchilada Sauce (And Quick!)
Amount Per Serving
Calories 54
Calories from Fat 45
% Daily Value*
Fat 5g8%
Sodium 153mg7%
Potassium 60mg2%
Carbohydrates 2g1%
Vitamin A 595IU12%
Vitamin C 1.6mg2%
Calcium 12mg1%
Iron 0.7mg4%
* Percent Daily Values are based on a 2000 calorie diet.