Perfectly easy and classic creamy Garlic Mashed Potatoes made with red bliss potatoes, garlic, milk and butter in just 30 minutes. The perfect side dish for any occasion.
Mashed potatoes are a regular indulgence around here including Ultimate Loaded Mashed Potatoes and Slow Cooker Mashed Potatoes.
Today's goal is to make you crave these mashed potatoes until you get to your kitchen to make them. I may or may not be currently eating them by the spoonful while writing this delicious post.
 Garlic Mashed Potato Recipe
Garlic Mashed Potatoes are my favorite side dishes to make for the holidays. But let me tell you why, they are EASY and they feed a huge crowd. Plus you get to be a magician with the garlic. I have friends who (mind you we were in college and our phones had no internet) tried to make garlic mashed potatoes for our annual friendsgiving meal.
Well, yeah. There was no one there to mention that you don't just add in raw chopped garlic to the cooked potatoes. Or that you don't just add in garlic salt or powder (all failed experiments, but still fully eaten). One day while watching Ina Garten I watched her crush the garlic under her palm. Just enough to break it apart really, then she added it to the water with the potatoes.
Can you boil potatoes with garlic? YES, you can and should boil the garlic with the potatoes as they will both become tender at the same time!
What to serve with garlic mashed potatoes?

How to make Garlic Mashed Potatoes:
Another important note about mashed potatoes, start with cold water! No need to be fussy, fill with water above the level of the potatoes, bring to a boil then lower to a simmer. Now, with those cloves of garlic simmering away in here you're doing three things:
Flavoring the potato chunks with the garlic.
Mellowing out the flavor of the garlic.
Softening the garlic cloves so they can be fully and easily smashed.
This one trick will make you the hit of your dinner party. Your guests will enjoy a creamy, mellow garlic flavor without any little chunks of garlic or grainy texture from the powdered variety.
Roasted Garlic Mashed Potatoes:
Something important if you're making a roasted garlic mashed potato recipe is that your garlic shouldn't be boiled as the flavors are already muted from the roasting, you don't want to wash away all the flavor and garlic as the boiling water would disintegrate it. Instead, make the roasted garlic into a paste as best you can before adding it to the drained and cooked potato chunks along with the butter, milk, salt and pepper.
You can even make these into Garlic Parmesan Mashed Potatoes by adding in some shaved parmesan. I wouldn't add in the grated kind you find in a shaker as it will give a gritty texture to your mashed potatoes.
Want to mix things up? Swap out milk for heavy cream (richer but ….richer in calories too!), add in some cream cheese or sour cream if you want it tangier and a little creamier. Add in more cheese and of different varieties.
How many potatoes do you use per person for mashed potatoes?
Potatoes are heavier than they look, so account for half a pound of raw potatoes per person/serving when considering how much mashed potatoes you have to make. As a general rule bags of red potatoes are sold in 3lb. packages while russet potatoes are sold in 5 and 10 pound bags. Remember red potatoes won't be peeled so you don't lose the weight of the potatoes while russet potatoes will lose at least 5-10% of their weight in preparations.
Looking for more easy potato side dish recipes?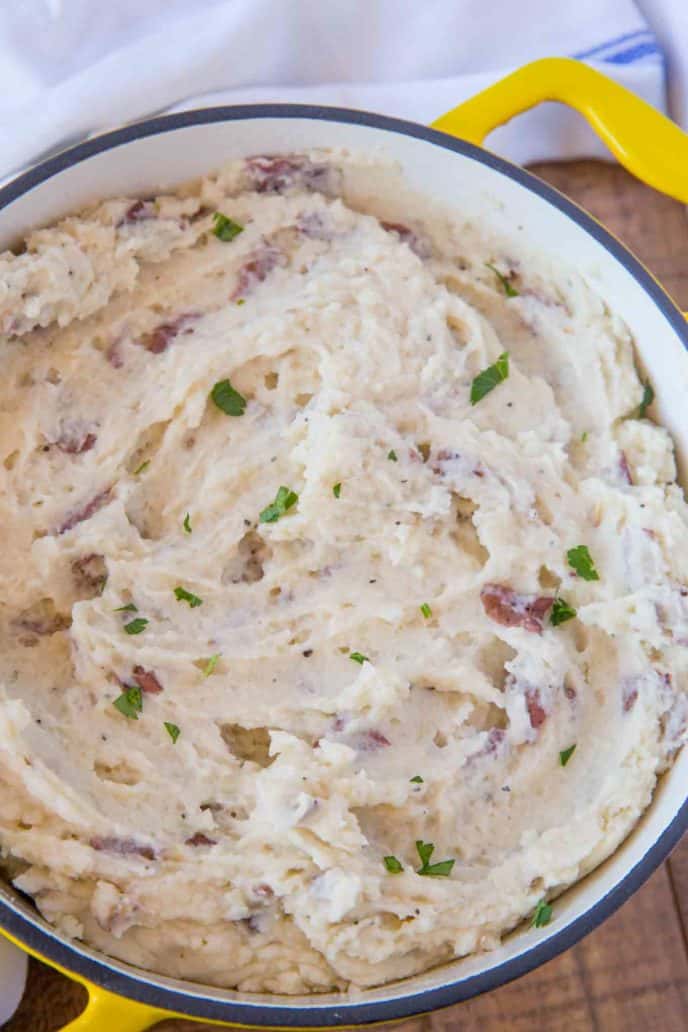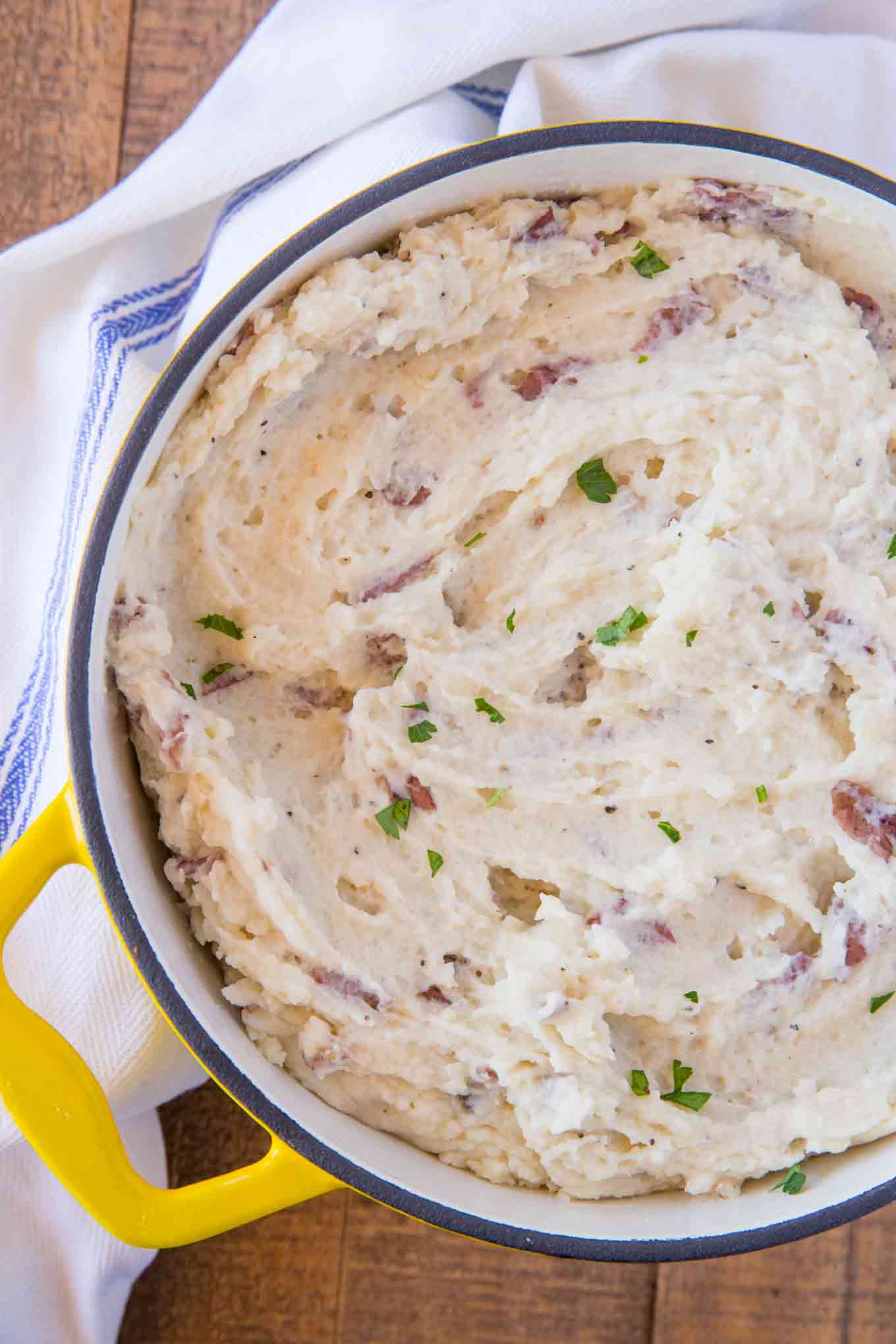 Garlic Mashed Potatoes
Perfectly easy and classic creamy Garlic Mashed Potatoes made with red bliss potatoes, garlic, milk and butter in just 30 minutes. The perfect side dish for any occasion.
Ingredients
3

pounds

red potatoes

3

cloves

garlic

4

tablespoons

unsalted butter

1/2

cups

whole milk

1

teaspoon

kosher salt

1/4

teaspoon

coarse ground black pepper
Instructions
Scrub the potatoes (do not peel them) clean and cut them into quarters.

Crush the garlic by putting it on a cutting board and either using a heavy plate or the flat of your knife and crushing with your palm.

Place the potatoes and garlic into a large stockpot, covered with water by about two inches.

Bring to a boil, then reduce to a simmer for 20-25 minutes or until fork tender.

Drain the water very well, then add in the butter, milk, salt and pepper.

Mash well with a potato masher until creamy, about 3-5 minutes.
Nutrition Facts
Garlic Mashed Potatoes
Amount Per Serving
Calories 241
Calories from Fat 81
% Daily Value*
Fat 9g14%
Cholesterol 22mg7%
Sodium 438mg19%
Potassium 1065mg30%
Carbohydrates 38g13%
Protein 5g10%
Vitamin A 282IU6%
Vitamin C 20mg24%
Calcium 51mg5%
Iron 2mg11%
* Percent Daily Values are based on a 2000 calorie diet.