Classic Beef Meatloaf that's tender, juicy, easy to make and the only recipe you'll ever need for this classic comfort food favorite recipe!
We love cooking with ground beef because it is economical, easy and kid friendly, including our popular Ultimate Sloppy Joes and Slow Cooker Beef Chili.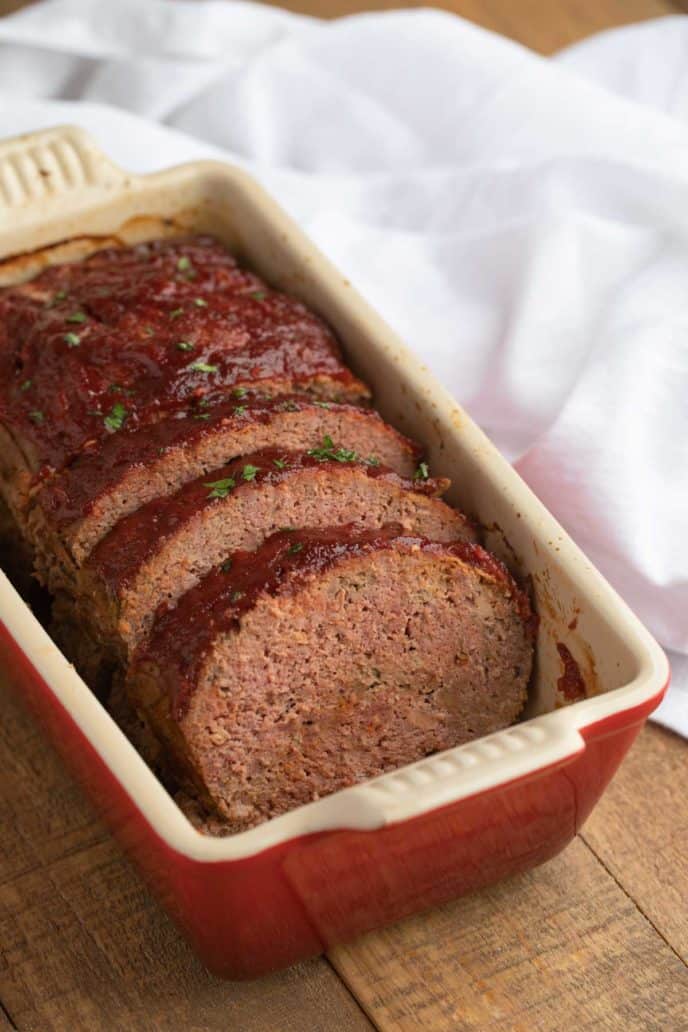 CLASSIC MEATLOAF RECIPE
Making a classic meatloaf recipe for this site has been long overdue, just like our Perfect Simple Roast Chicken we posted only a week ago. We have so many unique meatloaf recipes on the the site including Philly Cheesesteak Meatloaf, Bacon Cheeseburger Meatloaf and Glazed Brown Sugar Meatloaf that I felt like it was time to circle the wagons back around to the original.
This easy meatloaf is really comfort food at it's best. It is an American classic, served up with Mashed Potatoes and Roasted Vegetables, maybe even a Wedge Salad.
While there doesn't seem like there is anything exciting or outrageous about this meatloaf (no cheese stuffing like in my philly or cheeseburger versions), this meatloaf will be your ace in the hole for a classic, easy weeknight option.
Plus, if my love for Craftwich (Tom Colicchio's amazing sandwich shop) taught me anything, this recipe is specifically designed to make the perfect meatloaf sandwich the next day. It has the exact right structure to hold up to the butter searing to form the perfect crust. See directions below.
How to Make Meatloaf:
Make sure you have a ground beef with at least 15% beef fat.
Soak you milk and breadcrumbs together in a large bowl.
Add the rest of the ingredients except for the beef and topping.
Add in the beef and mix until just combined, handle the meat mixture as little as possible.
Place beef into loaf pan and coat with topping mixture.
Bake, uncovered, for 55-60 minutes in a loaf pan on a baking sheet.
The reason we take the extra step to soak the milk and breadcrumbs together is to hydrate them to add more moisture to the meatloaf.
Do not Over-Mix
Second, the reason we mix the rest of the meatloaf ingredients together before adding the beef is because we want to handle the beef as little as possible. The colder the beef fat stays before cooking the better and more tender the meatloaf will turn out.
One of the most common mistakes people make when making meatloaf (and hamburgers) is that they want to be sure the mixture is perfectly uniform so they will unintentionally over-mix the meat. This creates a denser meat which tastes firmer and more dry.
Meatloaf Ingredients
Beef
When it comes to deciding on the type of meat to use in your meatloaf the classic option is to use beef. A standard 80/20 will work fine, but will leave a bit more fat than I prefer. We use 85/15 and find it is tender and juicy.
I don't recommend going leaner than 85/15 unless you are prepared to expect the flavors to be impacted by your choice of a leaner cut of meat. This isn't to say you can't use lean ground beef. We've successfully made this recipe with 96/4 ground beef, but we were prepared for the flavor difference (we also grated our onions instead of mincing for extra moisture).
If you would like to swap protein you can of course use ground chicken or ground turkey (you can find my recipe for Turkey Meatloaf on the site too).
If you prefer to make the fully classic version of meatloaf where you mix proteins you've come to the right place. I specifically tested this recipe using a combined meat option as well to make sure it would work perfectly for you.
Three Meat Meatloaf
1 pound ground beef
1/4 pounds ground veal
1/4 pounds ground pork
You can continue the rest of the recipe as directed using these ingredients in place of the 1 1/2 pounds of ground beef. This classic three meat variation of meatloaf will add a depth of flavor that beef alone wouldn't provide.
A bit more shopping, a bit more expensive (I'm looking at you veal), but a classic is a classic for a reason and the three meats combined together will make the meatloaf mixture authentic to your local Italian restaurant.
The first time you make this recipe I suggest trying it with the ground beef. If you want to be more adventurous you can try it with the added veal and pork next time.
If you do try it with the added meats I also highly recommend doubling your recipe and rolling some of the mixture into meatballs (skip the thyme in that half of the recipe). Those meatballs simmered in my Quick and Easy Marinara Sauce will be a quick way to do double meal prep duty in the kitchen.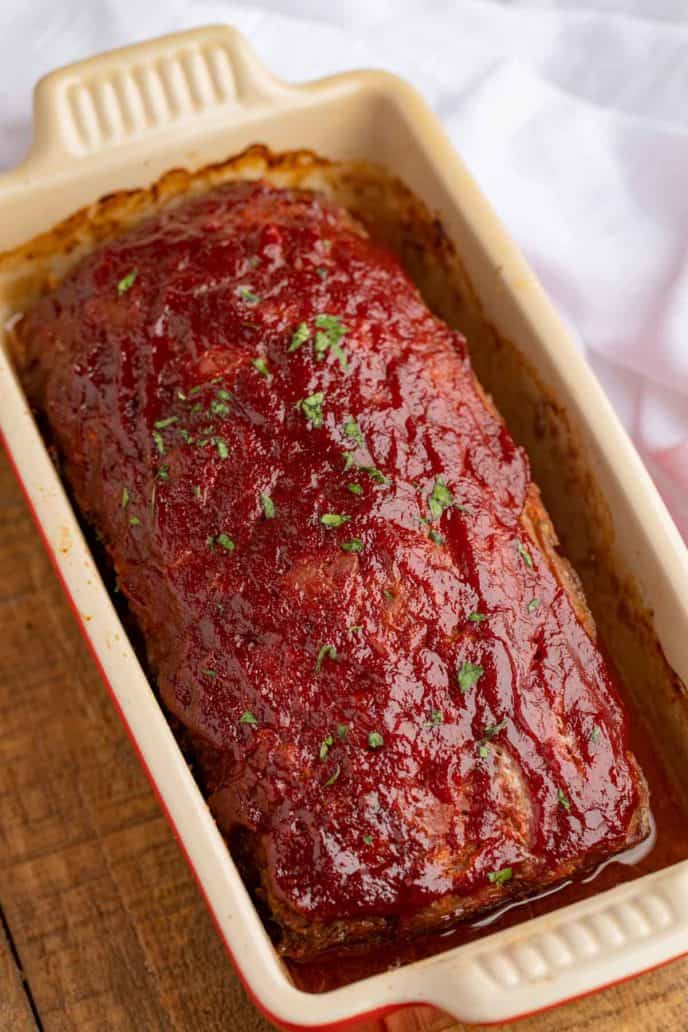 Create a free account to

Save Recipes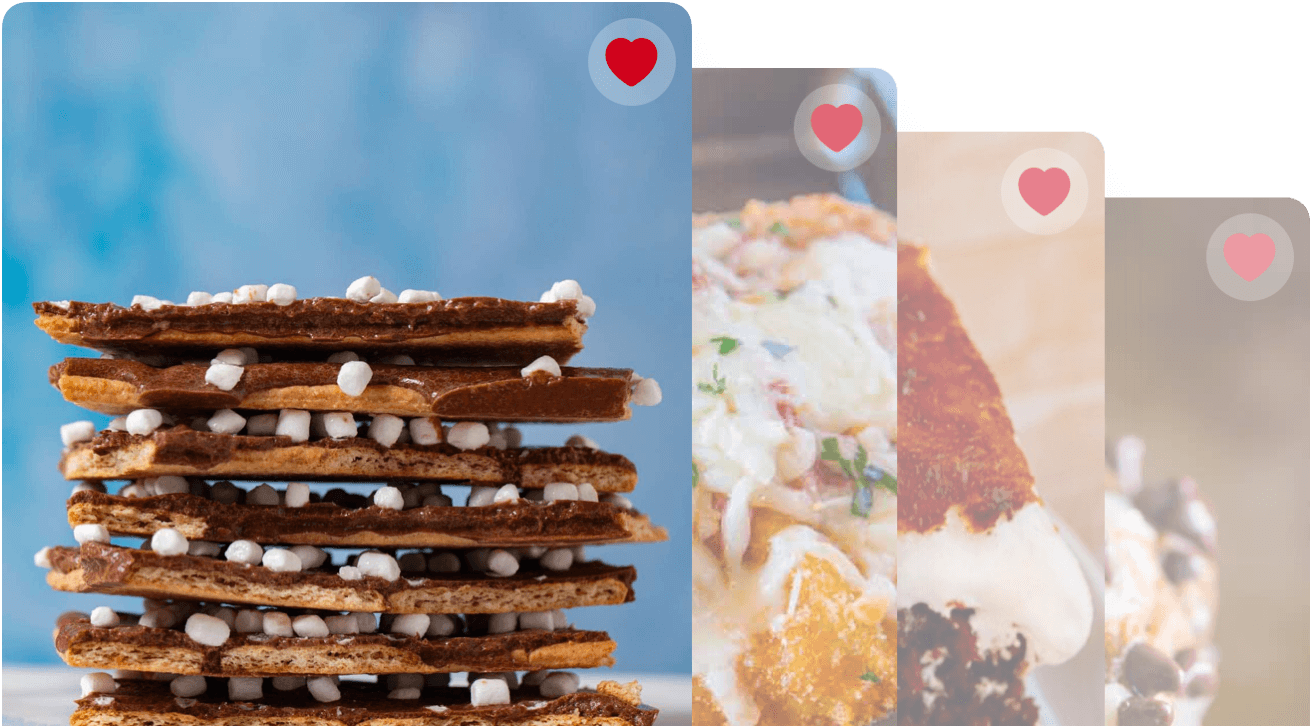 Breadcrumbs
We use classic dried breadcrumbs in this recipe for ease and availability. You can use homemade dried breadcrumbs in it's place if you'd prefer. Be sure to process them to a similar crumb to be sure too much air isn't in your measurements.
If you prefer you can also use ground saltine crackers. This is a favorite option of ours when we make a Cooking Light recipe with carrots and onions that we love (Diner Meat Loaf Muffins). If you use saltines I would cut the salt back in the recipe by half.
You can use panko in the recipe as well, since the panko is more airy I would increase the measurement to 2 1/3 cups of panko. I wouldn't go out of my way to purchase panko breadcrumbs for this recipe though, the benefit of panko is how crispy of a texture it provides to foods and in this recipe we will not be making any use of that.
Fresh (stale) bread is also an option that you can use. Some recipes call for torn apart pieces of actual loaves of bread. If you do this you'll be a bit more on your own as the ratios will depend on the moisture of your bread, the amount of milk needed to bread it down and the size of the bread crumbs left once your torn them apart. For our purposes we are using the milk soaked bread to add moisture to the meatloaf, not to provide an additional texture.
Meatloaf Topping
The topping of the meatloaf can be personalized to your tastes. Some people lean more savory vs more sweet. We have a brown sugar meatloaf recipe on the site that has ketchup with brown sugar added to it as a topping. This leans far to the sweet side but it is one of the most popular recipes on the site.
In this recipe since we are keeping to more classic flavors we are tempering the sweetness of the ketchup with both mustard and Worcestershire sauce.
If you don't have Worcestershire sauce you can add in a bit of bbq sauce, or steak sauce, or even soy sauce. We are looking mostly for a savory flavor to counteract all the sweet going on in our topping. If you do add soy sauce use just a tiny bit as soy sauce is incredibly salty and we are not looking to make the topping salty.
How to make a Meatloaf Sandwich:
The meatloaf must be fully chilled (preferably overnight).
Slice into 1″ thick slices, taking care not to tear the slices.
Use a 1/2 tablespoon of butter in a nonstick pan on medium-high heat.
Sear each side of your meatloaf for 3-5 minutes, using half the butter on each side, to form a deep crust.
If using cheese Add your cheese to your meatloaf while searing the second side of the meat.
Serve on bun that's been buttered before being toasted.
More Easy Ground Beef Recipes:
We love trying new recipes on the site (I mean where else would you find a Philly chili?), so if you have any recipe ideas you'd love to see on the site, let me know!
In the meantime please enjoy the best meatloaf recipe ever and if you make it please come back and let me know how it worked out for you.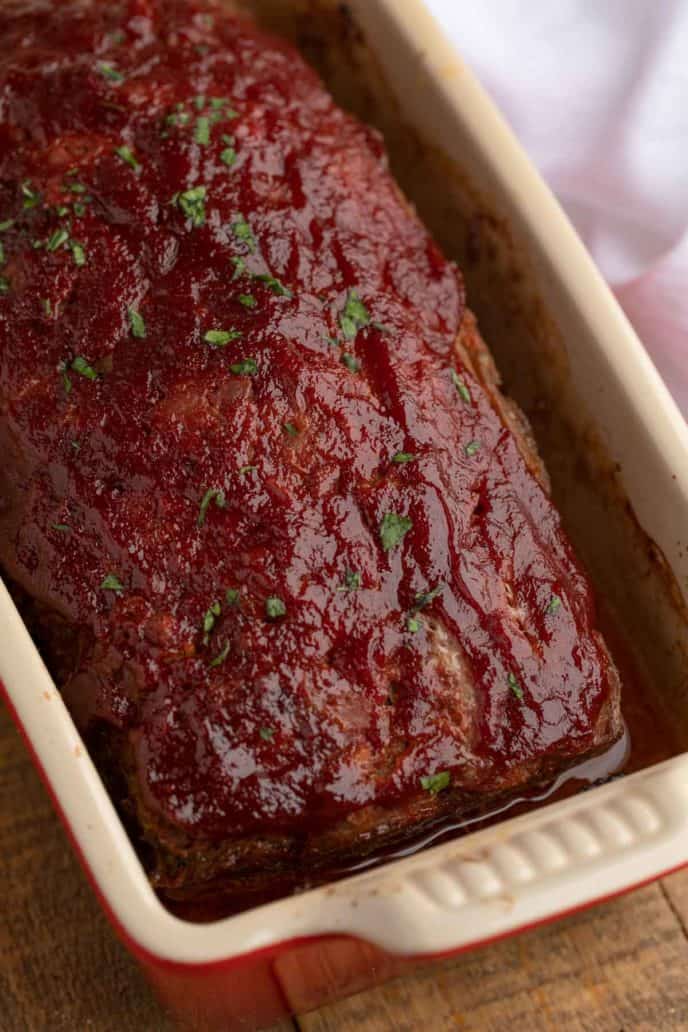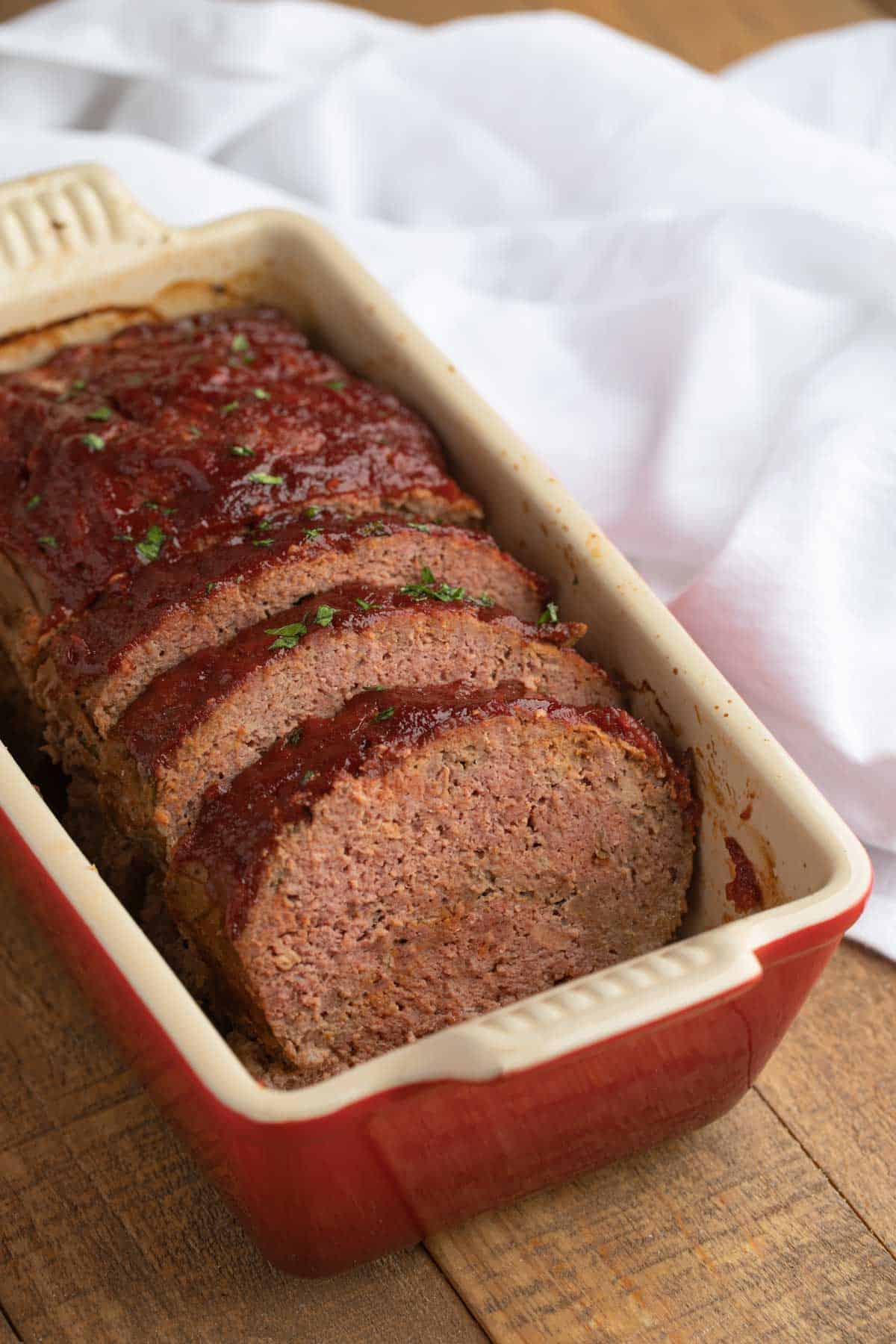 Classic Beef Meatloaf
Classic Beef Meatloaf that's tender, juicy, easy to make and the only recipe you'll ever need for this classic homestyle favorite recipe!
Total Time
1
hour
10
minutes
Ingredients
1

cups

milk

(whole)

1

cups

bread crumbs

1

large eggs

1/2

yellow onion

, minced

1/2

teaspoon

kosher salt

1/4

teaspoon

thyme

1/2

teaspoon

coarse ground black pepper

1 1/2

pounds

ground beef

(85/15)

1/4

cup

ketchup

1

tablespoon

Worcestershire sauce

1

teaspoon

yellow mustard
Instructions
Preheat the oven to 350 degrees.

In a large bowl whisk together the milk and breadcrumbs together until the milk is absorbed.

Whisk in the eggs, onion, salt, thyme and pepper.

Add in the beef and mix with your hands until the ingredients are combined and add to a 9x5 loaf pan.

In a small bowl mix the ketchup, Worcestershire sauce and mustard and spread over the meatloaf.

Bake, uncovered, for 60-65 minutes on a baking sheet (to prevent oil from spilling over into the oven).
Nutrition Facts
Classic Beef Meatloaf
Amount Per Serving
Calories 471
Calories from Fat 180
% Daily Value*
Fat 20g31%
Cholesterol 154mg51%
Sodium 807mg35%
Potassium 787mg22%
Carbohydrates 28g9%
Protein 41g82%
Vitamin A 250IU5%
Vitamin C 2.1mg3%
Calcium 158mg16%
Iron 5.5mg31%
* Percent Daily Values are based on a 2000 calorie diet.