Peppermint Bark Dip is a quick and easy Christmas (or Valentine's Day) dessert dip, with chocolate chips, peppermint candy, Cool Whip and cream cheese.
No-bake holiday desserts like Peppermint Bark are a life saver during the winter. If you are looking for an easier version of this delicious holiday treat, this absolutely the dessert dip for you and if you want some more easy no-bake treats for the holidays, check out my Candy Recipes.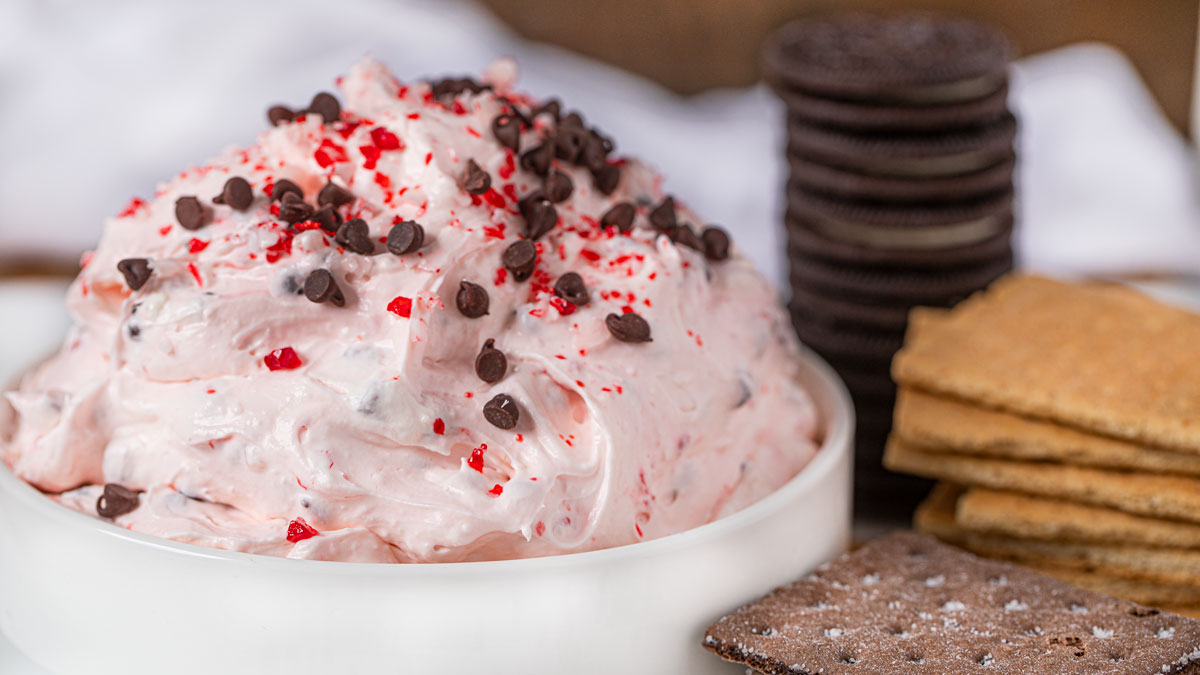 PEPPERMINT BARK DIP
Peppermint Bark Dip is sweet, creamy, and full of that bold peppermint flavor that tastes just like Christmas that is oh so easy to make. This dip recipe combines everything delicious about peppermint with the rich sweetness of chocolate, making it the perfect holiday recipe. Plus, this is one of the easiest peppermint recipes you'll ever serve.
It's that time of year again, when it seems like every week there is some holiday event going on. You're definitely going to need some delicious, shareable foods to bring, and the easier the better in my opinion.
During the busy holiday season, I like to keep a few super easy, tasty recipes on hand that can be whipped up in less than 15 minutes. This especially comes in handy when your oldest forgets to tell you until the day of about a class party that everyone needs to bring a crowd friendly treat to. On days like that, easy desserts like Peppermint Bark Dip are literally a lifesaver.
Ready in 5 minutes, paired with that box of graham crackers you've hidden from the kids, Peppermint Bark Dip makes you the hero parent with the tastiest party snack.
OTHER HOLIDAY DESSERT RECIPES
HOW TO MAKE PEPPERMINT BARK DIP
Beat cream cheese, powdered sugar and peppermint extract using an electric mixer until it's light and fluffy (a whisk also works, but it will take a few minutes), then mix in whipped topping.
Refrigerate the mixture if you aren't serving it immediately.
Stir in peppermint sticks, then fold in chocolate chips only just before serving.

Create a free account to

Save Recipes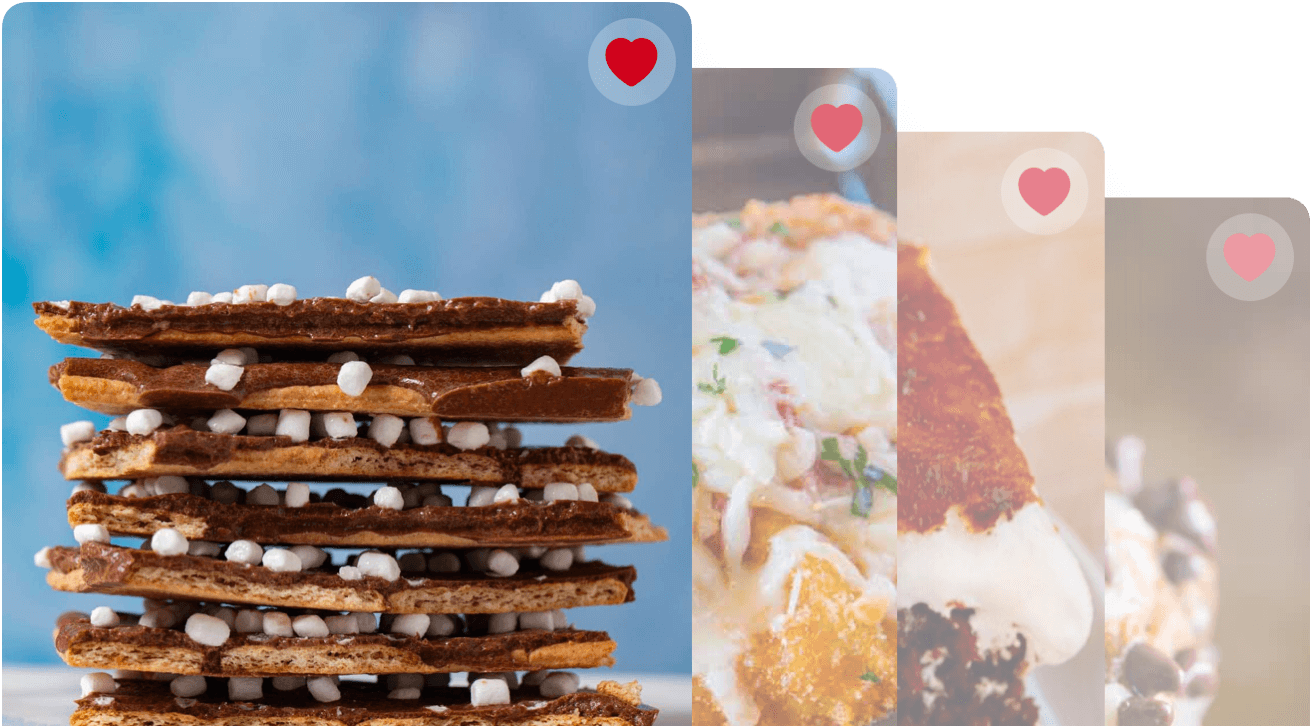 VARIATIONS ON PEPPERMINT BARK DIP 
Serve with: You don't just have to serve this dip on Milano cookies, you can also use pretzels, sugar cookies, brownies, vanilla wafers, Oreo cookies, or even chocolate graham crackers.
Add ins: I also recommend adding in additional ingredients to experiment with the taste and texture. For example, you can stir in crushed Oreo cookies, chopped pecans or walnuts, or even top it with some fresh fruit.
Chocolate: You can also experiment with different flavors of cocoa, such as white chocolate or dark chocolate. Changing the chocolate will drastically change the flavor of the dip, so you may want to make a test batch before you make some for the party to get the proportions right.
PEPPERMINT BARK DIP TIPS
Serve immediately! The peppermint candies will start to bleed into the cream cheese almost immediately after they're mixed in and will turn the dip into a gooey pink disaster.
Make a dessert dip trio for your holiday party with Peppermint Bark Dip, Gingerbread Dip, and Pumpkin Cheesecake Dip in separate bowls on a festive tray surrounded by a cookies, graham crackers, and other yummy dippers.
To make this festive dip even yummier (and slightly healthier) by using homemade Cool Whip. It's surprisingly easy to make and is a must have holiday hack.
PEPPERMINT BARK IS WORSE THAN PEPPERMINT BITE
Long before Williams-Sonoma introduced their famous Peppermint Bark in the 1990s, this classic holiday treat was sold in the 1960's in Florida by a shop that was selling it for about $1 a pound. No one really knows where the idea for the treat originally came from, but some food historians think that it may be much older. One thing that is well known is how delicious peppermint bark and peppermint bark desserts are, and how they're the perfect seasonal dessert.
EASY CHRISTMAS CANDY RECIPES
HOW LONG IS PEPPERMINT BARK DIP GOOD?
Serve: You shouldn't leave your Peppermint Bark Dip out for longer than about 2 hours at room temperature. Also, only make this dessert shorty before you plan on serving it, since it won't hold up well in the fridge.
Store: Don't. The peppermint pieces will bleed into the dip and turn it all pink. If you really want to store it, do not add the peppermint until you're ready to take it out and serve it.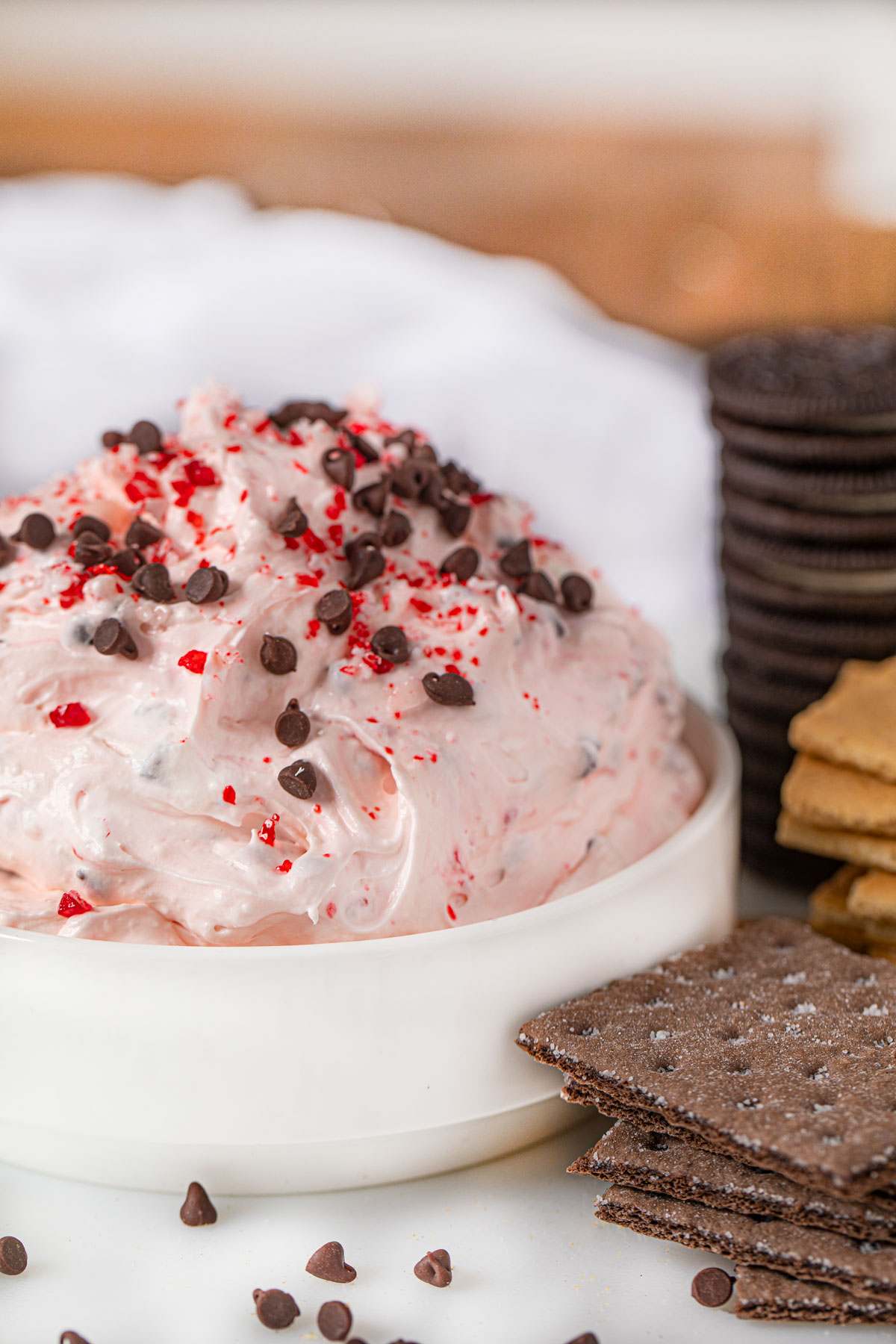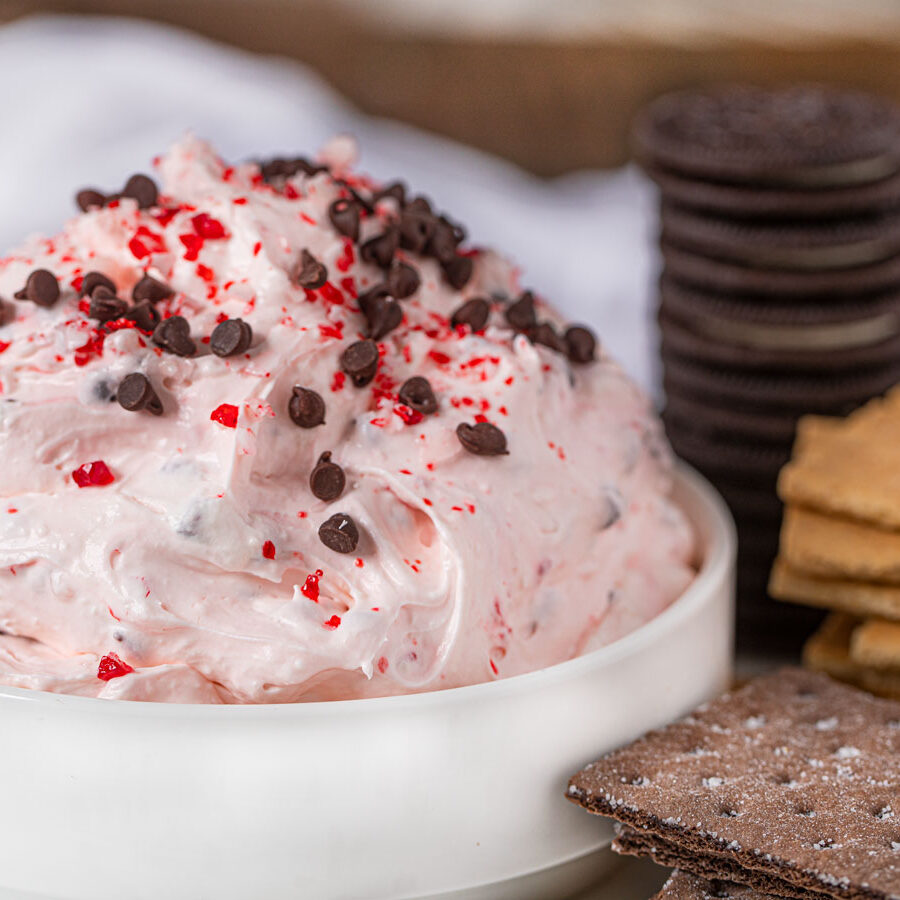 Peppermint Bark Dip
Peppermint Bark Dip is a tasty dessert dip, with chocolate chips, peppermint sticks, and cream cheese, served with cookies.
Instructions
To your stand mixer add the cream cheese, powdered sugar and peppermint extract until well combined.

Add in the cool whip on low speed until well combined then refrigerate for one hour.

Right when you're ready to serve, stir in the peppermint candy pieces and mini chocolate chips.
Nutrition Facts
Peppermint Bark Dip
Amount Per Serving
Calories 189
Calories from Fat 36
% Daily Value*
Fat 4g6%
Cholesterol 5mg2%
Sodium 218mg9%
Potassium 98mg3%
Carbohydrates 32g11%
Protein 5g10%
Vitamin A 46IU1%
Calcium 122mg12%
Iron 1mg6%
* Percent Daily Values are based on a 2000 calorie diet.