Buckeye Balls are an EASY dessert made from peanut butter balls dipped in chocolate and refrigerated to make a no-bake candy treat with only 6 ingredients!
Chocolate Dipped Candies are a huge hit during the holidays and we especially love easy ones like Chocolate Covered Pretzels, Chocolate Covered Strawberries, and Chocolate Covered Oreos!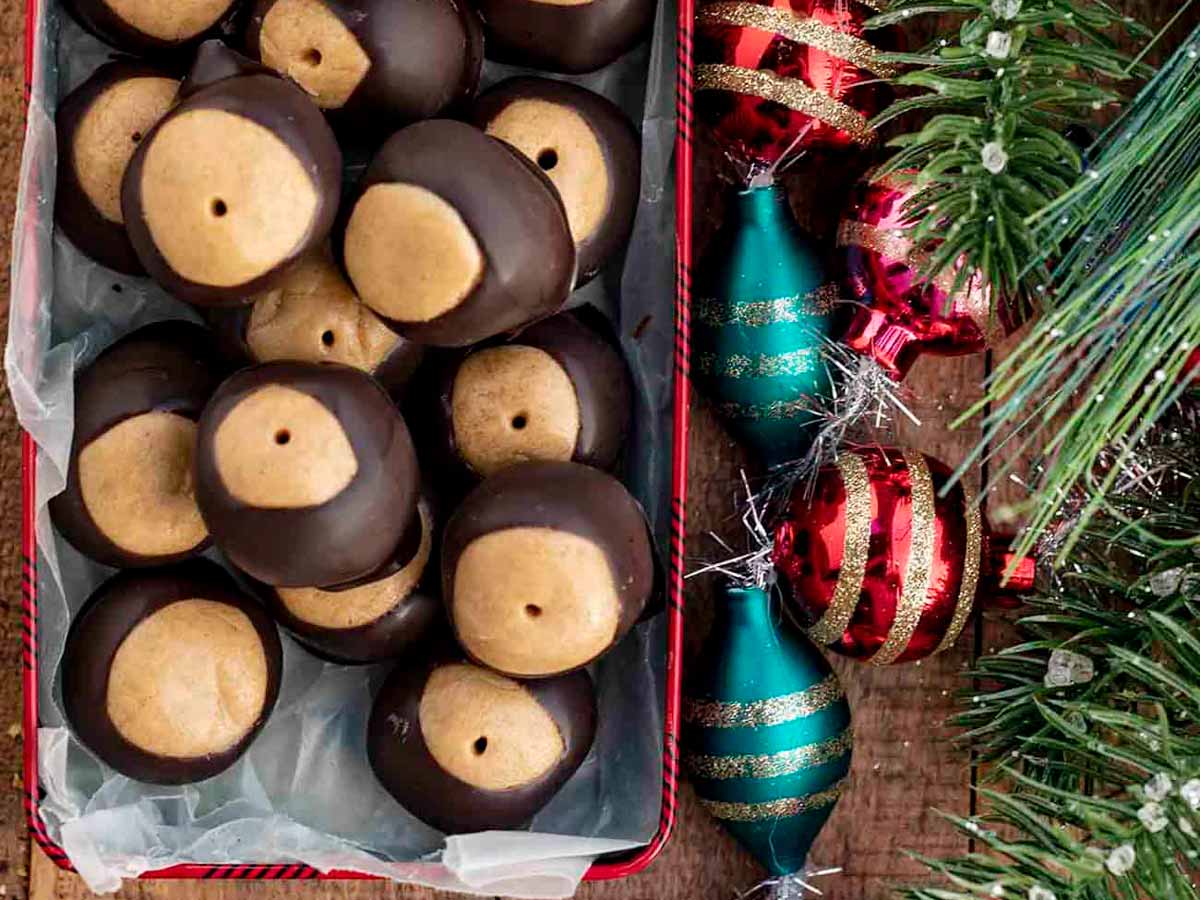 BUCKEYE BALLS RECIPE
Looking for easy Candy Recipes? These Buckeye Balls are almost like homemade Reese's cups with almost none of the effort. With the toothpick trick you'll love having your kids help you make these little peanut butter bites too.
You can even dip these peanut butter balls in festive sprinkles for all different special occasions. Different holidays, different colored sprinkles from Thanksgiving to Christmas, to Valentine's Day, the 4th of July or even Easter. These Buckeye Balls make a great gift for friends, family, coworkers or neighbors. They're even easy enough to add to your holiday baking schedule or make for a holiday dessert table for your big parties you've got coming up.
They're no bake and only take six ingredients, so you can make these ahead of time and put them in the freezer until you need them. Just be sure to defrost them in the fridge, pat them dry with a paper towel before dipping them in melted chocolate. These easy candies are the peanut butter version of the ever popular Oreo Balls.
What are Buckeye Balls?
Buckeye Balls are balls made from creamy peanut butter, vanilla, butter, and powdered sugar rolled into a dough and dipped in melted chocolate. They're creamy, nutty, chocolatey and basically one of the most perfect desserts you'll ever try.
Why are they Called Buckeye Balls?
The name Buckeye Balls came about because Buckeyes are a nut on the Ohio state tree, which inspired this buckeye candy recipe. Now these candy buckeyes are popular across the United States, but especially in the midwest.
EASY CANDY/TRUFFLE RECIPES:


Create a free account to

Save Recipes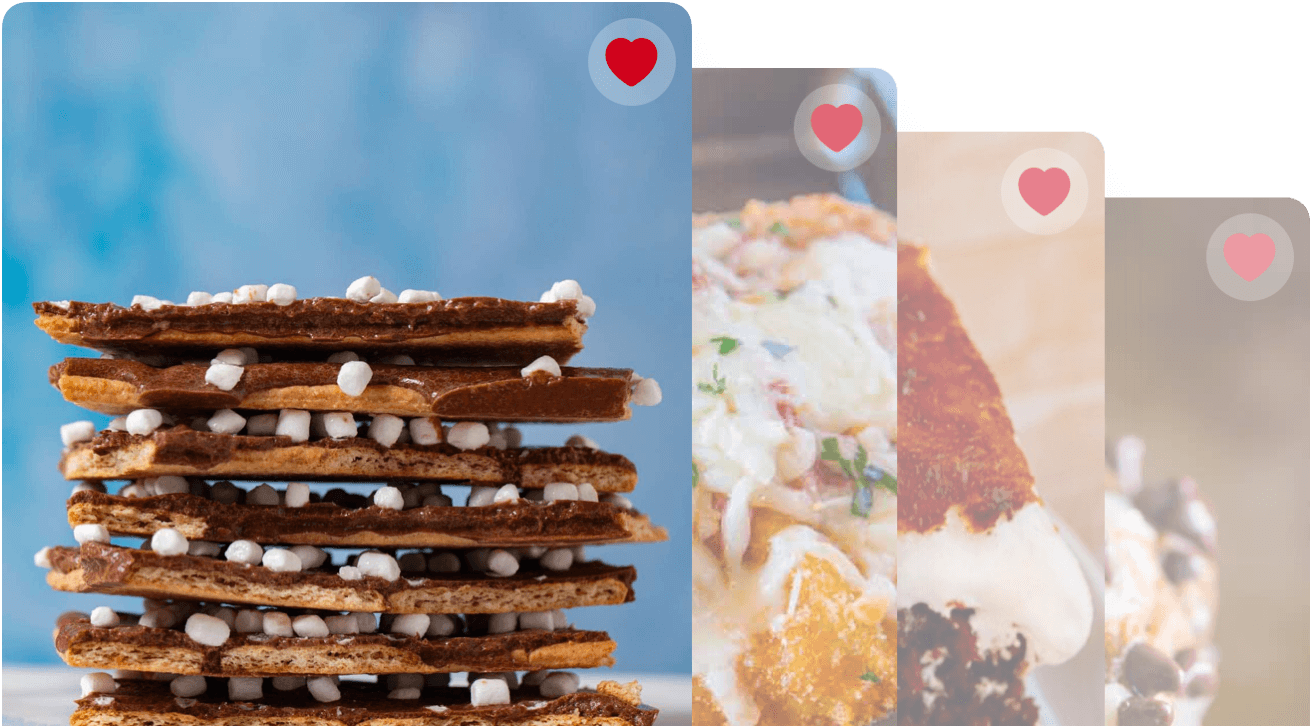 TIPS FOR MAKING BUCKEYE BALLS
I make this buckeye balls recipe with shortening to help thin the chocolate, but you can leave the vegetable shortening out if you don't have any.
Make sure you line your cookie sheet with parchment paper or the balls will stick to the sheet.
Don't skip refrigerating (or freezing) the peanut butter balls before you dip them in chocolate. This is the key to getting the balls to hold their shape while you're dipping!
Make sure the peanut butter you use has sugar in the ingredients. You need a shelf stable creamy peanut butter that has sweetness and holds up better than the natural version.
When you're rolling out the peanut butter balls, a trick I learned when I first started making this recipe was to rub a small amount of butter between your hands.

This will make sure the dough doesn't stick to your hands while you're forming the balls. Then use a toothpick to dip them into the chocolate, but not all the way, thats what gives them the "eye" look.
FLAVOR VARIATIONS:
Sprinkle the buckeyes with sea salt, caramel sauce, crushed cookies, or drizzle with dark chocolate for decoration.
Use salted butter if you want to try a sweet and salty flavor. If I do this, I usually add a drizzle of caramel sauce, too.
Dip the peanut butter center in white chocolate almond bark instead of chocolate for a white chocolate Reese's flavor.
MORE CANDY RECIPES:
HOW TO STORE BUCKEYE BALLS:
Serve: Don't leave your Buckeye Balls at room temperature for longer than about 2 hours because the peanut butter and butter in them will soften and they'll lose their firmness.
Store: You can keep your Buckeye Balls in an airtight container in the fridge for up to 3 weeks.
Freeze: As long as you keep your Buckeye Balls in an airtight container that keeps moisture out, it will stay good for up to 6 months in the freezer.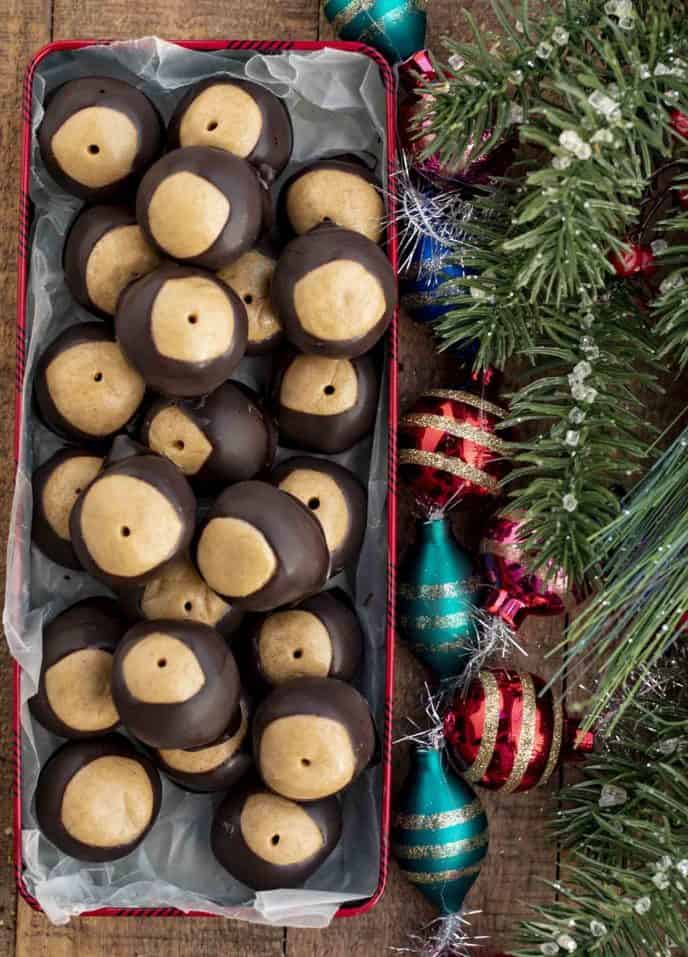 PS, I dipped them with toothpicks and smoothed over about half with a quick pinch and pat so you can see the difference in the pictures to see which way you prefer. Either way they're just as delicious!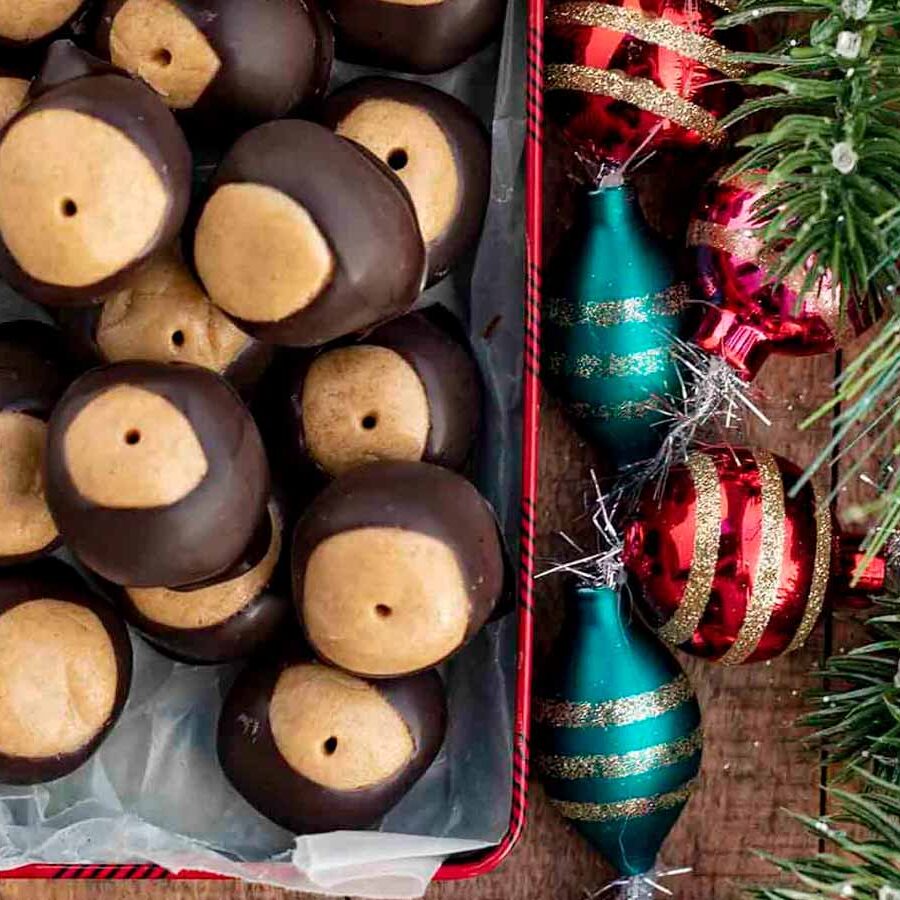 Buckeye Balls
Buckeye Balls are an EASY dessert made from peanut butter balls dipped in chocolate and refrigerated to make a no-bake candy treat with only 6 ingredients!

Refrigerating Time
30
minutes
Instructions
To a stand mixer add the peanut butter, butter, vanilla and powdered sugar and beat it until it forms a stiff dough then then roll the dough into balls made with 2 teaspoons of dough.

Put the balls on a baking sheet lined with parchment paper then refrigerate for at least an hour before using a microwave safe bowl to melt the chocolate and shortening in 30 second increments until fully melted (mix in between each 30 seconds, for 60-90 seconds total).

Dip the balls almost all the way leaving the eye of the peanut butter ball showing before scraping the fork across the lip of the bowl to remove excess chocolate and using a toothpick to push the buckeye ball onto the parchment paper to harden for at least 30-45 minutes in the refrigerator before eating.
Recipe Notes
Note: click on times in the instructions to start a kitchen timer while cooking.
Nutrition Facts
Buckeye Balls
Amount Per Serving
Calories 233
Calories from Fat 135
% Daily Value*
Fat 15g23%
Cholesterol 10mg3%
Sodium 75mg3%
Potassium 144mg4%
Carbohydrates 21g7%
Protein 4g8%
Vitamin A 120IU2%
Calcium 12mg1%
Iron 0.8mg4%
* Percent Daily Values are based on a 2000 calorie diet.