Classic Beef Stew is a one pot comforting and hearty, made with beef, vegetables, tomato paste, and seasoning, PERFECT for cold winter days!
Beef Stew is the perfect thing to make to warm up in the winter, and with the cold weather comfort foods like Pot Roast, Sloppy Joes and Beef Chili are popular on the site right now.
CLASSIC BEEF STEW
One of the most popular slow cooker recipes on the site is Slow Cooker Beef Stew so we have been long overdue for this stovetop version. We're looking to make a lot of our slow cooker recipes in classic stove top versions this year after seeing many of you looking for help in the comment sections of the posts.
Plus this stew recipe is perfect for the season because it is a great recipe to make-ahead and enjoy for days. In fact it tastes even better the following day.
With a simple recipe of beef, potatoes and carrots with a tomato paste and beef broth base you only need a chuck roast (or even just stew meat) and some pantry staples to have the perfect cold weather stick-to-your-ribs meal your family will love.
Psst, serve this stew with these delicious homemade rolls or honey cornbread, I promise you'll crave this meal every time the temperature dips. Even more brownie points if you brush those rolls with a bit of melted garlic butter.
How much red wine in beef stew?
This is a classic beef stew recipe unlike the recent pot roast recipe I posted where I included red wine. You can certainly include red wine in this recipe by swapping 1 cup of the beef stock for 1 cup of red wine.
I would not add an additional cup of liquids to the recipe however, you want to control how much liquid you create or the soup will rapidly become a watery soup.
N.b. you can also add a touch of balsamic vinegar to your beef stew if you'd like the acidity of the red wine without the wine, I suggest just 1-2 tablespoons.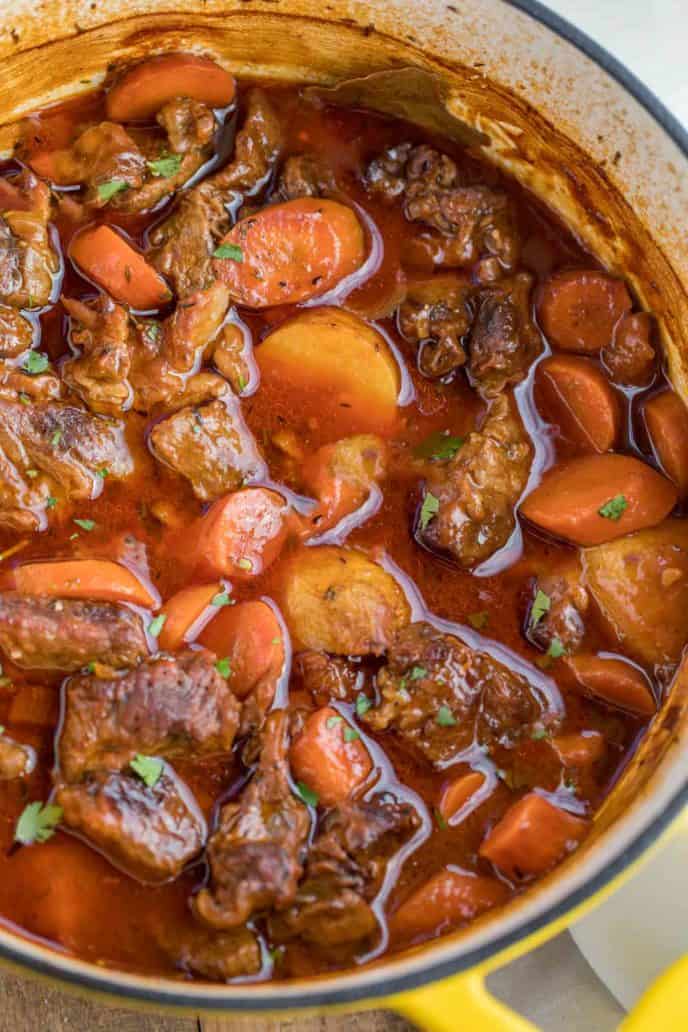 Classic Soups and Stews Best Practices:
Always brown your meat before adding it to the soup/stew. Browned meat intensifies the flavors and it is also much better presentation as meat that just "stews" in the beef stock tends to stay a more grey color and it doesn't look as appetizing.
Always add broth/stock when possible instead of water, water does nothing for building flavors.
Making this in the slow cooker/crock pot is of course a no brainer as the slow cooker version is one of the most popular recipes on out site (see above).
If you want to add a bit of richness to your beef stew finish it with a bit of garlic butter with minced parsley spooned over your serving. One small spoonful goes a long way.
Other vegetables to add to beef stew:
Celery: Celery can be added in one of two ways. Celery in general is known as a base vegetable that helps to build a good foundation of flavors with onions and carrots that are browned together with butter. Celery can also be added in 1″ or longer chunks if you'd like to have bites of celery in your meal.
Sweet Potatoes: Sweet Potatoes are a natural fit for this beef stew and would make a great substitute for the carrots as they bring a similar amount of sweetness to the recipe. I'd avoid swapping the potatoes for sweet potatoes as the carrots and sweet potatoes would both add sweetness.
Parsnips: One of the best vegetables for braised dishes because of its hearty texture, make sure you pick the largest parsnips you can find. The thicker they are the better for this long braising time. You will absolutely love this dish with parsnips, if I could I'd eat parsnips in place of carrots 100% of the time they're so delicious.
Pearl Onions: Make sure you take some time to cook these in some butter before adding them to the beef stew or they will cook and become slightly leathery. Cooked in butter on medium heat for 5-6 minutes, stirring occasionally, before being added to the beef stew is a perfect amount before being added.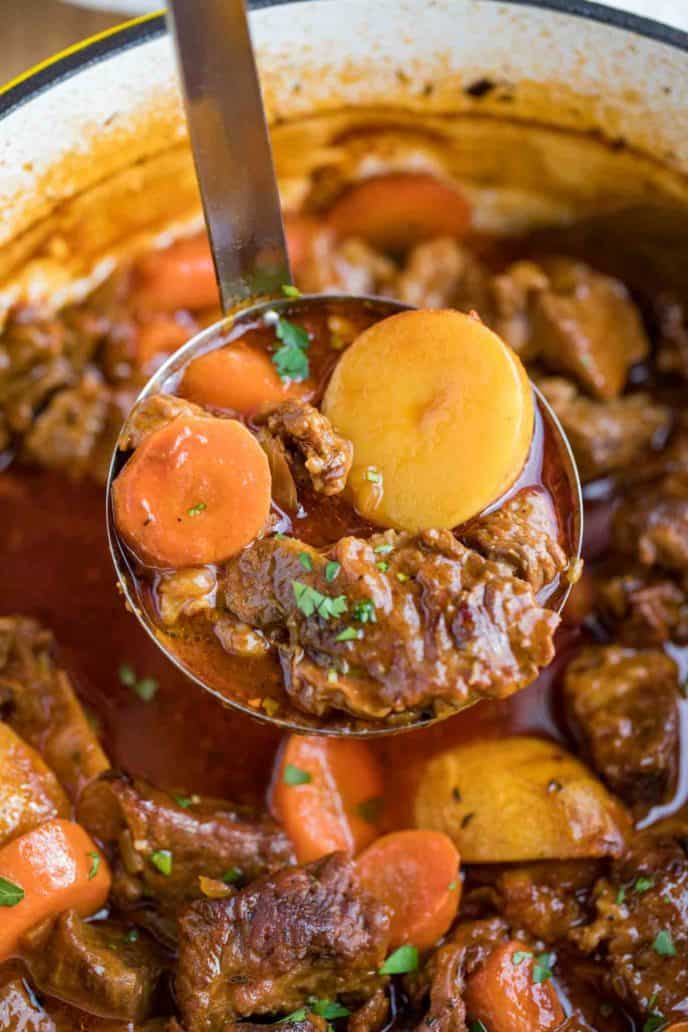 Create a free account to

Save Recipes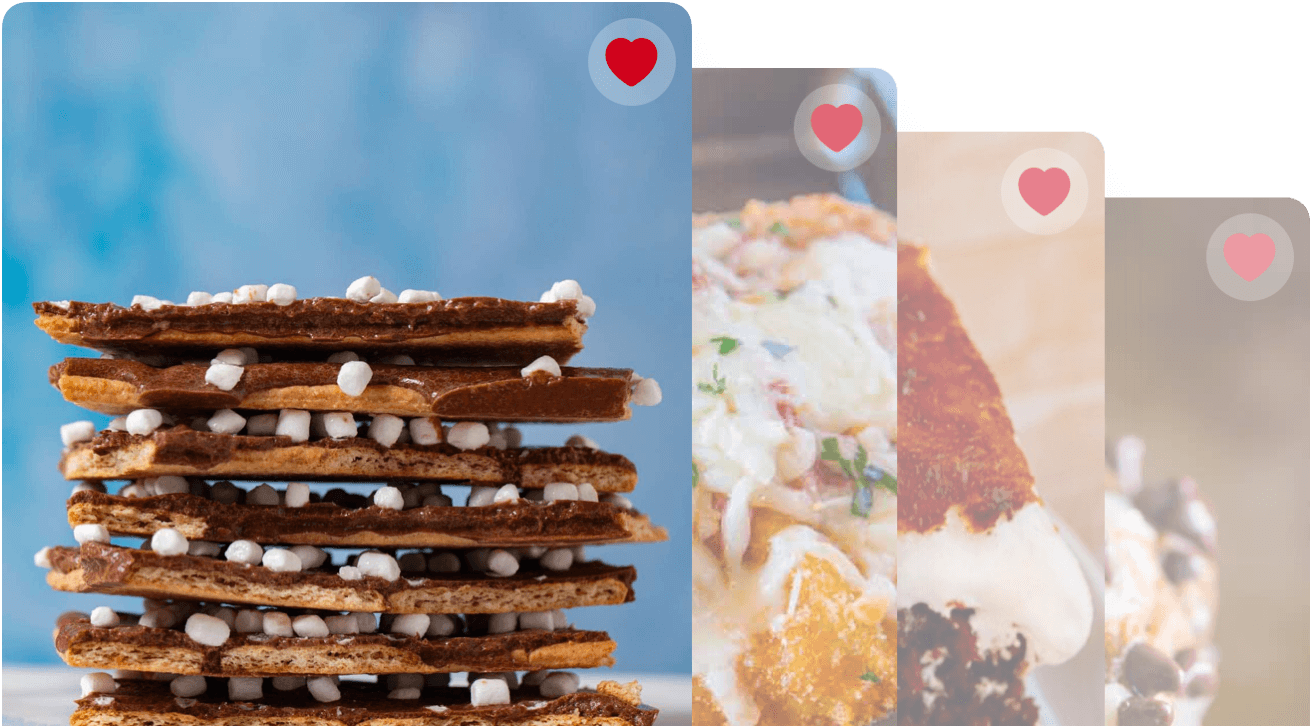 Best Meat for Beef Stew:
Chuck Roast: This is the most old-fashioned and classic cut of meat for most pot roasts or beef stews. I use this as a replacement for most recipes that actually call for stew meat because I find chuck to be well-marbled.
Stew Meat: This is the easiest way to go, not expensive cut of meat because it is pre-cut. I find it is generally not high quality though and usually extra cuts left over that the butcher is looking to sell off. I avoid this cut in the grocery store.
Ribeye: If you want to impress your guests and you are cooking this during the holidays you may find a ribeye roast is on sale. I find during Christmas it usually sells for a VERY low price (comparable sometimes to chuck). When it does I get a 4″ thick cut and use it to make the best roasts and stews with it because to me almost nothing beats the ribeye.
Instant Pot/Pressure Cooker Beef Stew Instructions:
Add the beef to the pressure cooker and set on the sauté setting with oil and brown. Add the rest of the ingredients, set on high pressure for 35 minutes then release pressure fully.
MORE SOUPS AND STEW RECIPES
This is a great recipe your family will love on a cold winter night that you can also serve on gameday. Perfect for a tailgate party, a weeknight dinner or meal prepping for lunches for the week. Since it's a matter of browning some meat and letting it braise in the oven this dish is great for lazy Sundays too.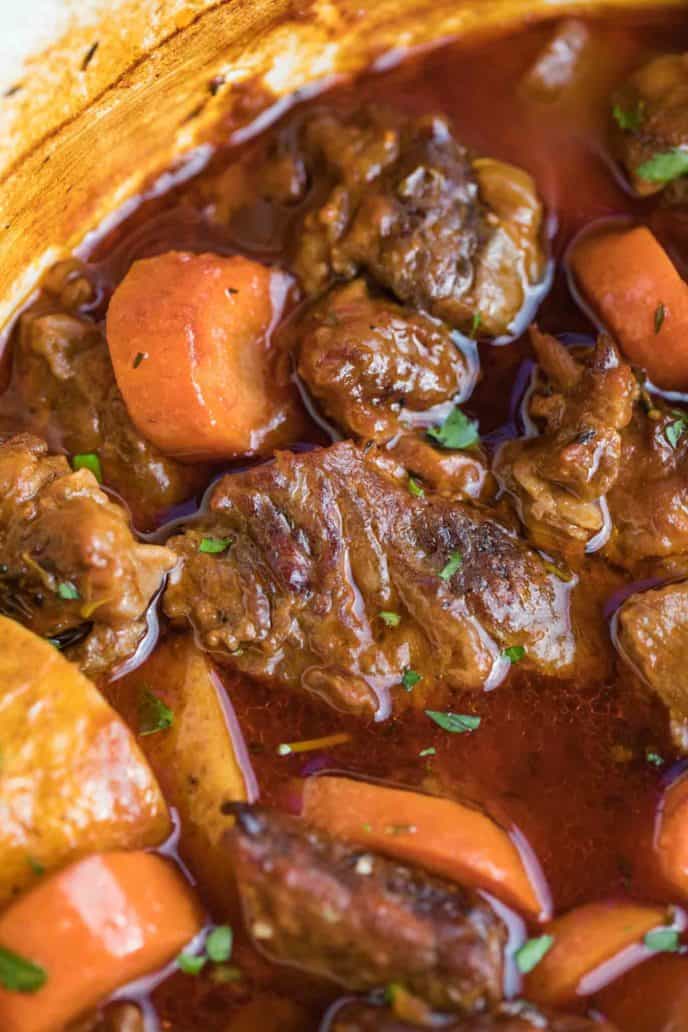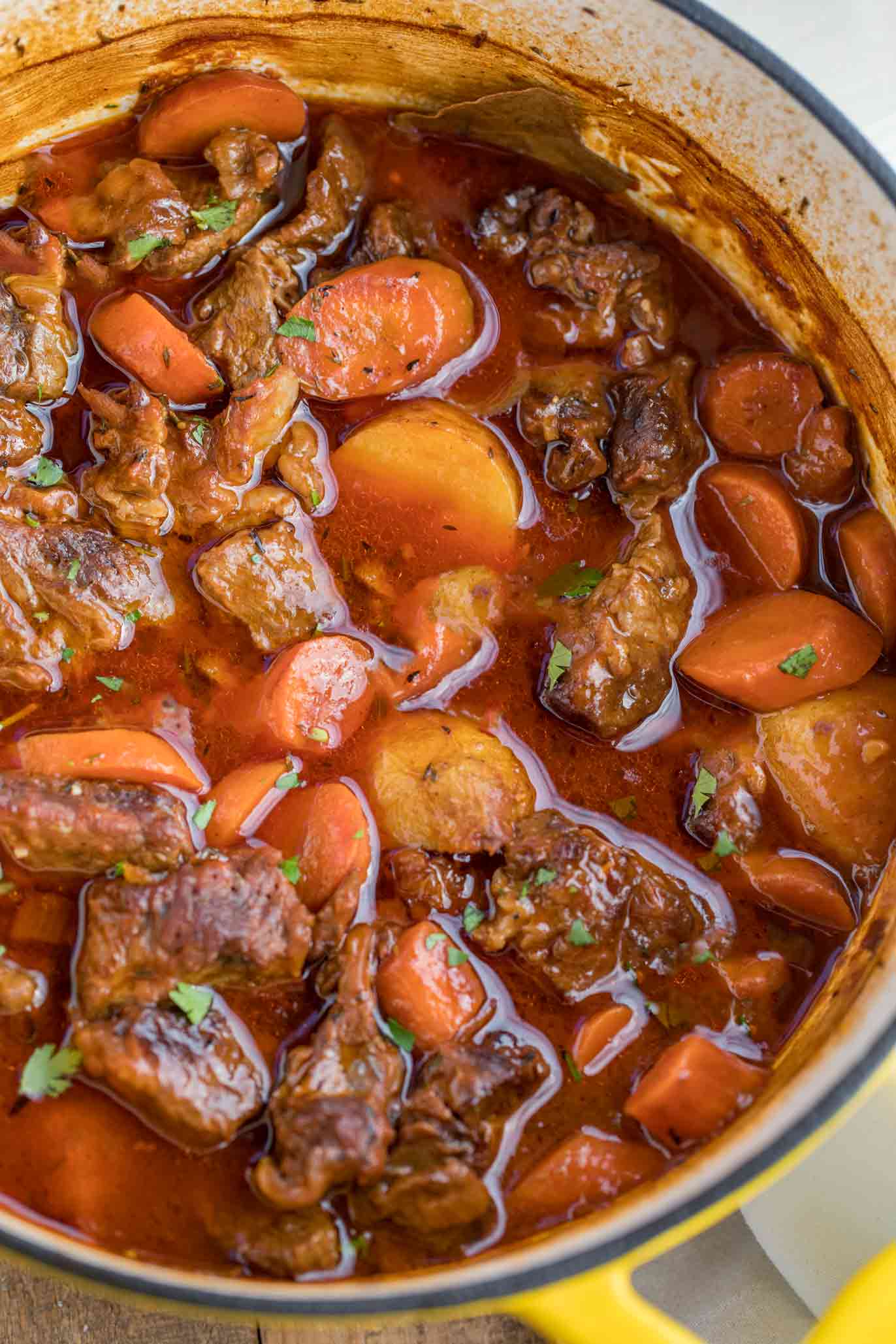 Classic Beef Stew
Classic Beef Stew is a one pot comforting and hearty, made with beef, vegetables, tomato paste, and seasoning, PERFECT for cold winter days!
Total Time
3
hours
20
minutes
Ingredients
3

pounds

chuck roast

cut into 2" chunks

1

teaspoon 

Kosher salt

1/2

teaspoon

coarse ground black pepper

2

tablespoons

flour

2

tablespoons

unsalted butter

2

tablespoons

canola oil

1/2

yellow onion

chopped

4

cloves

garlic

minced

2

carrots cut into 2 inch chunks

2

Yukon potatoes chopped

4

cups

beef broth *

1/4

cup

tomato paste

1

bay leaf

1

teaspoon

thyme

1

tablespoon

Worcestershire sauce
Instructions
Preheat the oven to 325 degrees and season the beef chunks with salt and pepper before dredging in flour.

Add the butter and canola oil to a large dutch oven on medium heat and brown the beef on all sides in batches (3-4 minutes per batch).

Remove the last batch of the beef and add in the onions, garlic and carrots and cook for 2-3 minutes until slightly caramelized before adding the potatoes in along with the broth, tomato paste, bay leaf, thyme and Worcestershire sauce and stirring to combine.

Add the beef back into the pot, cover and cook in the oven for 3 hours, removing the bay leaf before serving.
Nutrition Facts
Classic Beef Stew
Amount Per Serving
Calories 391
Calories from Fat 234
% Daily Value*
Fat 26g40%
Cholesterol 124mg41%
Sodium 909mg40%
Potassium 745mg21%
Carbohydrates 4g1%
Protein 34g68%
Vitamin A 245IU5%
Vitamin C 3.5mg4%
Calcium 46mg5%
Iron 4.2mg23%
* Percent Daily Values are based on a 2000 calorie diet.