Ultimate Slow Cooker Beef Stew made with chuck roast, Yukon potatoes and carrots for a rich beef stew that is perfect for the cold weather.
Like our Classic Beef Stew this slow cooker version is an easy, comfort food Soup Recipe you can make any day of the week.

Ultimate Slow Cooker Beef Stew
Slow cooker meals are so popular right now with good reason. We have less time with school and holidays and the weather is so cold we all want food that is hearty and comforting. This Ultimate Slow Cooker Beef Stew is the best of all worlds.
Easy Weeknight Meal
Meal prepping this recipe is easy and makes the perfect weeknight meal. To prepare simply:
Brown the beef in cubes.
While beef is browning cut the carrots and potatoes.
Add in the remaining ingredients.
Cook on low for 8 hours.
It will cook all day while you're gone and when you get home you have the most amazing smell going through your kitchen.
Serving suggestion? Just like in my Slow Cooker Vegetable Beef Soup I highly suggest you enjoy this meal with crusty French bread and a side salad (a nice lemon/olive oil dressing would be great to cut through all the hearty flavors here).
MORE BEEF STEW RECIPES
Tips for making this Ultimate Slow Cooker Beef Stew:
Brown: Brown your beef! I used a chuck roast, seared it well on both sides, then trimmed and cut it into 2-3 inch chunks.
Choose Potatoes Carefully: One of the easiest and most delicious ingredients in this stew: Yukon Potatoes! They're buttery and rich and won't fall apart after a long day of cooking. You also don't need to peel these potatoes which will cut down significantly on the work you have to do before cooking.
One Pot Meal: We browned the beef in a cast iron skillet and got a GOOD crust on both sides with plenty of kosher salt and black pepper.

We also have a slow cooker with an aluminum insert – if you have a similar slow cooker, brown the beef in this make this a one pot meal.It also saves all the browned flavor that stays in the pan for your stew.

Beef Base: If not using a base use beef stock instead of broth and its even more important to get a good sear on the meat, then deglaze the pan with the stock to make sure all the beef flavor comes with it.
Tomato Paste: Instead of crushed or diced tomatoes we use tomato paste, the concentration of flavors without adding additional liquid makes for a more flavorful stew.
Diced tomatoes: In a stew you aren't looking for the consistency to be that of a soup, so minimizing added liquids is helpful. If using canned tomatoes instead of paste drain the can.
Comfort Food Sides: Serve this with Crusty French Bread Rolls or Garlic Bread, the Beef Stew is great for bread dipping.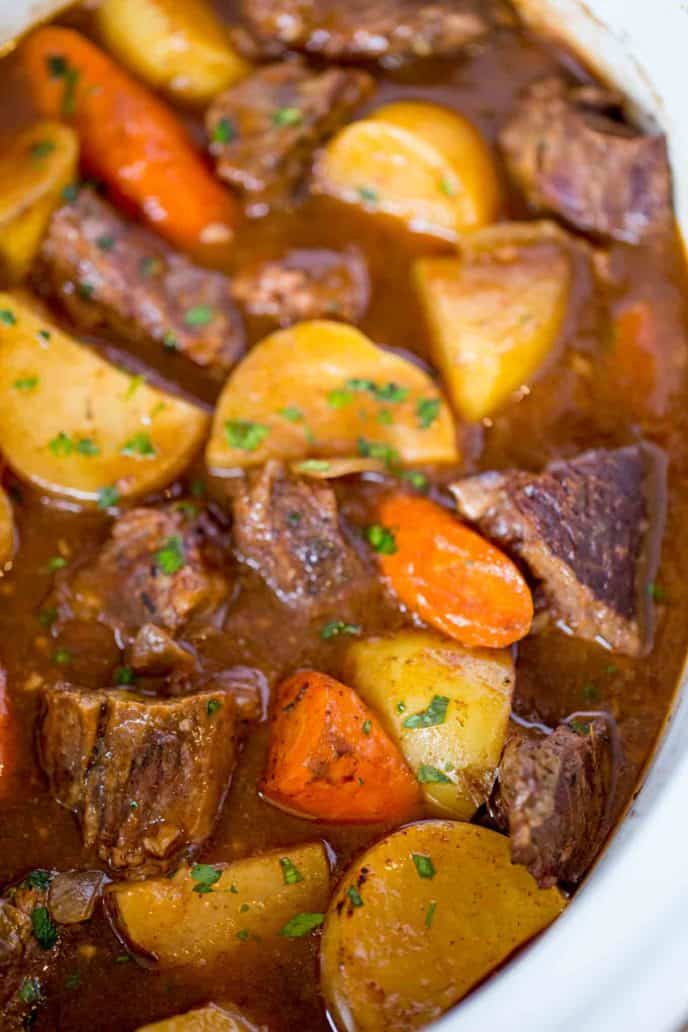 Create a free account to

Save Recipes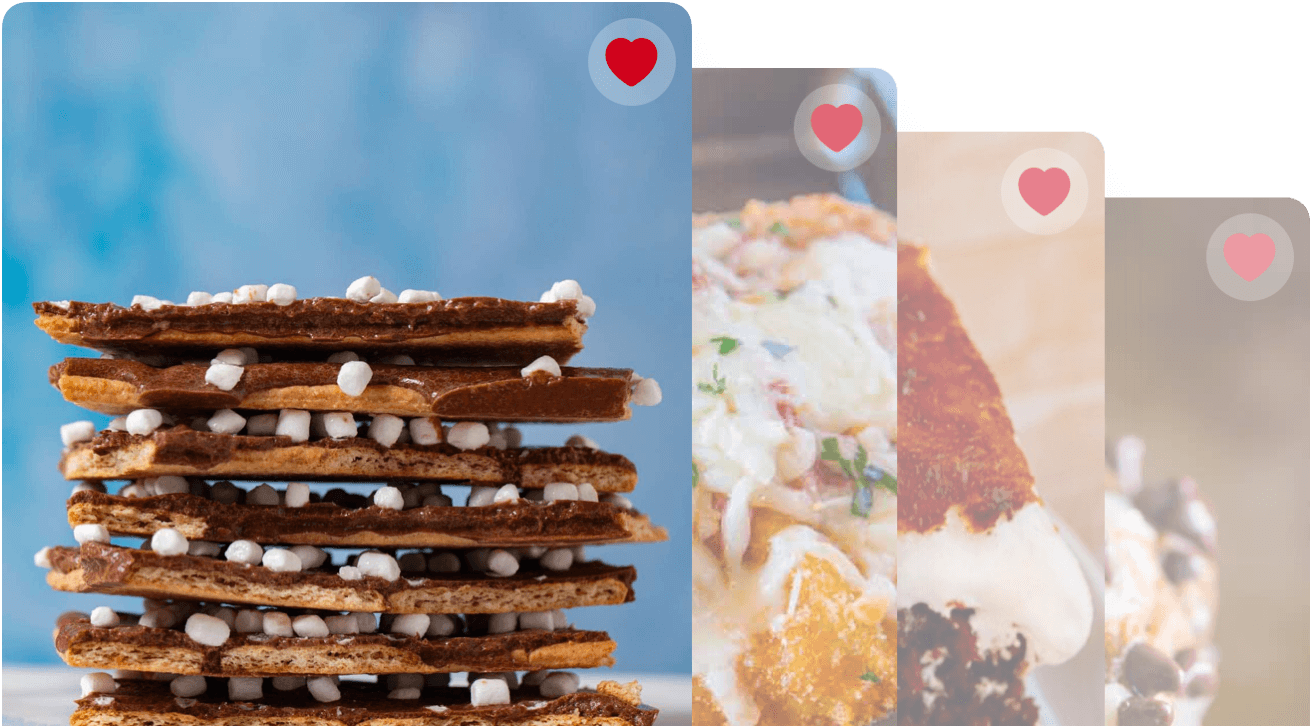 How do you thicken up beef stew? To thicken beef stew you can either mix equal parts of flour/butter together and add it to the last hour of cooking or you can simply mash 3 or 4 chunks of the potatoes well and mix it into the stew for a natural thickener.
Slow Cooker Beef Stew with Red Wine? Instead of four cups of beef broth add in 3 cups of broth and one cup of red wine and follow the rest of the recipe as written.
Best Meat for Beef Stew:
Chuck Roast: This is the most old-fashioned and classic cut of meat for most pot roasts or beef stews. We use this as a replacement for most recipes that actually call for stew meat because. Chuck roasts are typically well-marbled, just be sure when buying the meat you look for more even fat distribution.
Stew Meat: This is the easiest way to go, not expensive cut of meat because it is pre-cut. This is generally not high quality though and usually extra cuts left over that the butcher is looking to sell off. Avoid this cut in the grocery store if possible.
Ribeye: If you want to impress your guests and you are cooking this during the holidays you may find a ribeye roast is on sale. During the holiday season it usually sells for a VERY low price (comparable sometimes to chuck). When it does, get a 4? thick cut and use it to make the best roasts and stews with it because it will be a luxurious treat with the most tender beef you've ever eaten.
MORE SLOW COOKER RECIPES:
HOW TO STORE POT ROAST SOUP
Serve: You should never leave meat out for more than 2 hours after cooking it.
Store: Once the soup has cooled down to room temperature, put it in an airtight container to store it in the fridge. It will keep well for 2-3 days.
Freeze: You can also freeze Pot Roast Soup for up to 3 months. Keep it in a freezer bag or other airtight container, and let it thaw in the fridge overnight before reheating it in a dutch oven on the stovetop.

Tools Used in making this Ultimate Slow Cooker Beef Stew:
Food Flipper: I use this to flip the chuck roast easily. I use this tool EVERY time I cook something that requires flipping, it is amazing.
Slow Cooker: This recipe was made in this slow cooker. Love this slow cooker and how programmable it is. Plus the locking lid makes it a breeze for making a dish that needs to travel
Aluminum Insert Slow Cooker: I brown the meat in the insert without losing a bunch of the flavor by transferring the meat and leaving the browned bits behind. If you're thinking of a new slow cooker, consider it if your budget is open.
Cast Iron Skillet: If you don't have a slow cooker with a stovetop friendly
insert, this is my most used pan in my kitchen, heavy, keeps heat well and gives the BEST sear ever.
Beef Base: I almost never buy boxes of broth because I keep the beef, chicken and vegetable version of this Better Than Bouillon.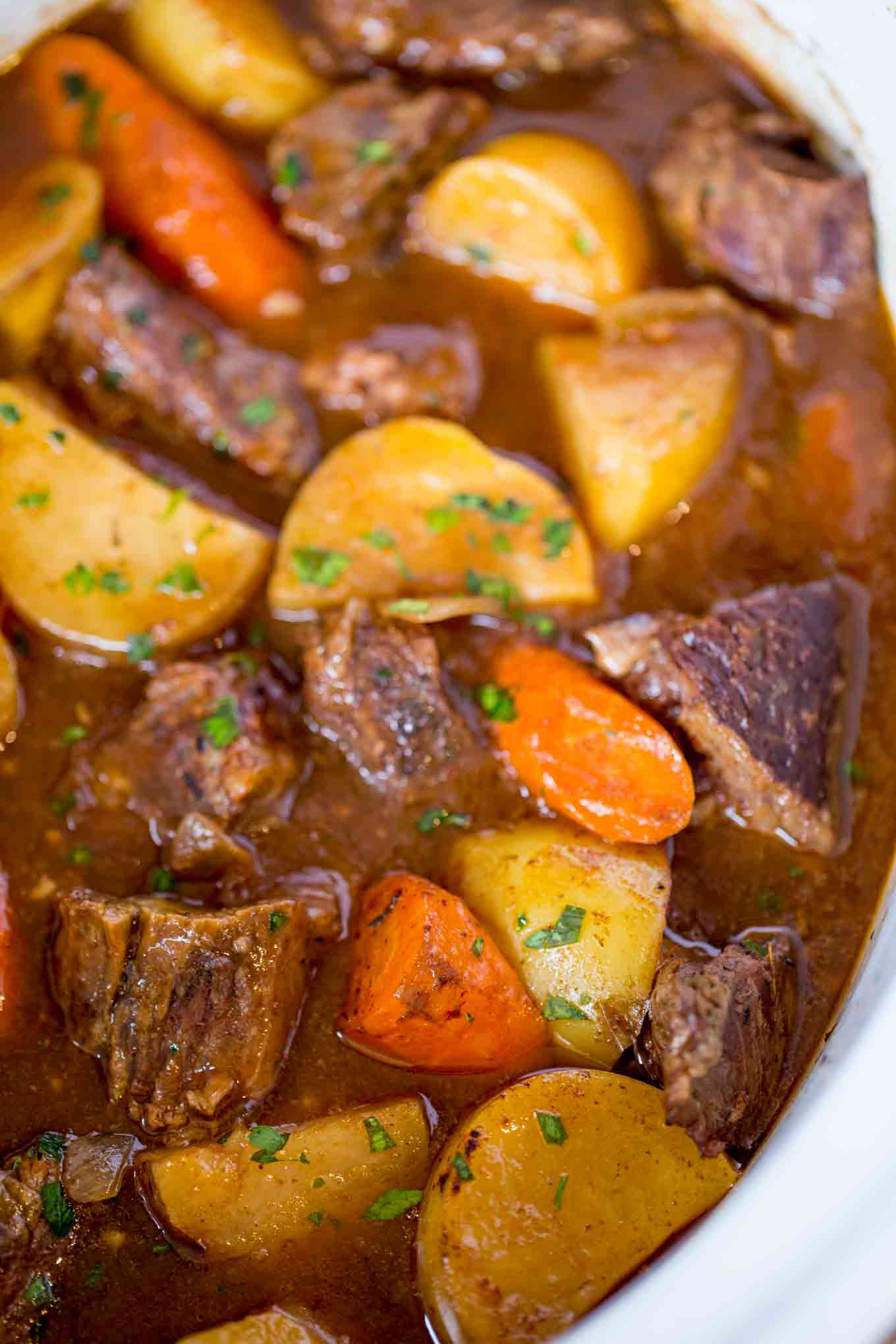 Ultimate Slow Cooker Beef Stew
Ultimate Slow Cooker Beef Stew made with chuck roast, Yukon potatoes and carrots for a rich beef stew that is perfect for the cold weather.
Total Time
8
hours
20
minutes
Ingredients
3

pound

chuck roast

, boneless

1

teaspoon 

Kosher salt

1/2

teaspoon

coarse ground black pepper

1

yellow onion

, chopped

4

carrots

, peeled and cut into 2' chunks

4

Yukon potatoes

, cut into 2" chunks

4

cups

beef broth

*

1/4

cup

tomato paste

1

dried bay leaf

1

teaspoon

thyme

4

cloves

garlic

, minced

1

tablespoon

Worcestershire sauce

2

tablespoons

unsalted butter

, unsalted

2

tablespoons

flour
Instructions
Preheat a large skillet or aluminum slow cooker insert on high heat.

Season the beef with half the salt and all the pepper.

Add to the skillet and brown on each side for 4-6 minutes or until deeply browned on each side.

Remove the beef from the pan and add in the onions.

Cut the beef into 2-3 inch chunks and add it to the slow cooker.

Cook the onions for 3 minutes, stir then cook another 3 minutes.

Into the slow cooker add the onions, carrots, potatoes, broth, second half of the salt, tomato paste, bay leaf, thyme, garlic and Worcestershire sauce.

Stir all the ingredients until well mixed and cook on low for 7 hours.

In a small bowl mix the butter and flour and add it to the slow cooker and stir.

Cook an additional hour or until thickened.
Recipe Notes
*Alternately use a big scoop of Beef Better than Bouillon like I did in addition to water/stock. The extra beef flavor is fantastic.
Nutrition Facts
Ultimate Slow Cooker Beef Stew
Amount Per Serving (1 g)
Calories 425
Calories from Fat 198
% Daily Value*
Fat 22g34%
Cholesterol 124mg41%
Sodium 963mg42%
Potassium 1204mg34%
Carbohydrates 18g6%
Protein 37g74%
Vitamin A 5340IU107%
Vitamin C 15.4mg19%
Calcium 83mg8%
Iron 7.1mg39%
* Percent Daily Values are based on a 2000 calorie diet.