Perfectly Easy Dinner Rolls are an incredibly light, fluffy, buttery addition to dinner, and are hands down the EASIEST yeast bread you will ever make!
It's our job to deliver the best recipes we know right to your dinner table, and nothing says dinner like this warm buttery dinner rolls recipe that pairs perfectly with Ultimate Slow Cooker Pot Roast and Classic Beef Chili.
EASY DINNER ROLLS
Dinner Rolls are soft, buttery, flakey, and all around one of the most amazing things you will add to your dinner table this year. They're really simple to make, and taste WAY better then store-bought.
I like to make a big batch and serve half with dinner, and use the other half to make appetizers like Baked Egg and Cheese Hawaiian Sliders, or Baked Cuban Pork Party Sliders.They're my go-to during appetizer season (I'm looking at you big football game 5 weeks from now!), plus you can make them ahead of time and freeze until you're ready to prep.
One of my favorite things about this dinner rolls recipe is that you don't have to hand-knead the dough. The stand mixer will basically do it for you with the dough hook attachment, and all you have to do is roll it into balls before baking.
If you don't have a stand mixer or you want to do it the old fashioned way you can still knead the dough with your hands. I made them by hand the first time, but now I use the hook to go faster.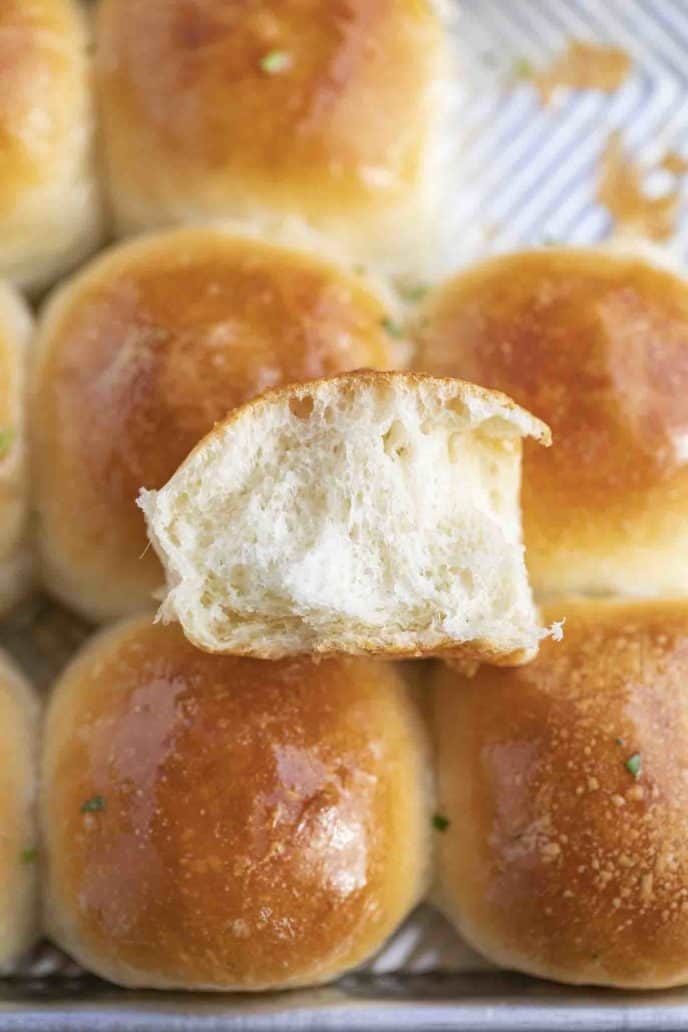 HOW DO YOU MAKE YEAST ROLLS LIGHT AND FLUFFY?
When you add your warm water, butter, and milk mixture to the yeast, make sure your temperature is below 130 degrees F. Any more than that and the yeast won't survive (this goes for rapid rise or active dry yeast).
Then let it stand for about 5 minutes to activate the yeast before you add your other ingredients and knead the dough. Yeast needs warm water to wake up and start working. This is called "proofing".
WHAT CAN I DO SO THAT MY DINNER ROLLS ARE NOT SO DRY?
If you've already baked your dinner rolls, then all you can do is butter away at the dinner table. Then next time try these tricks.
Use whole milk. The fat is necessary to help with the yeast, and skim milk won't work as well.
Don't use too much all purpose flour, this can easily dry out your rolls. If you knead by hand or when you're rolling your dough into balls, it's ok to use all purpose flour on your hands to prevent sticking, just don't go overboard at this step. The first time you make this might be tricky until you learn how much extra all purpose flour is enough.
Make sure you measure the yeast, adding too much can dry out your rolls.
If your rolls are still dry, use an oven safe thermometer to check your oven temperature and make sure it isn't cooking hotter than the set temperature.
HOW LONG DO DINNER ROLLS LAST?
Dinner rolls will last on the counter for 4-5 days, or until they go stale. I do not recommend refrigerating bread because it will actually make it go stale faster. You can also wrap the rolls in plastic wrap and freeze for up to 1 month.
CAN YOU FREEZE UNBAKED DINNER ROLLS?
The dough can be frozen right after they are shaped into balls, before they've already had the chance to rise. Wrap them tightly and place in the freezer for up to a week. To defrost, refrigerate overnight, then let stand at room temperature for 1-2 hours, or until the dough rises.
HOW CAN I GET MY DINNER ROLLS TO RISE?
The secret is in the yeast. To get a good rise, make sure you follow the directions closely and proof the yeast for at least 5 minutes (it will look at little foamy), then kneading the dough, forming tight rolls, and letting it rise for a minimum of 30 minutes.
Make sure the yeast is not past the expiration date if you've had it for a while.
Let the rolls touch once they're done rising. As they bake, they'll help lift each other up, just like my Buttermilk Biscuits.
If you're using instant yeast, use slightly less than this recipe calls for. Instant yeast also doesn't need to be proofed first, so you can combine it with the dry flour, then follow the recipe as written minus the proofing.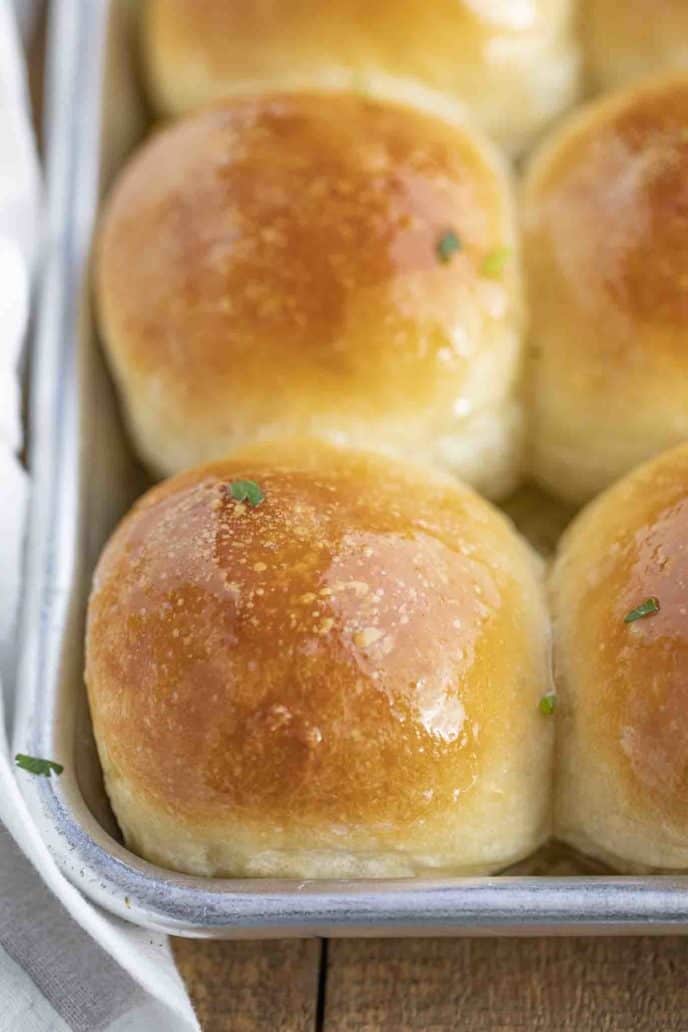 Create a free account to

Save Recipes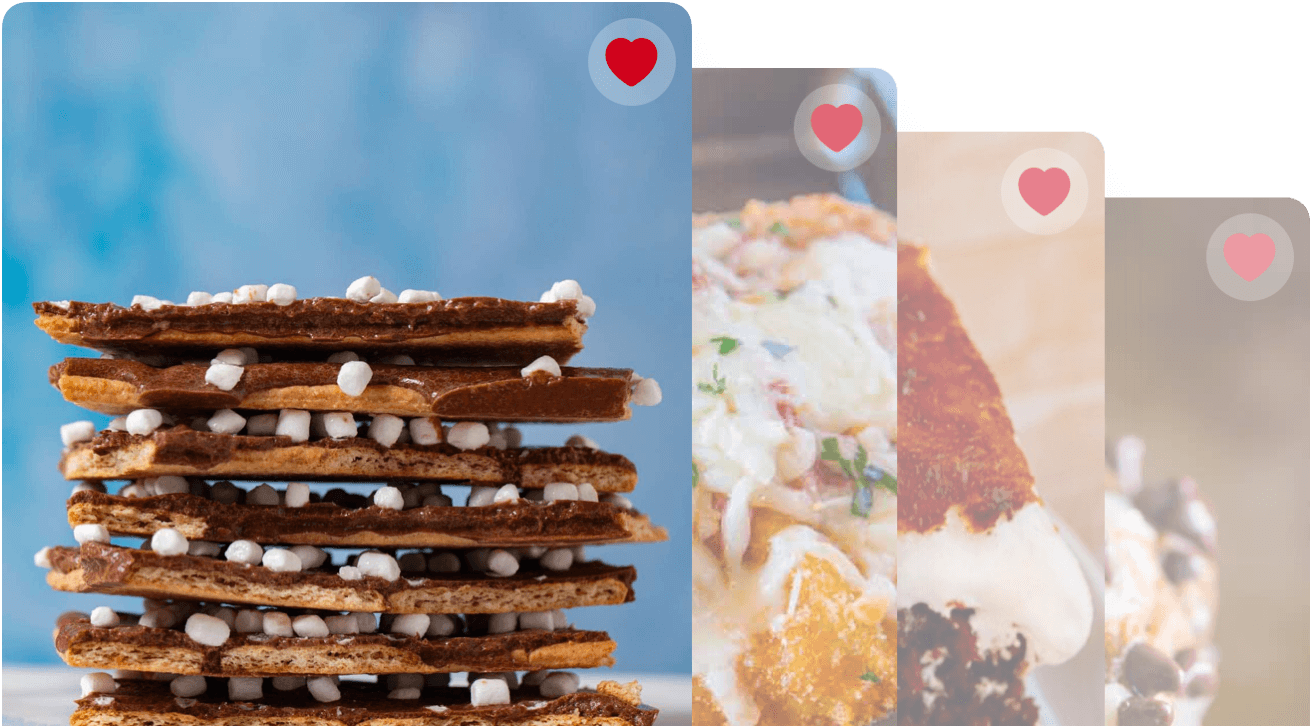 HOW DO YOU MAKE SWEET DINNER ROLLS?
These dinner rolls already have some sweetness in the flavor. To increase the sweetness, add a tablespoon of honey to the recipe, and sprinkle some cinnamon sugar on top of the rolls before baking (for savory rolls you can top with course salt or herbs). You can also serve the rolls with a homemade honey butter.
A great recipe for homemade honey butter is to add 1/2 cup unsalted butter to a large bowl and use an electric mixer to cream together with 2 tablespoons honey and a dash of cinnamon.
WHY ARE MY DINNER ROLLS DENSE?
There are two main culprits to dense dinner rolls. Too much flour, and not enough moisture.
Another possible reason is that you let the dough knead for too long. It should take about 8-10 minutes for your dough to start pulling from the side of the mixing bowl, a sign that you are done kneading and can start rolling out your dough balls.
WHAT TO SERVE WITH DINNER ROLLS
TIPS FOR THIS DINNER ROLLS RECIPE
Buttery rolls taste best when you serve them warm. If you've baked them ahead of time, you can warm them up by wrapping in tinfoil and placing them in the oven at 300 degrees F for 10-15 minutes. These are perfect to make ahead for holidays!
Lightly brushing the rolls with melted butter before baking is what gives them that golden brown color, so don't skip this step. Plus they're extra buttery when you take them out of the oven.
If you don't want to grease your pan, line your baking pan with parchment paper to make it easier to lift the rolls out once they're done.
Set a timer when you're letting your rolls rise. Letting this go too long can lose some of the fluffy texture we're trying to achieve.
If you have active dry yeast, you can use that in place of the rapid rise yeast and add an extra 10 minutes for the dough to rise before you bake, until it looks doughy and pillowy. Set them in a warm place and cover with plastic wrap. Leave it alone for the whole time so it doesn't deflate.
Make sure your dinner rolls are all about the same size. This will make sure they bake evenly, and that you get the right amount of servings.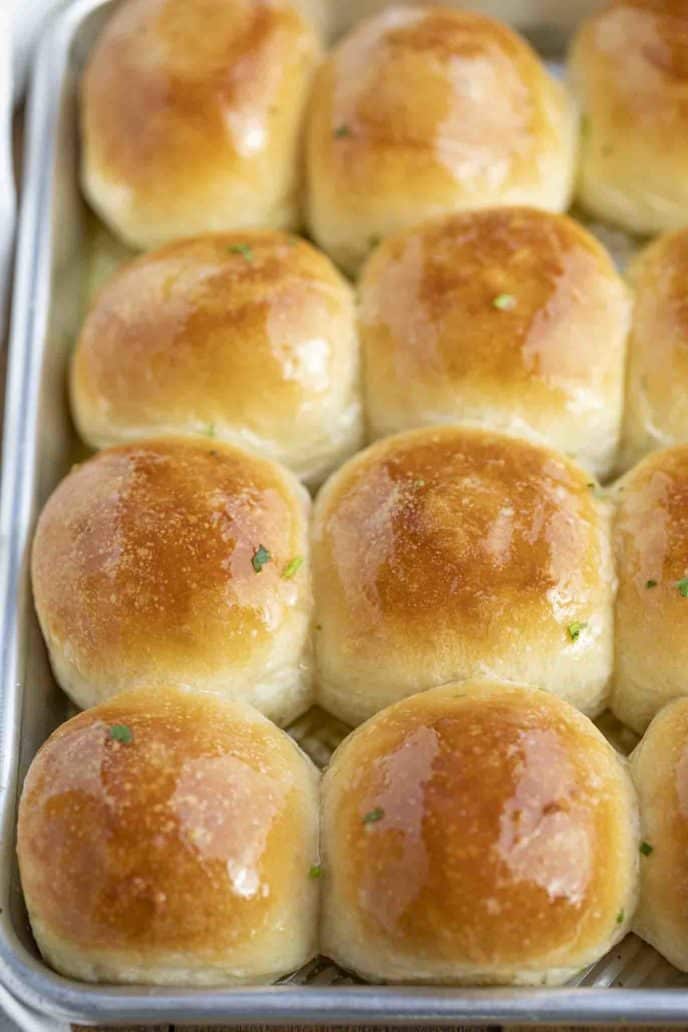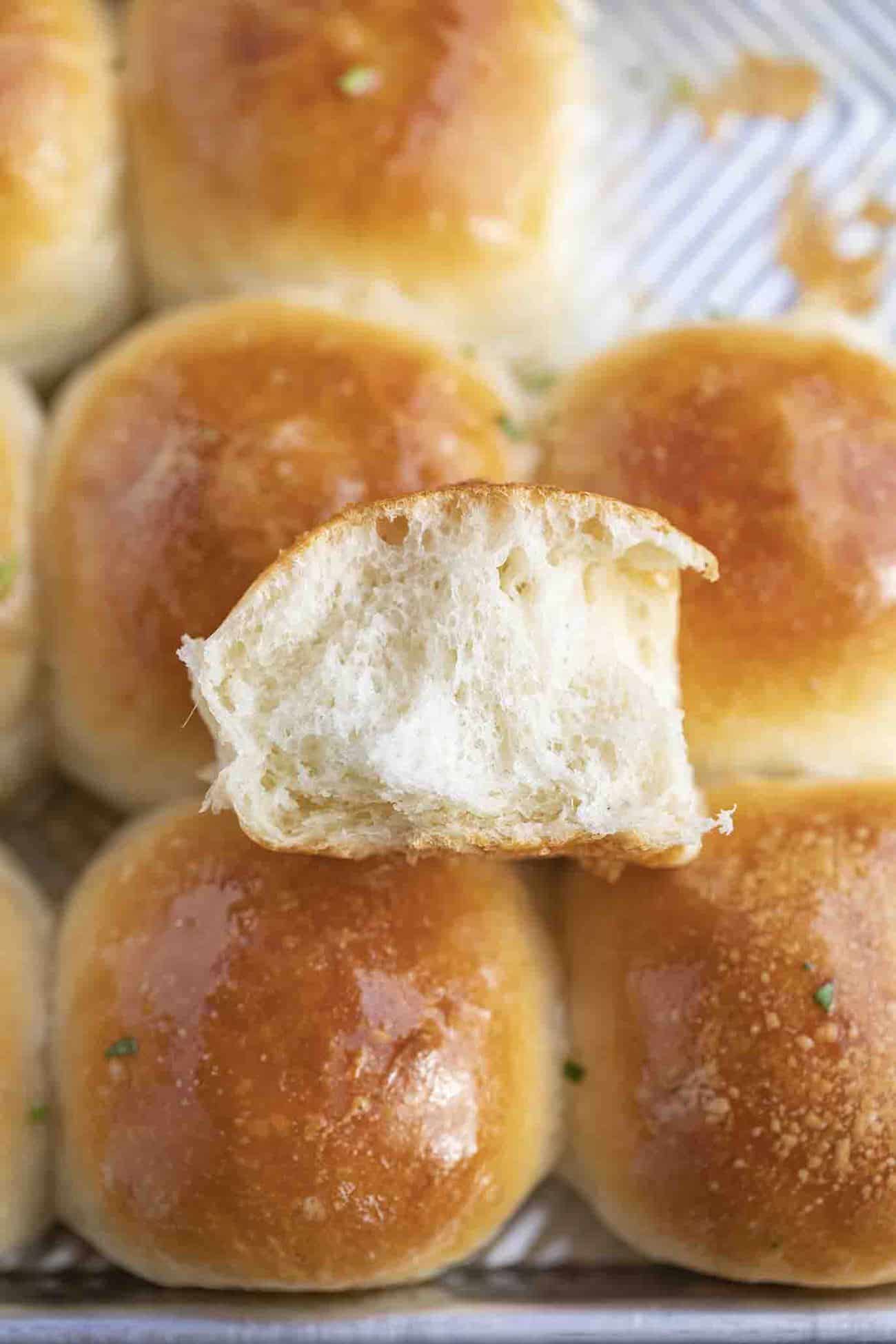 Perfectly Easy Dinner Rolls
Perfectly Easy Dinner Rolls are an incredibly light, fluffy, buttery addition to dinner, and are hands down the EASIEST yeast bread you will ever make!
Total Time
1
hour
15
minutes
Ingredients
2

cups

flour

or more if needed

2 1/4

teaspoons

rapid rise yeast

1 packet

1 1/2

tablespoons

sugar

1

teaspoon

kosher salt

1/2

cup

whole milk

1/4

cup

water

2

tablespoons

unsalted butter

melted
Instructions
Add the yeast to the stand mixer and in a saucepan heat the whole milk, water and butter until very warm it reaches between 120 and 130 degrees on a thermometer (you don't want it too hot or it will kill the yeast) and add the milk mixture to the stand mixer and let it sit for 5 minutes to proof the yeast (this ensures super fluffy rolls).

Add 1 1/2 cups flour, salt and sugar to the stand mixer with the regular whisk attachment for 2 minutes on medium speed before adding 1/2 cup of flour and changing to the dough hook and keeping it on medium speed for another 8-10 minutes until smooth and elastic.

Roll the dough into 12 balls and place into 8x8 inch baking pan, covering with a dry, clean kitchen towel in a warm place for 30 minutes (you want the rolls to double in size)

Preheat the oven to 375 degrees, brush the rolls with melted butter and bake for 20 minutes.
Recipe Notes
Note: click on times in the instructions to start a kitchen timer while cooking.
Nutrition Facts
Perfectly Easy Dinner Rolls
Amount Per Serving
Calories 111
Calories from Fat 18
% Daily Value*
Fat 2g3%
Cholesterol 6mg2%
Sodium 200mg9%
Potassium 55mg2%
Carbohydrates 18g6%
Protein 3g6%
Vitamin A 75IU2%
Calcium 15mg2%
Iron 1mg6%
* Percent Daily Values are based on a 2000 calorie diet.