Ultimate Apple Crisp is a fall favorite full of sliced apples, cinnamon, brown sugar, butter, and crispy baked oats.
We have a passion for apple crisp in this house, and in our kitchen this week we're cooking up Apple Crisp Crumb Cake, Apple Crisp Cookies, and my Legendary Apple Crisp Pie!
 Ultimate Apple Crisp
Ultimate Apple Crisp is a MUST in our house when this time of the year rolls around. My favorite part is that it tastes a lot like apple pie, with less than half of the work!
Plus the topping. The topping is the best part of any dessert because it's crispy, buttery, full of brown sugar and it has (in our house at least) a giant scoop of vanilla ice cream melting over it making it this mix of hot and cold and buttery. Did I mention the apple and caramel-y goodness in the apple mixture? This dessert is heaven.
The apples cook down with the brown sugar and spices to make something really close to apple pie filling. And the soft texture of the apples are perfectly matched with the crispy crunch of the oat crumble topping. My kids LOVE having this dessert with vanilla ice cream on the holidays.
You can assemble this apple crisp recipe ahead of time or even freeze it so it's ready when you are. You can also throw nuts into the crisp streusel topping, like pecan or almonds, to add even MORE crunchy texture.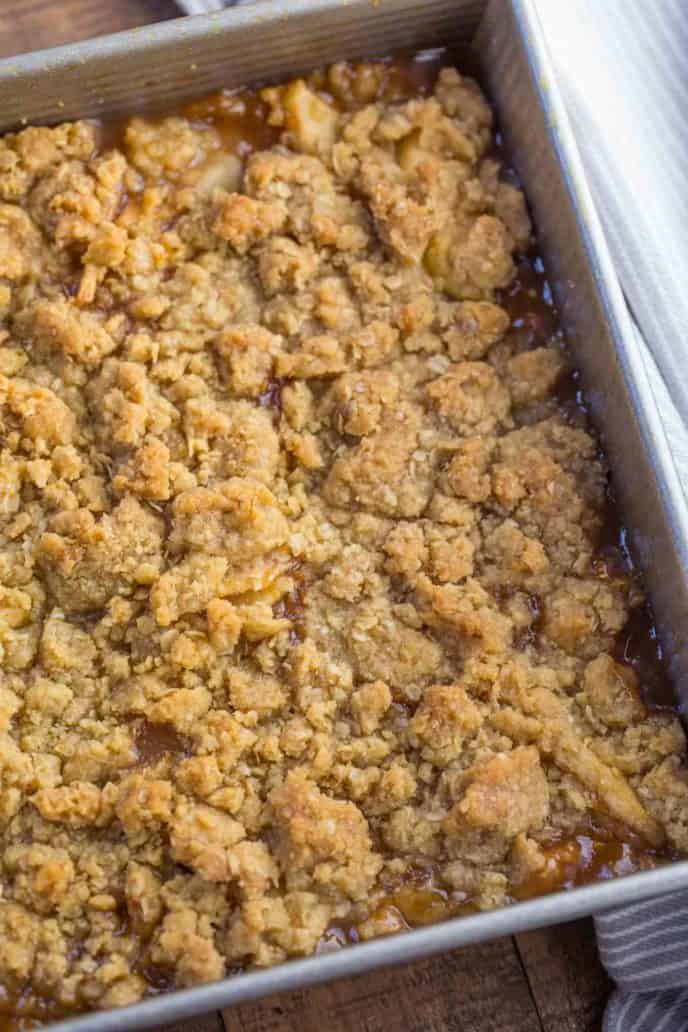 HOW DO YOU MAKE APPLE CRISP TOPPING?
Apple crisp topping uses all-purpose flour, butter, and sugar as the base. From there, you can add ingredients like oats, nuts, seeds, or pieces of dried fruit for sweetness and crunch. Each apple crisp recipe does it a little bit differently. You want to cover the entire dessert, so make enough for the length of the baking dish.
Make sure you're using rolled oats for this topping and not quick oats or oatmeal. You need the firmness of the rolled oats to stand up to the baking, the others will disappear into the topping when baked.
I also consider ice cream a topping, even if it's not technically part of the apple crisp recipe, because it really completes the dessert.
WHAT KIND OF APPLES DO YOU USE FOR APPLE CRISP?
Fuji, Cortland, Golden Delicious, Honey Crisp, Braeburn or Granny Smith apples all great choices for this because they are all sweet / tart apples, and hold up really well in this crisp recipe. These are also great for baking other recipes, like Apple Slab Pie With Spiced Glaze.
Choose your favorite apple and it'll likely work, just please don't use apple filling from a can or store bought caramel sauce.
HOW TO MAKE OLD FASHIONED APPLE CRISP IN THE SLOW COOKER
Add apples to slow cooker and stir together with orange juice, 1/4 cup sugar, 1/4 cup brown sugar, cinnamon and nutmeg.
In a separate bowl mix together your all-purpose flour, sugar, and other topping ingredients, and add on top of apples.
Bake on high for a total time of 3-4 hours, or on low for 6-8 hours. In the last half hour, open top slightly. This will help the top crisp up of the dessert.
Serve warm with ice cream.

Create a free account to

Save Recipes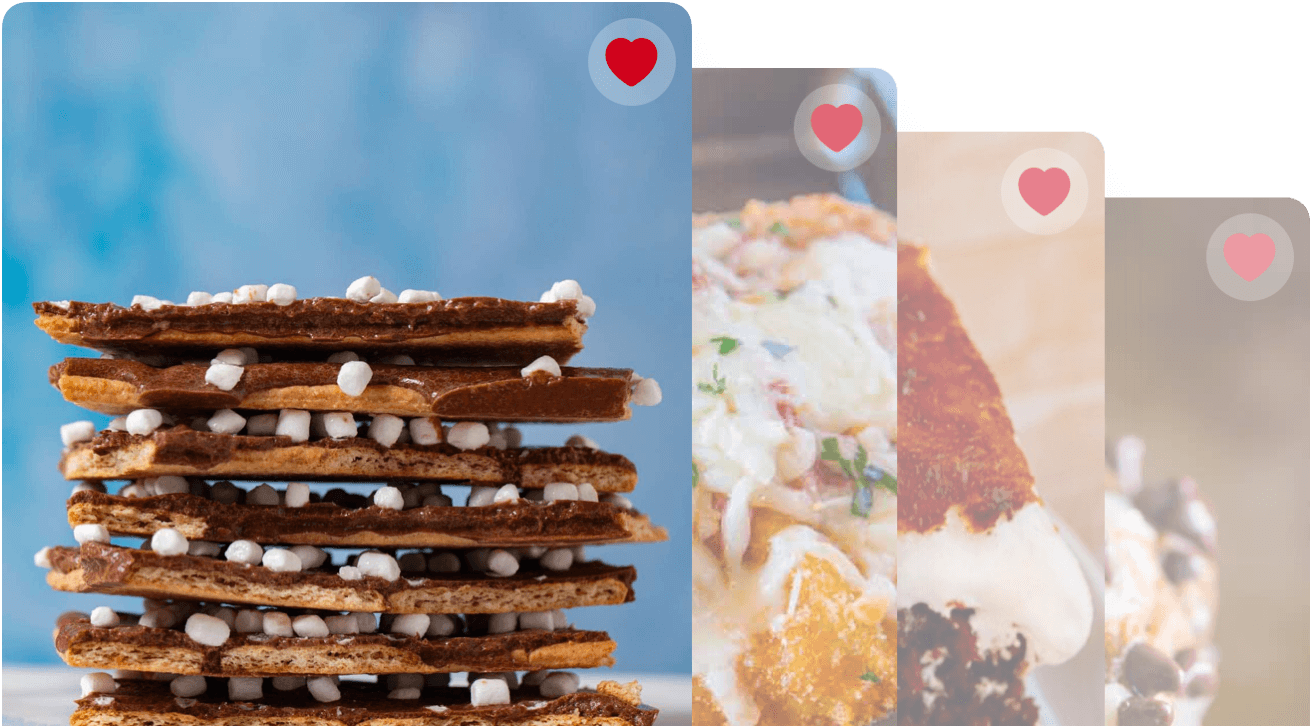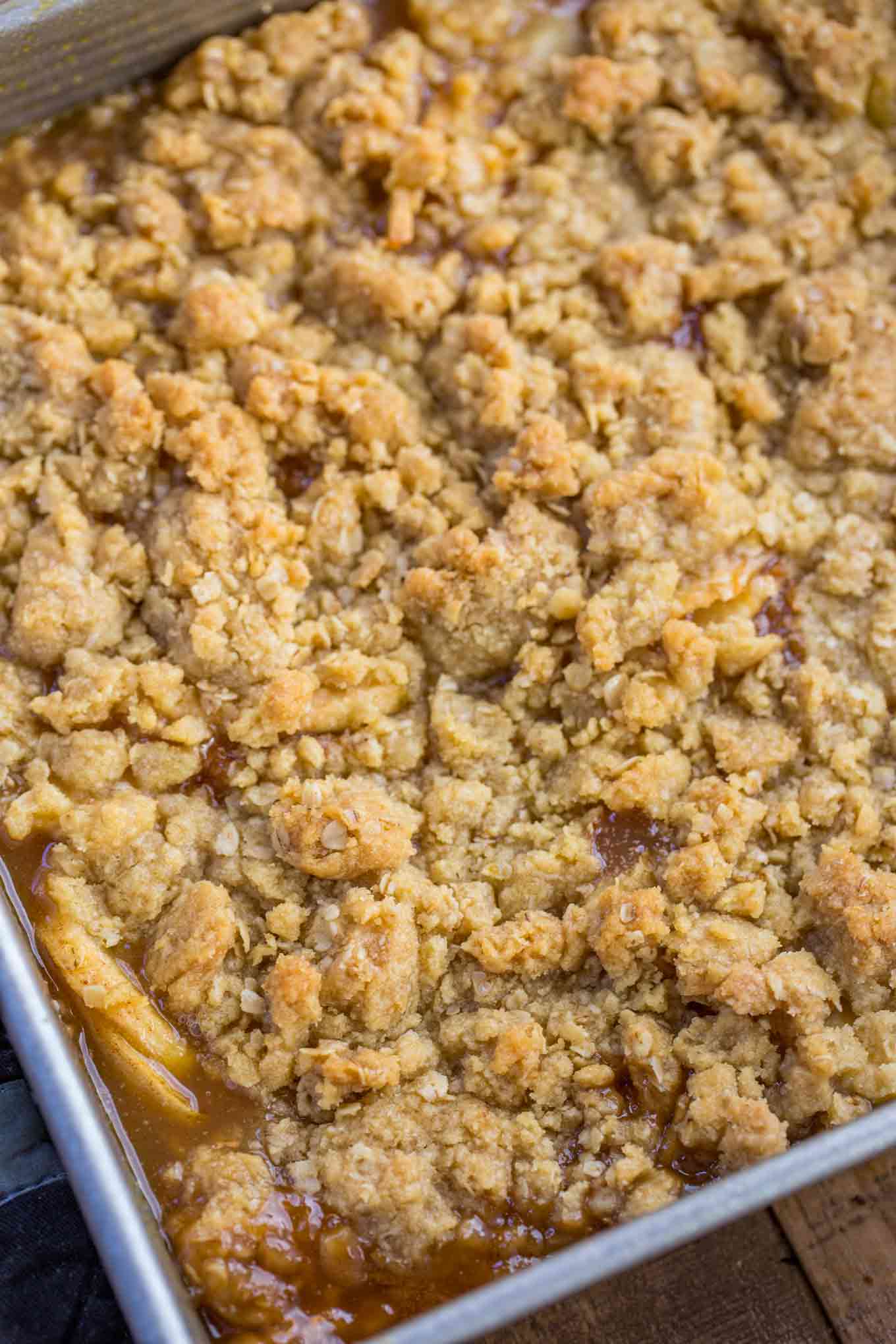 CAN YOU MAKE APPLE CRISP IN ADVANCE?
Apple crisp is a great make ahead dessert because it can be assembled in a baking or casserole dish and stored in the refrigerator for 1-2 days before baking. You can also seal it tightly and freeze it, then defrost in the refrigerator for at least 24 hours before baking.
HOW DO YOU STORE APPLE CRISP?
Cooked apple crisp should be cooled and tightly sealed either in a container or with plastic wrap, and stored in the refrigerator. It will keep about 2-3 days. You can also wrap the apple crisp tightly and freeze it. When you're ready, defrost in the refrigerator.
TIPS FOR HOMEMADE APPLE CRISP
Make sure you're using rolled oats. They are less processed then quick cooking or instant oats, so you'll get a crispier crust this way.
Don't skip the brown sugar. It adds some of those deep molasses notes to the apple crisp that make it really flavorful instead of just sweet.
If you don't have a stand mixer, you can pulse the topping ingredients a few times in the food processor. Just make sure to not over-process, or the topping won't turn out as crispy.
Once you add your butter you want about pea-sized pieces.
If you cut your apples ahead of time, add 1-2 tablespoons of lemon juice to keep them from browning.
For the full dessert experience, top warm apple crisp with cold vanilla ice cream!
If you want a fun topping that isn't caramel sauce use apple cider that you cook down to a glaze. You'll love it so much you'll never use caramel sauce again.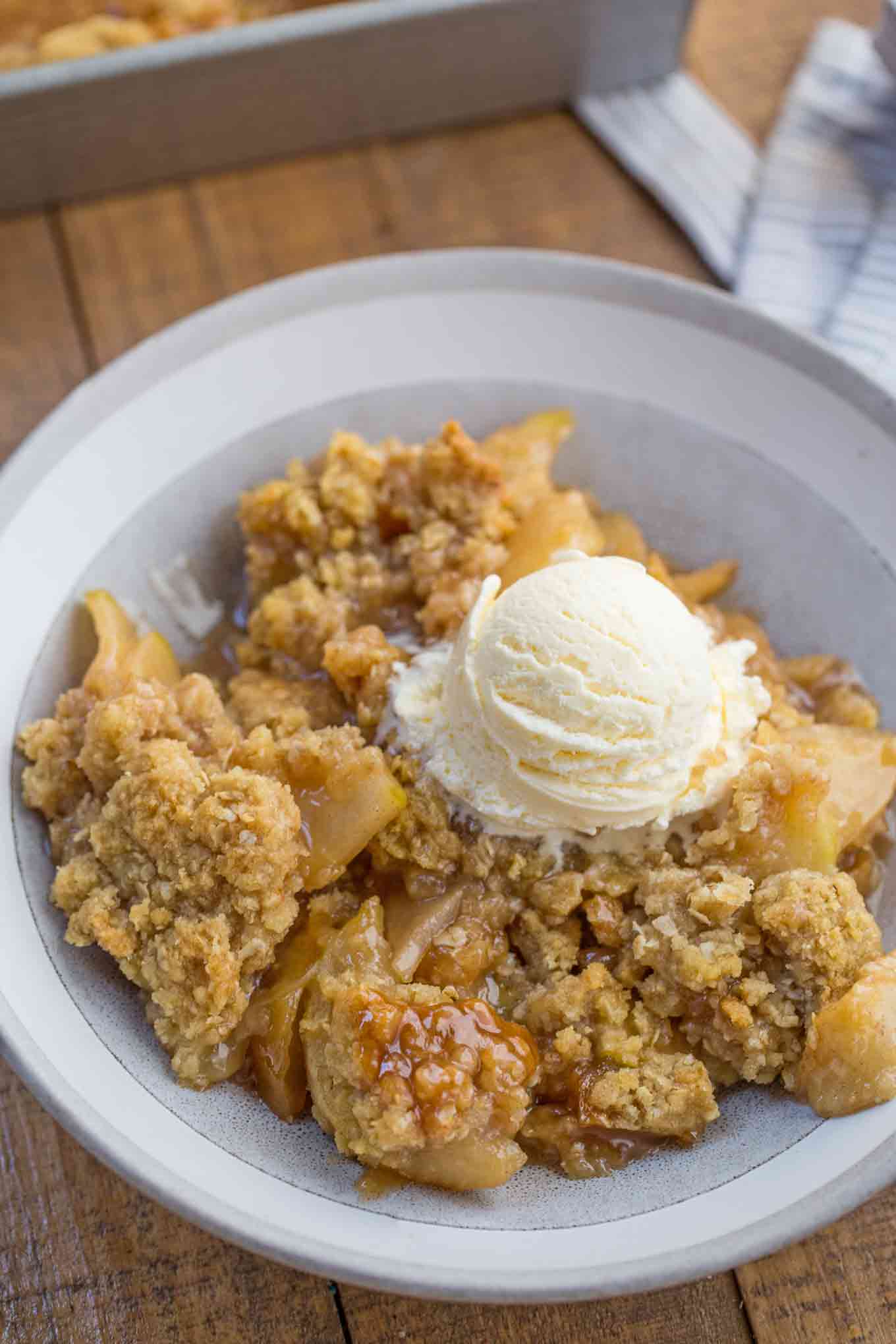 Ultimate Apple Crisp
A Fall favorite full of sliced apples, cinnamon, brown sugar, butter and oats baked crisp. Top with whipped cream for a perfect cold weather favorite or top with a scoop of ice cream you're still experiencing this never-ending heat wave with the rest of us.
Ingredients
2

pounds

Fuji or Granny Smith apples

peeled and thinly sliced

1/4

cup

orange juice

1/4

cup

granulated sugar

1/4

cup

brown sugar

1

tablespoon

ground cinnamon

1

teaspoon

ground nutmeg

1 1/2

cups

flour

3/4

cup

granulated sugar

3/4

cup

light brown sugar

, packed

1/2

teaspoon

kosher salt

1

cup

rolled oats

(not instant)

1/2

pound

cold unsalted butter

, diced
Instructions
Preheat the oven to 350 degrees.

In a large bowl add the apple slices, orange juice, 1/4 cup sugar, 1/4 cup brown sugar, cinnamon and nutmeg.

To make the crisp topping, mash together the flour, 3/4 cup sugar, 3/4 cup brown sugar, salt, oats and butter.

Add the apples to a 8x8 pan and add the crisp topping on top before baking for 30-40 minutes or until golden brown.
Recipe Notes
Note: click on times in the instructions to start a kitchen timer while cooking.
Nutrition Facts
Ultimate Apple Crisp
Amount Per Serving
Calories 396
Calories from Fat 144
% Daily Value*
Fat 16g25%
Cholesterol 40mg13%
Sodium 105mg5%
Potassium 161mg5%
Carbohydrates 62g21%
Protein 2g4%
Vitamin A 525IU11%
Vitamin C 6mg7%
Calcium 37mg4%
Iron 1.3mg7%
* Percent Daily Values are based on a 2000 calorie diet.