Strawberry Topping is a sweet and indulgent strawberry sauce made from strawberries, sugar, and vanilla, ready in just 20 minutes!
We love all things dessert around here, and this week our kitchen is cooking up Bread Pudding, Ultimate Apple Crisp, and Easy Whipped Cream!
STRAWBERRY TOPPING
Strawberry Topping is a simple recipe made form strawberries, sugar, and vanilla extract. It's PERFECT for topping cakes and cheesecakes, and it only takes 3 ingredients. This is a great recipe to bring to brunch or serve at a pancake breakfast, and is one of my favorite dessert sauces!
You can make this topping with other fruits, like blueberries or raspberries. I also like making this to put on french toast, or waffles instead of syrup, over ice cream or in the middle of a parfait. The fresh strawberry flavor goes perfectly with almost any breakfast or dessert!
HOW TO STORE STRAWBERRY TOPPING
Strawberry Topping will last tightly sealed in the refrigerator for 3-4 days. You can make the sauce ahead of time as long as you keep it refrigerated in a sealed container.
If it gets too thick and doesn't pour easily, warm the sauce in a saucepan over medium heat.
You can also freeze strawberry topping for 4-5 months.
WHEN TO PUT STRAWBERRY TOPPING ON CHEESECAKE
I always add this to my cheesecake recipe while it's still in the springform pan after the cake has cooled completely. When the cheesecake goes into the oven, I like to make my strawberry sauce when the cake is about half way done and just leave it in the saucepan to cool down. By the time the cheesecake is ready, the sauce will be cool enough.
You can technically add it earlier in the process, but watching it closely to avoid drying the fruit out. You'd also have to time the cheesecake exactly, because the topping may prevent you from seeing if the center of the cheesecake is cooked through.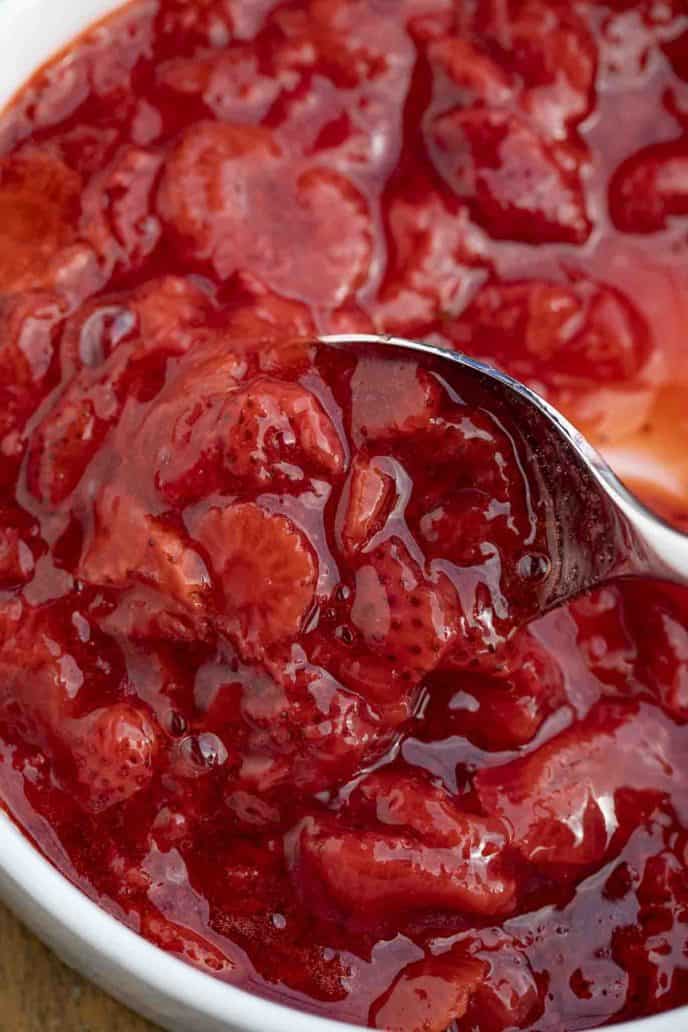 Create a free account to

Save Recipes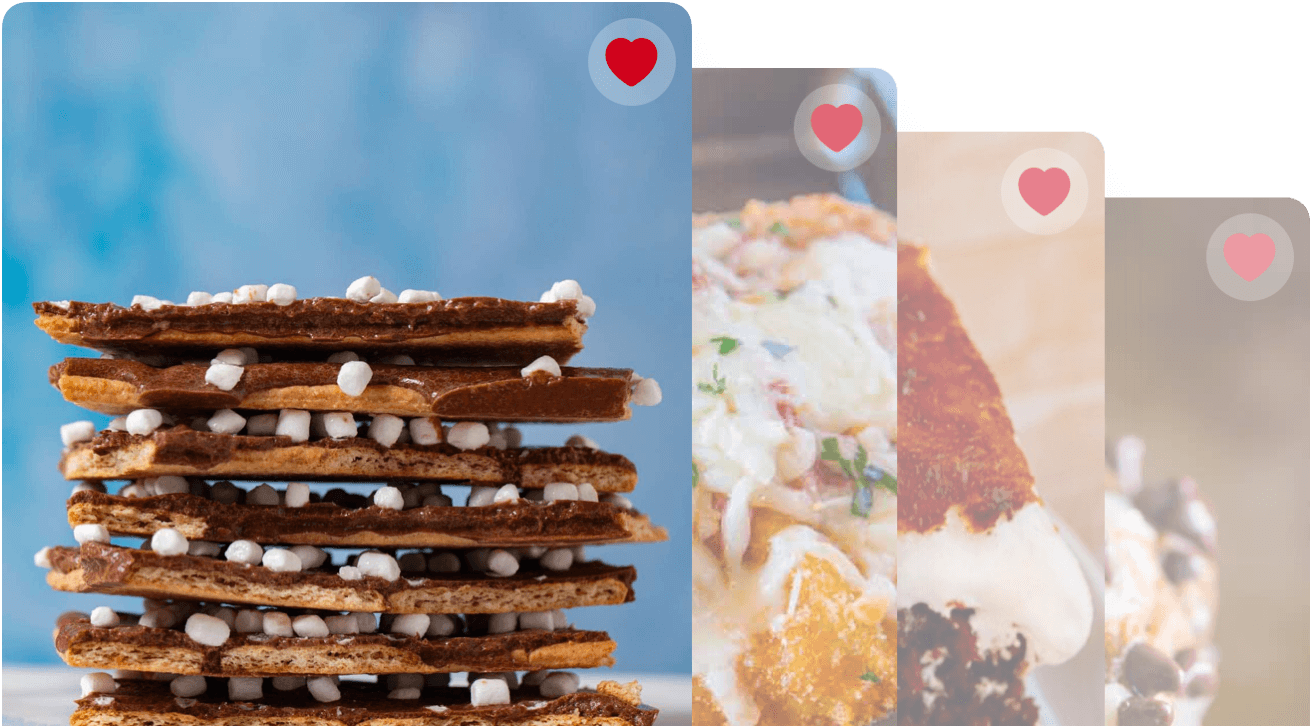 HOW TO THICKEN STRAWBERRY TOPPING
Strawberry topping will thicken on its own as you cook it. When it's boiling, the water in the fresh strawberries cooks off and the sugar creates a nice syrup-like texture.
If you want your strawberry sauce to be even thicker, lightly dust your strawberries with 1 tablespoon of cornstarch before you start to cook. As the sauce heats up, the cornstarch with thicken it and make it syrupy. You can also make a bigger batch this way by adding a cup of water with the corn starch as well.
STRAWBERRY RECIPES
TIPS FOR MAKING STRAWBERRY TOPPING
Replace the sugar with brown sugar for a deeper more molasses-type flavor.
Make this recipe using frozen strawberries as a time saver.
Brighten the color of strawberry sauce with a little bit of red food coloring (I didn't use any for mine).
Use a potato masher to break down the strawberries even further once they're boiling.
Add a tablespoon of lemon juice to add some really nice tart flavor to the sauce. Lemon juice also helps balance out the sweetness from the sugar and from the berries.
Freeze strawberry sauce in ice cube trays to add a fruity flavor to drinks.
Use almond or orange extract instead of vanilla for more variation of flavors.
Serve this strawberry sauce over chocolate ice cream, or chocolate waffles or pancakes for a chocolate strawberry dessert!
Strawberry Topping
Strawberry Topping is a sweet and indulgent strawberry sauce made from strawberries, sugar, and vanilla, ready in just 20 minutes!
Instructions
Add the ingredients to a medium pot and cook on medium heat for 18-20 minutes or until thickened.
Recipe Notes
Note: click on times in the instructions to start a kitchen timer while cooking.
Nutrition Facts
Strawberry Topping
Amount Per Serving
Calories 43
% Daily Value*
Potassium 86mg2%
Carbohydrates 10g3%
Vitamin A 5IU0%
Vitamin C 33.3mg40%
Calcium 9mg1%
Iron 0.2mg1%
* Percent Daily Values are based on a 2000 calorie diet.