Bread Pudding is the PERFECT old fashioned dessert for the holidays made with day old bread, half and half, sugar, and vanilla, and only takes 45 minutes to bake!
We know how important finding the perfect dessert is once the holidays come around, and we're prepared this year with Ultimate Apple Crisp, Award Winning Gingerbread Cookies, and Classic Gingerbread Cake!
BREAD PUDDING
Bread Pudding is an old fashioned dessert that always makes it way to our table on the holidays. It's made out of cubed bread with a sweet vanilla half and half and egg custard. You can serve bread pudding topped with a sauce, like my vanilla sauce (pictured below) or praline sauce (recipes below).
One of the things I love about this dish is that you can make it all in one bowl, then pour into a baking dish and bake. It's REALLY simple to make, and tastes like heaven in a bowl.
You can add more flavor to your pudding with things like chocolate chips, a drizzle of caramel sauce, or a teaspoon of cinnamon and a dash of nutmeg. This bread pudding recipe is more traditional with raisins.
The first time I made this, I served it for dessert at a Christmas party and it was gone within minutes! Plus it's the perfect way to use up leftover bread from the night before.
WHAT IS THE BEST BREAD FOR BREAD PUDDING?
This bread pudding recipe works really well using challah bread or old hamburger buns. You can also use french bread or brioche. What you're looking for is a bread that will hold up to the custard mixture without dissolving, similar to when you add broth to stuffing.
HOW DO YOU DRY BREAD FOR BREAD PUDDING?
The easiest way is to leave the bread out the night before and let it get a little bit stale. If you're more pressed for time, cut the bread into cubes and lay them out on a baking sheet.
Preheat oven to 350 degrees F, then toast the bread in the oven for 10-15 minutes. Let it cool before adding it to the bread mixture.
CAN I MAKE BREAD PUDDING AHEAD OF TIME?
You can make this old fashioned bread pudding ahead to save you time later. Just bake the pudding, then let it cool completely before wrapping it tightly and refrigerating. Then when you're ready, uncover and move the baking dish back to the oven for 15-20 minutes at 350 degrees F.
You can also prep bread pudding the day before and refrigerate before baking, then cook it when you're ready. This actually helps the recipe, because it gives the bread cubes a chance to absorb the moisture and flavor, a key step to real old fashioned bread pudding.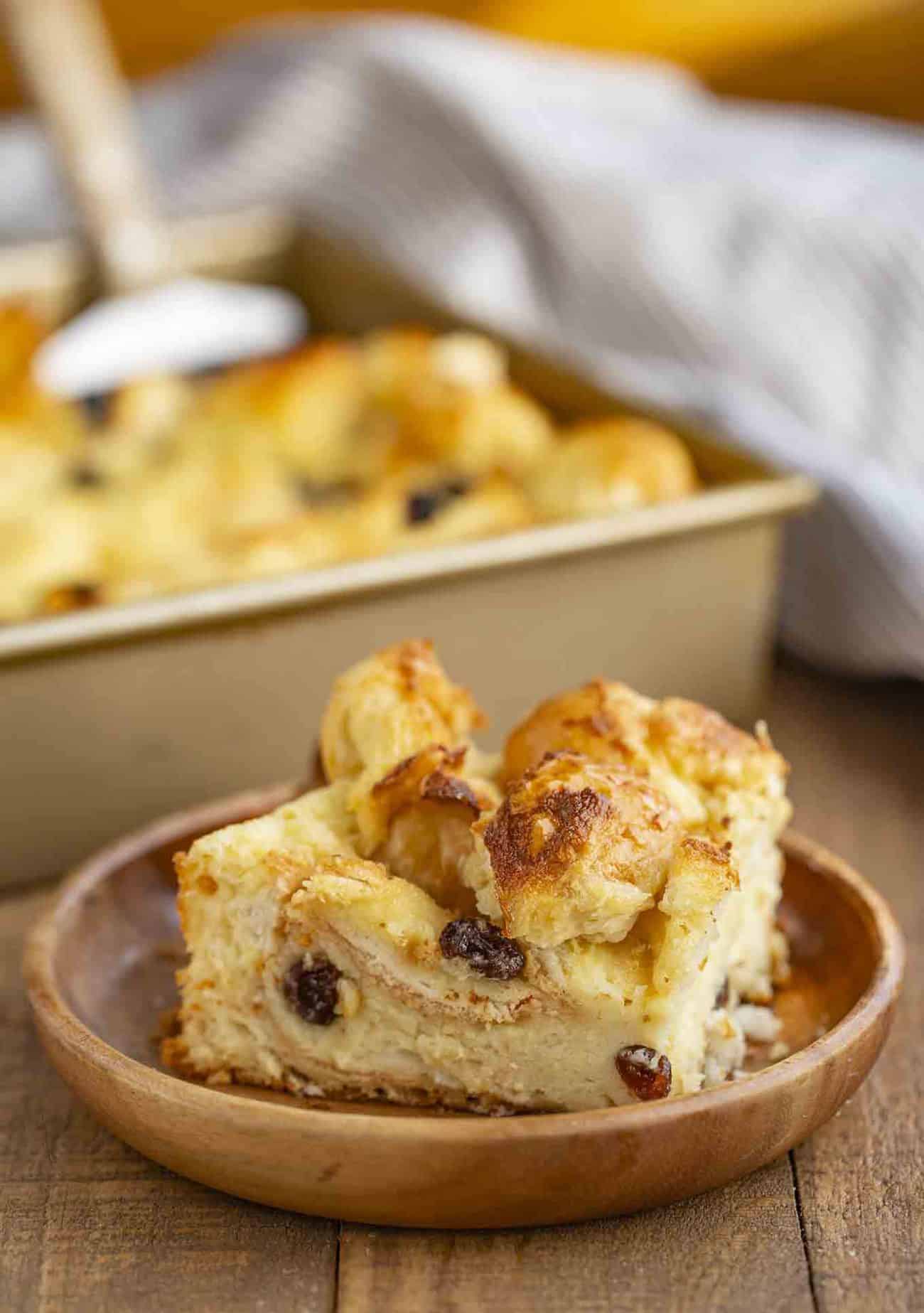 Create a free account to

Save Recipes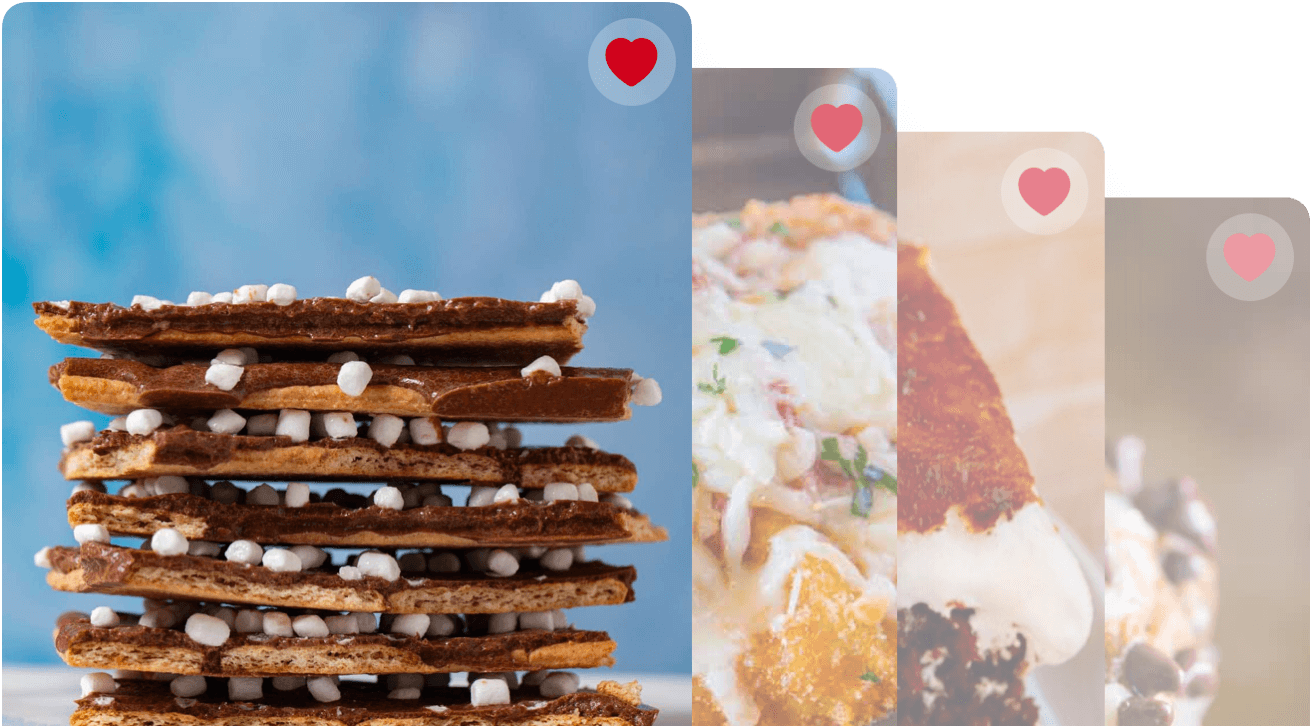 HOW LONG WILL BREAD PUDDING KEEP?
Bread pudding will keep refrigerated for 3-4 days when tightly sealed. It has a lot of moisture, so I don't recommend storing it on the counter.
SHOULD BREAD PUDDING BE COVERED WHILE BAKING?
You don't have to cover this bread pudding recipe while baking, but if you start to see the top burning too quickly you can cover with tinfoil for the remainder of the time. If this happens, check your oven temperature with an oven thermometer to make sure it's not cooking to hot.
HOW DO I KNOW when it IS DONE?
Bread pudding is a lot like other baked goods. If you put a toothpick in, it should come out clean. It should also look more set and less raw, and golden brown on top.
VANILLA SAUCE FOR BREAD PUDDING
1/2 cup light brown sugar
1 tablespoon all-purpose flour
1 pinch ground cinnamon
1 egg
2 tablespoons butter, melted
1 1/4 cups whole milk
1 pinch salt
1 tablespoon vanilla extract
Whisk everything but the vanilla in a saucepan over medium heat constantly for 10 minutes until thickened enough to coat the back of a spoon.
Remove from heat and add in the vanilla. Serve over the pudding.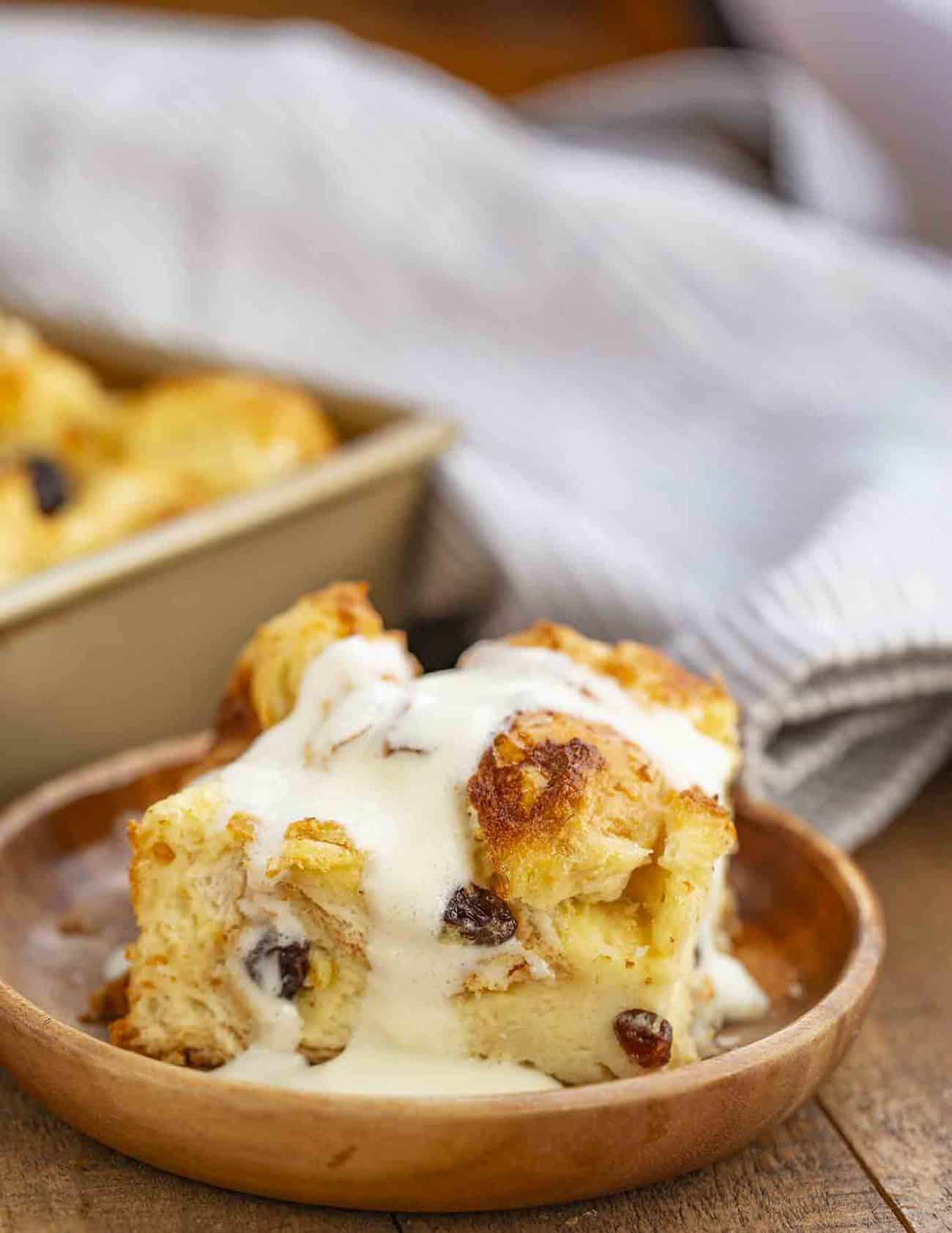 PRALINE SAUCE FOR BREAD PUDDING
1/2 pound unsalted butter
1 cup heavy cream
1 cup brown sugar
1/2 cup chopped toasted pecans
Add the butter, heavy cream and brown sugar to the sauce pan and bring to a boil then reduce to low heat, add in the pecans and cook until the mixture thickens, about 5-7 minutes.
TIPS FOR MAKING BREAD PUDDING
Add a splash of bourbon to your pecans for added flavor in the praline sauce. You can also add a dash of cinnamon or nutmeg to either sauce.
Make whiskey sauce by adding 1/4 cup whiskey to the praline sauce recipe, and reducing down for a few extra minutes before serving.
Make a savory bread pudding by cutting out the sugar and adding cheese, herbs, or garlic instead.
I don't recommend using skim milk for this recipe because the fat is really important for getting a good set with the custard.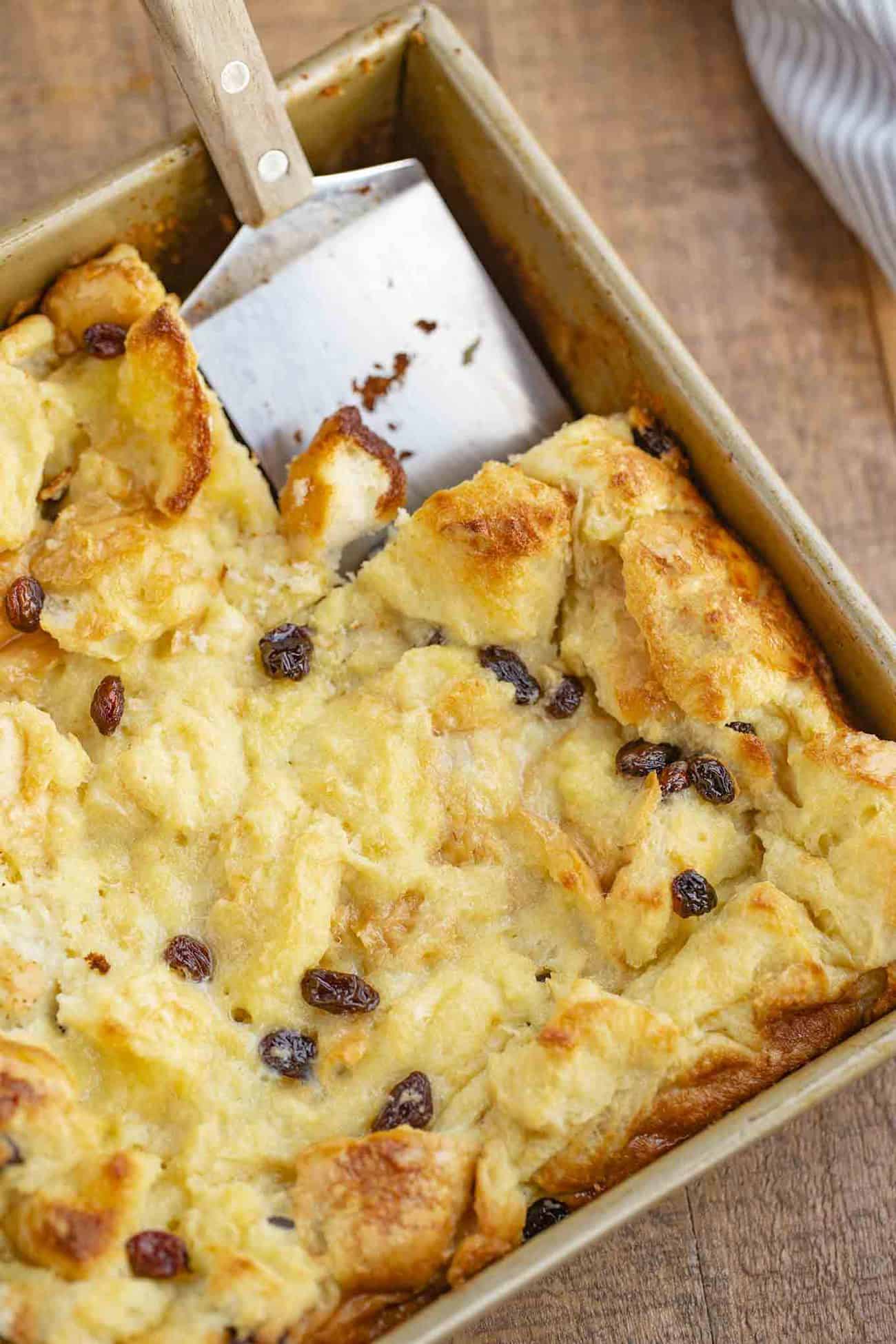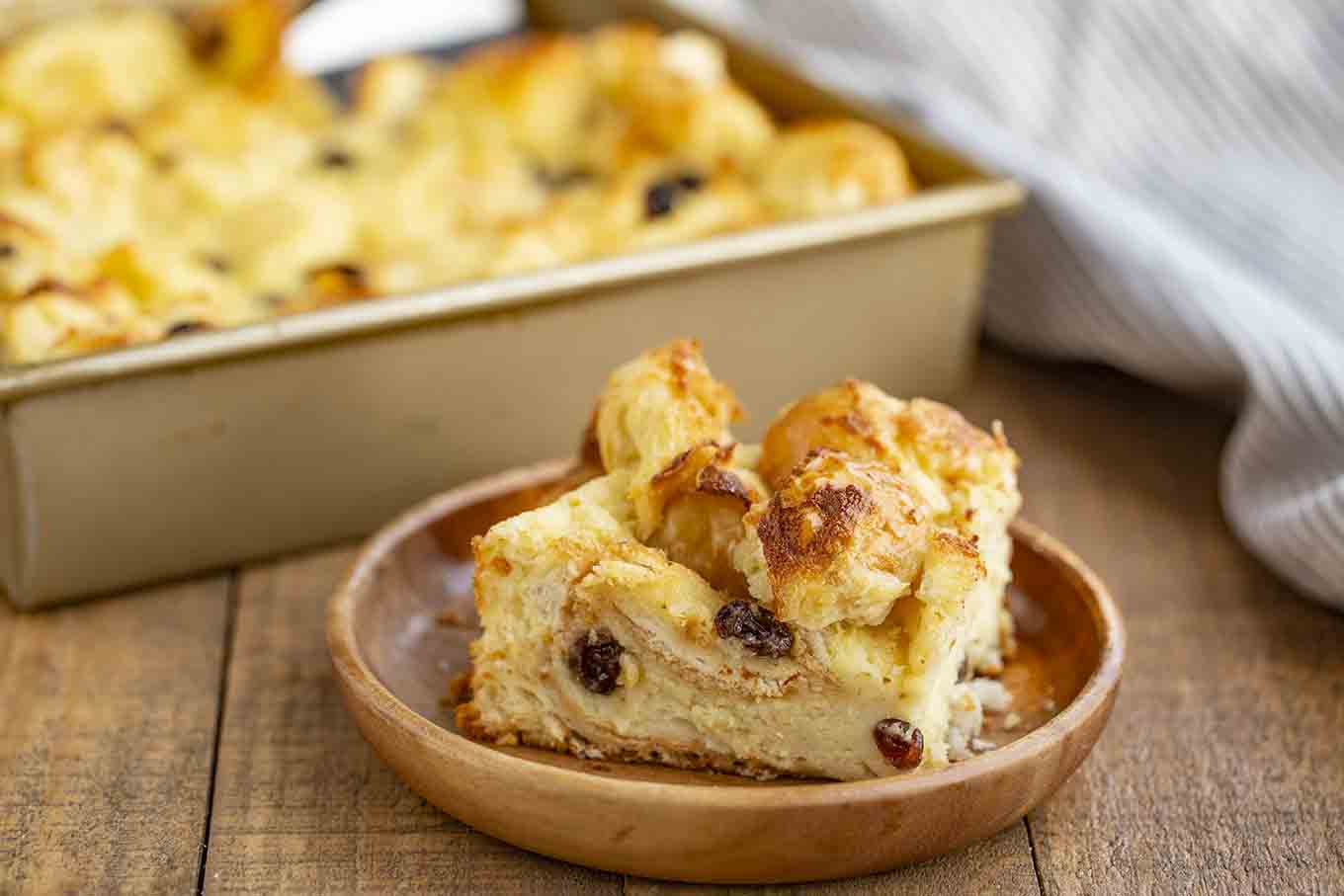 Bread Pudding
Bread Pudding is the PERFECT old fashioned dessert for the holidays made with day old bread, half and half, sugar, and vanilla, and only takes 45 minutes to bake!

Ingredients
2

tablespoons

unsalted butter

more for greasing pan

2

cups

half and half

1

teaspoon

vanilla extract

1/2

cup

sugar

1

pinch

salt

1/2

cup

raisins

optional

4

large eggs

beaten

6

cups

day old bread

cut into 2 inch cubes
Instructions
Preheat oven to 350 degrees. Butter an 8x8 baking pan with butter and in a large bowl whisk melted butter, half and half, vanilla, sugar, salt, raisins (optional) and eggs together. 

Add in the bread until well combined then put into the 8x8 pan, letting sit for at least an 60 minutes before baking for 40-45 minutes before serving warm or at room temperature.

Recipe Notes
Note: click on times in the instructions to start a kitchen timer while cooking.
Nutrition Facts
Bread Pudding
Amount Per Serving
Calories 260
Calories from Fat 90
% Daily Value*
Fat 10g15%
Cholesterol 89mg30%
Sodium 225mg10%
Potassium 208mg6%
Carbohydrates 34g11%
Protein 7g14%
Vitamin A 335IU7%
Vitamin C 0.8mg1%
Calcium 109mg11%
Iron 1.7mg9%
* Percent Daily Values are based on a 2000 calorie diet.