Honey Walnut Shrimp made just like your favorite takeout restaurant with the sweet honey sauce, whole walnuts and crispy fried shrimp!
We love Honey Walnut Shrimp paired with Chicken Lo Mein or Classic Chinese Chow Mein. Add Crab Rangoon as an appetizer and this makes for an easy Chinese takeout meal at home!
 Honey Walnut Shrimp
We love Honey Walnut Shrimp, including the Panda Express Honey Walnut Shrimp which is super popular on the blog. This version is slightly different with more condensed milk, less honey and a hint of acidity. The shrimp are served immediately after cooking so the creamy sauce doesn't have a chance to make the shrimp less crispy.
How do you make Honey Walnut Shrimp sauce? Well the base of the sauce is mayonnaise. We use classic mayo but you can of course use Asian Mayonnaise if you can find it at your local grocer (here it is on Amazon). In addition to the mayonnaise the most classic ingredient is the sweetened condensed milk. The mixture of mayonnaise, condensed milk and honey is the reason the sauce mixture is an yellow and creamy as you see in the pictures.
Important Note: Make sure you toss the shrimp and walnuts with the sauce just before serving. If the shrimp sits too long the sauce will melt (due to the mayonnaise base) and it will turn clear and sort of gloopy. In addition to that the shrimp won't be nearly as crispy and we didn't go through the effort of the rice flour batter only to let the shrimp get soggy.
Do I have to use walnut halves? No, absolutely not. You can use any variety of walnuts you'd like. I use walnut halves because they look so nice and I love the walnut flavor.
Can you make this Honey Walnut Shrimp ahead of time? You can certainly make the candied walnuts ahead of time. The sauce is so easy to make as the shrimp are cooking I don't really recommend making that ahead of time. You cannot fry the shrimp ahead of time. Seafood is not tolerant of cooking and reheating. In a complete pinch you could use frozen fried shrimp, but please realize the flavors will NOT be similar to the freshly made version.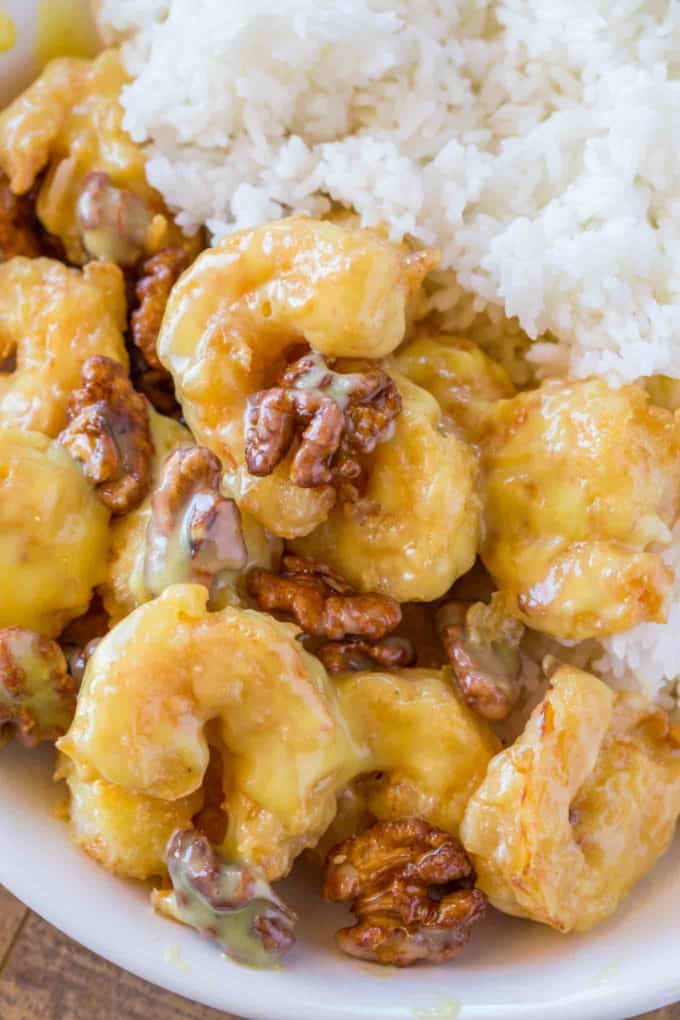 I love easy shrimp recipes, especially Chinese shrimp recipes because they are cooked so quick that the shrimp stays really tender. Just like the tutorial in my favorite Kung Pao Shrimp, be sure you peel and devein the shrimp well.
How to peel and devein shrimp:
To peel raw shrimp, tear away at the shell above the first segment of the shell (the tail segment).
Take a paring knife and make a shallow cut along the spine of the shrimp (the back of it).
Using the paring knife or a fork, gently remove the black strip of intestines.
To remove tails just squeeze the shrimp out from the bottom of the tail segment.
What to serve with Honey Walnut Shrimp: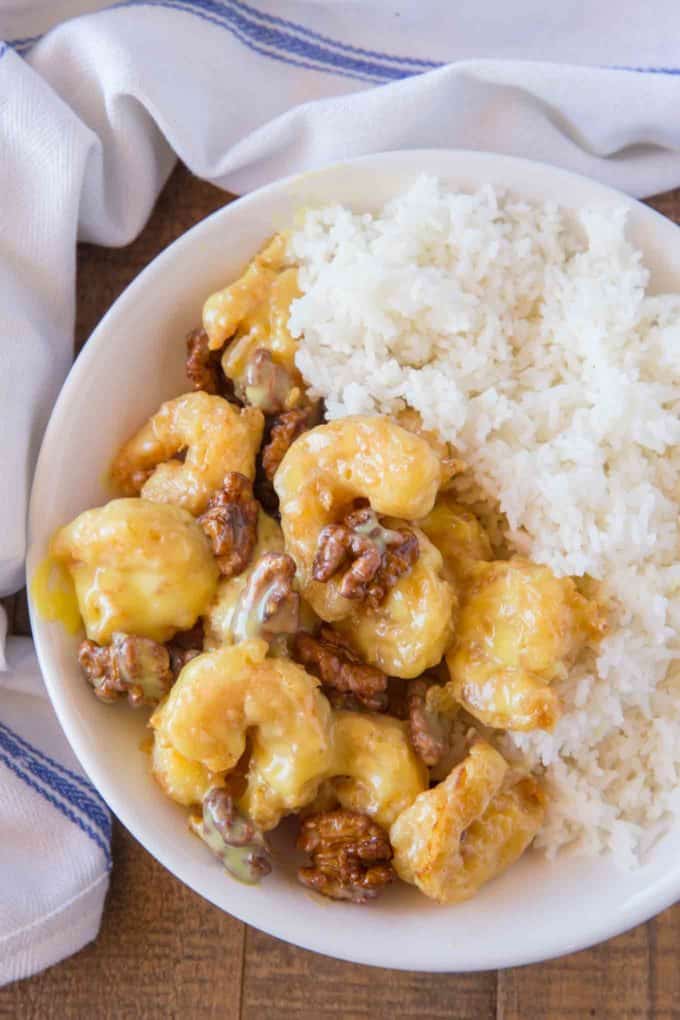 Want more Chinese Food Recipes?
Tools Used in the Making of this Honey Walnut Shrimp:
Wok: Great for high heat, quick cooking. This wok is a great addition to your kitchen if you love cooking Chinese food or stir fries in general.
Large Frying Pan: I use this Cuisinart for most of my non cast iron cooking unless I am going with a stainless steel option, then I choose my All Clad.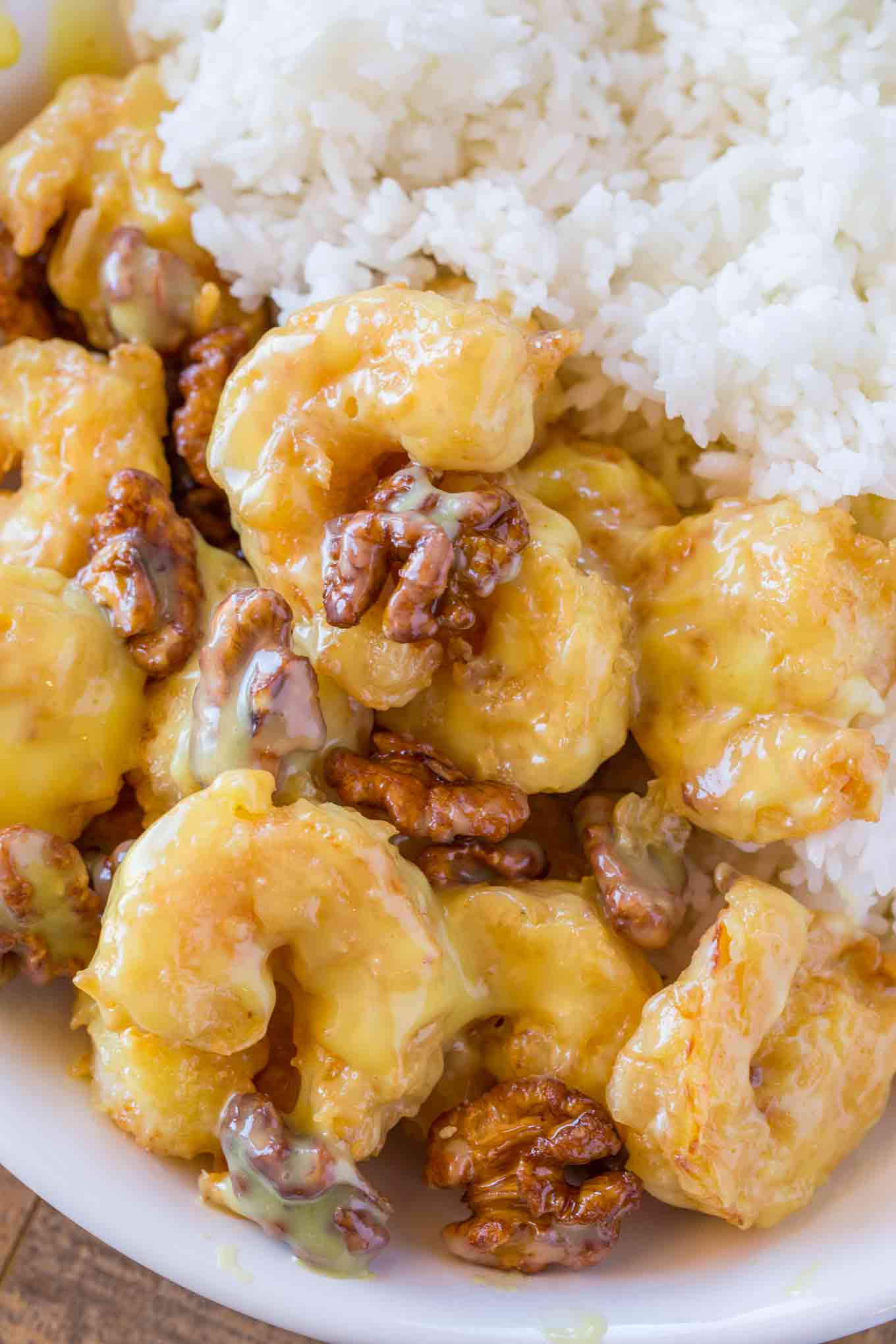 Honey Walnut Shrimp
Honey Walnut Shrimp made just like your favorite takeout restaurant with the sweet honey sauce, whole walnuts and crispy fried shrimp!
Ingredients
1

cup

water

2/3

cup

white sugar

1

cup

walnut halves

1/4

cup

mayonnaise

3

tablespoons

sweetened condensed milk

1/2

teaspoon

rice vinegar

1

tablespoon

honey

4

egg whites

2/3

cup

rice flour

1

pound

13-15 count shrimp

peeled and deveined

canola oil

for frying
Instructions
In a large saucepan add the water and sugar and bring it to a boil.

Add in the walnuts and boil for 2-3 minutes.

Remove with a strainer and put onto a cookie sheet.

In another small bowl mix the mayonnaise, condensed milk, rice vinegar and honey together.

Using a hand mixer whip the egg whites to a foamy consistency (this is before it all turns white and has soft peaks).

Heat oil (three inches deep) in a large dutch oven to 350 degrees.

Add in the rice flour to the egg whites and mix.

Dip the shrimp into the rice flour mixture and add it to the canola oil.

Cook for 3-4 minutes or until golden brown.

Remove from the oil and cool on a cookie sheet.

Toss the shrimp and walnuts with the honey mayonnaise mixture.
Nutrition Facts
Honey Walnut Shrimp
Amount Per Serving (1 g)
Calories 422
* Percent Daily Values are based on a 2000 calorie diet.