Crab Rangoon are crab and cream cheese wontons pinched into little purses and deep fried, these are the perfect Chinese restaurant copycat recipe served with sweet and sour sauce or sweet chili sauce.
We love Chinese food recipes here and our absolute favorite Asian appetizer is these (slightly Americanized) Crab Rangoon bites dipped in Sweet and Sour Sauce.
 Crab Rangoon
Crab Rangoon is one of the most popular Chinese food appetizers on the menu in any of a million local Chinese Food takeout spots, second perhaps to egg rolls. These wontons are a bit different than the Panda Express Cream Cheese Rangoon I made a year ago because of the addition of imitation crab meat.
The recipe is also incredibly easy to make and prepare for the future. Once the wontons are stuffed and closed you can freeze them before frying. If you do freeze them before frying you'll find they keep the perfect shape much more often as they fry and start to crisp up before they have a chance to wilt into a deformed four corner star.
Making a dim sum at home party is actually a breeze with this recipe as well since it freezes so well. I frequently will make these wontons, the cream cheese version, Korean Ground Beef Egg Rolls, potstickers and more. Then just before it is time to serve the recipes I will heat the oil and ten minutes later all the food is crispy and hot and ready to eat.
Sweet and sour sauce and sweet chili sauce are the natural dipping sauces for the rangoon, but you can also dip into gyoza sauce if desired.
What to serve with crab rangoon?
Crab rangoon is best served with your favorite Chinese food entrees including Lo Mein, Orange Chicken, Mongolian Beef and steamed vegetables or rice.
What is crab rangoon made out of?
In more traditional family restaurants crab rangoon is made with actual crab meat but in traditional Chinese takeout restaurants it is a mixture of imitation crab meat with cream cheese, garlic, Worchestershire sauce and wonton skins deep fried and served with a sweet and sour dipping sauce.
How do you make crab rangoon?
The crab mixture is stirred together and a small spoonful of the filling is added to a wonton wrapper. Once the wonton is pinched into a flower shape its quickly fried and serve hot in less than 20 minutes from start to finish.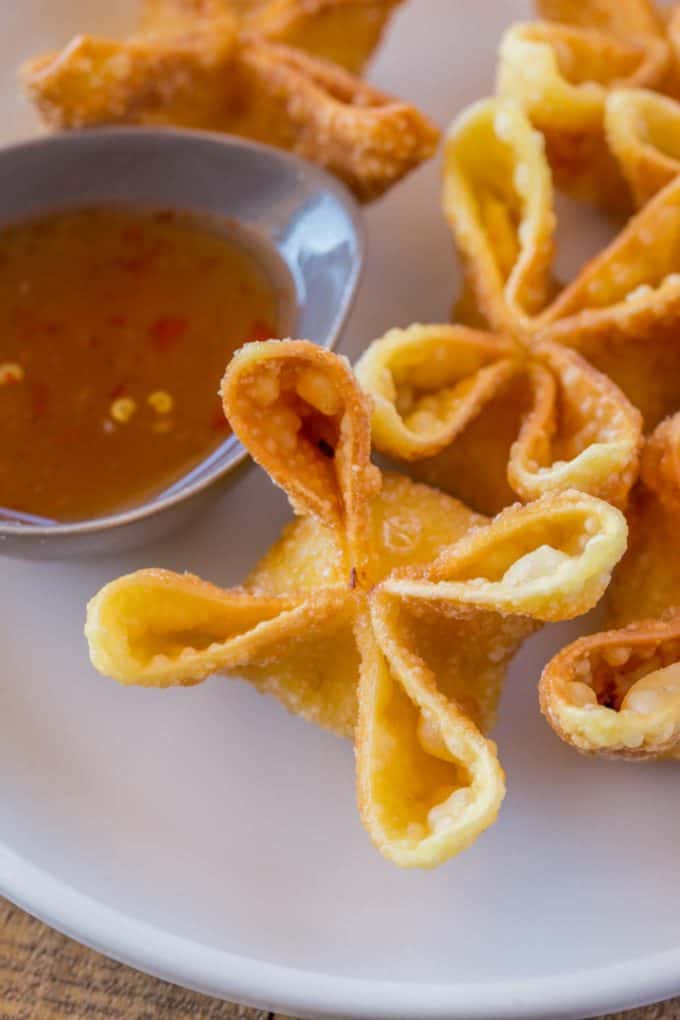 What is a fried wonton?
A fried wonton is a square of very thin dough fried to a light and crispy texture in just a couple of minutes. Often, homemade ravioli are also made using wonton skins instead of pasta sheets. Wonton sheets are a fantastic quick substitute for pasta dough.
Troubleshooting Making Crab Rangoon:
Make sure no air remains inside the wonton. As you fry the rangoon any air inside will turn into steam and break open the wonton leaving the oil covered with the filling.
Make sure to fold the wonton sheet into a four cornered star shape but keep the inside sealed. Here's a great tutorial.
Make sure the oil is at 350 degrees, lower will cause oily food. Too high will result in quickly burned crab rangoon.
If baking the crab rangoon, spray or brush well with canola oil before baking at 375 degrees for 15-18 minutes.
Tools used in the making of this Crab Rangoon:
Skimmer: The easiest way to fry and gently remove the wontons without breaking them open.
Dutch Oven: This dutch oven holds heat great and the top is actually a skillet.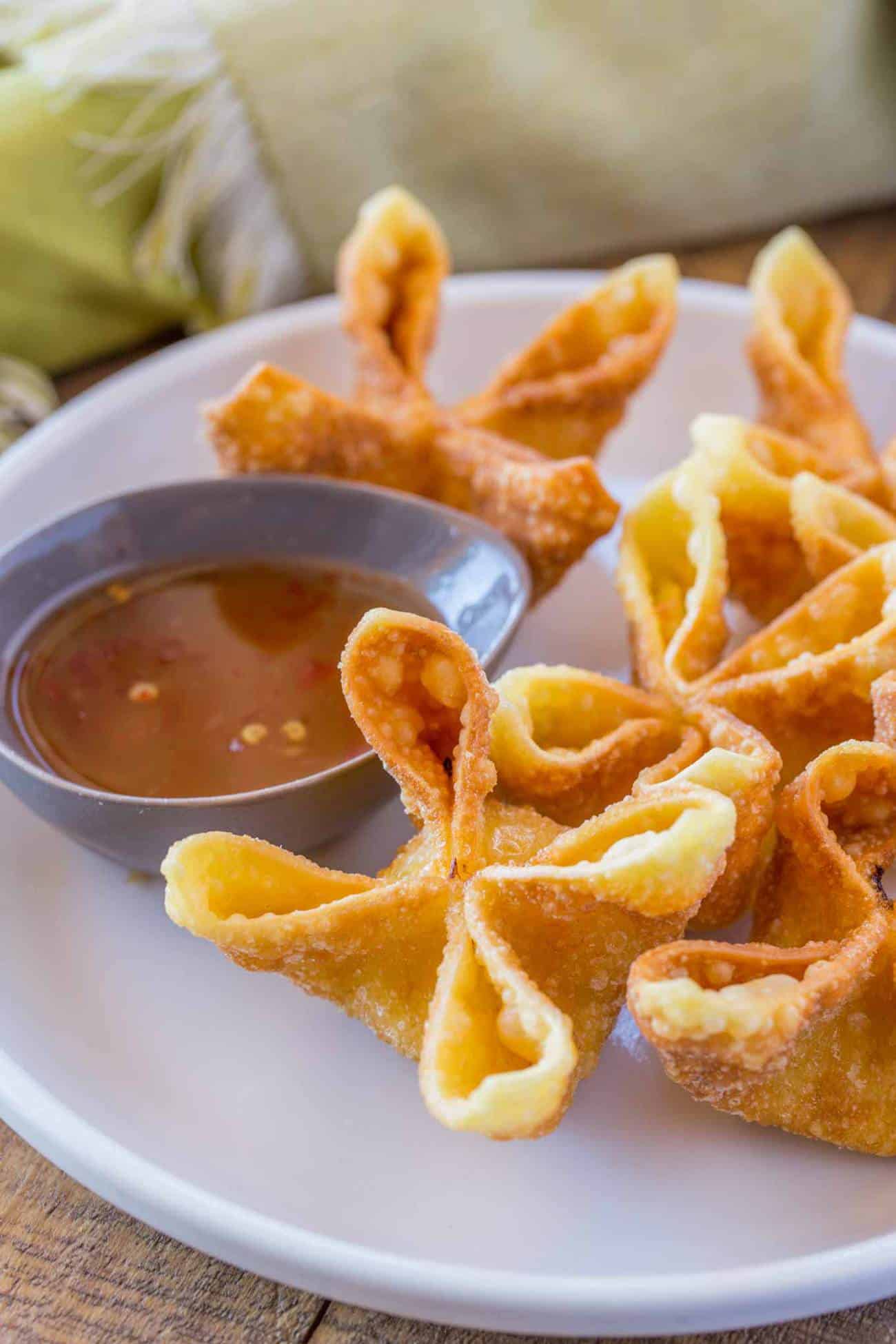 Crab Rangoon
Crab Rangoon are crab and cream cheese wontons with green onions pinched into little purses and deep fried, these are the perfect Chinese restaurant copycat recipe served with sweet and sour sauce or sweet chili sauce.
Ingredients
8

ounces

crab meat

Imitation crab meat

8

ounces

cream cheese

1

large clove garlic

minced

1/4

teaspoon

Worcestershire sauce

12

wonton skins

1

beaten egg

deep frying oil
Instructions
Chop up the crabmeat in small pieces.

Mix well with the cream cheese, garlic and Worcestershire sauce.

Add 1 teaspoon of filling to the center of the wonton.

Brush the edges with the egg and pinch the corners together (make sure there is NO trapped air) to form a four cornered star like in this tutorial.

Fry in 350 degree oil until browned and crispy, roughly 1-2 minutes.
Nutrition Facts
Crab Rangoon
Amount Per Serving (1 g)
Calories 80
Calories from Fat 54
% Daily Value*
Fat 6g9%
Cholesterol 28mg9%
Sodium 219mg10%
Potassium 64mg2%
Protein 4g8%
Vitamin A 260IU5%
Vitamin C 1.3mg2%
Calcium 27mg3%
Iron 0.2mg1%
* Percent Daily Values are based on a 2000 calorie diet.