These easy Mashed Potatoes are creamy, buttery and are the perfect side dish with almost any meal. They only need 5 ingredients and is ready in under 30 minutes!
Side dishes make the meal, and around here we're already practicing for the holidays with Green Bean Casserole, Baked Mac and Cheese and Easy Apple Sausage Stuffing.
EASY MASHED POTATOES RECIPE
The perfect mashed potatoes to serve alongside your steak, Baked Ham (mine may be the best you'll ever have) or turkey in the holiday season and it makes enough for a crowd! Easily halved for smaller meals, this recipe is simple and open to your favorite add ins!
Mashed Potatoes are a time tested side dish recipe that pairs perfectly with most steak or chicken recipes. Personally, I like to make mashed potatoes with russet potatoes, but if you're not in the mood to peel them you can also use Yukon Gold or red potatoes.
HOW DO YOU MAKE THE PERFECT MASHED POTATOES
In a large pot, add potatoes and boil for a total time of 15-20 minutes, or until potatoes are soft and a fork goes through easily.
Drain the potatoes. Add back to the pot and set aside.
Heat the butter and milk in a separate pan, or microwave until butter is melted.
Add butter and spices to the potatoes. Mash potatoes together until there are no large lumps.
For this recipe I used my largest stockpot WITH a basket. You can buy a large fryer, like this one that comes with a basket. Plus since it is a fryer it is going to do double duty for you. I used my All-Clad one I got from our wedding registry but it is totally unnecessary to buy something that expensive.
MORE CLASSIC DINNER RECIPES:
HOW TO MASH POTATOES WITHOUT A MASHER
If you don't have a traditional potato masher, you can use another common kitchen tool to achieve creamy mashed potatoes. An electric hand mixer is so much easier and faster, that you'll be pulling it out to mash all of your potato recipes from now on.

Create a free account to

Save Recipes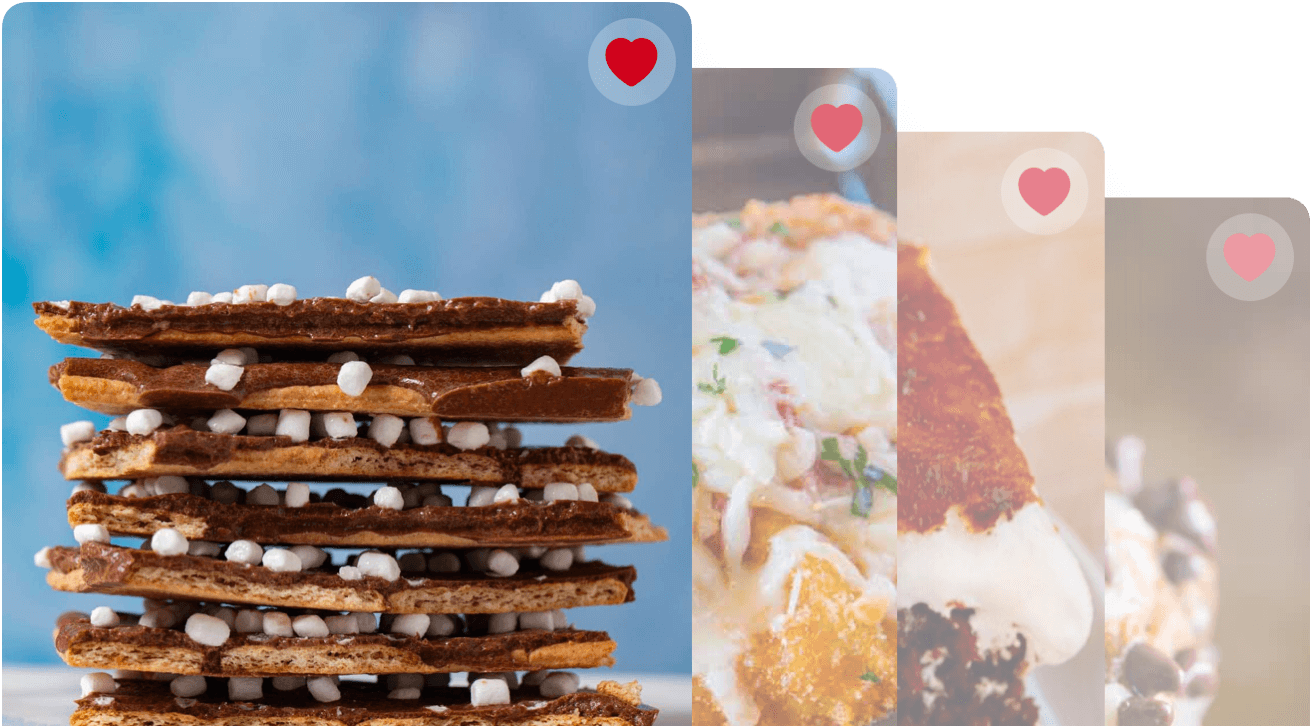 CAN YOU SUBSTITUTE SOUR CREAM FOR MILK IN MASHED POTATOES?
If you have sour cream that you want to use up, you can use that instead of milk in this mashed potatoes recipe.
Sour cream can help the potatoes have a nice creamy texture, while the flavor goes really well with a savory side dish like this. The rule of thumb is to add 1/2 cup sour cream to replace one cup of milk, and add more as needed once you are mashing the potatoes.
You can also add evaporated milk in place of milk in your recipe if you're looking for a shelf stable option.
You can also add cream cheese or mascarpone cheese for an extra creamy and tangy texture like in this Richest, Cheesiest, Crispy Mashed Potatoes.
HOW MANY POTATOES SHOULD YOU MAKE PER PERSON FOR MASHED POTATOES
Potatoes can come in all shapes and sizes. If using large potatoes, use 1-2 per person. If small, use 2-3 potatoes per person.
A good rule of thumb is to go by how many pound of potatoes you have. a 3 pound bag of potatoes should feed 5-6 people comfortably, which leaves you at about 1/2 pound per person.
Mashed Potato Flavor Variations:
Garlic Rosemary Mashed Potatoes: Add your favorite herbs! Fresh minced rosemary or sage would be wonderful.
Brown Butter Thyme Mashed Potatoes: Brown the butter before adding it in with the warmed milk and add some fresh thyme.
Goat Cheese Mashed Potatoes: Caramelize onions deeply in the butter and add goat cheese.
Cheddar and Sour Cream Mashed Potatoes: Add cheddar and sour cream (1 cup cheese, 1/2 cup sour cream).
Garlic Olive Oil Mashed Potatoes: Add olive oil instead of butter and mince up as much fresh garlic as you can handle.
Roasted Garlic Mashed Potatoes: Roast a head of garlic and add the whole head of it to the potatoes as you mash them (don't worry roasted garlic has a sweet, muted flavor).
Bacon Mashed Potatoes: Bacon fat used in place of butter and bacon crumbles throughout.
Loaded Mashed Potatoes: Add your favorite baked potato toppings, cheese, bacon, chives and sour cream.
Spinach Artichoke Mashed Potatoes: Add spinach and artichokes to a food processor. Add 1/2 a cup of each to the potatoes with 2 cups of Parmesan Cheese.
Cajun Mashed Potatoes: Add jerk or cajun seasoning to kick up the spice and flavor easily.
MORE DELICIOUS HOLIDAY SIDE DISHES:
Easy Mashed Potatoes Recipe
Mashed Potatoes are a creamy and buttery side dish in under 30 minutes!
Ingredients
5

pounds

potatoes

, (either Russet or a mix with Russet and Yukon)

1/2

cup

unsalted butter

2/3

cup

whole milk

1 1/2

teaspoons

kosher salt

1/4

teaspoon

coarse ground black pepper
Instructions
Peel and quarter potatoes and put in cold water until ready to cook (up to 4 hours ahead of time).

In a large stockpot bring 1 gallon of water and 2 tablespoons of salt to a boil along with the potatoes and boil for 15-18 minutes.

Add the milk and butter together in a small saucepan and heat until steaming.

Drain the potatoes and put them back into the pot on low heat and mash them well before adding in the milk and butter mixture and continuing to mash the potatoes until as creamy as desired.
Recipe Notes
For perfectly fluffy mashed potatoes use a ricer.
Nutrition Facts
Easy Mashed Potatoes Recipe
Amount Per Serving
Calories 184
Calories from Fat 72
% Daily Value*
Fat 8g12%
Cholesterol 21mg7%
Sodium 382mg17%
Potassium 798mg23%
Carbohydrates 24g8%
Protein 5g10%
Vitamin A 255IU5%
Vitamin C 21.5mg26%
Calcium 74mg7%
Iron 6.1mg34%
* Percent Daily Values are based on a 2000 calorie diet.