Baked Ham with Brown Sugar Glaze made with brown sugar, orange juice, honey, and spices is the PERFECT sweet and savory holiday dinner, and bakes in only 90 minutes!
You can always find a bone-in ham on our holiday table, it's the perfect thing to use the next day for Slow Cooker Ham and Bean Soup. If your ham is boneless, you can still use the leftovers to make Slow Cooker Ham and Potato Soup!
 BAKED HAM
Baked Ham with Brown Sugar Glaze is the PERFECT dish to serve on the holidays. You can decorate the ham with cloves or pineapple to add more to the presentation, or serve with just the brown sugar glaze.
If I'm having a lot of guests, I'll make 2 or 3 hams. Then set out serving trays layered with pineapple, then baked ham slices, then sliced pineapple rings decoratively on top. I also put out a dish of mustard and some extra glaze for dipping.
If you don't have brown sugar for the glaze, you can use white sugar in its place. If I do this I try to add a spoonful of molasses or maple syrup to get some of that deep flavor back, but it's not mandatory. I like to remove the tinfoil and broil in the oven for a few minutes after the ham is done cooking, to get really nice browned caramelized sugar from the glaze on top.
Another favorite around here for get-togethers is my Honey Baked Ham copycat recipe. Honey baked ham copycat is done in the slow cooker and ready in about 3 hours, which is perfect if you're low on oven space. It's my husband's all-time favorite baked ham recipe! So I usually save honey baked ham for a special dinner on Christmas eve.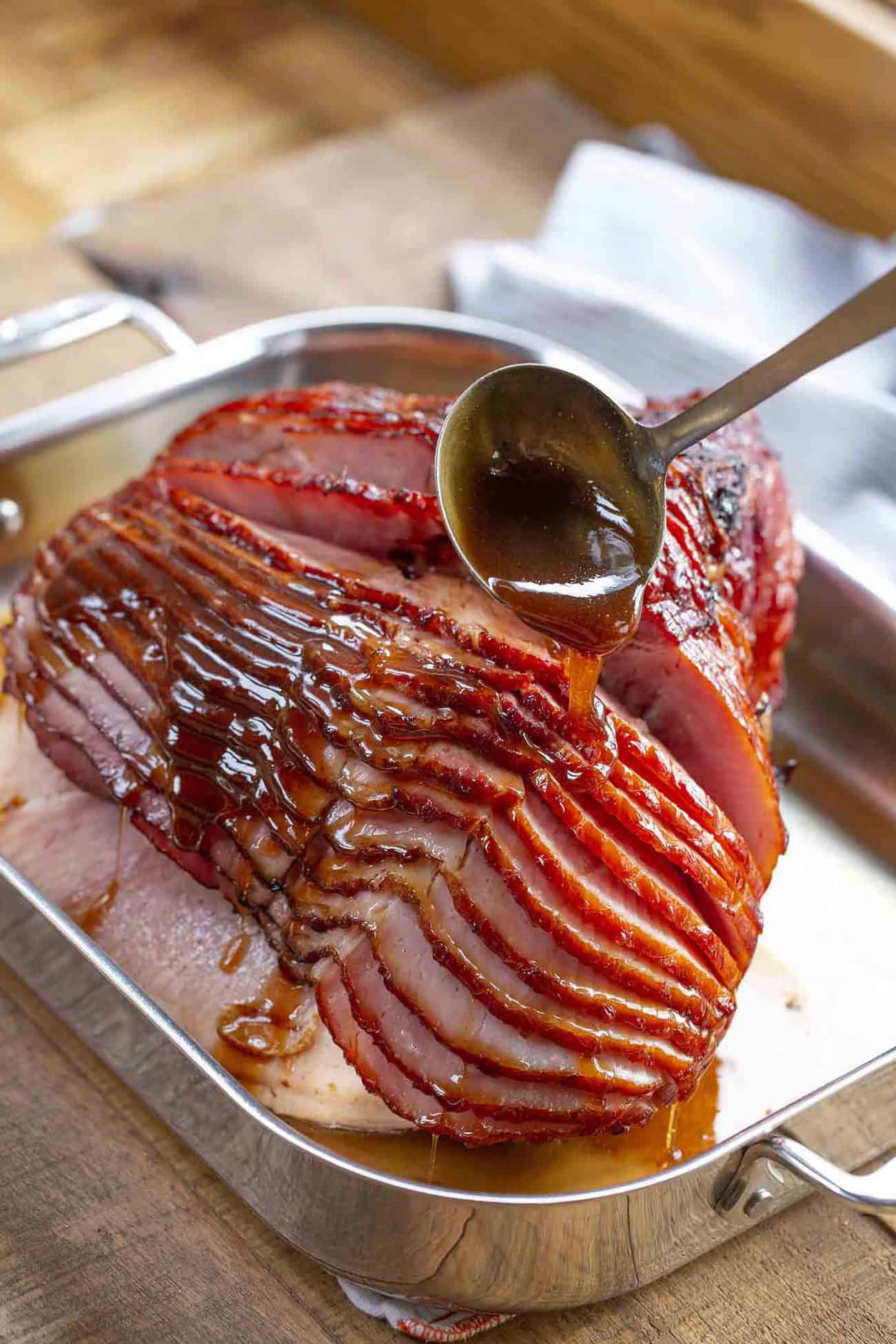 I also make sure to pour some of the brown sugar glaze on the first half of the slices for great presentation and browning of the glaze on the slices but i leave the back half of the ham the way it is without fanning it open so the ham isn't too disturbed. It makes for a nice presentation.
CAN I BAKE A HAM OVERNIGHT?
Technically yes you can at a lower temperature, but I always worry about leaving the oven when nobody's there to watch it. A safer alternative would be to make my Slow Cooker Brown Sugar Pineapple Ham recipe, with an uncooked whole ham, on low for 8-10 hours or until it comes to temperature. There's no need for basting because it will self-glaze in the slow cooker by itself.
HOW TO STORE BAKED HAM
Store a baked ham in the refrigerator for 3-4 days, or frozen for up to 3-4 months. If you have a precooked ham that you have not opened or prepared yet, store for up to 2 weeks, or by the expiration date on the package. If you're getting close to the expiration date with no plans of using the ham, freeze for up to 1-2 months.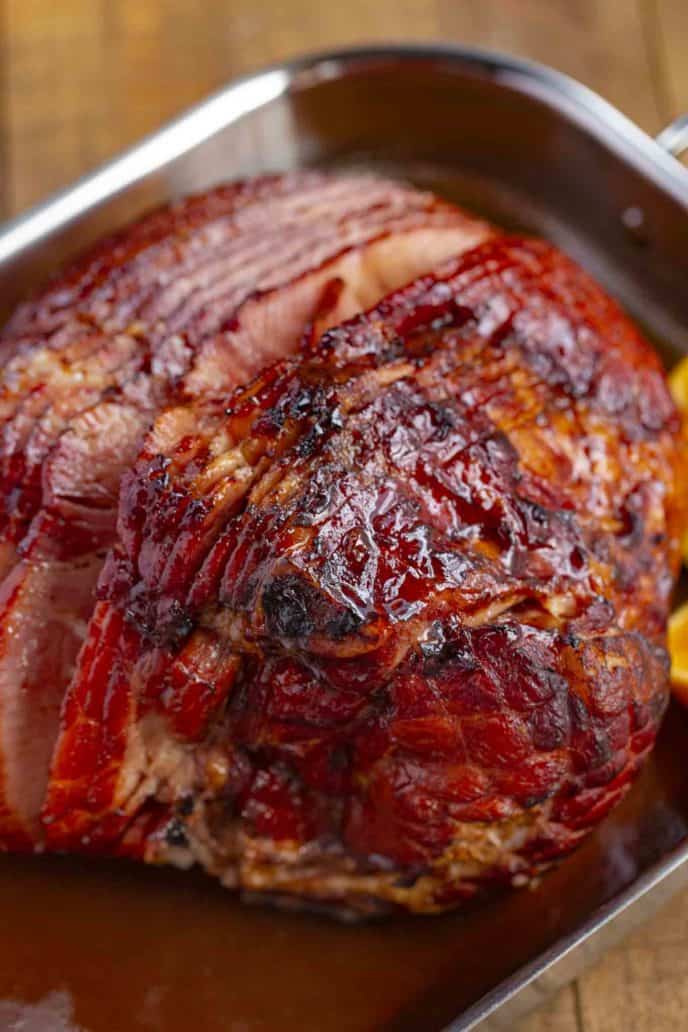 HOW LONG DO YOU COOK A HAM IN THE OVEN?
Once you preheat the oven, a ham will need about 15-20 minutes per pound to cook, at 350 degrees F. For food safety, ham needs to be cooked to a least 145 degrees F. I always have a good food thermometer on hand when I'm preparing food on the holidays.
HOW DO I COOK A PRECOOKED HAM?
A precooked ham should be cooked in the oven at 325 degrees F for 10 minutes per pound, or until it reaches 145 degrees F, according to the USDA. If you're reheating a ham that was repackaged or leftover, it needs to be cooked to 165 degrees F.
This isn't because you are cooking raw meat, this is because anytime you cook something it immediately begins growing bacteria. This is due to the fact that people touch it, that organisms in the air touch it or even the plates it is served on are touching it.
When you cool it back down again the food bacteria for lack of a better word is mostly dormant but to kill that bacteria and make it safe to eat it is really best/safe practices to heat it back to 165 degrees before consuming it again.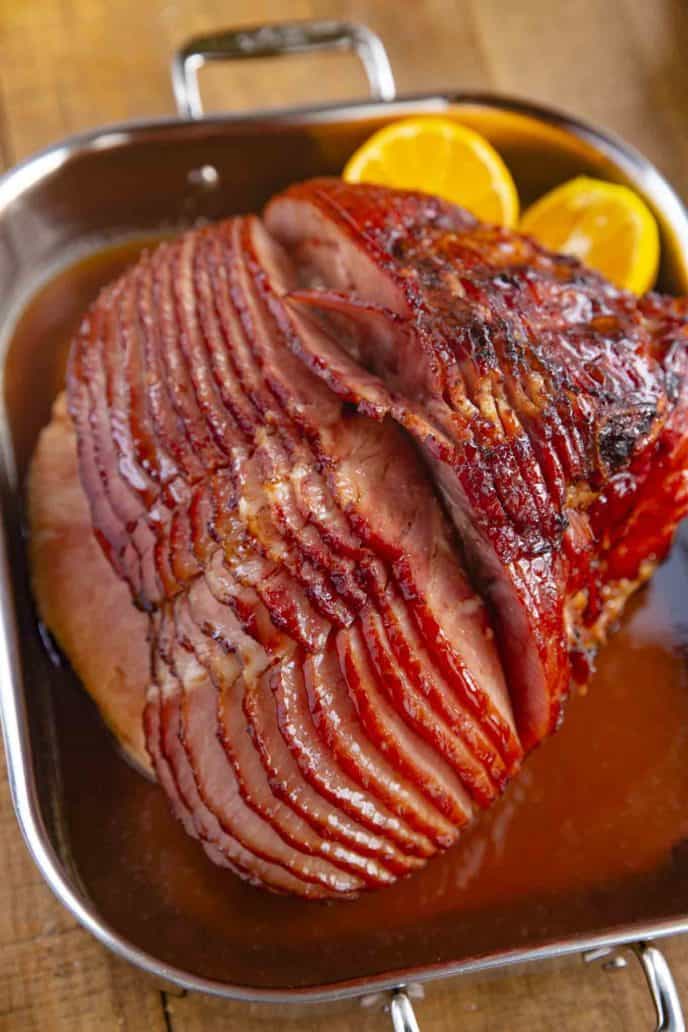 Create a free account to

Save Recipes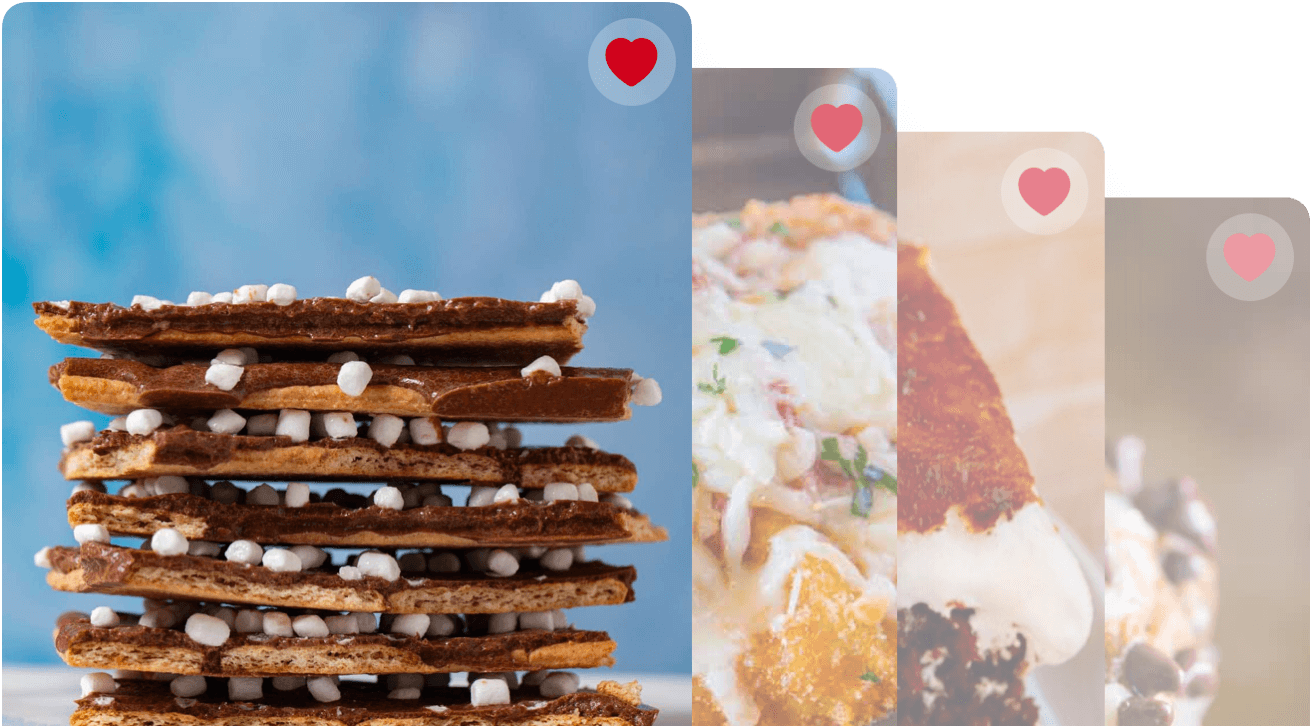 WHAT ELSE GOES WELL WITH BAKED HAM?
HOW TO MAKE BAKED HAM WITH PINEAPPLE
For the glaze, substitute the orange juice with pineapple juice. In the last half hour of cook time, pour the glaze over the ham along with a can of crushed pineapple, and bake uncovered. Decorate with sliced pineapple rings and maraschino cherries before serving.
TIPS FOR MAKING BAKED HAM
Serve with yellow mustard or spicy brown mustard at the table. You can also add a tablespoon of spicy mustard or honey mustard to the glaze for a hint of sweet and spicy flavor.
Place ham cut-side-down in the pan when you go to bake. This helps the meat stay juicy. Also be sure to tent with tinfoil, to keep the ham from drying out while baking. Remove the tinfoil in the last half hour.
When the ham reaches temperature, turn the broiler on for a total time of 2-3 minutes, or until the top looks roasted and slightly crispy. Be careful it doesn't burn, the broiler is REALLY hot.
Just like steak, let your ham rest on the counter while you finish prepping the rest of the meal.
Look for a city ham if you want the traditional holiday dish.
You want to make sure you pick up whole cloves to decorate the ham, as the glaze calls for ground cloves not whole.
If possible, find a ham that is precooked bone-in. It helps the meat stay more juicy, and is really useful for leftovers like soup or casseroles.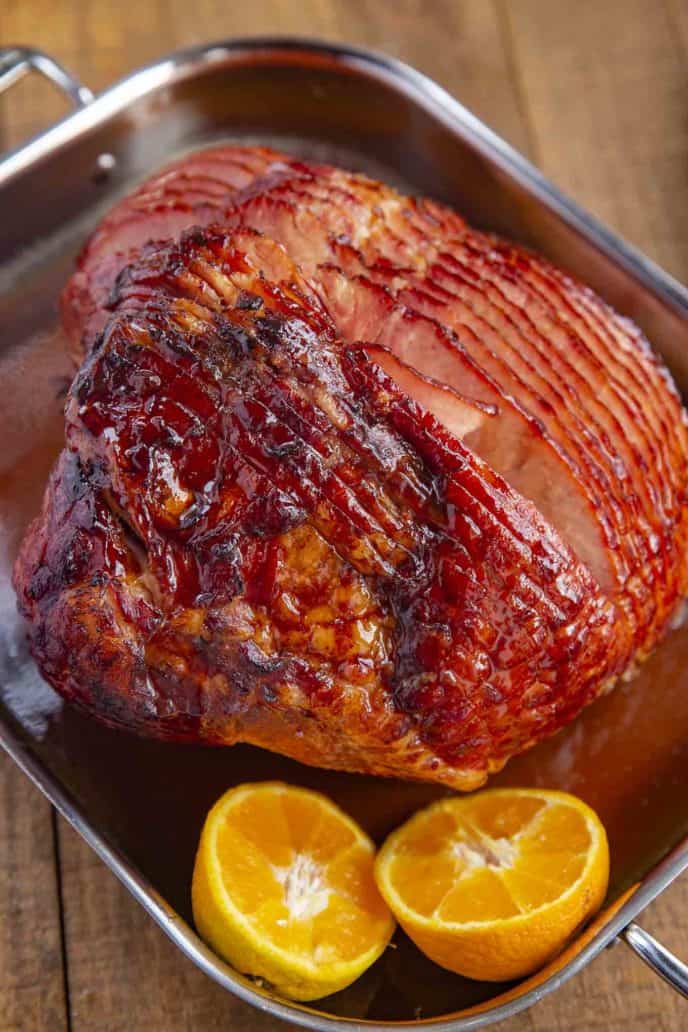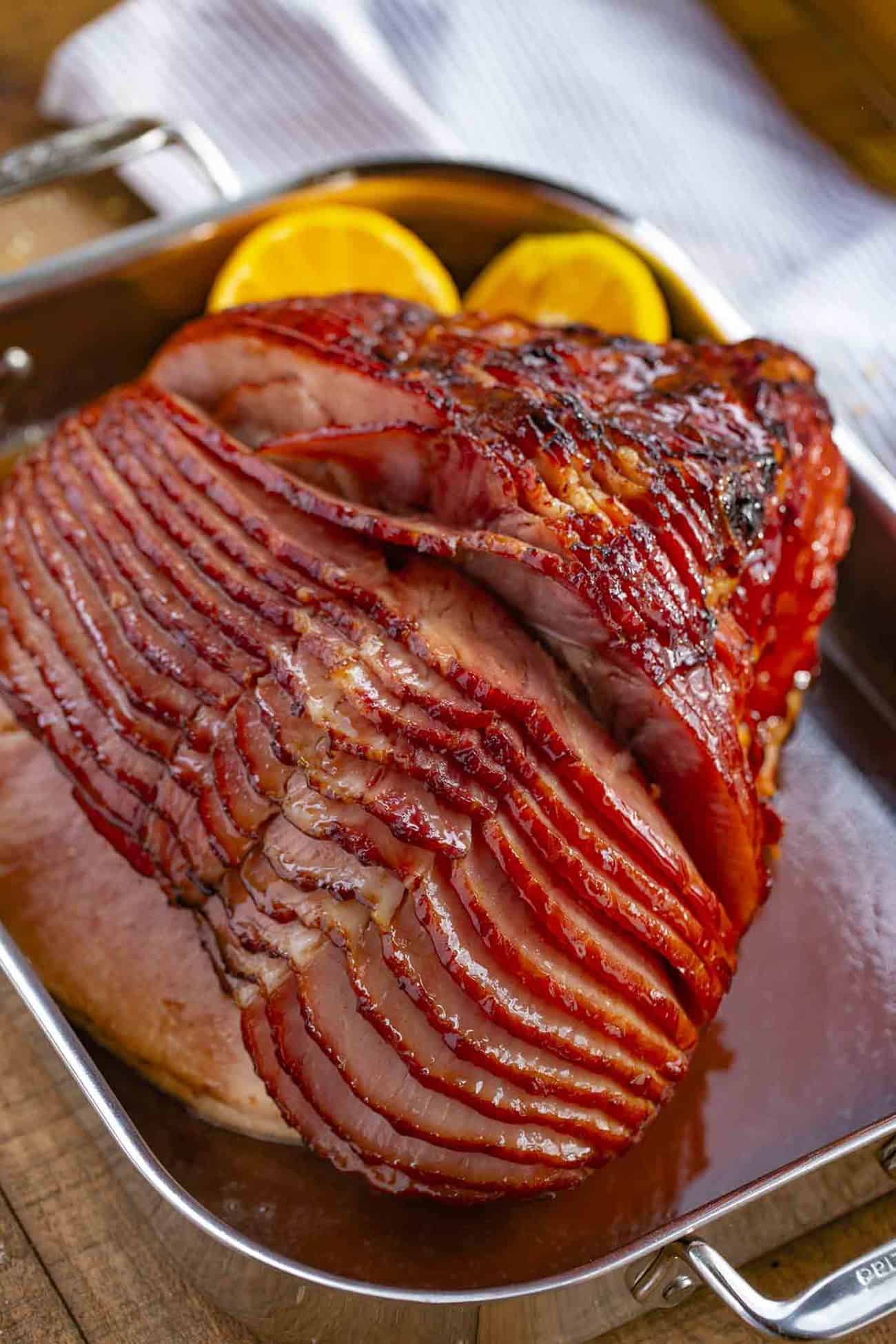 Baked Ham with Brown Sugar Glaze
Baked Ham with Brown Sugar Glaze made with brown sugar, orange juice, honey, and spices is the PERFECT sweet and savory holiday dinner, and bakes in only 90 minutes!

Cook Time
1
hour
35
minutes
Total Time
1
hour
40
minutes
Ingredients
1

spiral cut ham

1

cup

packed brown sugar

1/2

cup

orange juice

1/2

cup

honey

1

teaspoon

cinnamon

1/2

teaspoon

cloves
Instructions
Preheat oven to 350 degrees and add a roasting rack to a large roasting pan.

Rinse the ham and pat it dry and place it in a large piece of foil to wrap it closed.

Bring the ingredients to a boil together on medium heat and cook for 3-4 minutes before pouring onto each individual slice of ham and over the top of it before wrapping the foil tightly and baking for 90 minutes.
Recipe Notes
Note: click on times in the instructions to start a kitchen timer while cooking.
Nutrition Facts
Baked Ham with Brown Sugar Glaze
Amount Per Serving
Calories 461
Calories from Fat 225
% Daily Value*
Fat 25g38%
Cholesterol 93mg31%
Sodium 1799mg78%
Potassium 474mg14%
Carbohydrates 24g8%
Protein 32g64%
Vitamin A 15IU0%
Vitamin C 4.2mg5%
Calcium 26mg3%
Iron 1.5mg8%
* Percent Daily Values are based on a 2000 calorie diet.