The Best Chicken Parmesan is a classic Italian favorite, breaded and baked with an easy marinara sauce, Parmesan and mozzarella cheese in just 30 minutes!
Classic Italian Recipes are an easy weeknight option in our household and we love Ultimate Meat Lasagna made with Easy Marinara Sauce, Easy Carbonara Pasta and these Amazing Stuffed Shells (they're so quick you have to try them!).
EASY CHICKEN PARMESAN RECIPE
The Best EVER Crispy breaded chicken breasts topped with homemade marinara and melted mozzarella and provolone cheeses. Serve it up with pasta, Garlic Bread and a Copycat Olive Garden Salad for the best classic Italian restaurant favorite.
Depending on how fancy of an Italian restaurant you get chicken parmesan from it may be called chicken parmesan or chicken parmigiana. They are the same dish, just read the second one with a super Italian accent.
Why do they call it chicken parmesan (parmigiana)?
It's called chicken parmesan (or Baked Chicken Parmesan) as a throwback to eggplant parmesan where slices of eggplant were coated in bread crumbs and fried before being served with slices of parmesan cheese on top.
The most important part of the dish is the coating process. We set up a standard breading state with shallow dishes and we mix the bread crumbs with grated parmesan cheese so you get extra parm flavor in the breading too.
Can you Meal Prep this Chicken Parmesan Recipe?
This is a great recipe that will taste like your favorite restaurant but you can even meal prep it making it all the way through the breading process then freezing the chicken breasts then baking them off at a later date.
Make sure to allow for extra baking time because the chicken will be frozen and preheat the oven to 25 degrees lower to allow for the breading to cook without burning.
In its modern form it is a popular Italian-American dish served with melted mozzarella and normally just garnished with parmesan cheese. This recipe calls for parmesan cheese to be added to the breading for even more flavor.
KID FRIENDLY CHICKEN PARMESAN
One of the first departures my oldest made from chicken nuggets was to this chicken parm. I sold it as a chicken nugget pizza (total parent win, bribe your kids into trying something new by pretending its a mashup of two of their favorite foods.) In fact we started making this Chicken Parmesan recipe topped with pepperoni after that dinner and I even started making the marinara with the kids as a fun project we could do together.
If you're looking for a more outside the box chicken parm option there's also my favorite dark horse recipe: Noodle free Chicken Parmesan Casserole with a super unexpected crispy topping you can serve up with fettuccine or my personal favorite, tortellini. I've served it to ALL my friends and they all love it and can't believe the topping.
Or you can make a super fun cheeseburger take on Chicken Parm and make my Chicken Parmesan Sloppy Joes! They're so easy and delicious to make you'll make them all the time.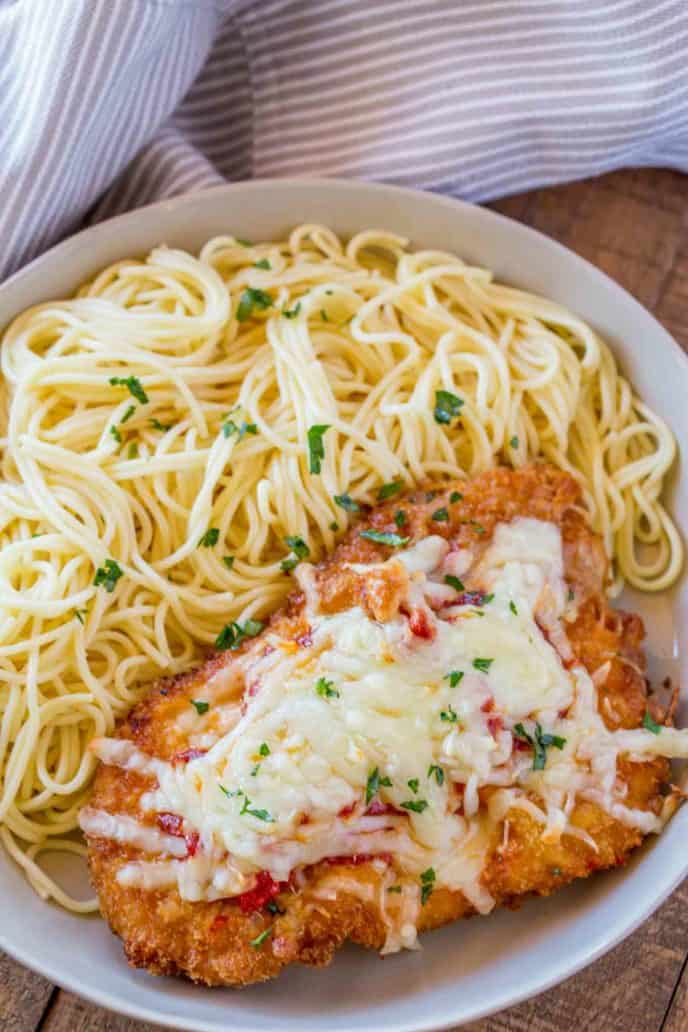 BAKED CHICKEN PARMESAN VS STOVETOP CHICKEN PARMESAN
This recipe is cooked partially in the skillet before being cooked the rest of the way in the oven to help the breadcrumbs get crispy and browned while the chicken cutlets stay moist.
You can of course finish cooking the chicken through in the skillet then top with the sauce and cheese, cover with a lid and allow the cheese to melt quickly and serve immediately but the time in the oven allows us time to cook pasta and it also gives the sauce a bit of time to dry out in the oven so it isn't so soggy.
WHAT CAN BE SERVED WITH CHICKEN PARMESAN:
You can serve chicken parmesan with spaghetti in its classic presentation, steamed vegetables or spiralized zucchini noodles for a lighter option. Chicken parmesan is also regularly served on hoagies as a hot sub sandwich.
Fresh parsley, fresh basil and freshly shaved parmesan or pecorino cheese are my go-to topping options.
WHAT SAUCE DO YOU USE FOR CHICKEN PARMESAN:
Chicken Parmesan is served with a classic marinara sauce which is added to the top of the chicken cutlet and baked with shredded cheese on top. You can also serve it over other pasta recipes like this Cheesecake Factory Louisiana Chicken Pasta or Cheesecake Factory Chicken Bellagio.
Why don't you add more sauce to the chicken? The sauce is meant for flavor but not to drown the chicken out. It also makes a spot on the chicken where the breading softens. The remaining part of the chicken not covered in sauce is able to remain crispy.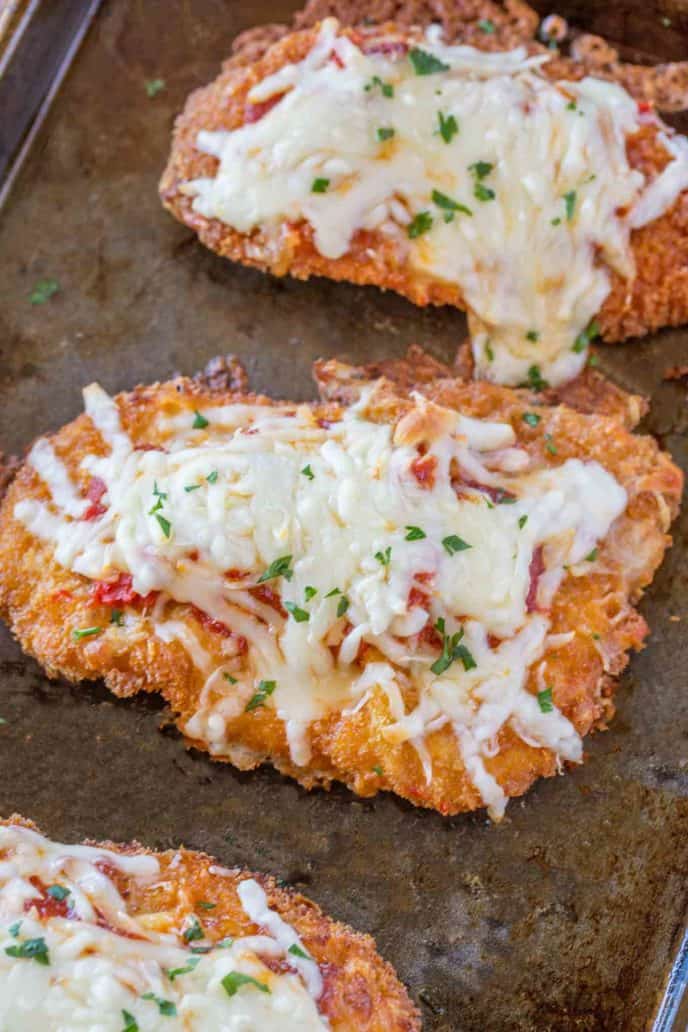 More Classic Italian Recipes: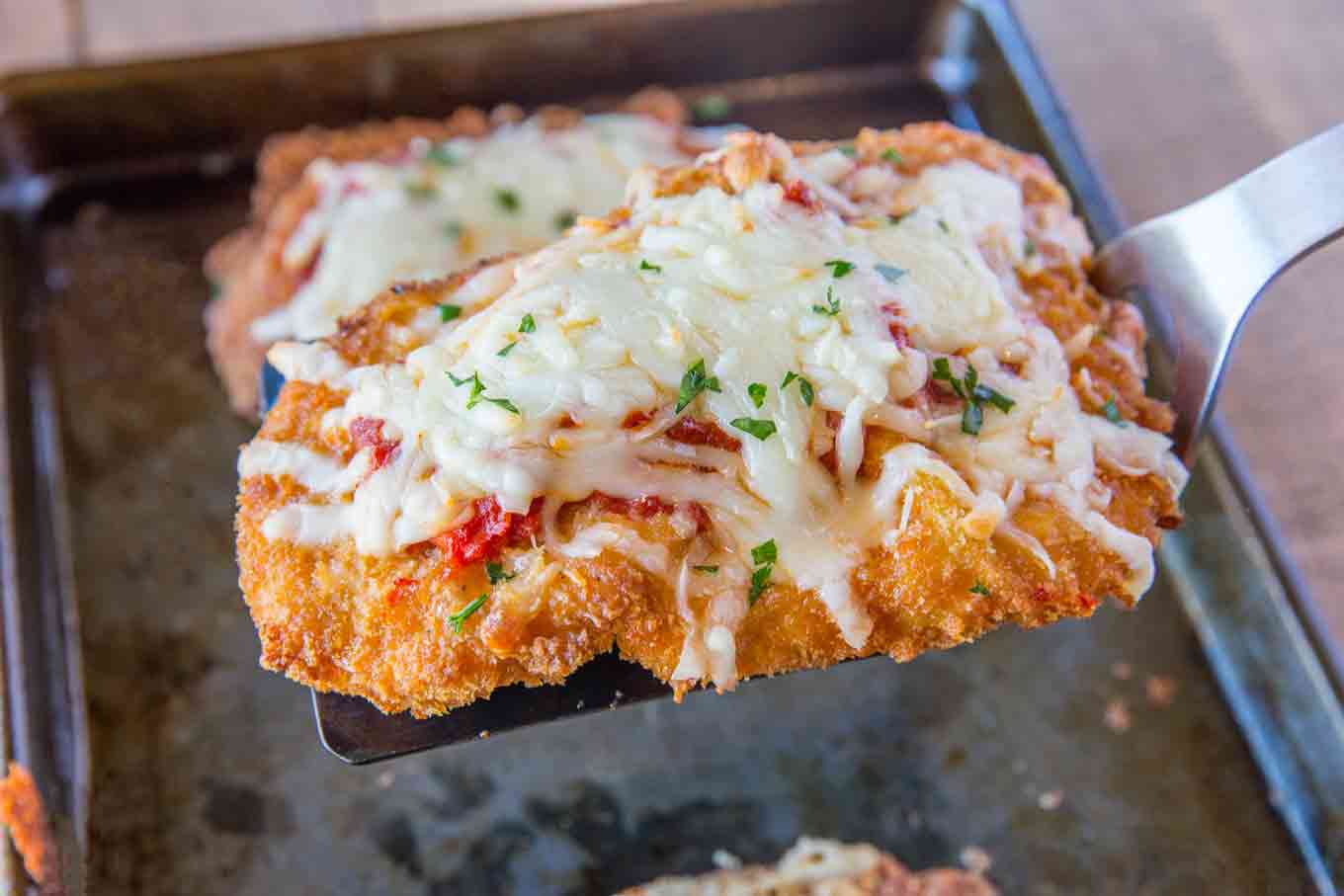 Ultimate Chicken Parmesan
The Best Chicken Parmesan is a classic Italian favorite, breaded and baked with an easy marinara sauce, Parmesan and mozzarella cheese in just 30 minutes!
Ingredients
4

chicken breasts

, boneless and skinless

1/2

teaspoon

Kosher salt

1/4

teaspoon

coarse ground black pepper

4

tablespoons

flour

2

large

eggs

1

cup

panko bread crumbs

1/2

cup

grated Parmesan cheese

2

tablespoons

extra-virgin olive oil

2

tablespoons

butter

1

cup

marinara sauce

1

cup

mozzarella cheese

, shredded
Instructions
Preheat an oven to 375 degrees and spray a baking sheet with cooking spray.

Put the chicken breasts between two pieces of saran wrap or parchment paper and using a rolling pin or flat kitchen mallet flatten it to 1/2 inch thickness then season them with salt and pepper.

In three shallow bowls add the flour to one, eggs to one (and beat until combined) and the panko and Parmesan cheese to the other (and mix).

Dredge the chicken in the flour, then the egg and finally press it into the panko mixture.

Add the olive oil and butter to a cast iron skillet on medium high heat and cook the chicken for 3-4 minutes on each side until golden brown (it'll be raw inside still).

Add the chicken to a baking sheet, add the marinara sauce on top and finally top with the shredded mozzarella and cook for 18-20 minutes.
Nutrition Facts
Ultimate Chicken Parmesan
Amount Per Serving (1 g)
Calories 477
* Percent Daily Values are based on a 2000 calorie diet.