Bacon Carbonara Pasta is an Italian classic pasta dish with creamy egg sauce with noodles, pasta, eggs and bacon topped with salty Parmesan cheese in under 30 minutes.
Classic Italian recipes are a popular section of recipes on the site including Meat Lasagna, Chicken Parmesan and Marinara Sauce.
 Easy Carbonara Recipe
A quick and easy recipe for spaghetti carbonara topped with bacon and peas made without being intimidating! This recipe is as easy as making the pasta and bacon and tossing it together with rich egg yolks and a bit of reserved pasta water to make the creamiest easiest sauce ever. It's like stepping into Rome, Italy with the benefit of it taking as long as a normal weeknight dinner.
One of the most intimidating things about making carbonara pasta is the egg sauce. People worry about scrambling the eggs or eating raw eggs because of the heat of the pasta. Before publishing this recipe I tested it 5 times and tossed it with the eggs even taking an extra minute or so, tossing it slower or faster, trying to come up with ways you guys may approach the directions differently.
The only version that ended with scrambled eggs was pouring in the eggs directly into the pan fully before tossing (which is not how the directions are written, but I wanted to test all the ways it may be carried out.
WHY SAVE PASTA WATER?
Pasta water is saved for this Carbonara Pasta because the extra starch in the water from the cooking process helps to create a creamier sauce. This makes it easy to create a thick, rich sauce without waiting for anything to cook down or without adding a lot of cream or excess cheese.
Remember to cook pasta al-dente, this means with a bite. I always instruct that pasta should be cooked one minute shy of the instructions on the box for this reason. As you toss ingredients together and finish the recipe your pasta will finish cooking naturally instead of becoming overcooked. If you like eating pasta al-dente I would recommend cooking 2 minutes shy of the directions before draining the pasta.
THE INGREDIENT QUALITY MATTERS:
This recipe shines because of its simplicity, but it also requires the use of good ingredients. I love thick cut bacon, or even high quality standard cut bacon. Use a freshly ground black pepper, the bigger the grind the more bold the flavor (shaker black pepper will hurt this recipe). Use shaved parmesan (or Romano) instead of grated for a less gritty texture.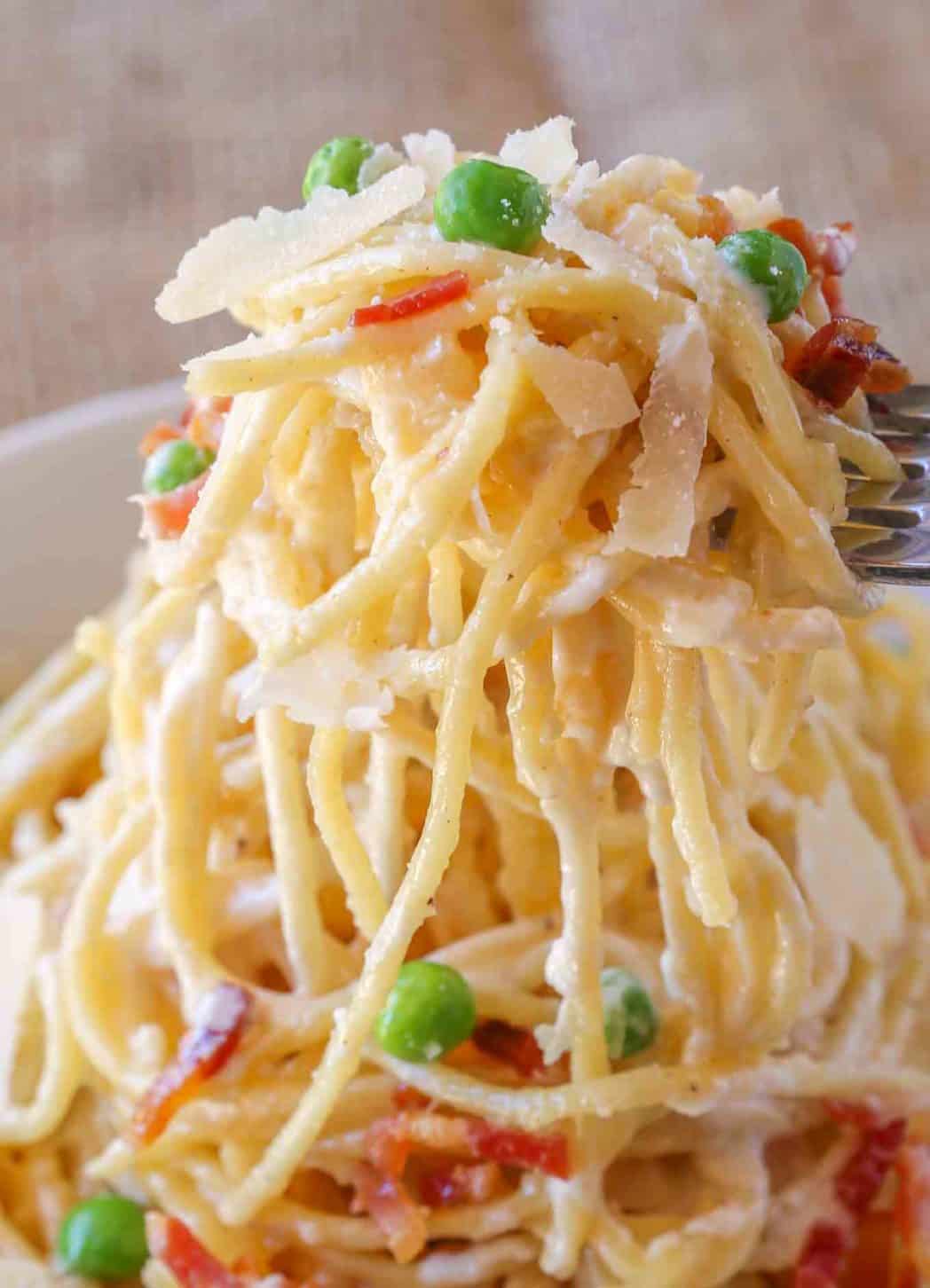 Create a free account to

Save Recipes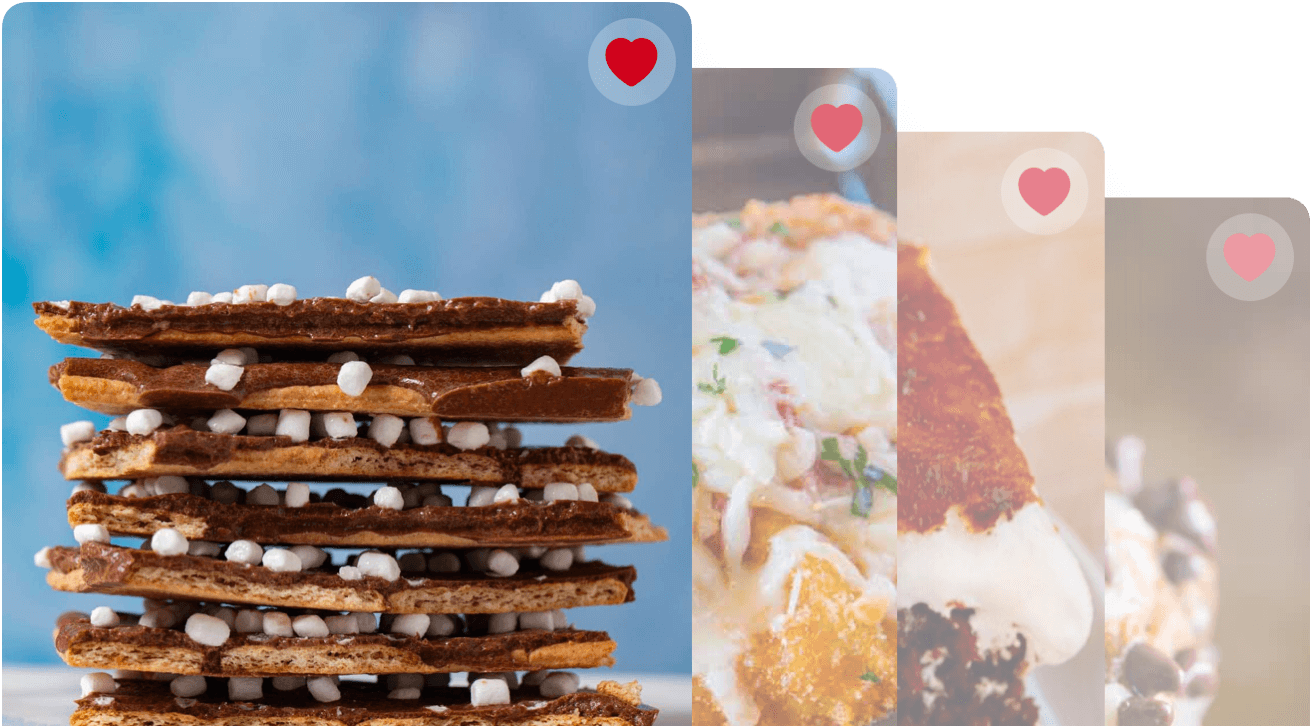 WHAT GOES INTO A TRADITIONAL PASTA CARBONARA:
There are many recipe variations of carbonara that are not traditional (including cream cheese or mozzarella cheese), but the traditional variety seen here including a raw egg mixture being mixed and brought to a sage temperature by the heat of the pasta.
For a fully traditional option, use pancetta instead of bacon, and skip the peas.
More traditional and less-traditional Carbonara Recipe ingredients:
Peas: I'm love carbonara with peas, but you can certainly skip the peas. Add them in frozen as you toss the pasta they will thaw quickly.
Garlic Cloves: While not traditional you can of course add them in as raw, roasted or cook them in olive oil or bacon fat first.
Pecorino Romano Cheese: If you have it on hand or don't like Parmesan Cheese, you can use Romano in it's place.
Fresh Parsley: An easy topping, but not needed as the parsley flavor will overpower the egg yolk flavor.
White Wine: You can of course add this in place of or in addition to the pasta water, but the starch in the reserved cooking water helps the creamy texture of the sauce.
Whole Eggs: There is never a reason to add whole eggs to this recipe, if you see a recipe call for it, I'd look to another recipe unless they call for it in the creation of fresh pasta.
Heavy Cream: Heavy cream can be used if you are avoiding the use of raw eggs to create a creamy cheese sauce.
Olive Oil: No need to use oil in this recipe since we aren't cooking anything in fat, but if you're adding any additional vegetables you can certainly add olive oil. I would cook them in the bacon fat though.
Looking for more delicious Pasta recipes?
Tools Used in the making of this Bacon Carbonara Pasta:
Cast Iron Skillet: This is my most used pan in my kitchen, heavy, keeps heat well.
Chef's Knife: This knife is one of the three most used tools in my kitchen.
Tongs: are great for tossing all the eggs and cheese together without making a mess.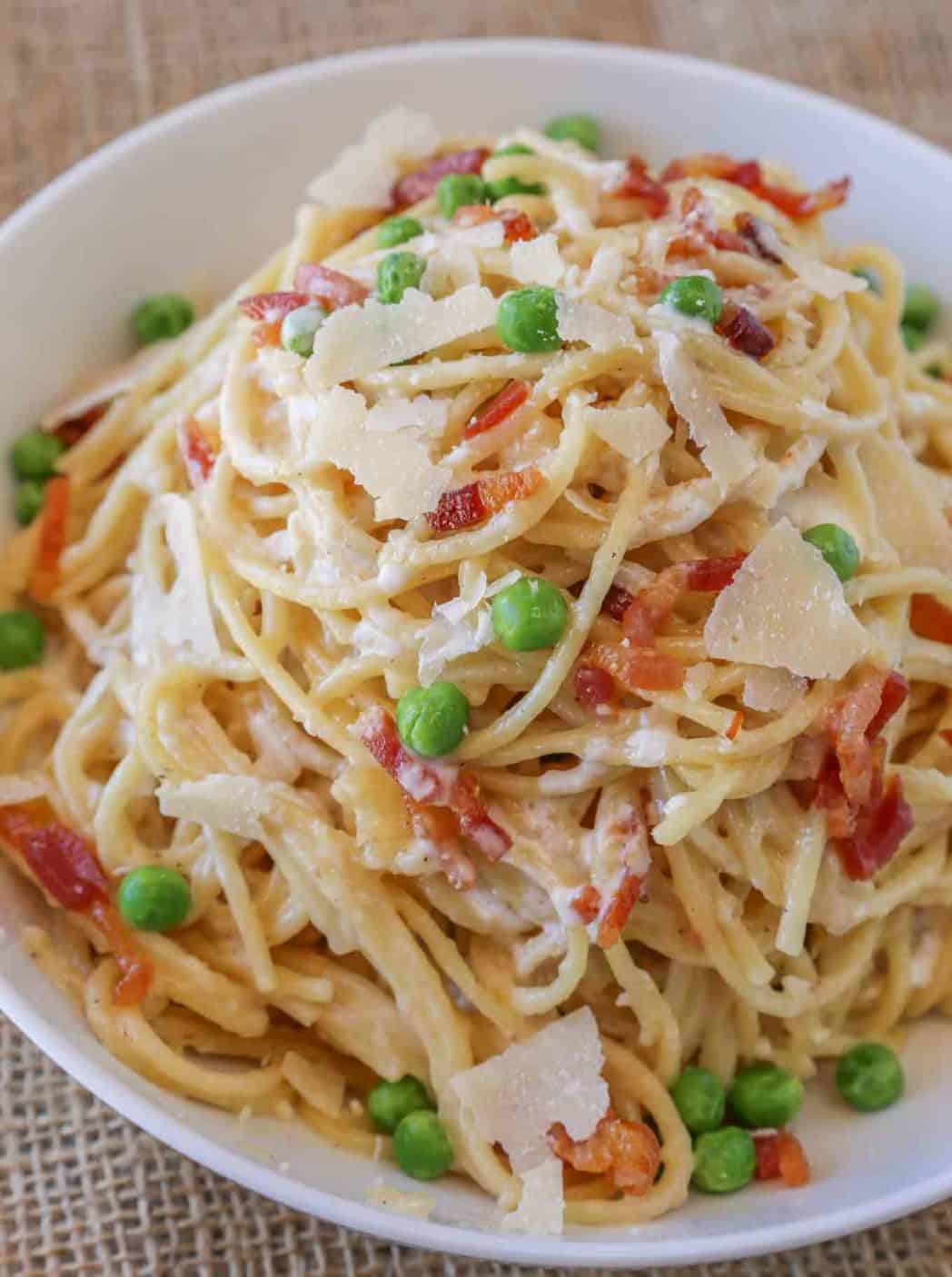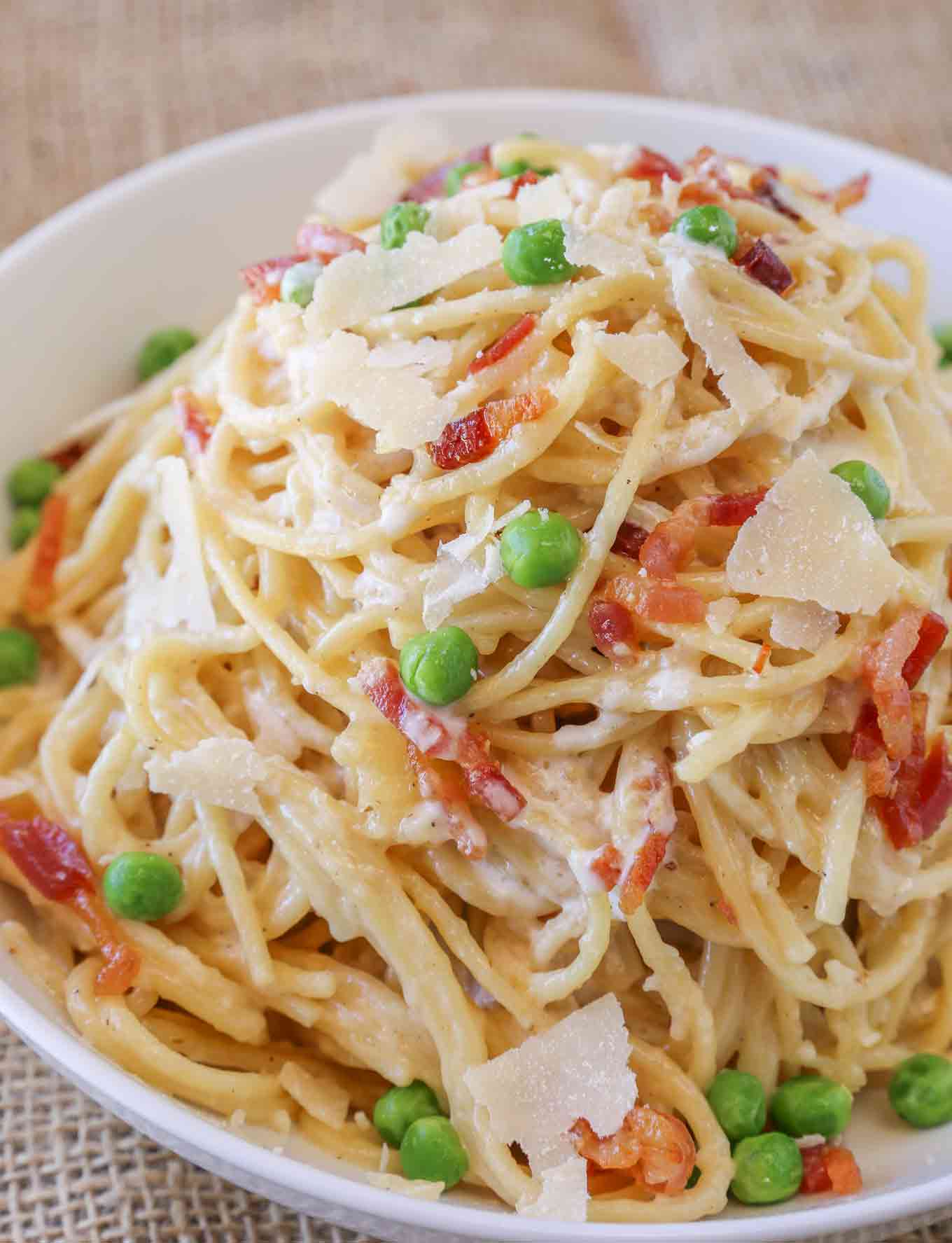 Bacon Carbonara Pasta
Easy Bacon Carbonara Pasta with just 5 ingredients is as easy as cooking pasta and bacon and it's ready to eat in 30 minutes. A classic recipe made EASY.
Ingredients
1

pound

spaghetti

10

slices

bacon

, cut into small pieces

3

large

eggs

yolks

1/2

teaspoon

Kosher salt

1/4

teaspoon

coarse ground black pepper

1

cup

Parmesan

, shaved

1

cup

frozen peas
Instructions
Cook the pasta in a large pot to one minute less than the directions on the box and keep 1/2 cup of pasta water to the side to drain pasta (do not rinse pasta).

In a large skillet add the bacon and cook it until crisp then turn off the heat and remove the bacon with a slotted spoon then add the pasta and toss it in the bacon fat.

Add the eggs, salt, pepper and Parmesan cheese to a large bowl and whisk well before adding slowly while tossing the hot pasta quickly to prevent it from scrambling.

Add in 1/4 cup of the pasta water and peas, tossing again to create a saucy consistency to the pasta then topping with bacon before serving.
Nutrition Facts
Bacon Carbonara Pasta
Amount Per Serving (1 g)
Calories 562
* Percent Daily Values are based on a 2000 calorie diet.