Buffalo Chicken Dip tastes just like buffalo wings dipped in ranch dressing with just five ingredients. No mess and all the flavors you love!
Dips are one of my favorite things about the upcoming holiday season and along with Ultimate Spinach Artichoke Dip and Queso Dip this dip rounds out my top three because it takes Buffalo Wings (my favorite appetizer) and makes it portable and party friendly.
Buffalo Chicken Dip
Buffalo Chicken Dip is a great appetizer you can serve at just about any event. The dip is best served hot, with a lot of cheddar cheese and cream cheese you'll want to be sure it stays melted for your guests. But even if you do let it get to room temperature it hasn't been above me to use some of the dip in sandwiches too (usually bits without chicken).
You can be as homemade or pre-made with this recipe as you'd like.
Pre-made: Canned chicken chunks or rotisserie chicken meat + bottled ranch dressing + bottled buffalo sauce + cream cheese + cheddar cheese until hot, melted and bubbly.
Home-made: Fresh cooked Chicken Breasts + homemade ranch dressing + my recipe below for buffalo wing sauce + cream cheese + cheddar cheese until melty, delicious and homemade.
BUFFALO FLAVORED RECIPES:
You can't go wrong either way. If you'd like to make your own Buffalo wing sauce it is easy enough to make and even more flavorful than the bottled variety:
HOW DO YOU MAKE BUFFALO WING SAUCE?
2/3 cup Frank's Red Hot hot pepper sauce
1/2 cup unsalted butter
1 1/2 tablespoons white vinegar
1/4 teaspoon Worcestershire sauce
Combine the ingredients in a small saucepan and whisk it together until combined and bubbling.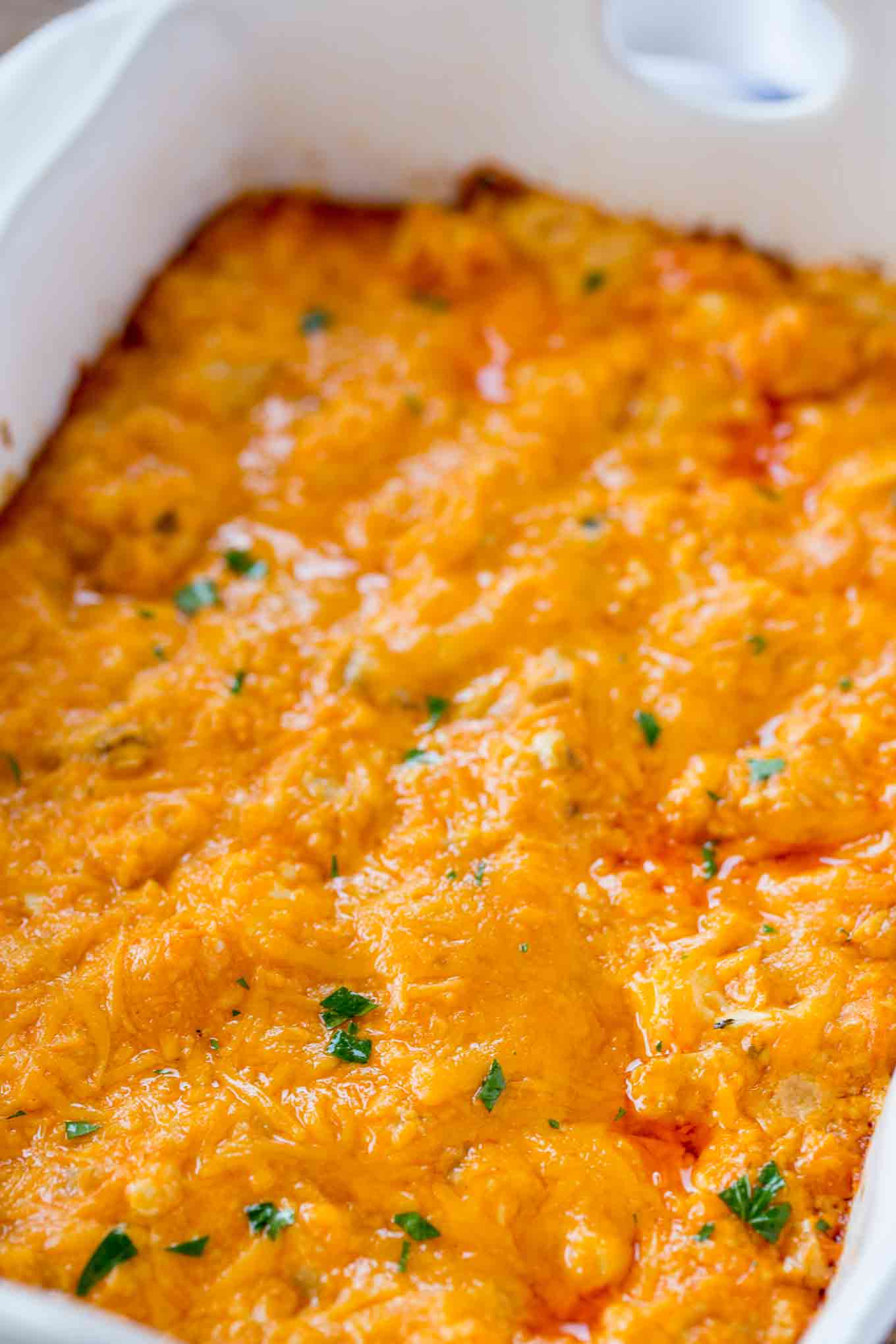 Buffalo Chicken Dip and Cooking Alternatives:
It may sound complicated but with some chicken breast (many people use a rotisserie chicken or even canned chunks of chicken) you can have this dish baking away in the oven in five minutes. The hardest part is having no-sauce cooked chicken.
What is Buffalo Chicken Dip?
Buffalo Chicken dip is a mixture of chicken breast meat, cheddar cheese, cream cheese, buffalo wing sauce and ranch dressing that is baked together to recreate the flavors of buffalo wings being dipped in ranch dressing.
Slow Cooker Buffalo Chicken Dip:
To make this in the slow cooker simply add all the ingredients together and mix well before cooking on low for 2 hours before serving. Keep it on warm or low heat during your event to ensure the dip stays warm throughout.
Serving this dip is the easiest and most popular recipe on your upcoming holiday appetizer table. Just be sure you set it on the table along side ingredients for dipping that are single bites to prevent people from dipping back into the dip with a bitten piece of food.
When I used to serve dips at client parties I used to take recyclable clear plastic cups in 2 or 4 ounces and add the dip halfway up the cup. Then I'd top the cup with the dipping items so each person had a self contained amount of dip they could eat as they pleased. It also helped with scooping to have the higher walls of the cups.
What do you serve with Buffalo Chicken Dip? Traditionally celery sticks, carrot sticks, tortilla chips, crackers or toasted baguette slices are served with Buffalo Chicken Dip.
MORE BUFFALO FLAVORED RECIPES:
HOW TO STORE BUFFALO WING DIP:
Serve: Don't leave buffalo wing dip at room temperature for more than 2 hours. If you need to serve for longer than two hours try our Slow Cooker Buffalo Wing Dip you can leave on low while serving.
Store: Once the soup has cooled, you can store it in the fridge. Kept in an airtight container it will stay good for 3-4 days.
Can you freeze Buffalo Chicken Dip?
I actually find that freezing it after baking causes it to be a bit grittier after reheating. If I were to prepare the dish ahead of time I'd probably only go so far as to mix the ingredients together without baking and add them to a large ziplock bag with the air completely pushed out of the bag before sealing.
Thaw in the fridge overnight or submerged in cold water for 2 hours before adding it to a baking pan and cooking as directed in the recipe.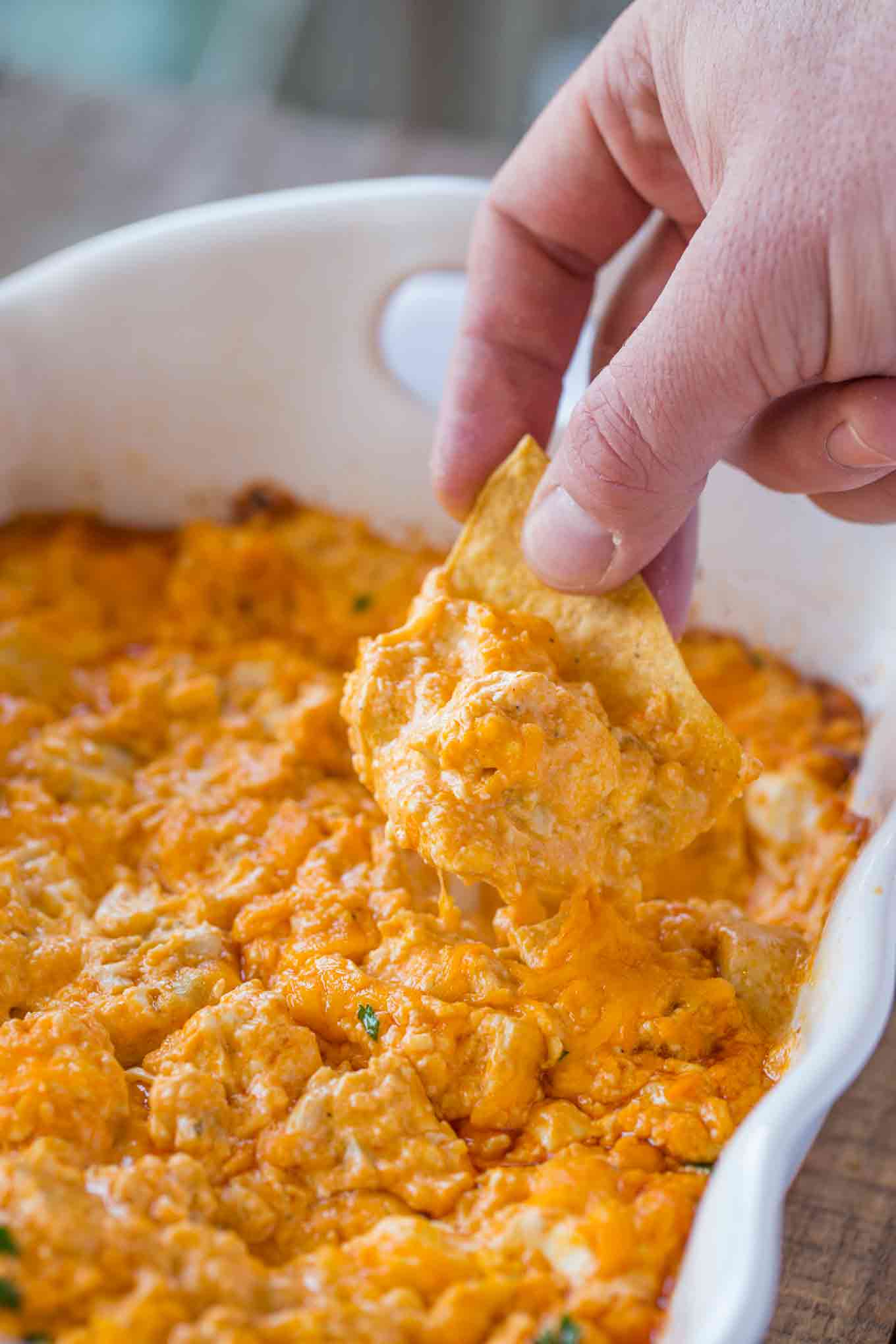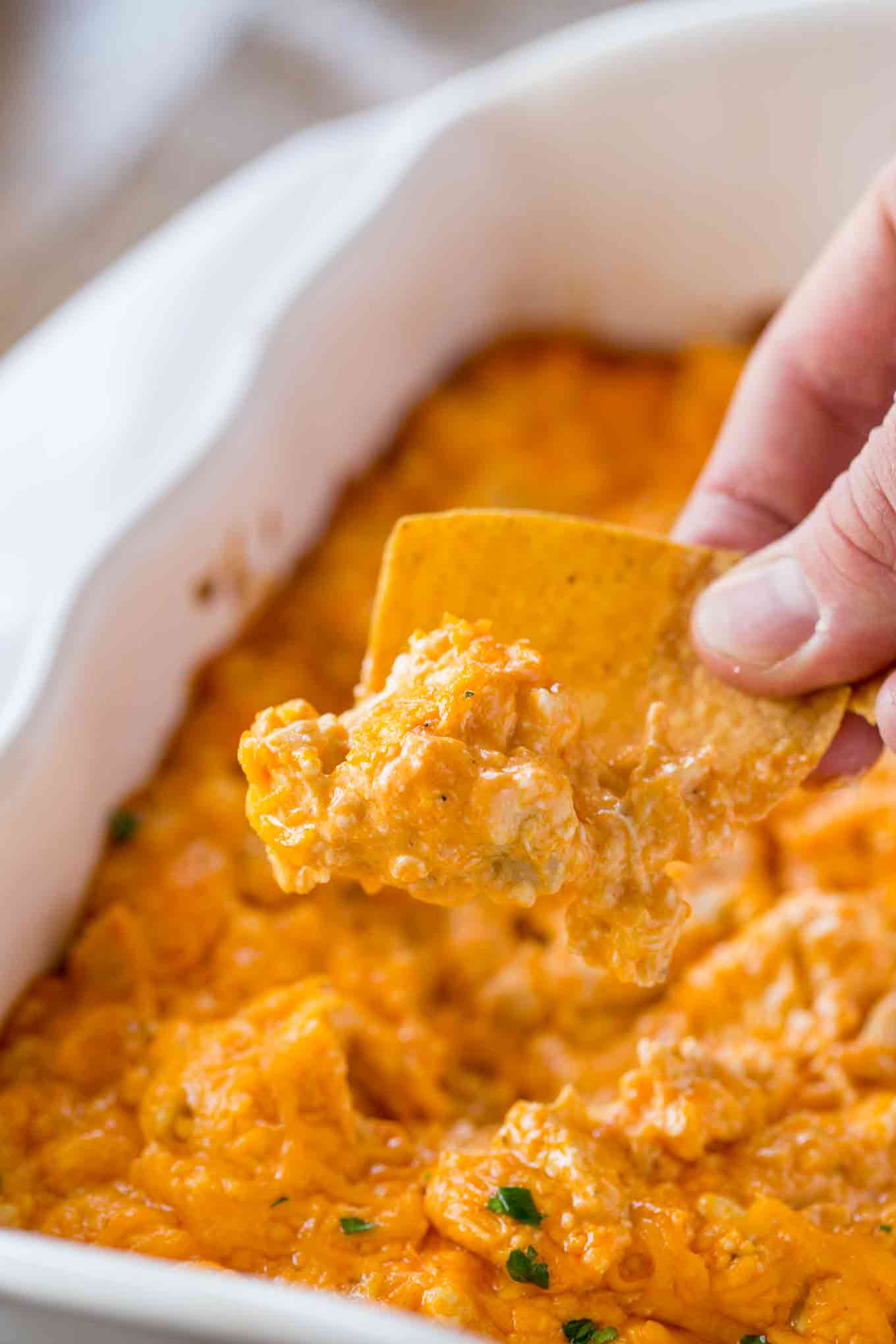 Buffalo Chicken Dip
Buffalo Chicken Dip tastes just like buffalo wings dipped in ranch dressing with just five ingredients. No mess and all the flavors you love!
Ingredients
1 1/2

pounds

chicken breast

cooked and chopped

16

ounces

cream cheese

room temperature

1

cup

ranch dressing

3/4

cup

buffalo wing sauce

1 1/2

cups

shredded Cheddar cheese
Instructions
Preheat the oven to 375 degrees.

Mix everything except 1/2 cup of the cheddar cheese into a large bowl until well combined.

Pour the mixture into a 9x9 pan and cover with remaining cheese.

Baking for 25-30 minutes until bubbly and cheese is melted.
Nutrition Facts
Buffalo Chicken Dip
Amount Per Serving
Calories 347
Calories from Fat 261
% Daily Value*
Fat 29g45%
Cholesterol 99mg33%
Sodium 953mg41%
Potassium 288mg8%
Carbohydrates 3g1%
Protein 18g36%
Vitamin A 675IU14%
Vitamin C 1.3mg2%
Calcium 148mg15%
Iron 0.6mg3%
* Percent Daily Values are based on a 2000 calorie diet.