Baked Sour Cream Chicken is tender chicken breasts baked to perfection with a crunchy bread crumb coating and rich sour cream sauce.
When it comes to delicious, family-friendly Dinner Recipes that you don't have to spend all day on, it's hard to beat a simple chicken dinner. Just like Baked Rosemary Chicken or Crispy Butter Chicken, this recipe takes a simple baked chicken base and adds tons of flavor to it with its delicious herbs, breadcrumbs, and sour cream topping.
BAKED SOUR CREAM CHICKEN
This Simple Chicken Dish is ready in just 30 minutes and is a great recipe to work into your weeknight dinner rotation. It's the perfect comfort food dish with a crispy crumb topping and juicy chicken inside. Even though it's baked in the oven, the crumb topping gives the chicken the same crispiness you'd expect from Fried Chicken. Then the sour cream sauce makes the recipe extra rich, and adds a little bit of delicious tang.
The next time you're in a rush but still want to serve a delicious homemade dinner, this 30-minute chicken is the perfect solution. You only need a few simple ingredients, and the hands-on time is just 10 minutes. After that, you only have to pop the chicken in the oven and wait for your perfectly easy main dish.
To round off this simple chicken dish into a filling meal serve it with some classic sides like Mashed Potatoes or easy Brown Rice. This Sour Cream Chicken is flavorful enough that you can serve it with fairly simple sides and still have a wonderfully delicious meal.
MORE BAKED CHICKEN RECIPES
TIPS FOR MAKING BAKED SOUR CREAM CHICKEN
Prep time: Start by preheating your oven to 350 degrees. Then spray your baking dish with non-stick cooking spray to make sure the chicken doesn't get stuck to the baking dish while it bakes. If you don't have the round dish that the recipe recommends you can use an average casserole dish. Next, use a meat mallet to pound your chicken into a uniform thickness. Try to get each chicken breast to be 1/2-inch thickness.
Assemble: Place the chicken in a single layer on the baking dish or large casserole dish. Spoon the sour cream evenly over the chicken breasts. In a small bowl mix together the bread crumbs, Italian herbs, salt, and pepper. Then sprinkle the crumb mixture over the chicken.
Bake Time: Put the Sour Cream Chicken in the preheated oven to bake for 20 minutes. To make sure the chicken is safe to eat, cut into the chicken and check the inside isn't pink anymore. You can also use an internal meat thermometer to check the temperature. Stick the thermometer in one of the chicken breasts, and if it's 165 degrees, the chicken is safe to eat.

Create a free account to

Save Recipes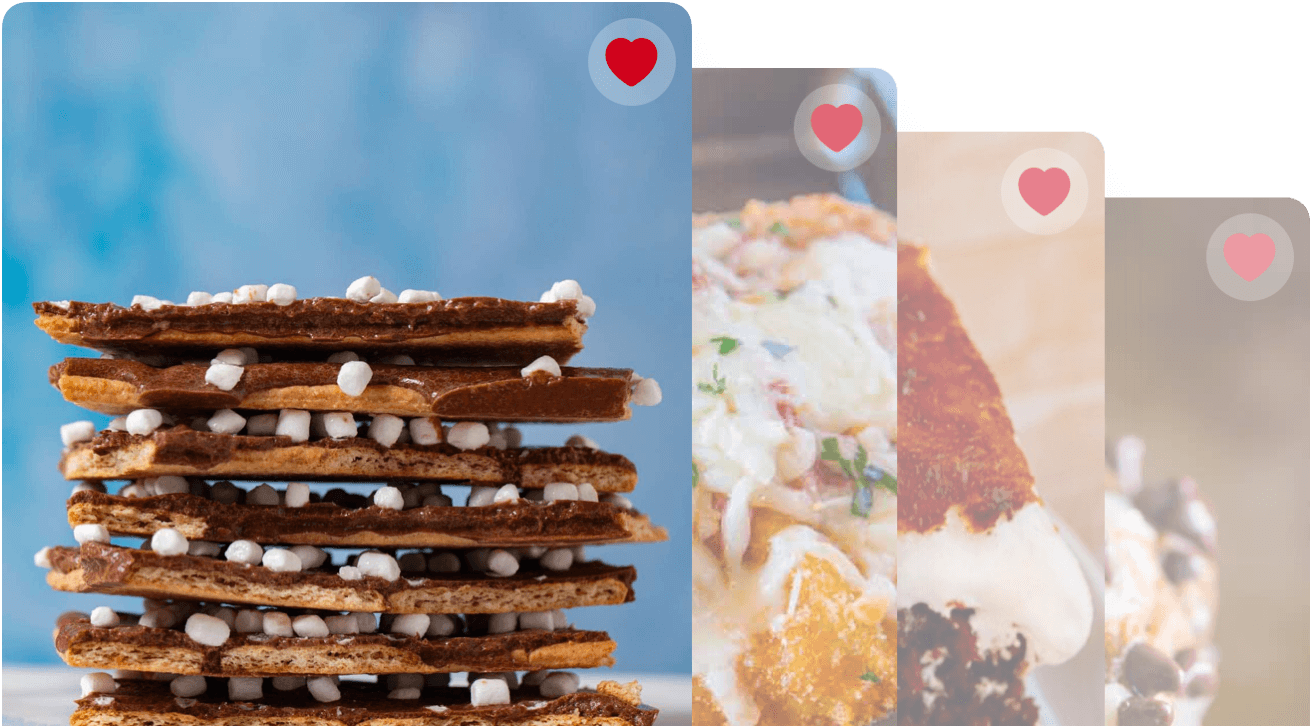 VARIATIONS ON BAKED SOUR CREAM CHICKEN
Cheese: To make Cheesy Sour Cream Chicken sprinkle a little bit of shredded cheddar, mozzarella, or parmesan cheese over the chicken when you take it out of the oven. The cheese will melt to gooey, stringy perfection. Instead of shredded cheese, you could also put a slice of mozzarella, cheddar, or Swiss cheese to melt right over the chicken.
Crumb coating: Instead of the Italian Bread crumbs in the recipe, you could use typical Panko breadcrumbs. Or change things up even more from the Panko breadcrumbs with Ritz Crackers. Broken apart Ritz Cracker crumbs make a great replacement for dry breadcrumbs. To make the recipe extra cheesy mix a cup parmesan cheese with the Ritz cracker crumbs.
Sour Cream: In place of the sour cream in the recipe, you could also use plain Greek yogurt or cream of chicken soup. Both are rich and creamy, so they'll make good substitutes.
Extra flavor: To experiment with the taste of your chicken try adding your favorite herbs and spices like paprika, garlic powder, onion powder, black pepper, fresh chives, or cayenne pepper. You could also drizzle a little lemon juice over the top for some zest. Or spice things up with a dash of hot sauce.
WHAT TO SERVE WITH SOUR CREAM CHICKEN
HOW TO STORE BAKED SOUR CREAM CHICKEN
Serve: You should never leave your Baked Sour Cream Chicken out for longer than 2 hours.
Store: To store this chicken recipe, let it cool down to room temperature. Then put it in a plastic bag or another airtight container. Baked Chicken will stay good in the fridge for 3-4 days, and you can easily reheat it in the microwave or oven.
Freeze: Properly sealed, you could also store this chicken dish in the freezer for up to 4 months. Let the chicken thaw in the fridge before you pop it in the oven to reheat.
Baked Sour Cream Chicken
Baked Sour Cream Chicken is tender chicken breasts baked to perfection with a crunchy bread crumb coating and rich sour cream sauce.
Ingredients
4

large chicken breasts

, skinless and boneless

1

cup

sour cream

1/2

cup

Italian bread crumbs

, or crushed cornflakes, or crispy rice cereal

1

teaspoon

crushed Italian herbs

1/2

teaspoon

Kosher salt

1/4

teaspoon

coarse ground black pepper
Instructions
Preheat the oven to 350 degrees.

Pound chicken flat until about 1/2" thick.

Place chicken into a greased 11"x7" baking dish.

Spread the sour cream over the chicken.

In a small mixing bowl, add the breadcrumbs, herbs, salt, and pepper, then mix until combined.

Sprinkle crumb mixture over the chicken.

Bake at 350 degrees for 20 minutes until cooked through.
Nutrition Facts
Baked Sour Cream Chicken
Amount Per Serving
Calories 285
Calories from Fat 108
% Daily Value*
Fat 12g18%
Cholesterol 116mg39%
Sodium 533mg23%
Potassium 635mg18%
Carbohydrates 8g3%
Protein 34g68%
Vitamin A 303IU6%
Vitamin C 2mg2%
Calcium 73mg7%
Iron 1mg6%
* Percent Daily Values are based on a 2000 calorie diet.