Roasted Root Vegetables are an easy way to mix up your easy weeknight meals and add in some new flavors without any extra effort.
Oven Roasted Root Vegetables
Oven Roasted Root Vegetables are a quick and easy way to make your normal weeknight meals taste like they're special holiday meals.
We're all used to roasted carrots as a side dish, or even a mix of say, Rainbow Roasted Vegetables but with an easy swap of roasted root vegetables you'll be able to introduce new and more unique vegetables to your family meal with no extra effort.
So what vegetables am I talking about here?
Parsnips:
What are the differences between Parsnips and Carrots? Parsnips are the carrot's blonder cousin but the flavor is SO MUCH better, less sweet and more filling. Parsnips vs. Carrots is an interesting conversation because parsnips taste more intense, have a more fibrous texture and are slightly spicier than carrots. Carrots on the other hand are softer, creamier and just 100% sweet when roasted.
Turnips:
What do turnips taste like? They're peppery, like radishes, but when roasted they can have the flavor of roasted cauliflower or cabbage. Turnips that are boiled before roasting can also help remove some of the bite, but I love them roasted without boiling. Turnips are an unsung hero of the roasted vegetable game.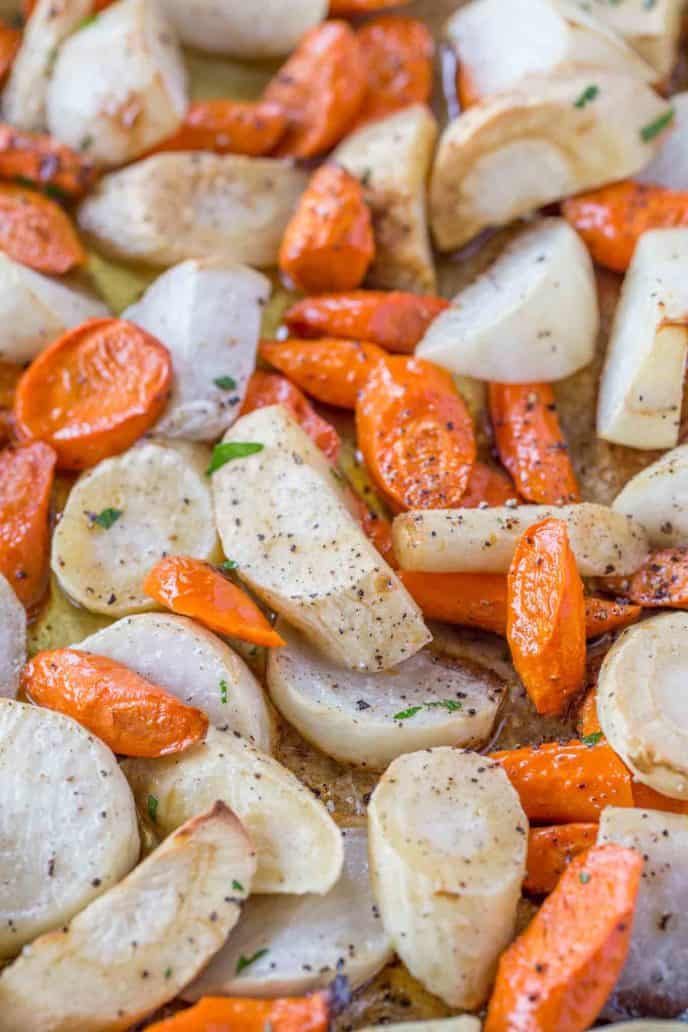 Carrots:
The classic roasted vegetable I love including carrots because they make the tray of roasted root vegetables much more approachable. They're sweet so the more strongly flavored veggies will be mellowed out by the carrots.
Rutabagas:
What do Rutabagas taste like? I wanted to include these so badly because they are the best at mimicking potatoes when roasted but my whole neighborhood was out of them! They're a delicious addition to a roasted root vegetable platter and you 100% should include them.
Fibrous vegetables like these root vegetables are going to be a great healthy addition to your meal, they're higher in fiber and have great nutritional value.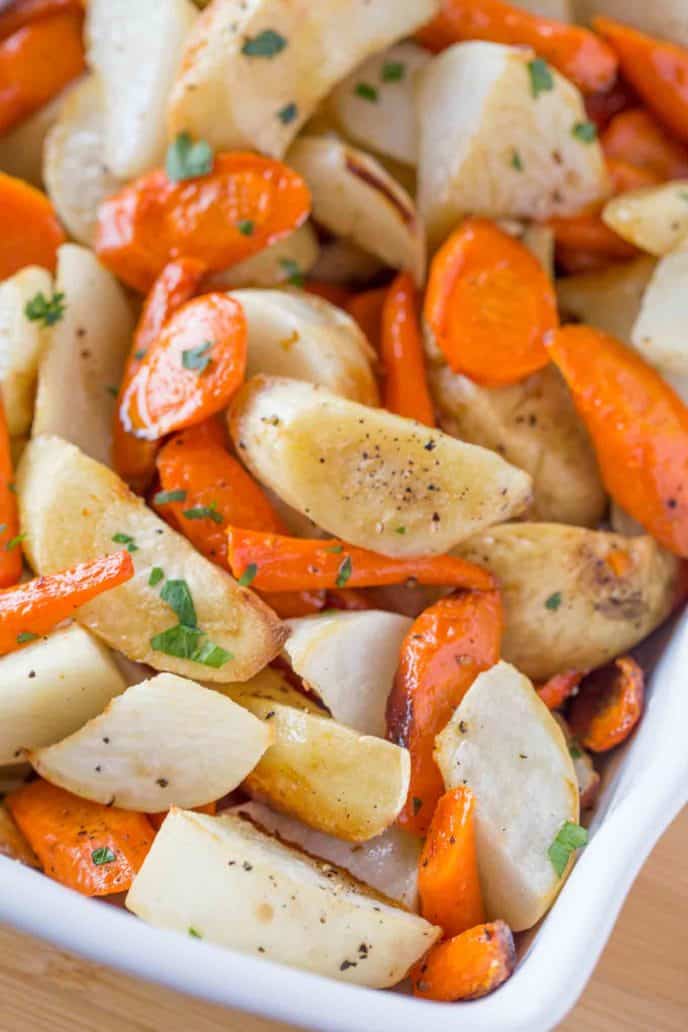 Looking for more roasted side dishes?
Tools Used in the Making of these Oven Roasted Root Vegetables:
Sheet Pan: A good quality sheet pan, I keep a stack of these in my kitchen. And they don't need to be expensive. Just make sure you keep the food from touching each other/in a single layer for optimal roasting.
My Favorite Knife: This is a funny one to mention but I will because there is so much chopping here. I have almost everything you'd imagine Williams-Sonoma would sell including a super expensive Shun Knife Set. Instead of using that, I use this knife every single time I cook. I bought it in 2005 and the whole set was 20$ The knife I love is the rock 'n chop one with the ball on top and the curved blade. Never been sharpened and I can cut anything with it. Total knife love. Also, 1200 reviews on Amazon can't be wrong. This knife is amazing.
Vegetable Peeler: On that note, this peeler has been in my kitchen since 2010 and is as sharp as ever. The peels are also super thin so you don't trash a lot of your vegetables when peeling them.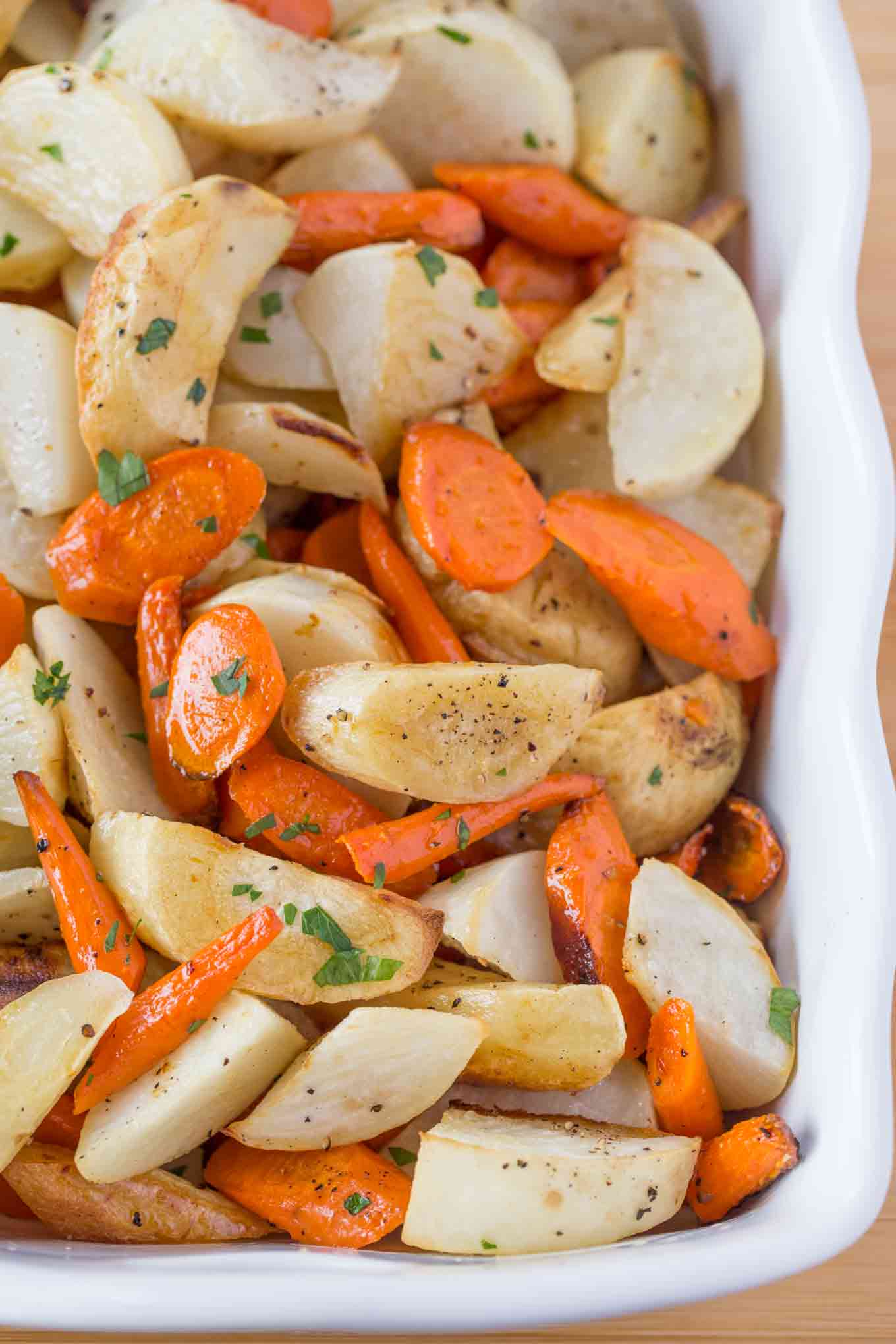 Roasted Root Vegetables
Roasted Root Vegetables are an easy way to mix up your easy weeknight meals and add in some new flavors without any extra effort.
Ingredients
3

medium turnips

about softball sized

5

carrots

4

parsnips

2

tablespoons

canola oil

1/2

teaspoon

kosher salt

1/4

teaspoon

coarse ground black pepper
Instructions
Preheat the oven to 400 degrees.

Wash and peel the vegetables and cut them into 1 - 1 1/2 inch chunks.

In one large bowl add 2 tablespoons of oil, salt and pepper and gently toss.

Arrange them in a single layer onto your cookie sheet.

Roast for 30-35 minutes or until they're just starting to brown and they are fork tender.
Nutrition Facts
Roasted Root Vegetables
Amount Per Serving
Calories 157
Calories from Fat 45
% Daily Value*
Fat 5g8%
Sodium 280mg12%
Potassium 667mg19%
Carbohydrates 27g9%
Protein 2g4%
Vitamin A 8492IU170%
Vitamin C 33mg40%
Calcium 72mg7%
Iron 1mg6%
* Percent Daily Values are based on a 2000 calorie diet.