Puppy Chow (Muddy Buddies) is the PERFECT sweet and crunchy party snack, made with only 4 ingredients and ready in under under 10 minutes!
Our party menu is constantly being updated, and this week our kitchen is busy prepping for Pressed Pepperoni Pizza Party Rolls, Chocolate Covered Graham Crackers, and Cocktail Meatballs!
PUPPY CHOW (MUDDY BUDDIES)
Puppy Chow (Muddy Buddies) is the ULTIMATE party food, made from rice chex, peanut butter, chocolate chips, and powdered sugar. It's sweet, crunchy, and only takes about 10 minutes to throw together.
You can easily keep these 4 ingredients stocked in your pantry to pull out at a moments notice for guests, or just for a quick snack when the kids get home from school.
I always use regular peanut butter for this instead of the natural kind because it has a longer shelf life, and can be kept at room temperature for longer. Plus, it's just easier to work with.
You can add some flavor to this puppy chow (muddy buddies) recipe with a 1/2 teaspoon of almond or vanilla extract, or by mixing the melted chocolate with other types of candy.
I've also doubled the chocolate peanut butter mixture to use up the whole box of rice Chex instead of having leftovers. When it comes to puppy chow, I don't think you can ever have enough!
HOW LONG DOES PUPPY CHOW LAST?
Store the muddy buddies in an airtight container at room temperature for 1-2 weeks. Honestly though, the bowl always seems to empty itself the day I make it!
CAN YOU MAKE PUPPY CHOW AHEAD?
Puppy chow is great for making ahead. In fact, I'll make 2-3 times this recipe when I make this, and freeze most of it. Then when I have company over, or need a quick snack for the kids, I just take this out of the freezer and serve. You can thaw them on the counter, or just eat them cold. It's also great to make a large batch a few days before a party, so you have one less thing to do on the day of!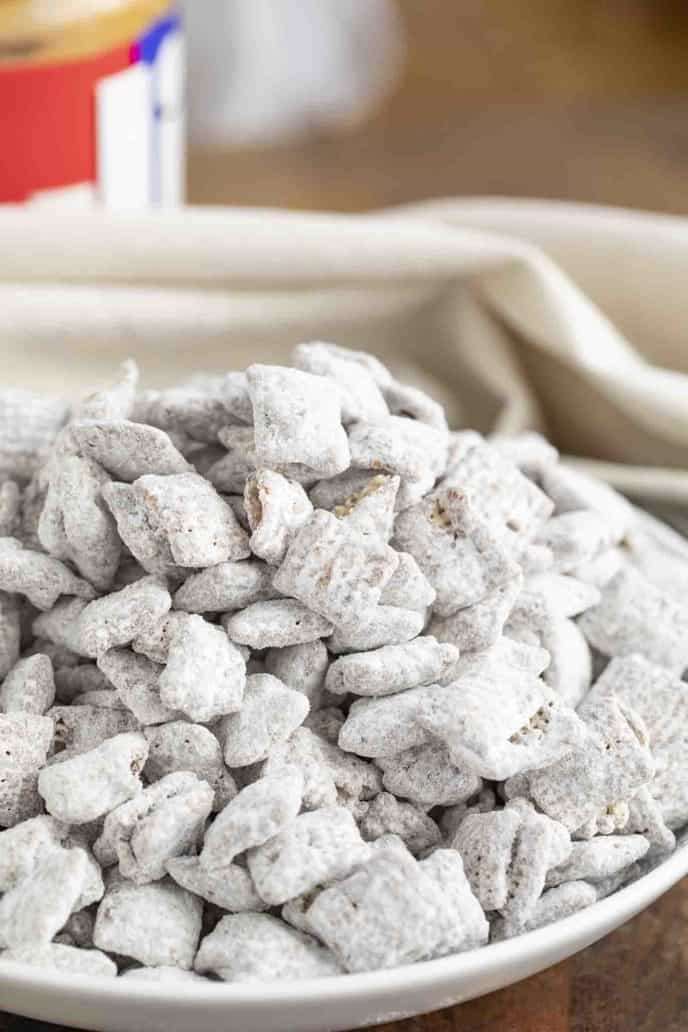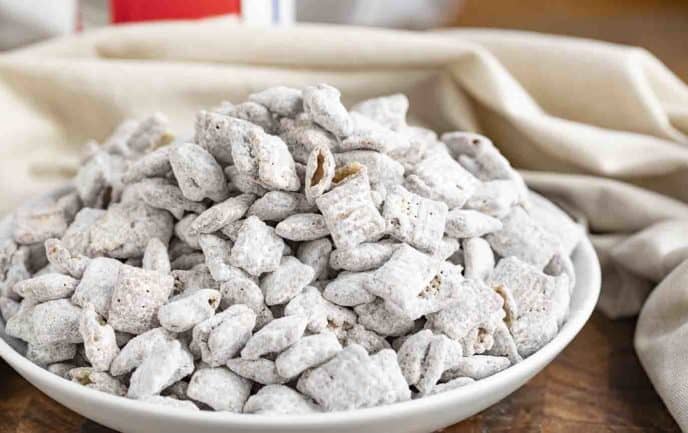 Create a free account to

Save Recipes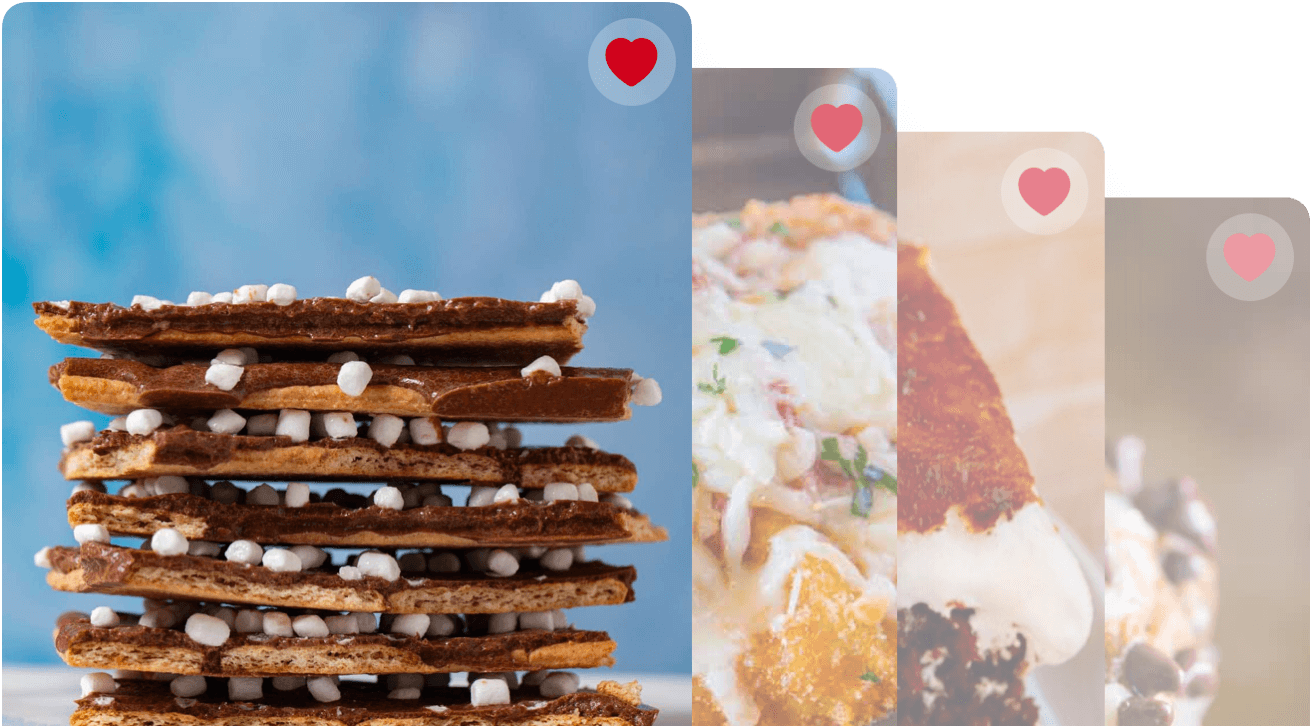 MORE PARTY FOOD IDEAS
TIPS FOR MAKING PUPPY CHOW (MUDDY BUDDIES)
Make sure you stir thoroughly (and carefully!) to completely coat the cereal in the chocolate and peanut butter mixture. This is what makes the powdered sugar stick, giving it a really decorative look! If it's not completely coated, make more of the peanut butter/chocolate mixture.
Add some extra mini chocolate chips, Reese's, sprinkles, or other candies to the bowl when serving for some pops of color.
You can use dark, milk, or white chocolate for this recipe.
Mix some instant espresso powder with the chocolate and coat the puppy chow with cocoa powder instead of powdered sugar for a mocha version.
Add flavorings like peppermint to the chocolate mixture, then add some crushed candies (like leftover candy canes) to the powdered sugar bag.
If your chocolate and peanut butter is too thick, try adding a few drops of coconut oil to thin it out enough to work with.
Place some puppy chow (muddy buddies) in decorative little plastic bags or jars with some ribbon to give as gifts during the holidays!
If you don't have a ziplock bag, you can lay the puppy chow on a parchment paper lined baking sheet and dust them with powdered sugar that way, stirring to get both sides. If your powdered sugar isn't coating the puppy chow (muddy buddies) evenly, try using a sifter to spread the sugar out more.
Use peanut butter chips instead of chocolate chips for an all-peanut butter version, or mix in some butterscotch or caramel chips for more flavors!
Once it's coated, stick in the refrigerator to harden the chocolate and peanut butter again.
You can really do this with any bland cereal, Rice Chex is good because it has a bland somewhat nutty flavor and crunchy texture that goes well with the peanut butter and chocolate.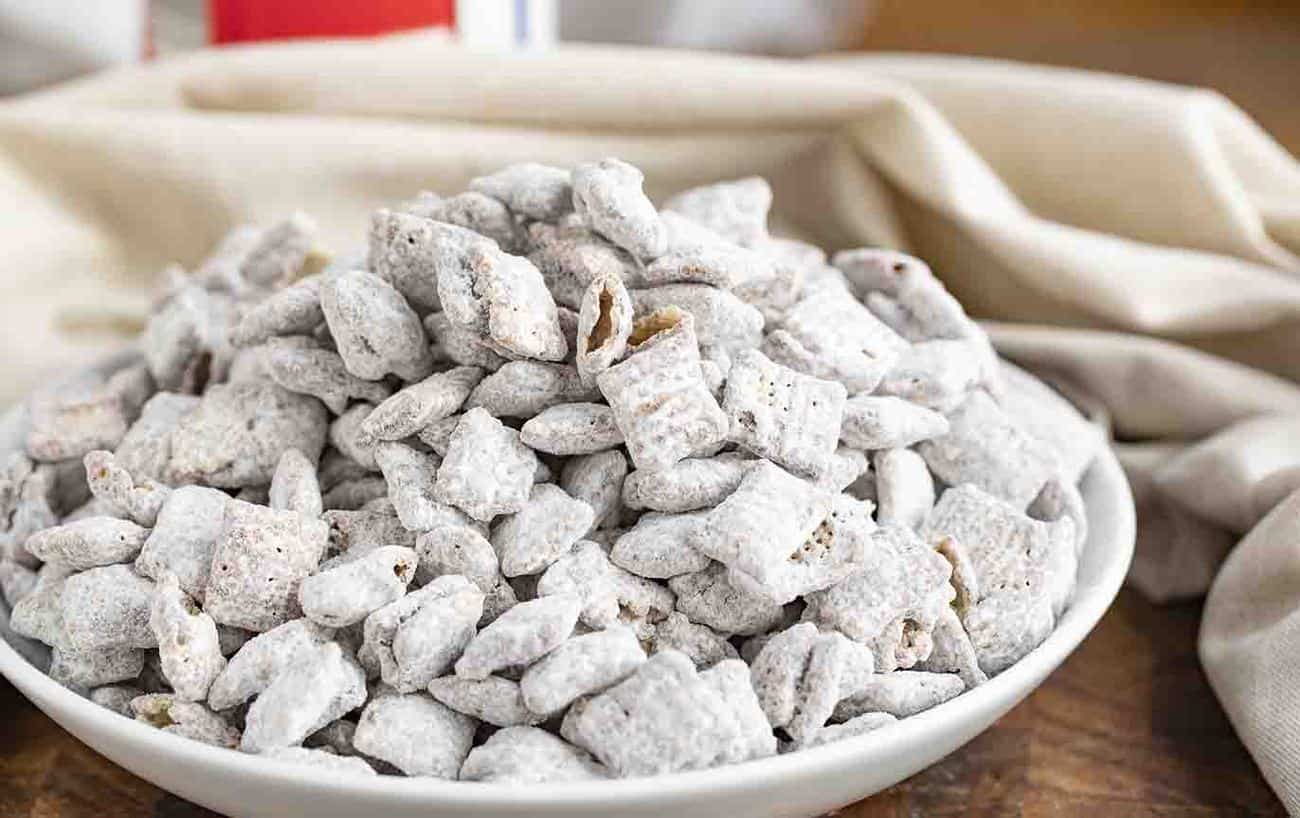 Puppy Chow (Muddy Buddies)
Puppy Chow (Muddy Buddies) is the PERFECT sweet and crunchy party snack, made with only 4 ingredients and ready in under under 10 minutes!

Instructions
Melt the chocolate and peanut butter in the microwave in 30 second increments in the microwave in a large glass bowl (90 seconds total).

Stir well until mixed then add in the cereal and mix well until coated before adding the cereal to a large ziploc bag with the powdered sugar and shaking until fully coated.
Recipe Notes
Note: click on times in the instructions to start a kitchen timer while cooking.
Nutrition Facts
Puppy Chow (Muddy Buddies)
Amount Per Serving
Calories 225
Calories from Fat 81
% Daily Value*
Fat 9g14%
Sodium 139mg6%
Potassium 155mg4%
Carbohydrates 31g10%
Protein 3g6%
Vitamin A 215IU4%
Vitamin C 2.5mg3%
Calcium 54mg5%
Iron 4.8mg27%
* Percent Daily Values are based on a 2000 calorie diet.