Chocolate Covered Graham Crackers are sweet and crunchy, made with graham crackers and melted chocolate, and the PERFECT no-bake treat!
Everything is better when it's dipped in chocolate, and we've got you covered with Chocolate Covered Strawberries, Chocolate Covered Oreos, and Chocolate Covered Pretzels too!
CHOCOLATE COVERED GRAHAM CRACKERS
Chocolate Covered Graham Crackers and the perfect dessert to make when you're prepping for a fun night of s'mores, or even to serve with a bowl of simple vanilla ice cream.
There's no baking required, and it's totally kid-friendly because they'll love helping to dip the crackers and decorate!
You can also wrap these in little plastic bags with decorative ribbon to give out as gifts or party favors. In the past I've used dark chocolate, milk chocolate, and white chocolate to cover the crackers, then decorated with chopped nuts or crushed candy.
These are also the perfect treat to add to a lunch box or to take on trips.
HOW TO STORE CHOCOLATE COVERED GRAHAM CRACKERS
Store these at room temperature in an airtight container for 3-4 weeks. I recommend layering with parchment paper, to prevent them from sticking to each other.
I don't recommend freezing them, because the chocolate may get condensation when it comes back to room temperature, and they won't look good any longer. In a pinch you can store them for longer if you look for the coolest part of your home.
The biggest problem is going to be any heat in your home melting them or anything too cold causing the chocolate to bloom.
HOW TO MELT THE CHOCOLATE
Put your chocolate disks in a glass bowl. Microwave in 30 second increments, taking the bowl out to stir each time. Stop when it's melted and creamy, being careful not to burn the chocolate.
Or, you can place your chocolate on the stove in a double boiler. Stir continuously until the it has completely melted. Remove from heat once it's done.
If it starts to get too hard when you're dipping, you can add it back to the double boiler to microwave again for a few seconds until smooth.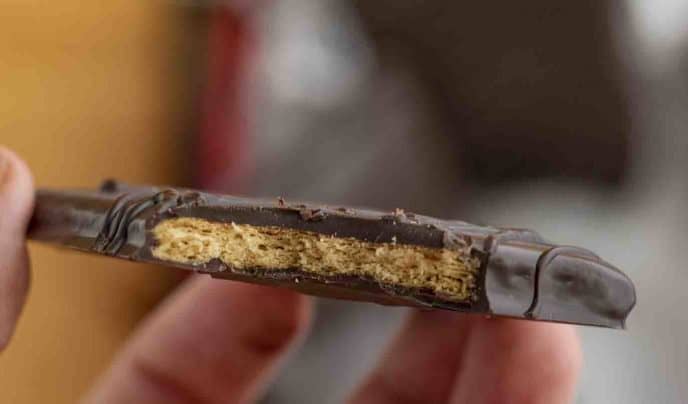 Create a free account to

Save Recipes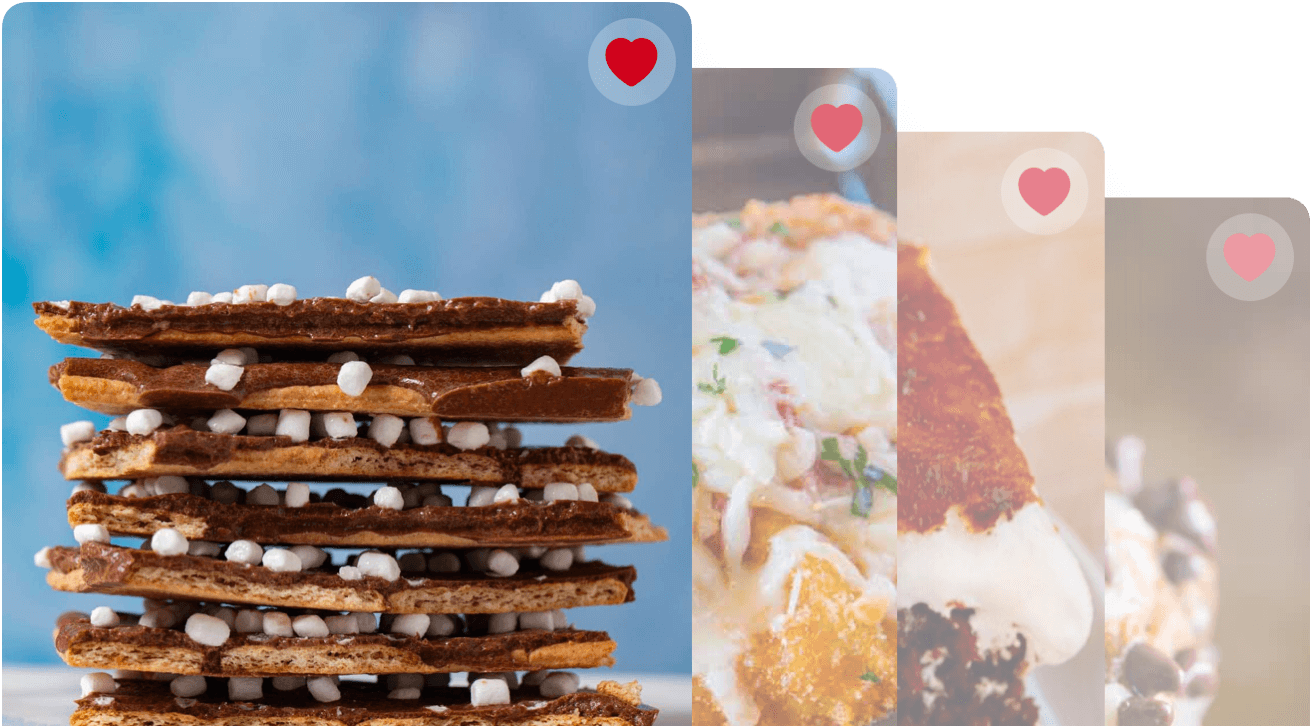 MORE CHOCOLATE DESSERT RECIPES
DECORATING IDEAS
Sprinkles
Drizzle of caramel and flaky salt
Melted marshmallows
Chocolate shavings
Crushed peppermint candy
Mini chocolate chips
Graham cracker crumbs (crush faster in a food processor)
TIPS FOR MAKING CHOCOLATE COVERED GRAHAM CRACKERS
If you don't have chocolate disks you can use chocolate chips, but your chocolate covered grahams just won't be quite as smooth as real melting chocolate or what you'd find at a professional chocolatier.
You can also replace the chocolate disks with almond bark, which is like white chocolate but has a smoother texture and richer flavor.
Use chocolate graham crackers in place of using a chocolate bar for s'mores!
Add a few drops of coconut oil to thin out the chocolate when melting. Keep adding until you get the consistency you're looking for.
Use the opposite flavor of chocolate to decoratively drizzle onto the crackers. For example, make a milk chocolate cracker with a white chocolate drizzle.
Make a sandwich out of two crackers with Nutella, peanut butter, or melted marshmallows in between before dipping in chocolate.
Make sure to use parchment paper or wax paper, or your chocolate might stick to the baking sheet while it hardens.
If you don't want to use graham crackers, try making chocolate dipped Gingerbread Cookies.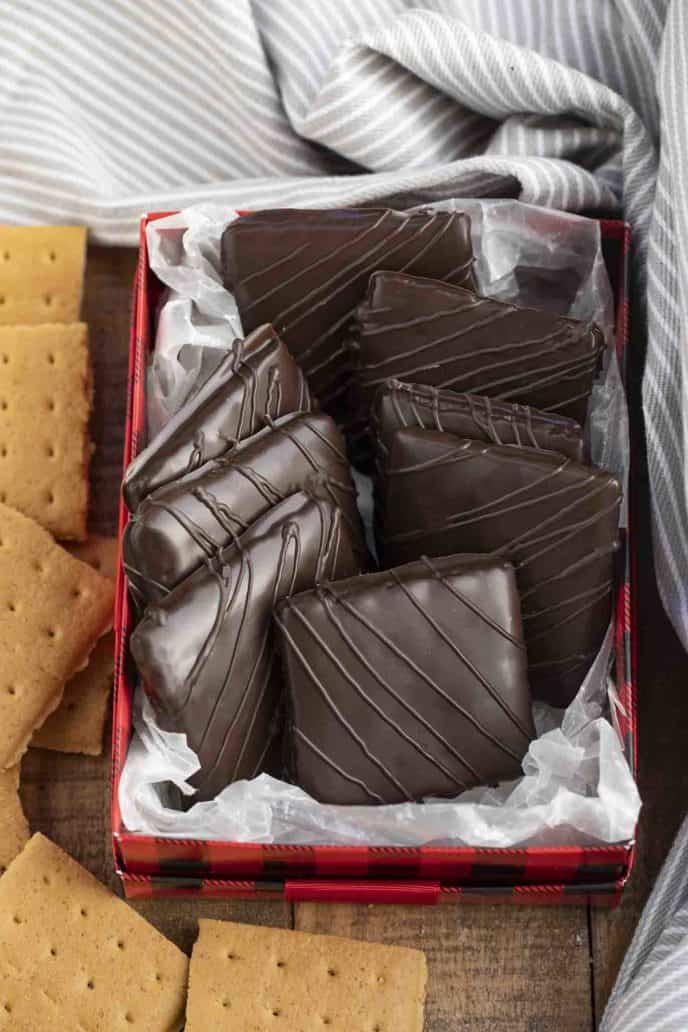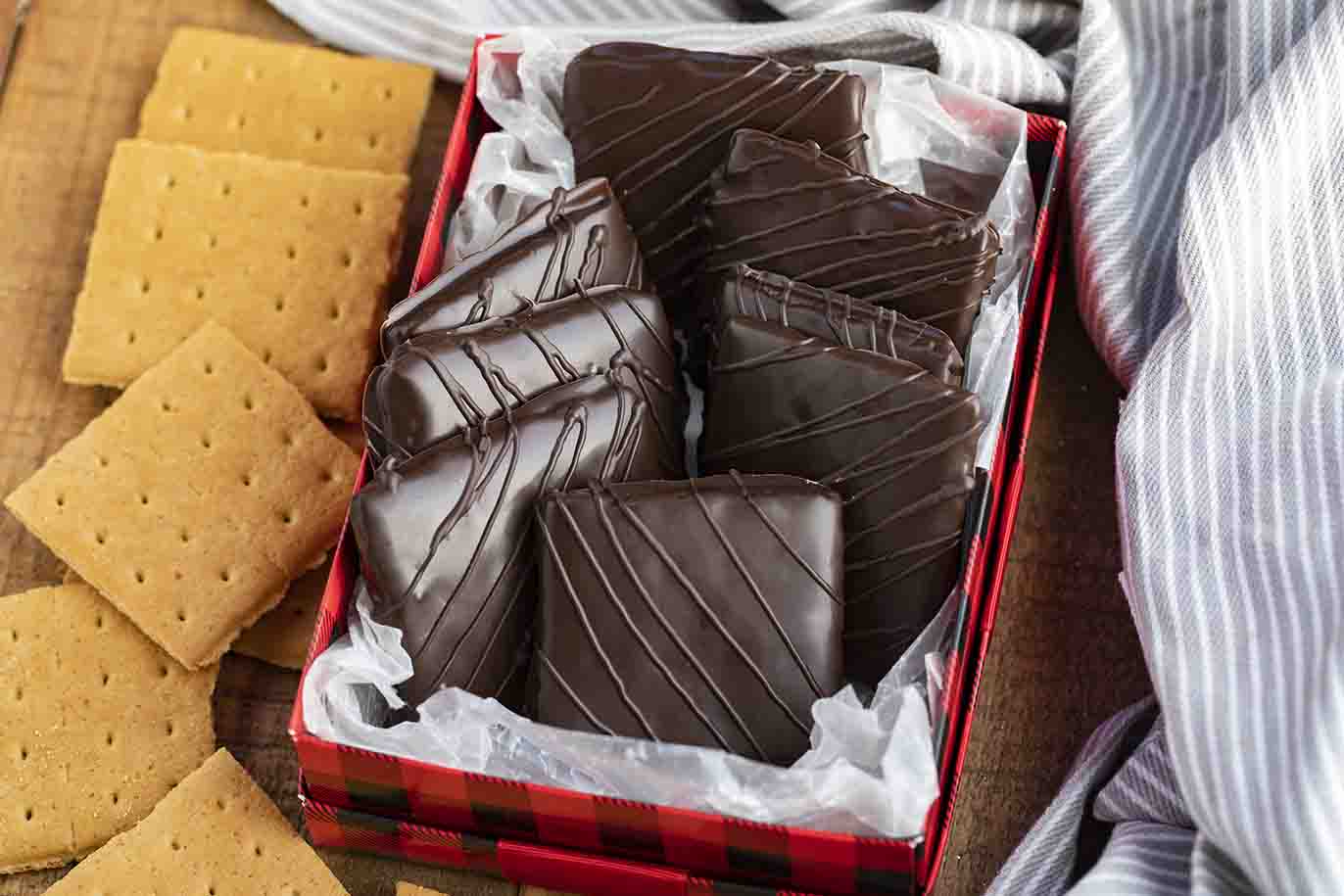 Chocolate Covered Graham Crackers
Chocolate Covered Graham Crackers are sweet and crunchy, made with graham crackers and melted chocolate, and the PERFECT no-bake treat!

Instructions
Melt the chocolate in a microwave safe bowl in 30 second increments.

Dip the graham cracker halves, tapping with a fork, scrape most of the chocolate off the fork and place onto parchment paper to harden.

Place remaining chocolate into piping bag and squeeze over graham crackers and allow to harden fully before eating.
Nutrition Facts
Chocolate Covered Graham Crackers
Amount Per Serving
Calories 139
Calories from Fat 63
% Daily Value*
Fat 7g11%
Cholesterol 1mg0%
Sodium 48mg2%
Potassium 119mg3%
Carbohydrates 15g5%
Protein 1g2%
Vitamin A 10IU0%
Calcium 17mg2%
Iron 1.5mg8%
* Percent Daily Values are based on a 2000 calorie diet.