Potstickers made with ground chicken, cabbage, green onions and ginger in a steamed and pan fried wonton shell with a homemade potsticker dipping sauce.
Spring Rolls are the perfect dim sum appetizer alongside Crab Rangoon, Shrimp Tempura and Spring Rolls.
 Chicken Potstickers
It seems like any Asian restaurant you go to has amazing appetizer options and they all seem to include their own version! We've tried them all, my favorite is chicken, the kids love pork and my husband? He loves the Trader Joes Thai Gyoza/Potstickers from the frozen section.
In case you are wondering what the difference is between gyoza and potstickers the answer is mostly the size. Gyoza tend to be 1 or 2 bites while potstickers are 2-3 bites. Potstickers are also sometimes make with a thicker handmade dough but in classic preparation I've seen in packaged containers and restaurants this isn't really the case in the United States, the wrappers are similar between the two.
Part of the fear most people have about making these tends to be the folding. When it comes down to it the filling inside is really similar to a meatball so if you practice the folding process a couple times and get good at it there's no reason you can't make your own at home!
These are the perfect addition to your dim sum menu but they're also great to be served alongside a full meal. We love serving Potstickers with General Tso's Chicken, Chicken Lo Mein (or Chow Mein) and Easy Mongolian Beef alongside steamed vegetables like carrots, broccoli and bok choy.
How to Cook Potstickers:
Cooking potstickers is a little more complicated than a normal food you cook in a pan, but only by a couple small steps to ensure the soft and crispy texture of your potstickers.
Add a bit of oil and brown the bottoms of the potstickers.
Add a few tablespoons of water (careful, there is still oil in the pan) and cover to steam the potstickers.
Let the water cook off and let the bottoms crisp up before serving.
Remember the best potstickers are crispy on the bottom and soft and chewy on the sides like a mix of soft pasta and crispy wontons in one bite. The filling is tender and juicy without extra liquid pouring out.
How to Freeze Potstickers
One of the best things about Potstickers is they are actually amazing for prepping ahead fo time. You put down a piece of parchment paper, lay them in a single layer on a baking sheet and freeze them solid before adding them to bags. Then when you're ready to enjoy them you just have to pull out however many you'd like for your meal.
Dipping sauces are so important to potstickers as they're great for soaking up sauces and flavors. I'm a huge fan of Sweet and Sour Sauce but here is a more classic dipping sauce for you and it couldn't be any easier! If you don't have chili oil add a bit of sriracha and sub sesame oil/canola oil for the chili oil.
Potsticker Dipping Sauce
1 tablespoon chili oil
1 tablespoon soy sauce
1 teaspoon rice vinegar
In a small serving bowl, mix together the chili oil, soy sauce, and vinegar, adjusting proportions to taste.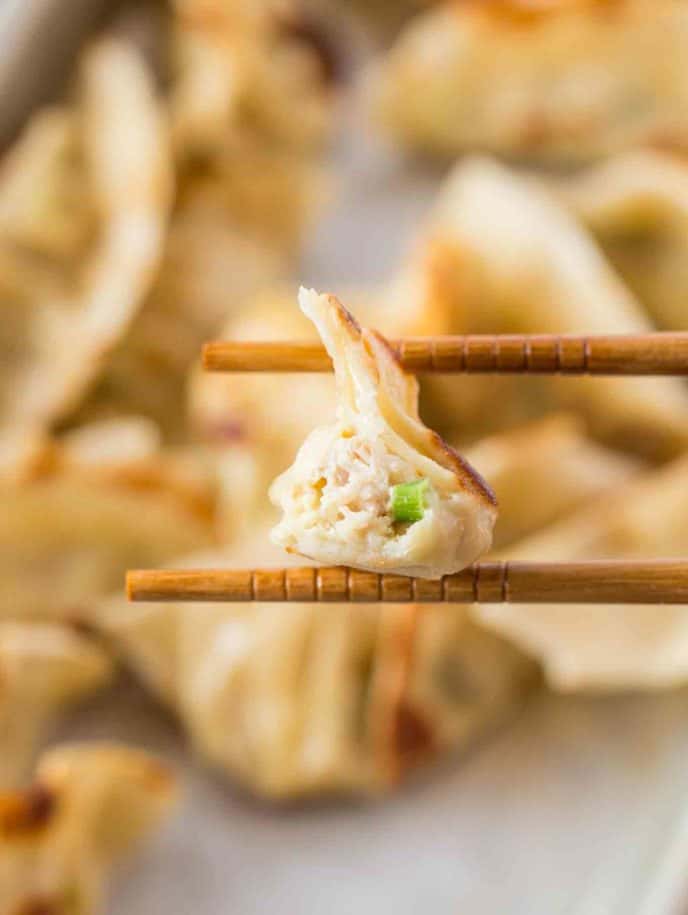 Fillings for Potstickers:
Pork: Replace the chicken with ground pork in this recipe
Shrimp: Replace the chicken with ground shrimp in this recipe
Vegetables: Caramelize your vegetables well then replace the chicken with the recipe.
Tips for making the Perfect Potstickers:
Squeeze out as much liquid from the filling as you can. (this will cause tearing)
Don't let any air stay inside the potsticker (this will cause tearing)
If cooking them from frozen steam them for an additional two minutes with two extra tablespoons of water.
Add the filling AFTER they've cooled to prevent the wrapper from becoming soggy.
If the fold is intimidating just wet the edges and fold it over into a triangle to seal.
Be careful about the cabbage in the recipe, it will release a LOT of water. Make sure you've cooked it all off before making the filling.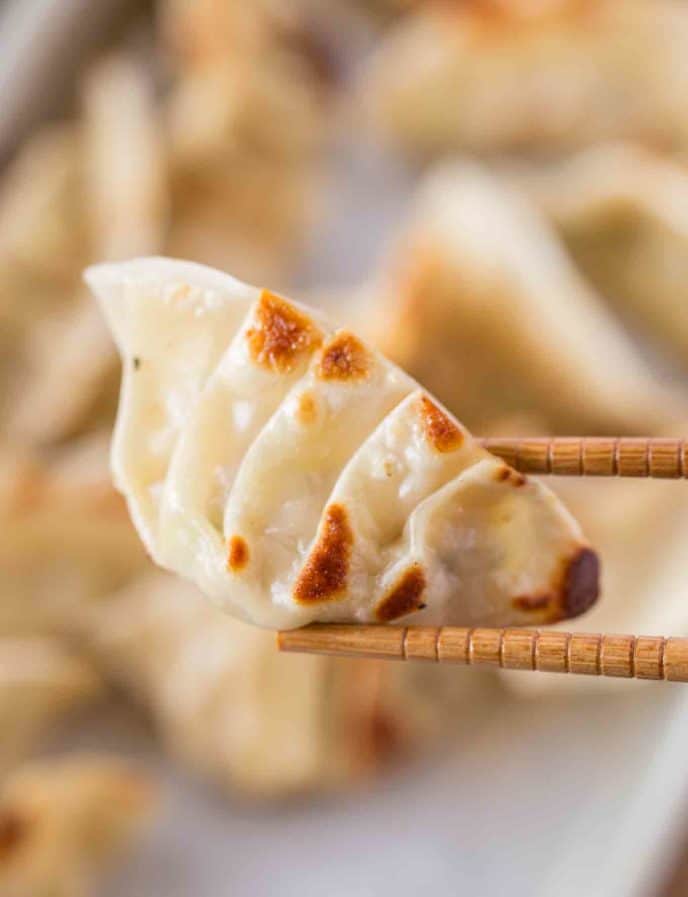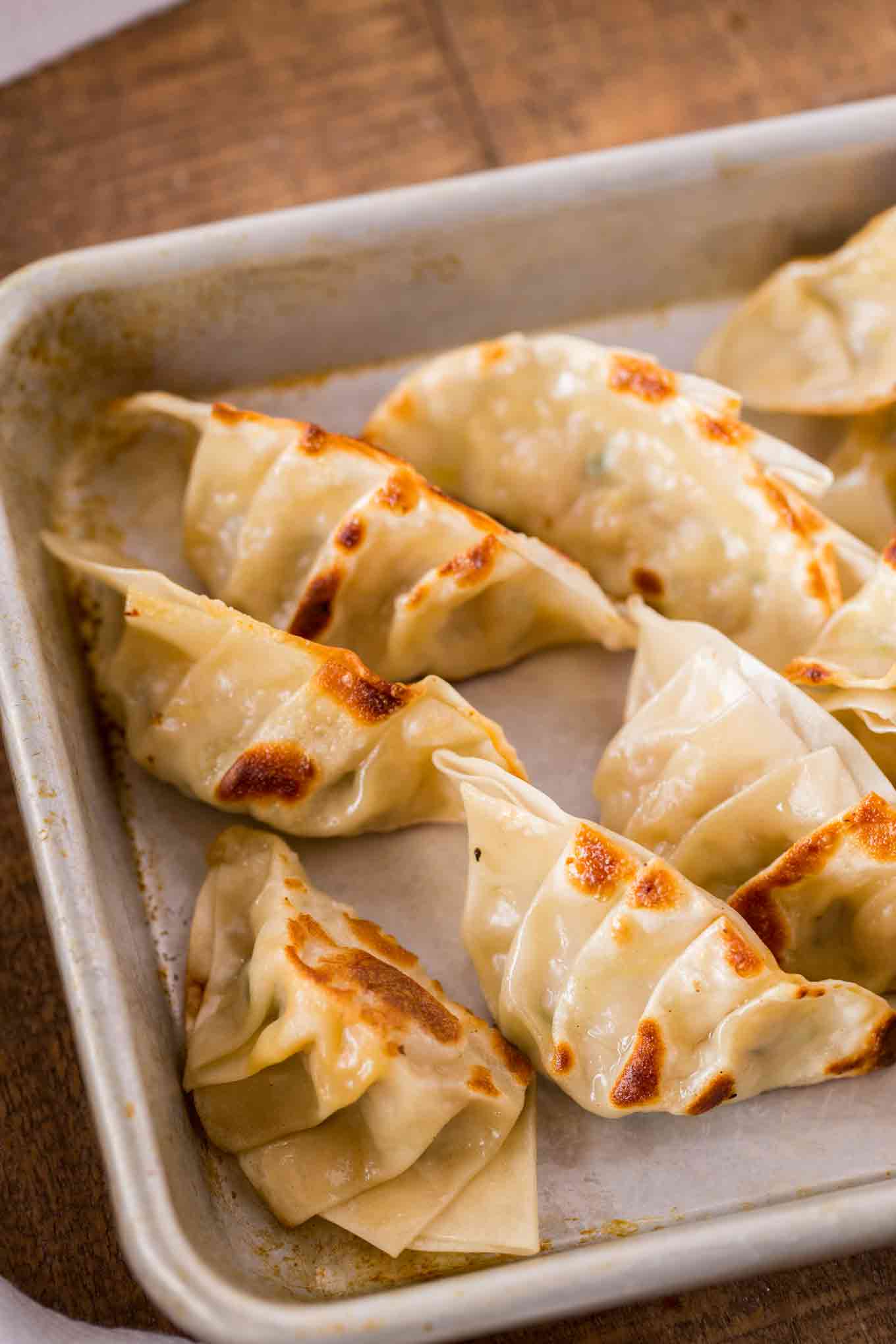 Potstickers
Potstickers made with ground chicken, cabbage, green onions and ginger in a steamed and pan fried wonton shell with a homemade potsticker dipping sauce.
Ingredients
1

pound

ground chicken

2

cups

cabbage

finely shredded

1/4

cup

green onions

chopped

1

tablespoon

ginger

finely minced

1/2

teaspoon

sugar

1/2

teaspoon

kosher salt

1

teaspoon

sesame oil

1

package wonton wrappers

1/4

cup

canola oil

divided

3/4

cup

water
Instructions
Add the chicken and cabbage to a large skillet and cook until the chicken and cabbage are fully cooked and crumbled and the cabbage liquid has cooked off (about 8-10 minutes).

Add the green onions, ginger, sugar, salt and sesame oil to the chicken mixture and cool.

Add one tablespoon of the chicken mixture to the middle of the wonton wrappers and pinch closed every 1/2 inch into a fold and press pattern.

Add 2 tablespoons of oil to a pan and cook the bottoms of the potstickers on medium-high heat before adding in the water and letting the steam cook the potstickers for 6-8 minutes.

When the water has evaporated add remaining oil and crisp up the bottoms of the potstickers again for 1 minute.
Nutrition Facts
Potstickers
Amount Per Serving
Calories 77
Calories from Fat 54
% Daily Value*
Fat 6g9%
Cholesterol 24mg8%
Sodium 92mg4%
Potassium 167mg5%
Protein 5g10%
Vitamin A 25IU1%
Vitamin C 3.5mg4%
Calcium 6mg1%
Iron 0.3mg2%
* Percent Daily Values are based on a 2000 calorie diet.