KFC Coleslaw is a five minute side dish you'll enjoy all summer long with your favorite chicken and more! Tastes exactly like the original!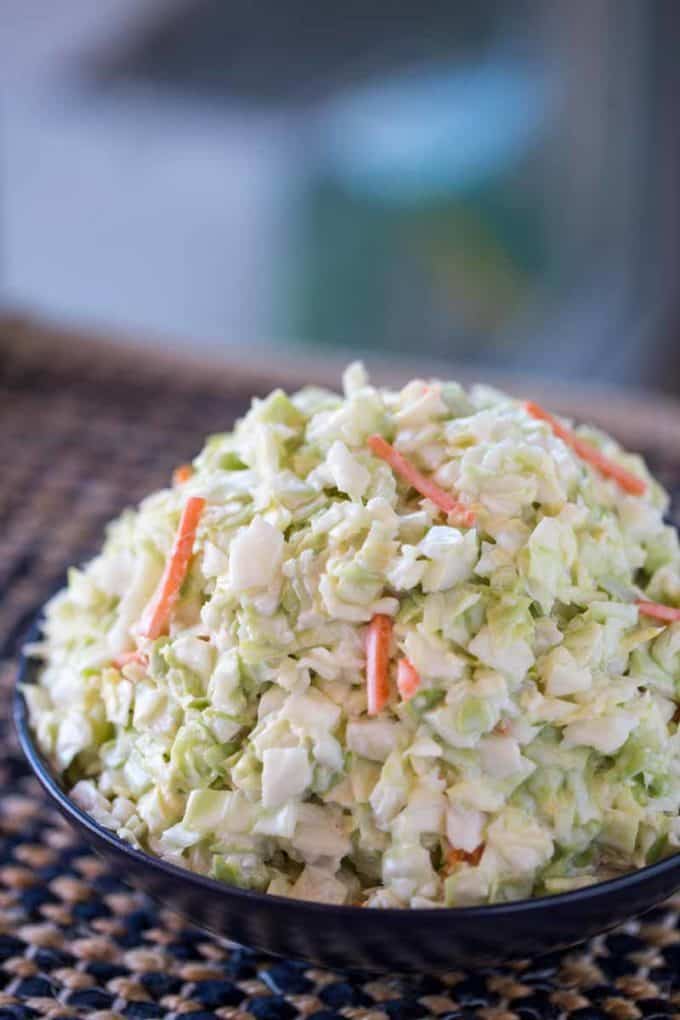 KFC Coleslaw is one of my most personal childhood food memories. As a young kid I would walk from my elementary school with my great aunt and we would stop at KFC (then Kentucky Fried Chicken) to get a chicken plate to share and a pudding cup to share. I just remember the most happy memories of our time together there, we would sit and talk and laugh.
To this day anytime I eat or make this KFC Coleslaw I think of her. I'm sure many of us have memories like this, which is why copycat recipes are also so personal. You want to recreate those memories or those long lost flavors (Like Pioneer Take-Out Fried Chicken) and anytime you succeed there is joy.
Speaking of KFC, you can also enjoy this coleslaw with KFC Original Fried Chicken and make your own chicken plate for a lot less money!
This KFC Coleslaw is probably one of the easiest copycats I have worked on in a long time. The ingredients were readily available online from so many sources it is hard to tell where the original came from. The version I found was from Food.com.
Looking for more recipes to serve with this easy coleslaw?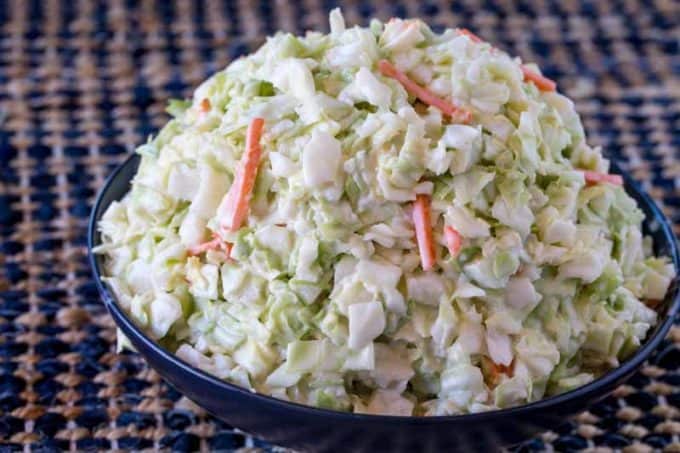 Tools used in the making of this KFC Coleslaw:
Food Processor: This is the newer version of the one I have used and loved for ten years. It is a workhorse and the new model has similarly awesome reviews…and it is so affordable!
Buttermilk Powder: I stopped buying buttermilk  years ago and keep this on hand for dressings, waffles, homemade ranch seasoning and more. One container has served over 100 recipes to date. You don't have to throw away 50% full buttermilk containers anymore. I also love their all natural cheddar powder and sour cream powder (I use these to make Cheddar and Sour Cream Roasted Potatoes that taste just like the chips!) and Chicago Mix Cheddar and Caramel Popcorn.
Mayonnaise: I've tried a number of different brands, this one is the most spot on flavor.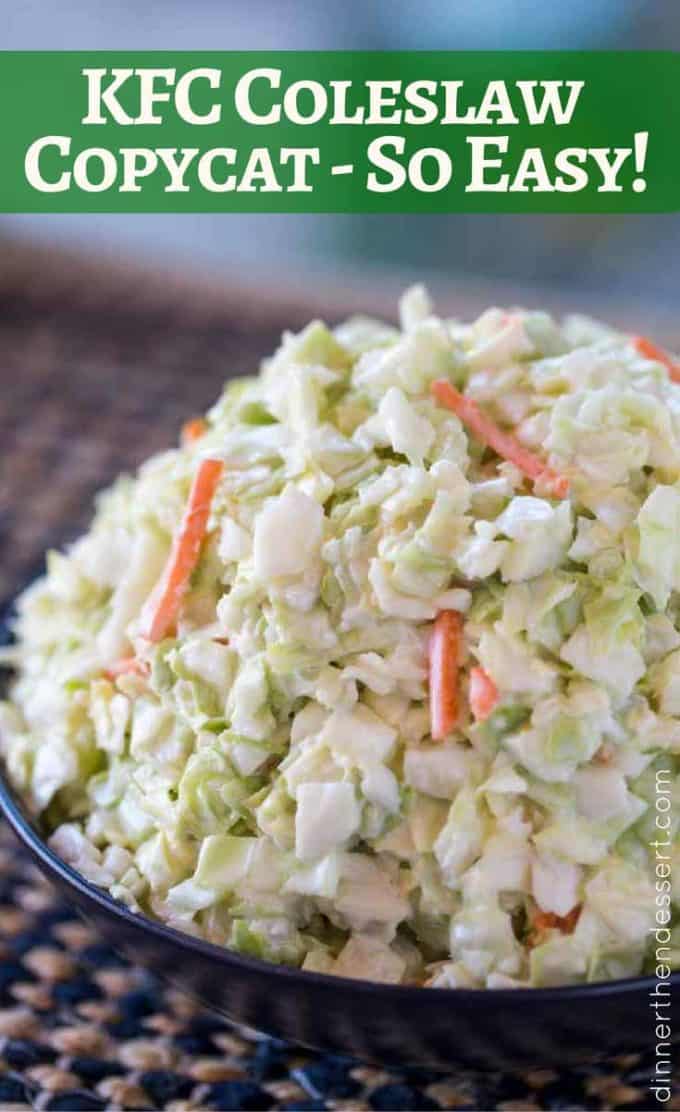 KFC Coleslaw
KFC Coleslaw is a five minute side dish you'll enjoy all summer long with your favorite chicken and more! Tastes exactly like the original!
Ingredients
8

cups

diced cabbage

(I used a food processor shredding disc)

1

carrot

(also used the food processor)

2

tablespoons

grated onions

1/3

cup

sugar

1/2

teaspoon

salt

1/8

teaspoon

white pepper

1/4

cup

whole milk

1/2

cup

mayonnaise

1/4

cup

buttermilk

(I used buttermilk powder to make mine)

2

tablespoons

white vinegar

3

tablespoons

lemon juice
Instructions
In a large bowl add the cabbage, carrot, onion.

In a second bowl whisk the rest of the ingredients together until combined and smooth.

Toss together thoroughly and put in the refrigerator for 4-8 hours (the longer, the better).
Nutrition Facts
KFC Coleslaw
Amount Per Serving
Calories 113
Calories from Fat 72
% Daily Value*
Fat 8g12%
Cholesterol 5mg2%
Sodium 200mg9%
Potassium 40mg1%
Carbohydrates 8g3%
Vitamin A 1045IU21%
Vitamin C 2.1mg3%
Calcium 16mg2%
* Percent Daily Values are based on a 2000 calorie diet.