Super Creamy Macaroni and Cheese with no processed cheese in sight, this stovetop version is the perfect homemade creamy macaroni and cheese of your dreams and a perfect holiday side dish!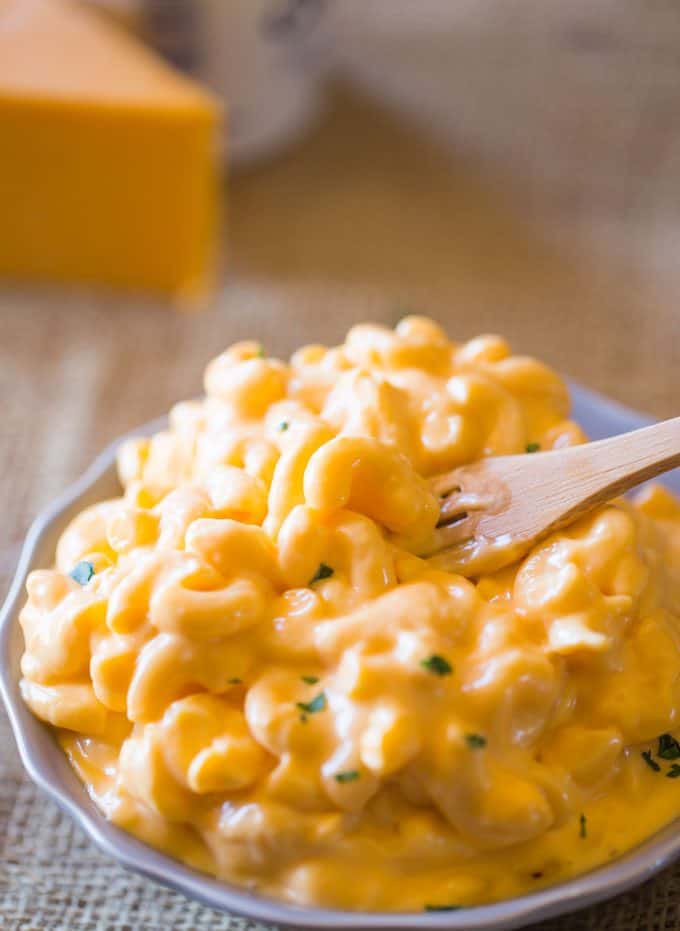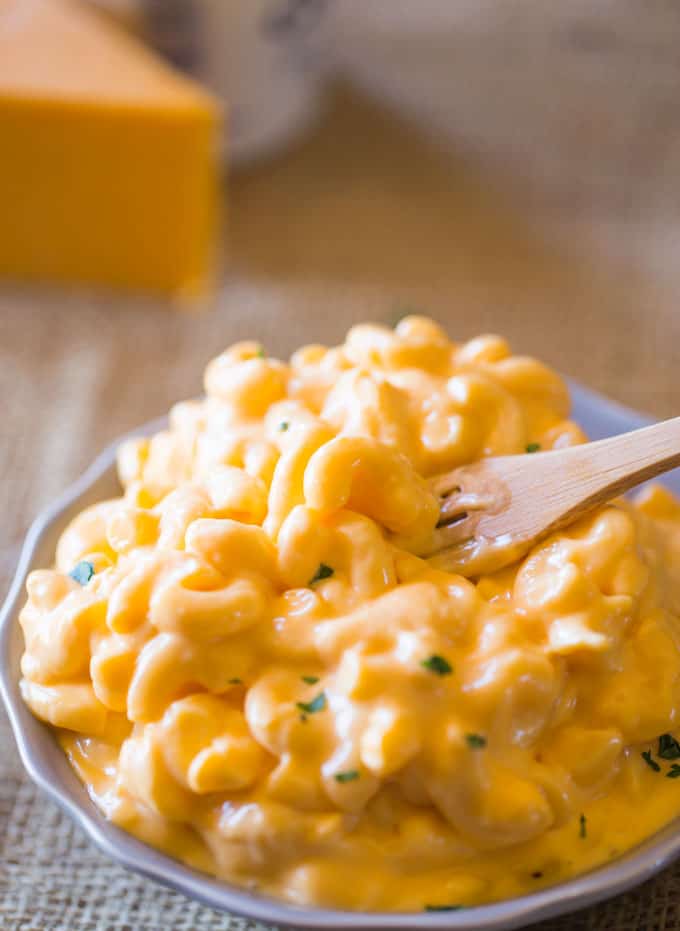 Super Creamy Macaroni and Cheese has always been a battle when it comes to working without processed/American cheese and this dish finally gets it right without compromising the creaminess.
As a private chef you get clients who will say things to you like "I want this to taste like a box mix or boxed mac and cheese but I want it all organic" and you're left scratching your head wondering how to turn all those foods into the perfect food memory without the actual ingredients used.
This Super Creamy Macaroni and Cheese is the brainchild of one of my client's requests. I started with a search for creamy macaroni and cheese that didn't use any Velveeta or American cheese and started experimenting.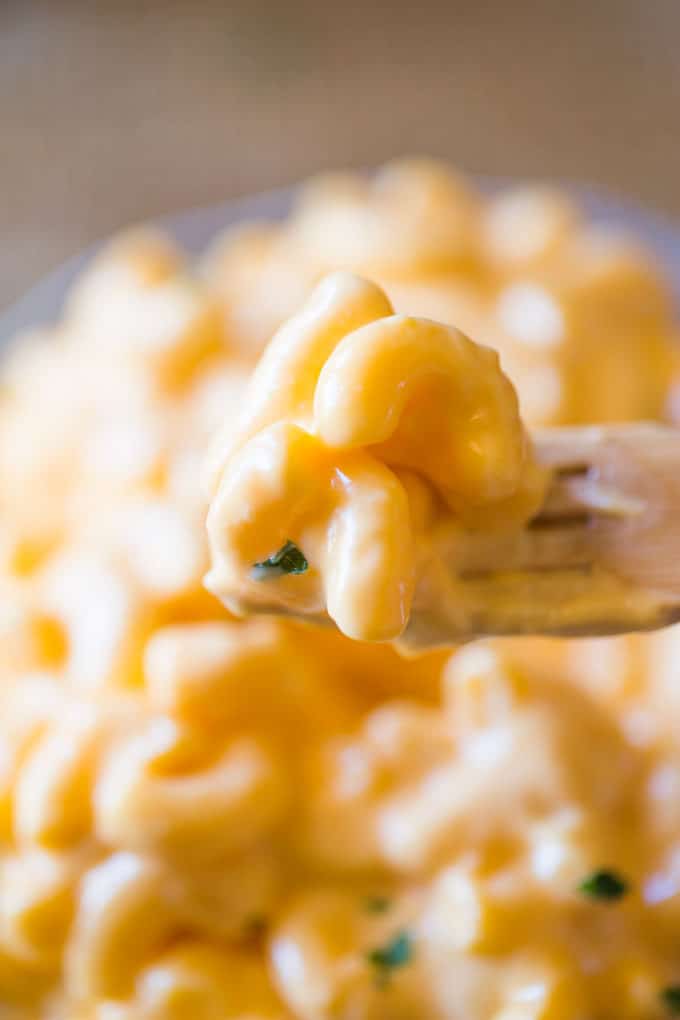 The original calls for baking which totally lowers the creamy texture (but it does add an awesome crust) so I altered a bunch of things over the course of many cooking trials until I found something that looked like the creaminess you'd expect but without the use of the easy melting processed cheese products.
The important thing to keep a note of when it comes to keeping this recipe creamy is FAT. I know how much you would love it if I could tell you all that this recipe is a healthier creamy option. I can't because science won't allow me to keep the creaminess with natural products unless fat comes into play. So no low-fat products here, if you use them it will alter the texture.
Whole milk and half and half (I originally used heavy cream but found the difference in creaminess to be minimal while the cost and calorie savings were much more than minimal) are hugely important here. The milk is carrying this Super Creamy Macaroni and Cheese on it's back and absorbing the starch of the pasta as well as the minimal amounts of spices that are added.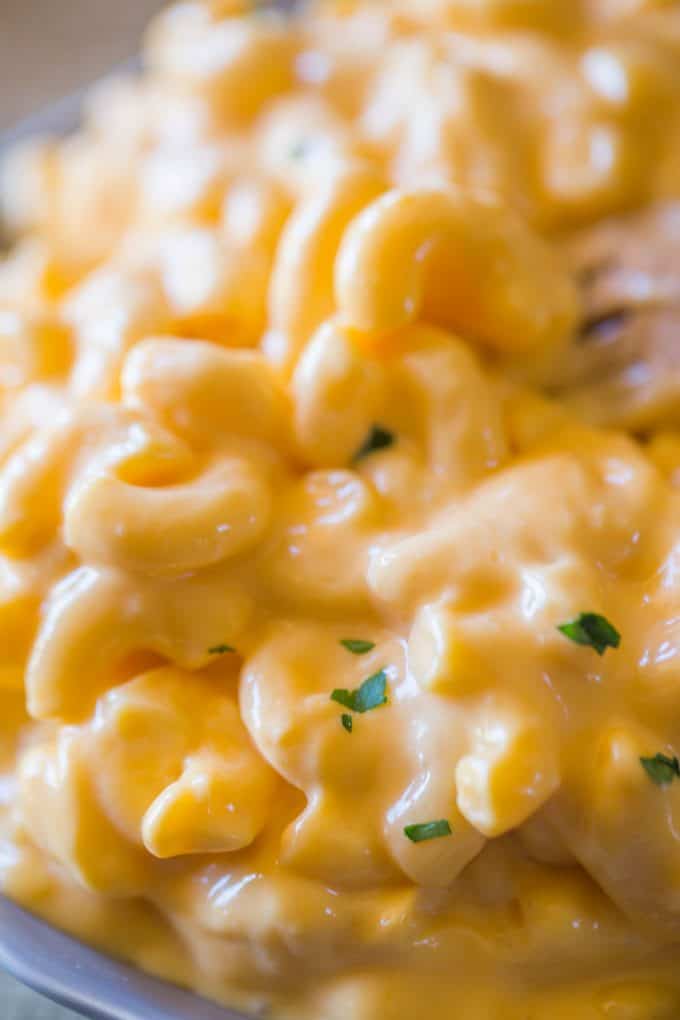 If you are sodium sensitive feel free to halve or omit the salt, I am going for rich, indulgent Super Creamy Macaroni and Cheese and that means a full bodied flavor. I have had clients who were averse to salt have me make this for them and the natural sodium in the dairy was plenty for them.
If the idea of a slightly less creamy, but amazing crust option sounds good to you, add it all to a baking dish, cover with an additional half cup of cheddar cheese and bake for 15-18 minutes. The original recipe calls for uncooked pasta baked for 30 minutes, but in my trials I lost most of the creaminess doing that.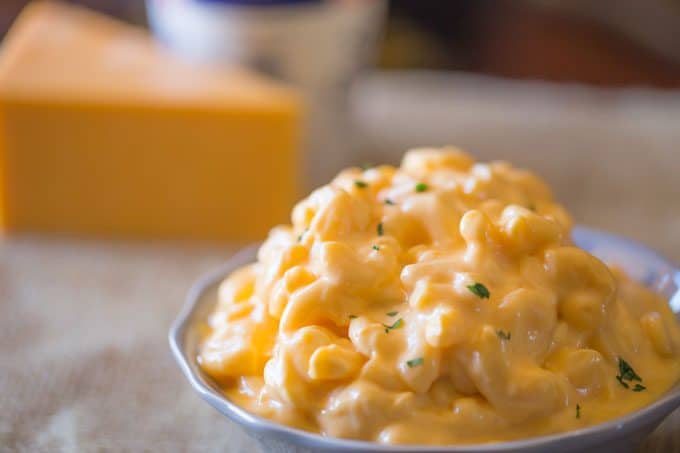 Tools Used in this Super Creamy Macaroni and Cheese Recipe:
Blendtec Blender: This is the blender I use for everything (I bought it reconditioned but it only had 4 cycles before me) and it is a total workhorse. Everything is creamy coming out of it. If you have a blender that gives you super creamy smoothies then skip this, if you have one that leaves things a bit grainy, then let the blender keep working longer until you get your ingredients as creamy as possible.
Pasta Pot Strainer: I try to shy away from a ton of single use products, but this strainer makes life so much easier. Instead of washing a colander and then returning the pasta to the pan or using a pasta pot, I add this to the side and strain in the pot. It's small and super easy to wash and I use it for all things I need to drain except very small shaped pastas/grains.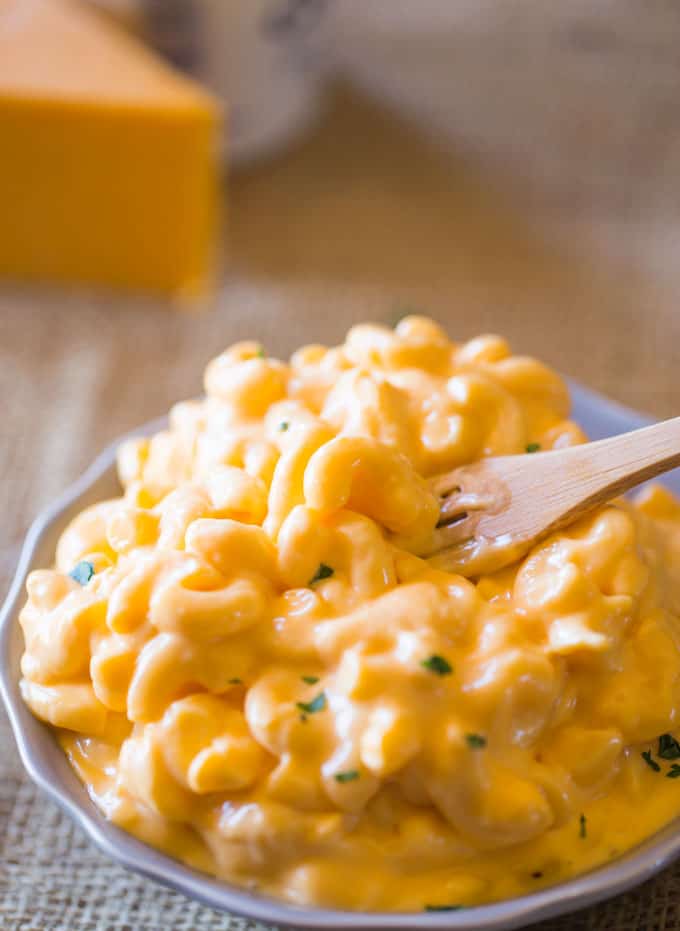 Super Creamy Macaroni and Cheese
Super Creamy Macaroni and Cheese with no processed cheese in sight, this stovetop version is the perfect homemade creamy macaroni and cheese of your dreams and a perfect holiday side dish!
Ingredients
1

cup

cottage cheese

(not lowfat)

1

cup

half and half

1

teaspoon

dry mustard

1

pinch cayenne

1

pinch nutmeg

1

teaspoon

Kosher salt

1/4

teaspoon

white pepper

4

tablespoons

butter

1

cup

whole milk

(not 2%, 1% or skim)

1

pound

sharp cheddar

, do not buy pre-grated, the additive will make pasta grainy

1

pound

elbow pasta

, cooked three minutes shy of the directions on the box but don't rinse the pasta or the pan

parsley for garnish

, optional
Instructions
In a

blender

add the cottage cheese, half and half, dry mustard, cayenne, nutmeg and salt and pepper together until the mixture is completely smooth (even if you think it is smooth, give it an extra

15 seconds

, you want it smooth or your pasta will taste grainy).

In a large pot (the one you drained the pasta in, don't rinse the pan before adding the ingredients), add the butter, cheddar cheese, milk and pasta.

Stir together until the butter is fully melted, then add in the cottage cheese mixture.

On a very low heat simmer the pasta a few minutes (I would say no more than 5) until it is as thick and creamy as you like, then serve immediately.

Leftovers won't be as creamy since the pasta will soak up liquids as it sits.
Recipe Notes
Heavily adapted from the NY Times.
Nutrition Facts
Super Creamy Macaroni and Cheese
Amount Per Serving
Calories 1148
Calories from Fat 558
% Daily Value*
Fat 62g95%
Cholesterol 186mg62%
Sodium 1634mg71%
Potassium 577mg16%
Carbohydrates 93g31%
Protein 52g104%
Vitamin A 1875IU38%
Vitamin C 0.6mg1%
Calcium 1021mg102%
Iron 2.3mg13%
* Percent Daily Values are based on a 2000 calorie diet.