Classic Coconut Cake with a light coconut cake batter, coconut buttercream frosting and toasted coconut topping make this cake the ultimate coconut cake of your dreams while still being an easy cake to make!
We have so many cake recipes on the site, if you love this coconut cake you'll also love Carrot Cake, Oreo Cake, and Classic Yellow Cake! Or if you want more coconut you absolutely must try my Coconut Macaroons (or the ones dipped in Chocolate).
 Classic Coconut Cake
This Coconut Cake has so much coconut flavor that it may as well just be called the Best Coconut Cake and with Easter coming up this cake is an American tradition we just can't miss sharing. We add coconut flavors in every layer of the cake. There's coconut in the cake itself, in the frosting and in the toasted flaked coconut the cake is decorated with.
This cake is tender, made with cake flour and stiffened egg whites similar to a white cake. With cakes that are so soft I tend to want to preserve moisture and be more careful with them so be sure to read through the directions and tips (and the room temperature tips are probably the most valid here, if you serve this cake cold, it won't be anywhere near as soft or light).
If you want to be playful and tropical with the cake you can add another fruity filling like I've listed below or even use almond extract in place of vanilla. Pineapple, Strawberry or Banana filling would take this cake over the edge the next time you make it. The first time? Make it as written because I promise it will be your favorite cake.
HOW DO I MAKE A CAKE MORE MOIST?
Don't substitute the butter, coconut milk, or eggs for lower fat ingredients (this especially means the coconut milk). The fat in this coconut cake recipe helps keep everything moist and light. If you want to make the cake even more indulgent you can swap the coconut milk for coconut cream (also called cream of coconut).
Bring the cake to room temperature before serving it for the best texture. When cakes are colder than room temperature, they are sometimes mistaken for stale or dry. If I take it out of the refrigerator about an hour before I'm ready to serve, it will be room temperature when I cut into it. (This is part of the reason we use Buttercream frosting in place of Cream Cheese Frosting in the recipe, it makes it easier to serve at room temperature).
Coconut Cake with Cream Cheese Frosting:
You can absolutely make your Coconut Cake with cream cheese frosting. As we like to serve our Coconut Cake at room temperature we chose to use a buttercream frosting but if you would like you can make my classic cream cheese frosting Recipe in it's place and add in the coconut extract just as directed in the recipe.
If you do make this recipe with cream cheese frosting please be aware you need to refrigerate your cake, cream cheese can not sit out for more than 2 hours at room temperature.
Why did the Coconut Cake Fail?
If your Coconut Cake did not turn out as well as you'd hoped here are some common errors you can avoid next time (or ahead of time!):
Make sure your oven is cooking at the right temperature, if you're oven is too hot it make be over-baking your cake.
Measure your cake flour correctly. You need to be spooning it into the cup measure not scooping it out.
If you're replacing the eggs or butter in this recipe, make sure you're not removing all of the fat because it helps keep the texture of the cake soft. I also recommend not using any butter substitutes, like margarine.
Make sure you're not over-mixing the cake batter. Stop mixing when everything is just mixed in.
When you fold in the stiffened egg whites do not over-mix them, you need to keep as much air in the batter as possible. Ensuring you use a large bowl will help with the folding process.
If you cake falls when you take it out of the oven, it's possible that there was too much baking powder used. The baking powder causes the cake to rise really fast, then fall before it's done baking. Try leveling the baking powder in the measuring spoon with a knife, similar to how we did the flour.
How do you store Coconut Cake?
If you're just making the cake layers, you can store the cake on the counter tightly wrapped or sealed in an airtight container. If you've frosted the cake, it depends on what type of frosting is used. For dairy frostings, like cream cheese or vanilla butter cream, I recommend storing them in the refrigerator and not sitting out for more than 2 hours.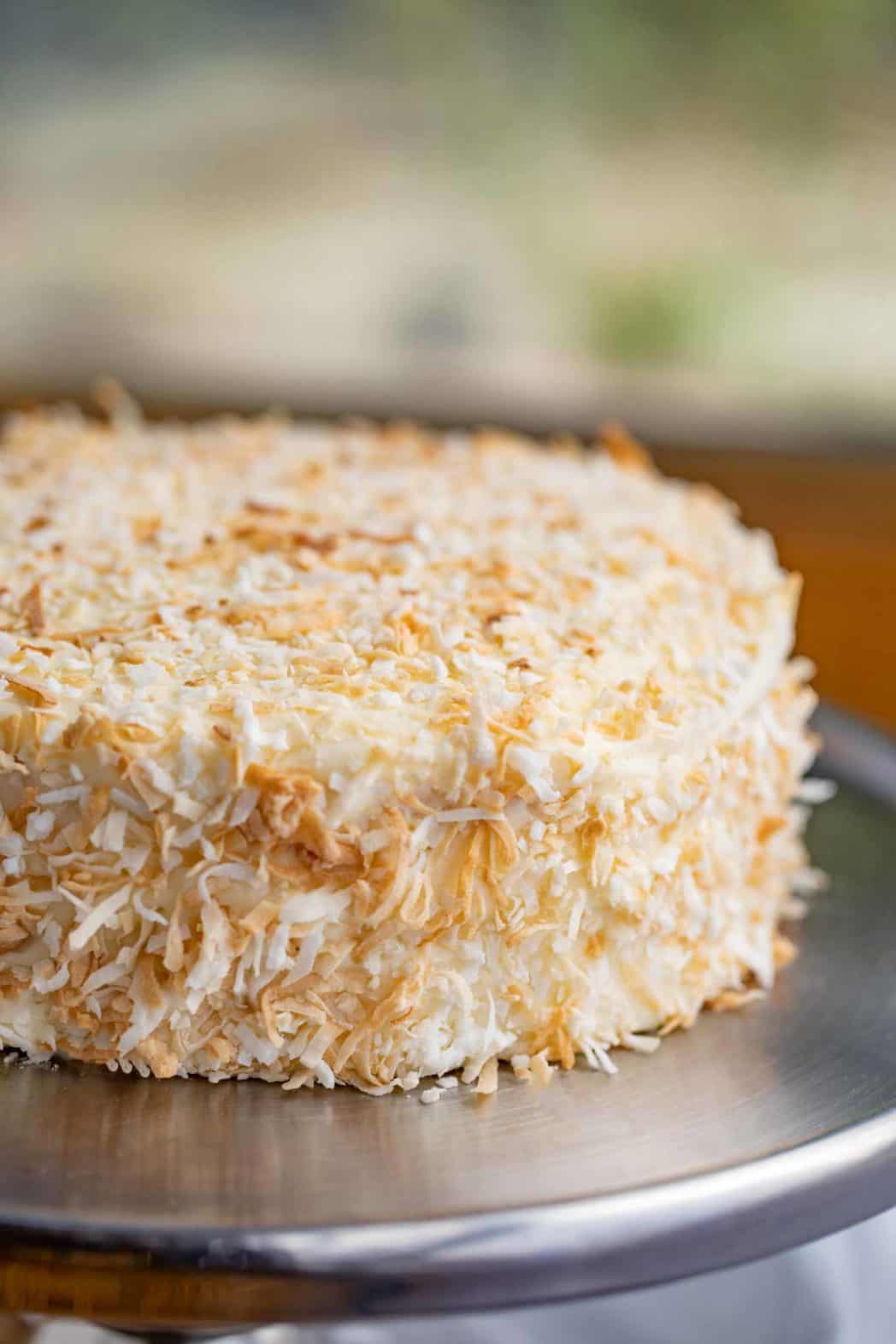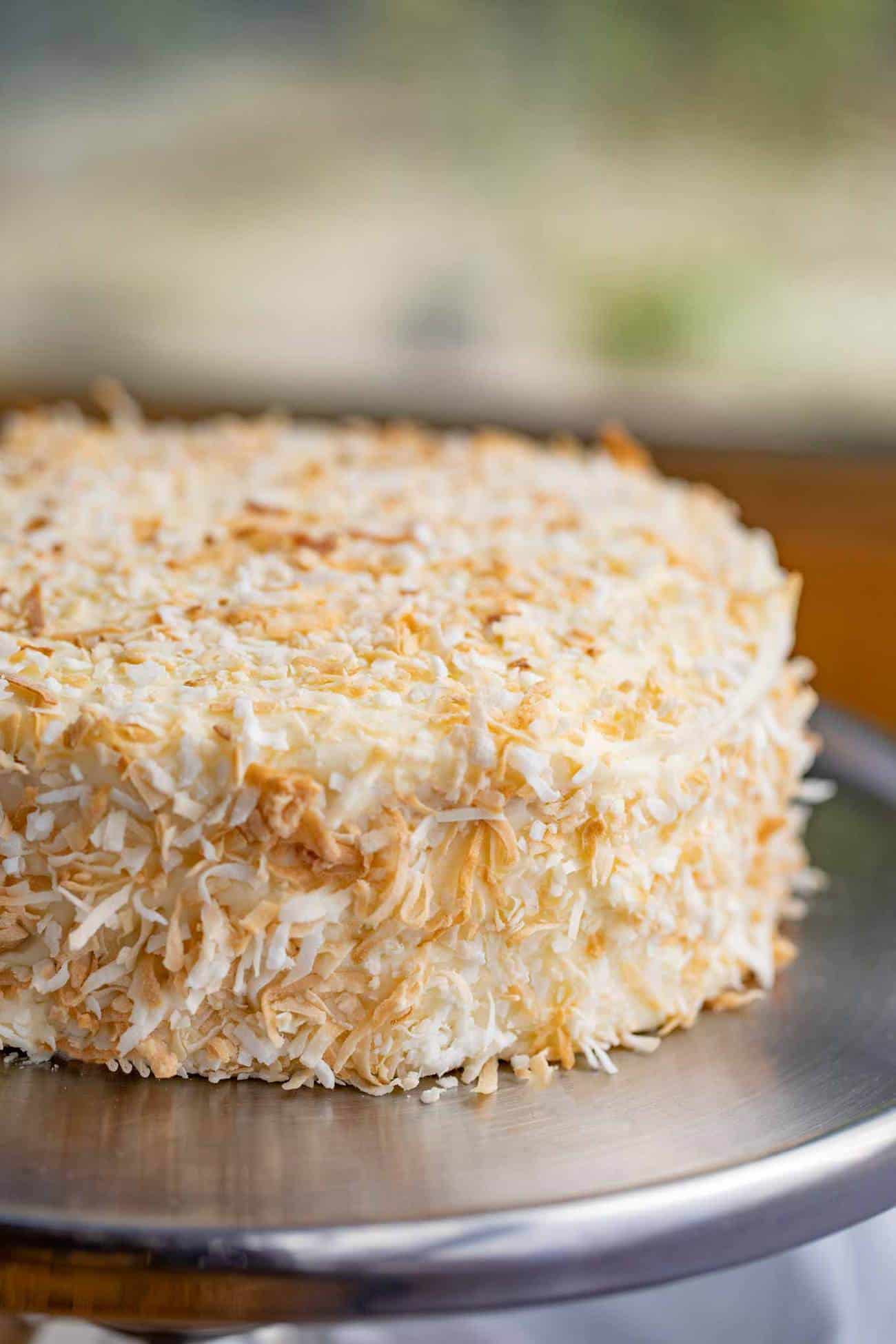 Create a free account to

Save Recipes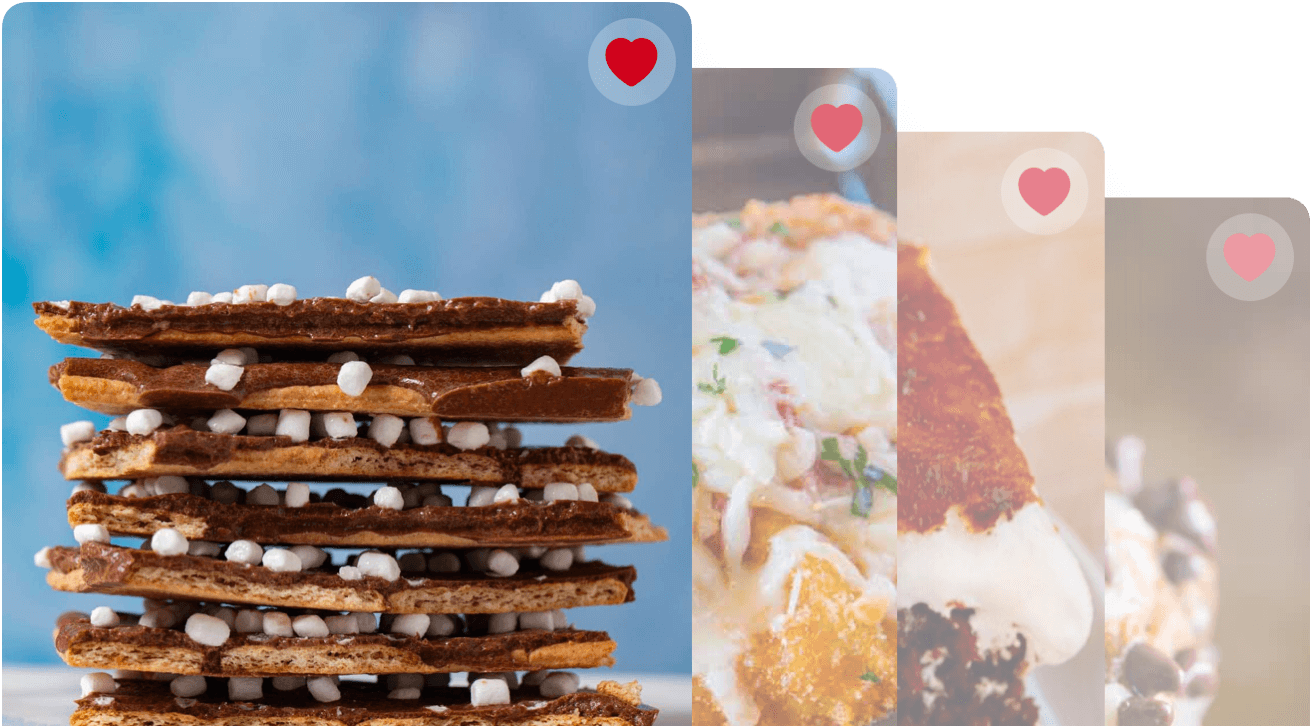 Tips for Making Coconut Cake:
I'm using two 9-inch cake pans because I'm making a layer cake with this coconut cake recipe. If you want to make it taller, use three 8″ round cake pans instead and make additional layers, with frosting between each one.
You can also use a bundt pan or make a sheet cake instead of round cake pans, or you can use a fun Easter shaped baking pan.
Let your cake cool on a wire rack until it is completely cooled before using your buttercream or cream cheese frosting.
After the coconut cake comes out of the oven, make sure it cools down completely before frosting. If the frosting and cake are not the same temperature, or you'll pull up crumbs when trying to frost. If you want to be extra careful you can do a thin first coat called a crumb coat, refrigerate for an hour then do a second coat.
If you're having trouble with your coconut cake sticking to the cake pans once they're done baking, try lining the bottom of the cake pan with a piece of parchment paper. Trace the bottom of the pan on the parchment paper, then cut out the circle and it should fit exactly.
For more delicate cakes like this coconut cake I like to use cake flour because it requires a finer texture. If all-purpose flour is all you have, you can use make your own cake flour with the recipe above. No need to run to the grocery store!
Make sure you sift together your dry ingredients before adding them to the cake, to make sure everything is evenly dispersed before adding to the wet ingredients. If you don't have a sifter, you can whisk your dry ingredients together but the texture might be slightly less light in the final cake.
You can make this a pina colada cake by adding pineapple topping between each layer, then frosting with cream cheese frosting. Or make a play on a Lava Flow layer cake by adding  my strawberry topping between each layer! You can also do this with cupcakes and pipe the filling into the middle.
For this coconut cake recipe, make sure you bring the butter and eggs to room temperature before starting. This will make it much easier to evenly mix everything together.
I always use unsalted butter, so I can add the salt in as I see necessary. If you want to use salted butter, I would skip adding any salt to the dry ingredients.
If you're making a layered vanilla cake, cut the very top off of any cake layer that will have another one resting on top of it. This helps make it flatter, so the cake will stay together better.
Try poking this coconut cake recipe with a fork and pouring reduced coconut milk (reduce it over very low heat to half its amount) over it to make it like a coconut poke cake instead of frosting it then top it with powdered sugar and fresh berries instead of buttercream.
Make sure you're using sweetened coconut flakes. If you don't used sweetened coconut you won't be able to toast it effectively in the oven and it won't have the same deliciously chewy caramelized flavors we love during Easter (and really all year long).
How to make Cake Flour:
Measure out 1 cup flour.
Remove 2 tablespoons flour.
Add in 2 tablespoons cornstarch.
Sift together and use.
How to Toast Shredded Coconut Flakes:
Place coconut flakes on a baking sheet and put into an oven preheated to 325 degrees.
Bake for 3-4 minutes then stir the coconut flakes and bake for an additional 3-4 minutes.
MORE CAKE RECIPES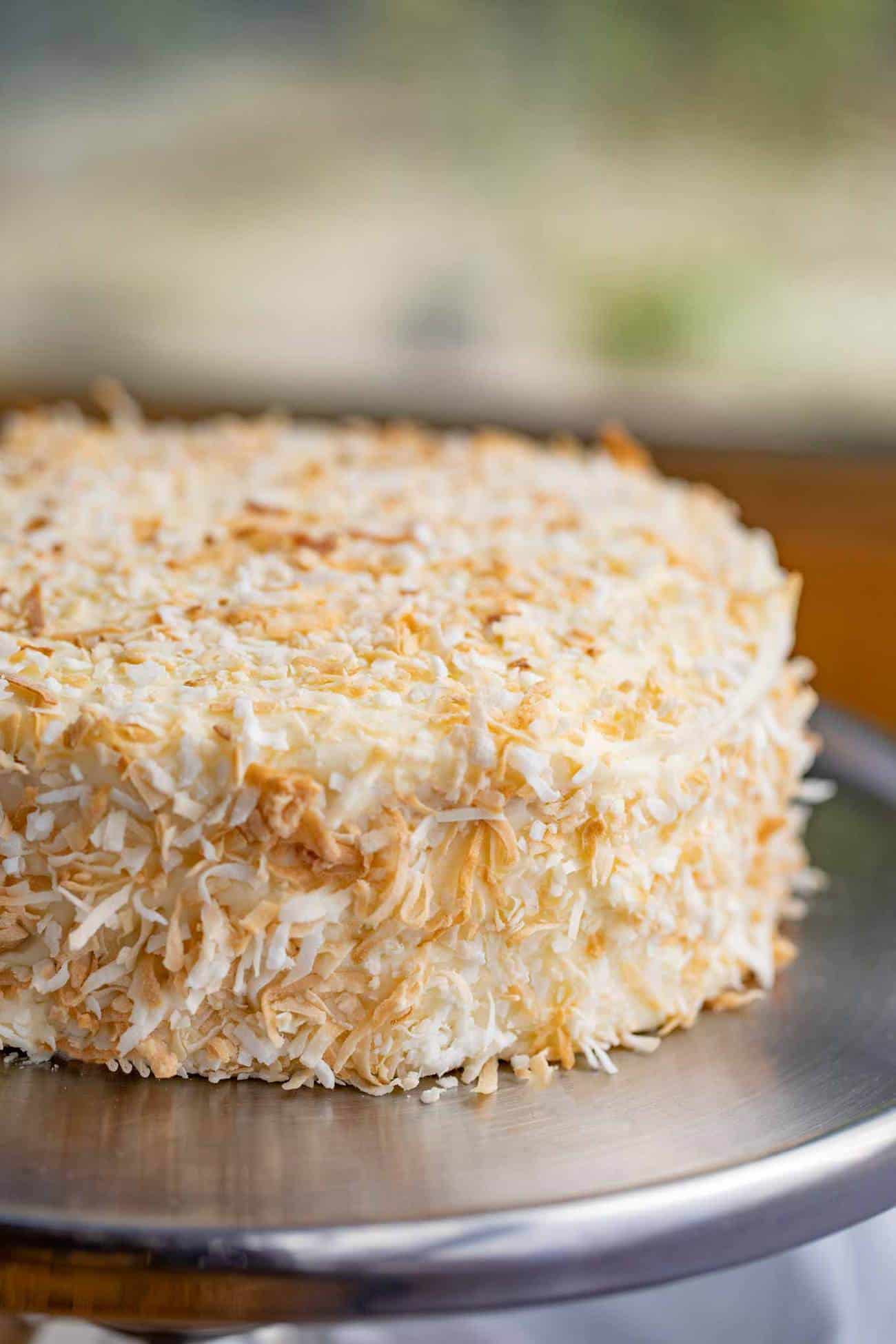 Classic Coconut Cake
Classic Coconut Cake with a light coconut cake batter, coconut buttercream frosting and toasted coconut topping make this cake the ultimate coconut cake of your dreams while still being an easy cake to make!
Total Time
1
hour
15
minutes
Ingredients
3/4

cup

unsalted butter

1 1/3

cups

sugar

2

large

egg yolks

2

teaspoons

vanilla extract

1

cup

coconut milk

2 1/4

cups

cake flour

2 1/4

teaspoons

baking powder

1/2

teaspoon

salt

6

large

egg whites

1/8

teaspoon

cream of tartar
Coconut Frosting
1

teaspoon

coconut extract

2

cups

toasted shredded coconut
Instructions
Preheat the oven to 350 degrees and butter and flour two 9" cake pans.

To your stand mixer with a paddle attachment add the butter and sugar and beat them together until light and fluffy on medium speed, 2-3 minutes, then add in the egg yolks one at a time 15 seconds apart along with the vanilla then lower the speed to low and add the coconut milk until smooth.

Sift together the flour, baking powder and salt then add the flour mixture to the stand mixer on low speed until just combined then pour the mixture into a large mixing bowl and clean the stand mixer thoroughly and dry.

Beat the egg whites and cream of tartar on high speed until the form stiff peaks then fold them carefully into the batter and pour into the baking pans.

Pour into the cake pans evenly and baked for 30-35 minutes until a toothpick comes out clean.

Once cakes are cooled frost them with your buttercream frosting which you will mix with the coconut extract first then press the toasted coconut against the sides of the cake and sprinkle on top.
Nutrition Facts
Classic Coconut Cake
Amount Per Serving
Calories 331
Calories from Fat 144
% Daily Value*
Fat 16g25%
Cholesterol 61mg20%
Sodium 131mg6%
Potassium 179mg5%
Carbohydrates 40g13%
Protein 5g10%
Vitamin A 395IU8%
Vitamin C 0.2mg0%
Calcium 48mg5%
Iron 1mg6%
* Percent Daily Values are based on a 2000 calorie diet.