A cheese ball is an easy party appetizer made with cream cheese, cheddar cheese and pecans that is quick and perfect for any holiday party! 
In the past I've made from fun recipes for party appetizers, like Buffalo Chicken Dip, Ultimate Bean Dip and Ultimate Queso, but you'd definitely be missing out if you never try a cheese ball. Great for sharing and dipping your favorite snacks in, a cheese ball also looks festive and gourmet but you don't have to spend all day on it.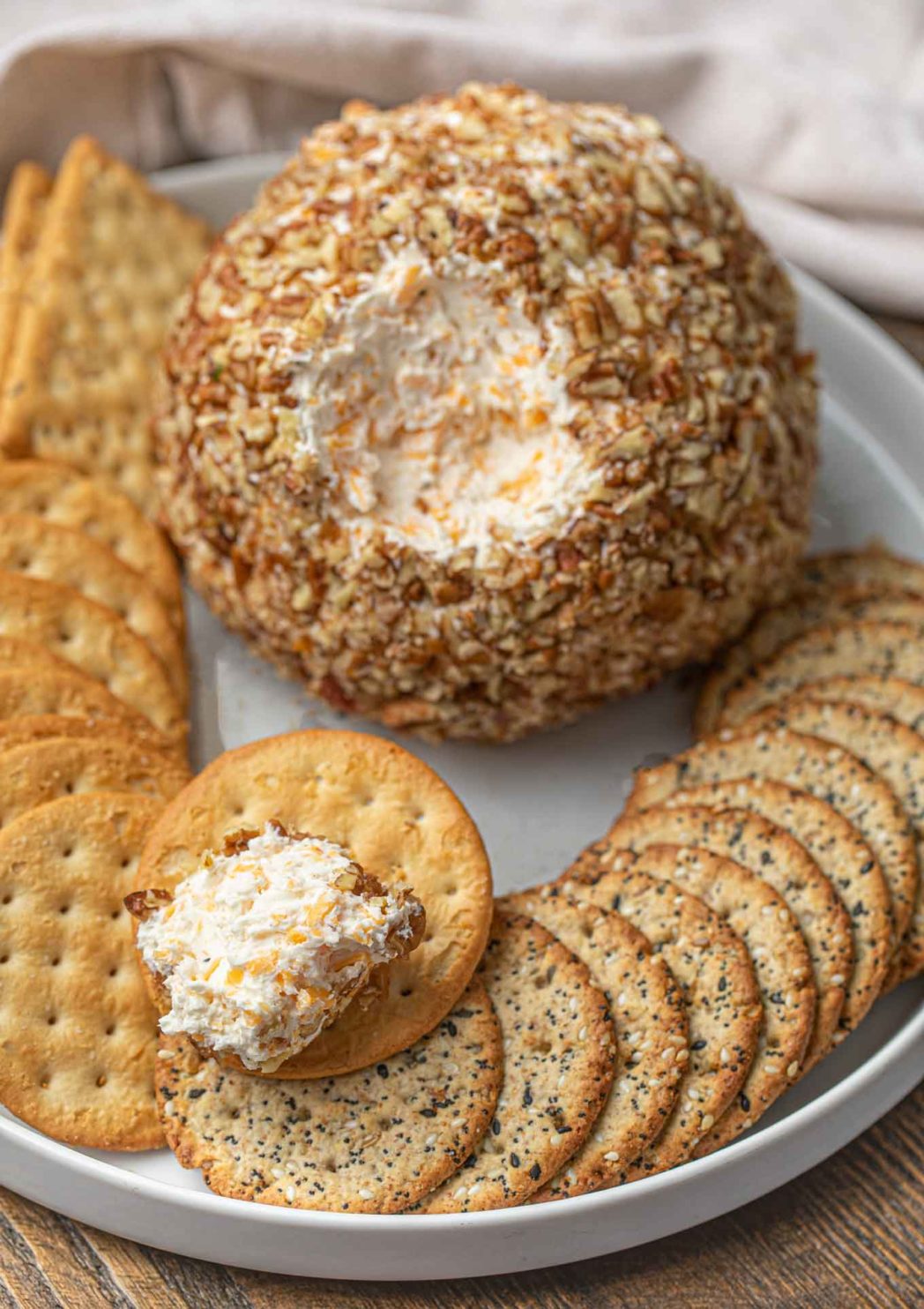 CHEESE BALL
Say you're going to a holiday party or trying to whip something up for game day that you can snack on while you cheer. You don't want to have to spend hours making something but you also want to impress your friends. There are few appetizers that look as fancy but take as little work as a classic cheese ball recipe.
The great thing about this recipe is that you can also make it before hand and keep it in the fridge so that you can spend the day of your party worrying about more important things than the appetizers, like how to keep the dog away from said appetizers.
You can serve up a cheese ball with pretty much any dipper you want, but pretzels, chips and crackers tend to work the best. If you want something cheesy and crunchy that will wow you and all your guests, you can make Parmesan Crisps to serve with this recipe.
More Delicious Easy Appetizers:
Artichoke Dip: Ultimate appetizer
Buffalo Wings: Classic party favorite
Black Bean Dip: Room temperature and healthy!
Cheesy Beef Rotel Dip: This is so easy, cheesy, meaty. I can't vouch for how much of this you want to eat in one sitting.
HOW TO MAKE A CHEESE BALL
Start off combining the cream cheese, sour cream, garlic powder, onion powder and pepper together in a mixing bowl. You can do this by hand or, if you don't feel like doing a crazy arm workout, use a hand held electric mixer. You want the mixture to have a smooth, creamy consistency without any huge lumps.
Add the cheese into the mixture and stir it together. Cover the mixing bowl with plastic wrap and set it in the fridge to cool.
Once the cheese mixture has firmed up enough that you can shape it, sculpt it into a ball first with a rubber spatula and then with clean, greased hands. Trust me, it's easier to do the heavy lifting with the spatula and the  finishing touches with your hands or you'll be at it all day.
Pour the chopped pecans into a medium sized mixing bowl and roll the cheese ball in them until the outside is thoroughly coated. You also want to make sure that the nuts are evenly spread across the surface without bald spots and clumps.
Serve it up and be amazed at how fast it's gone.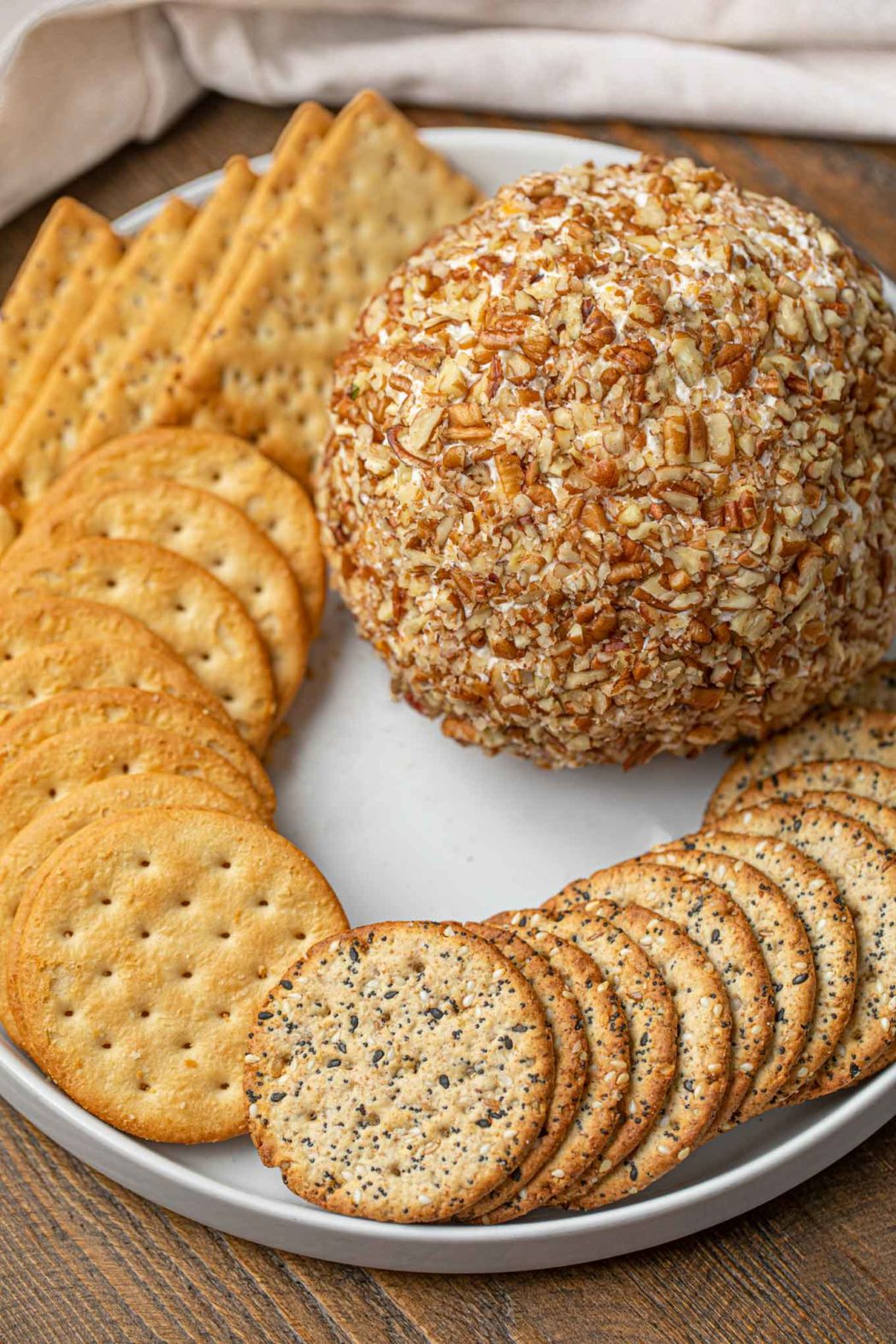 Create a free account to

Save Recipes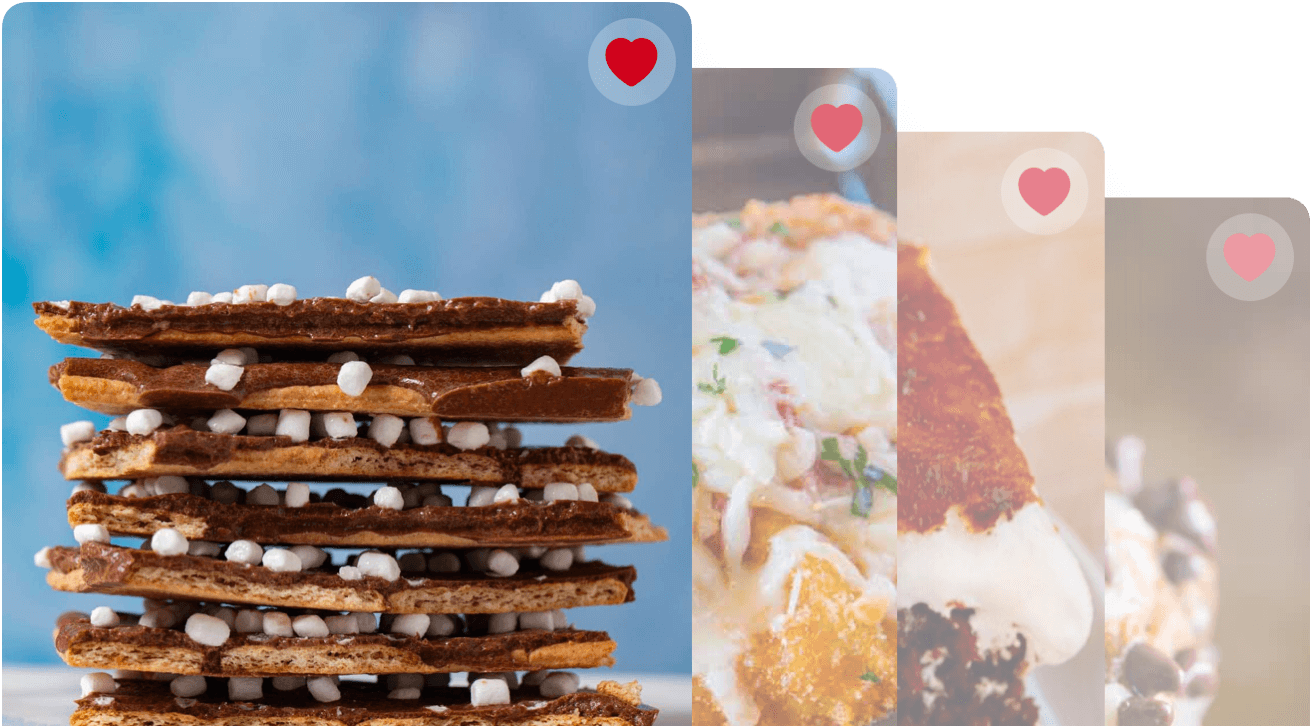 VARIATIONS
Cranberries: for a more holiday themed cheese ball, mix dried cranberries with the chopped pecans and roll the cheese ball through them. Not only will they taste amazing, they will also add a splash of color to your appetizer.
Veggies: you can finely chop green onions or chives and stir them into the cheese mixture before you refrigerate it. This adds a ton of flavor and a satisfying crunch.
Bacon ranch cheese ball: mix ranch and crispy bacon bits in with the cream cheese, sour cream, garlic powder, onion powder and pepper and stir well. The savory ranch and crunchy bacon are sure to be a hit.
Parmesan: you can use parmesan in your cheese mixture if you want to mix up the flavor a little bit.
Jalapeño cheese ball: if you're the person who brings hot sauce to every get together? In that case, you should try chopping up jalapeños and adding them to the mix. The cheese counteracts most of the heat from the peppers without diluting the sweet, tangy flavor so even people who aren't crazy about hot food can still enjoy it.
HOW LONG IS IT GOOD?
Serve: because the whole thing is a ball of dairy products, you should never leave it out for longer than 2 hours at room temperature. If you're serving this up in a place that's hotter than average, you should put it away even sooner.
Store: your cheese ball will be fine in the fridge for up to 3 days if you keep it in an airtight container (and if you can stop stealing bites of it.)
Freeze: if you seal it up in a bag or plastic wrap, you can keep the leftovers for up to 1 month, but it will taste better if you eat it fresh.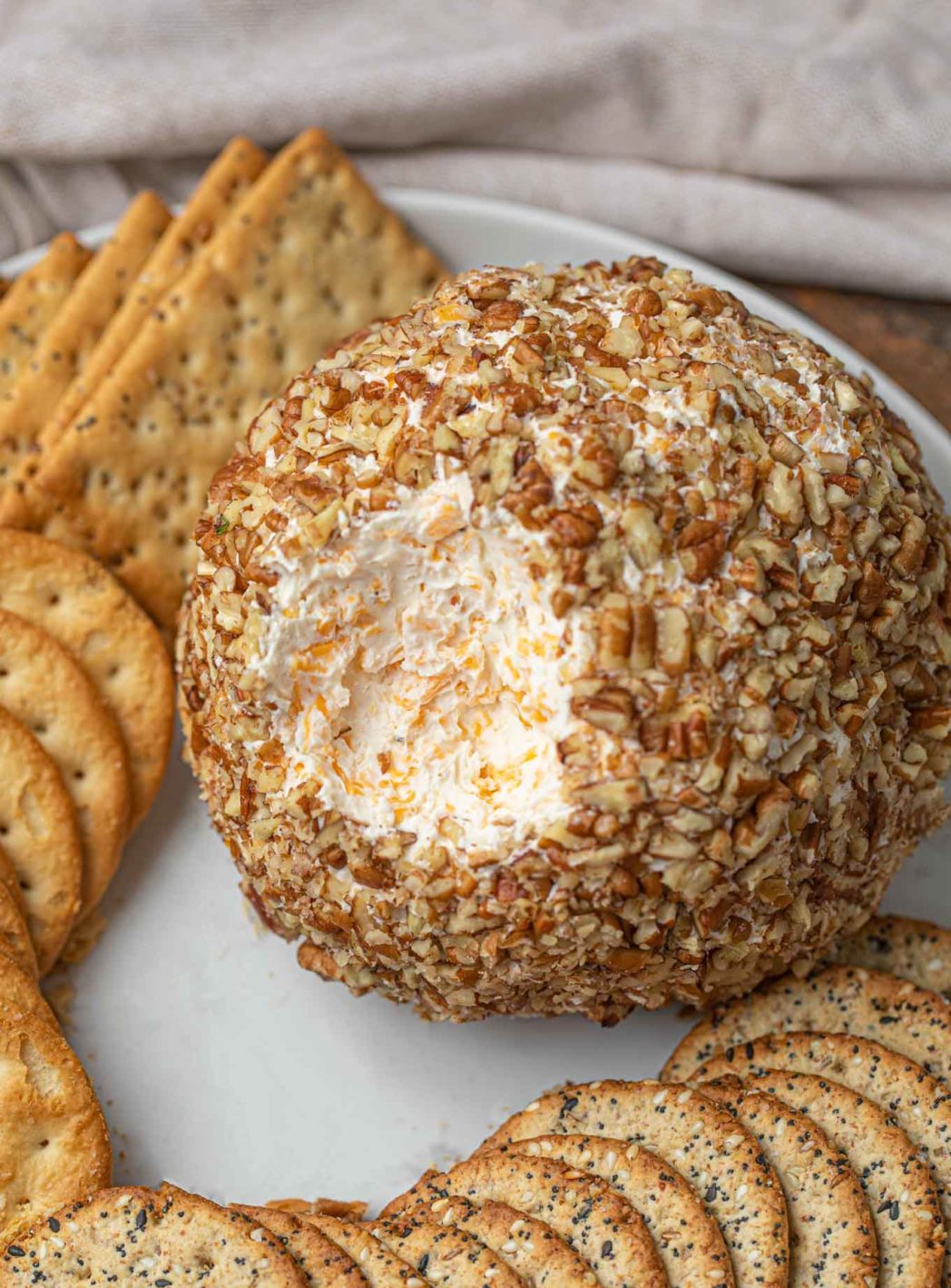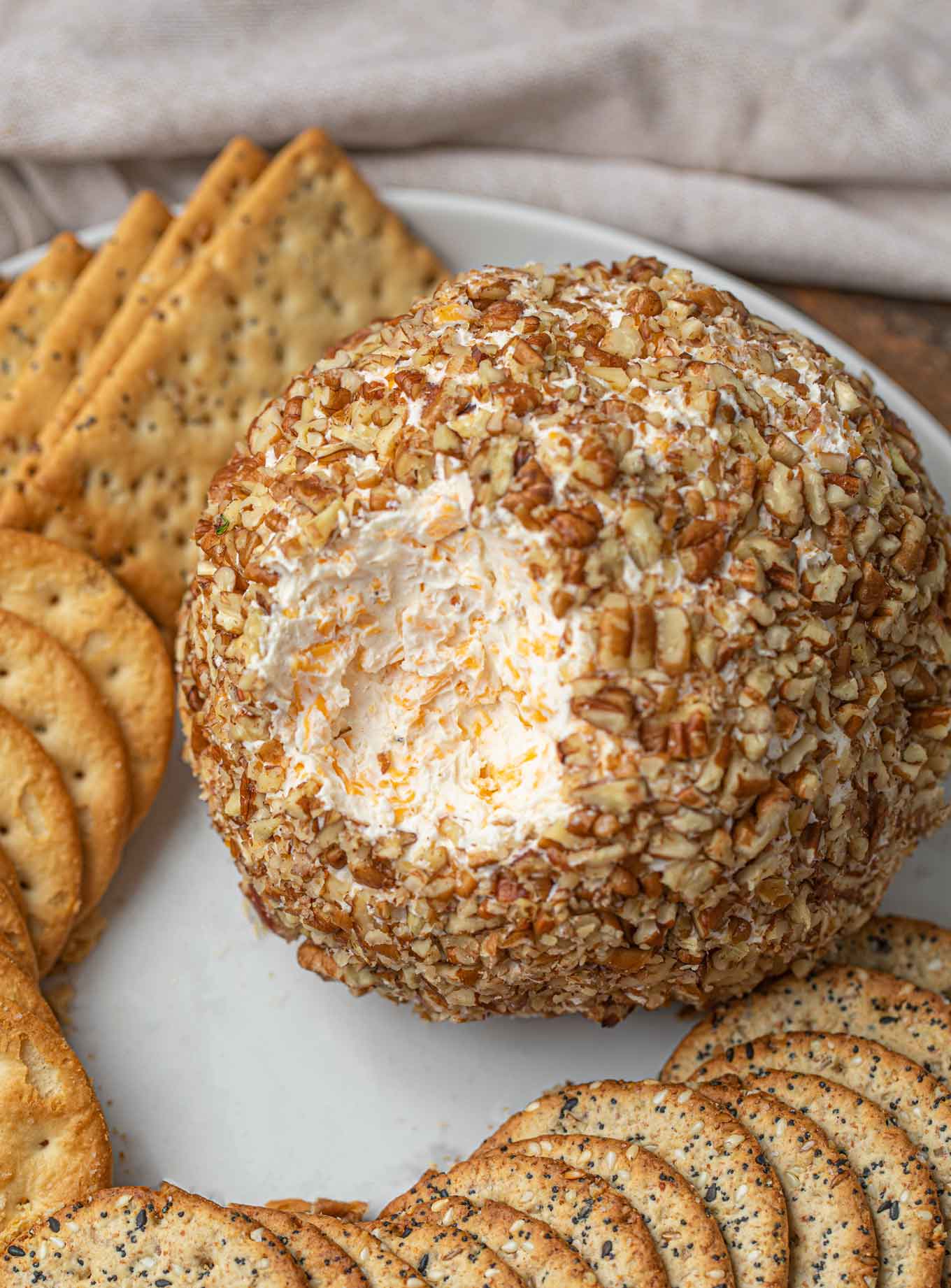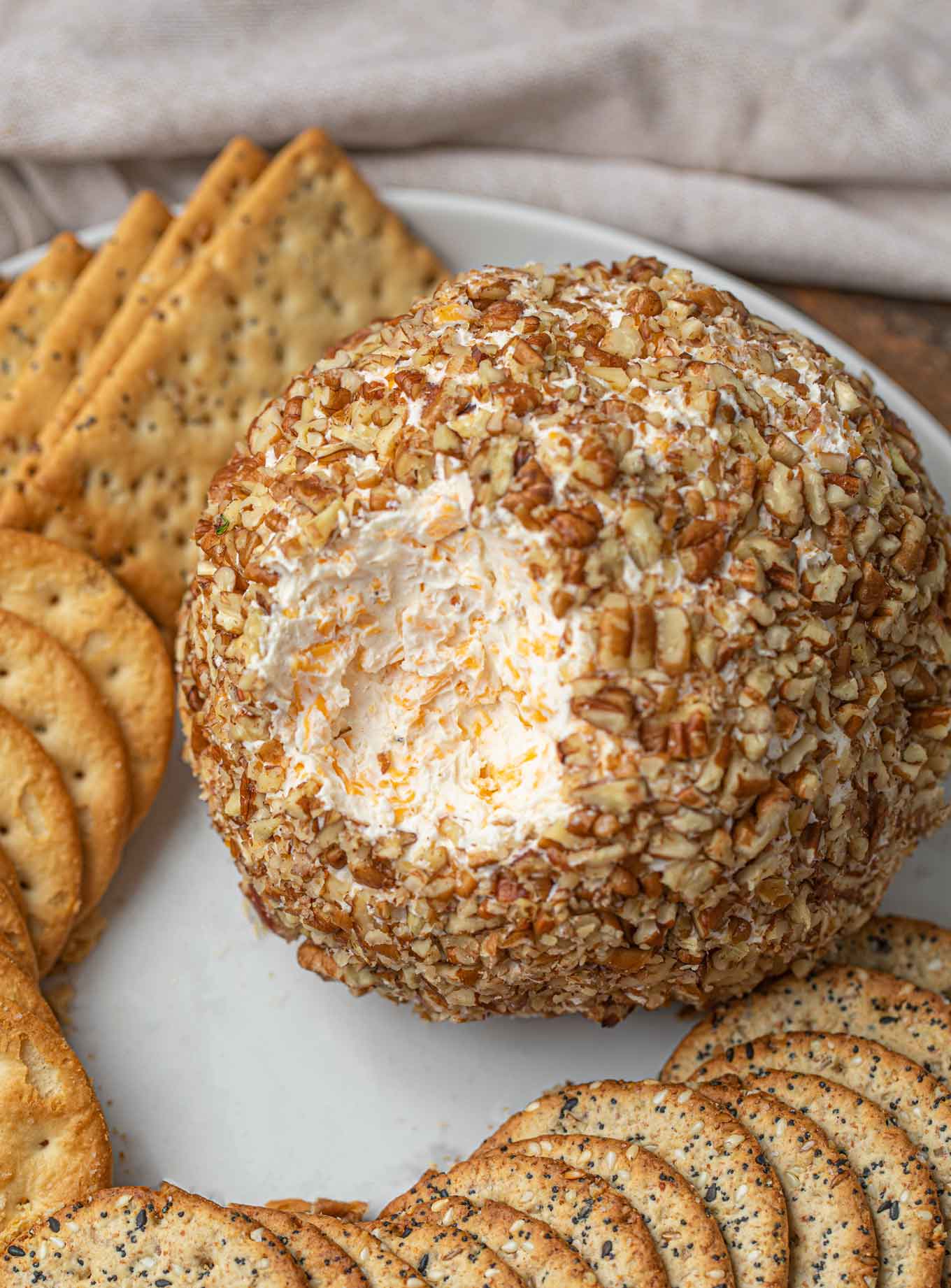 Cheese Ball
A cheese ball is an easy party appetizer made with cream cheese, cheddar cheese and pecans that is quick and perfect for any holiday party!
Total Time
1
hour
5
minutes
Ingredients
16

ounces

cream cheese

, softened but still slightly firm

1/3

cup

sour cream

8

ounces

medium cheddar cheese

, shredded

1/2

tsp

garlic powder

1/2

tsp

onion powder

pepper

, to taste

1

cup

pecans

, chopped small
Instructions
To a large stand mixer add the cream cheese, sour cream, cheddar cheese, garlic powder and onion powder and black pepper until smooth, about 1-2 minutes.

Put mixture in the refrigerator for 1 hour to chill.

Lay a large plastic wrap square on your counter and put the mixture on it, then gather the sides and bunch them up to help shape the mixture into a ball.

Add the chopped pecans to a large bowl and roll the cheese ball into the chopped pecans then serve with crackers.
Nutrition Facts
Cheese Ball
Amount Per Serving
Calories 207
Calories from Fat 180
% Daily Value*
Fat 20g31%
Cholesterol 49mg16%
Sodium 183mg8%
Potassium 85mg2%
Carbohydrates 2g1%
Protein 6g12%
Vitamin A 556IU11%
Vitamin C 1mg1%
Calcium 140mg14%
Iron 1mg6%
* Percent Daily Values are based on a 2000 calorie diet.