Spicy Mayo is a yummy, Asian cuisine inspired condiment made from mayonnaise and hot sauce.
The next time you sit down to enjoy homemade Asian Peanut Noodles, Potstickers, or Chicken Satay, you should try drizzling a little Spicy Mayo on top. The mayo is creamy, savory, and great on top of everything from sushi to French fries, as well as any other kind of appetizer you can imagine.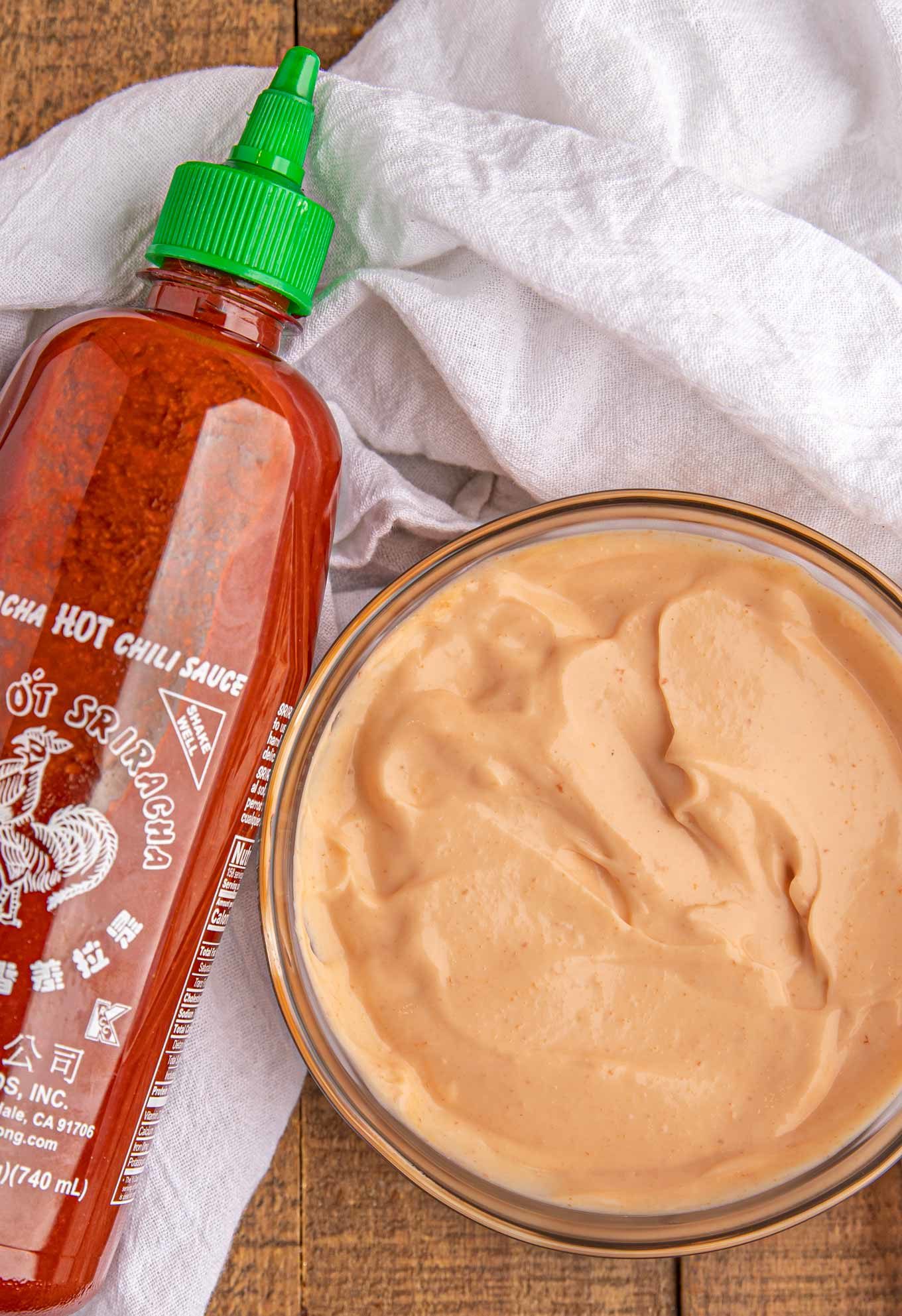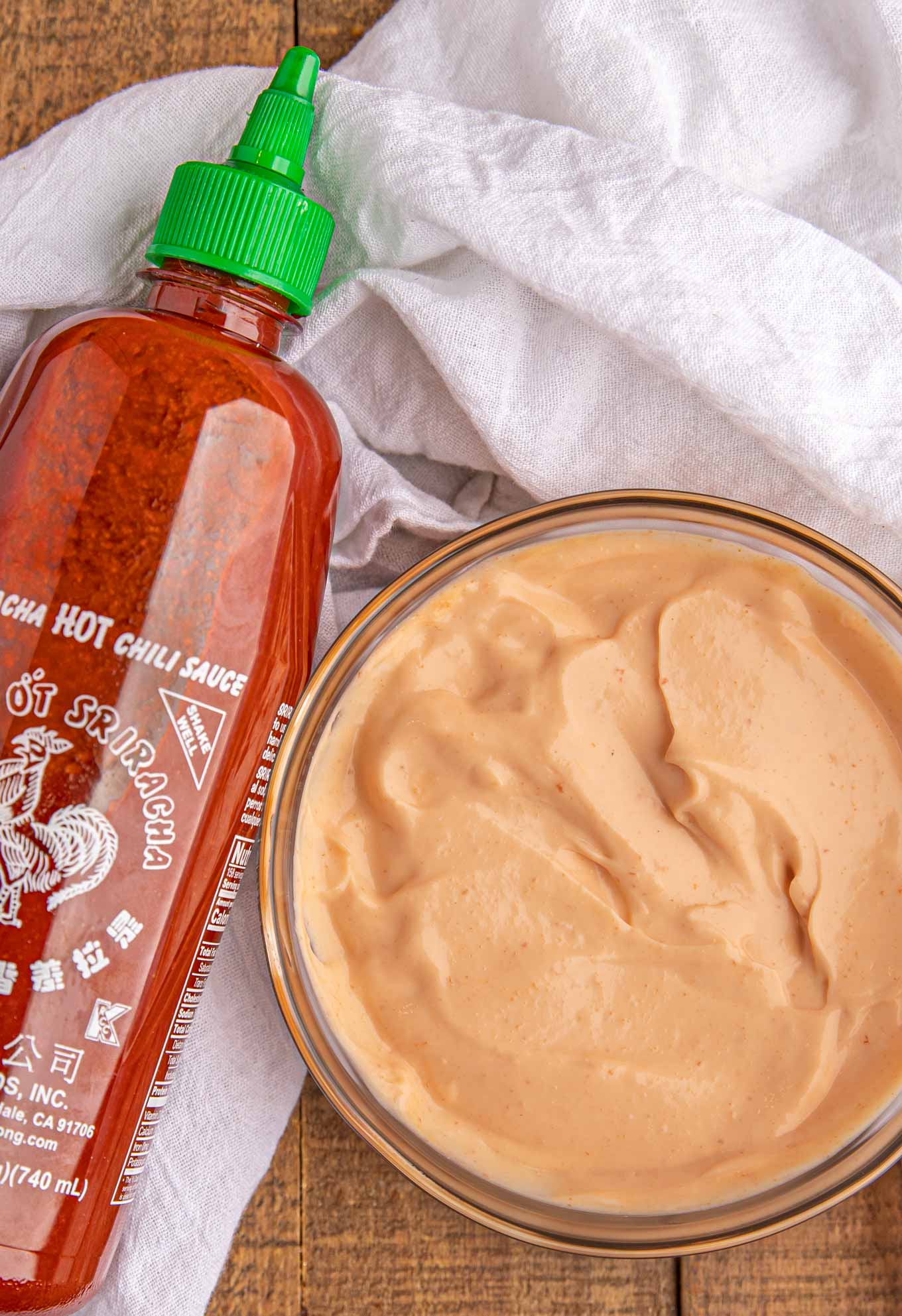 SPICY MAYO 
Spicy Mayo is rich, delicious, incredibly popular in a variety of sushi restaurants, and even easier to make. As far as dipping sauces go, Spicy Mayo is more versatile than soy sauce and much easier to make at home. It goes well on all sorts of delicious recipes.
One of my favorite recipes to top with this spicy mayo is Korean Ground Beef. It takes a simple ground beef dinner to another level!
Spicy Mayo in Burritos
We also love dipping Mongolian Beef in this sauce and using leftover Mongolian Beef, Chinese Steamed Rice, Steamed Broccoli, Cole Slaw and Spicy Mayo in a giant burrito.
I promise you something now, make that burrito I just listed above and you will be the new best friend of anyone who tries it. It is, amazing.
You can also make a similar burrito with any of our super popular ground Chinese food recipes including Ground Orange Chicken (based on our super popular Orange Chicken recipe), Ground Kung Pao Chicken, Ground Mongolian Beef or Ground Korean Beef. Psst, I did make a couple burritos like this btw.
Spicy mayonnaise is very common on sushi rolls because of how well the savory, slightly sweet sauce goes with the earthy taste of fish, but it also compliments beef, chicken, and tofu. This Asian sauce recipe only has two steps, and it keeps fairly well so you can make it early in the week and use it as a condiment on your dinners and packed lunches.
The nice thing about using this Spicy Mayo recipe is that you can customize it as much as you'd like, so if you're not a fan of overwhelmingly spicy sauces you can cut the hot sauce with more mayo. If you want to cut the flavor of mayo a bit without just spice you can even add in a bit of lime juice.
If you're nearing the end of a sriracha bottle this is actually the perfect time to make spicy mayo. You can store it in the bottle! I would make the sauce, wash the bottle thoroughly then pour it back in. You'll have a built in squeeze bottle and an easy way to remember what the sauce is!
Secret Ingredient: Sesame Oil
The secret ingredient that makes this a restaurant level spicy mayo? It isn't anything crazy, it's a few drops of sesame oil! The complex flavors flavor the entire sauce with just a tiny amount of sesame oil. Try it, I promise it will add a whole new depth of flavor to your spicy mayo you wouldn't have expected but now you'll never want to skip.
HOW TO MAKE YOUR OWN SPICY MAYO
Combine mayonnaise, Sriracha and sesame oil.
Let sit in the refrigerator for at least two hours before using.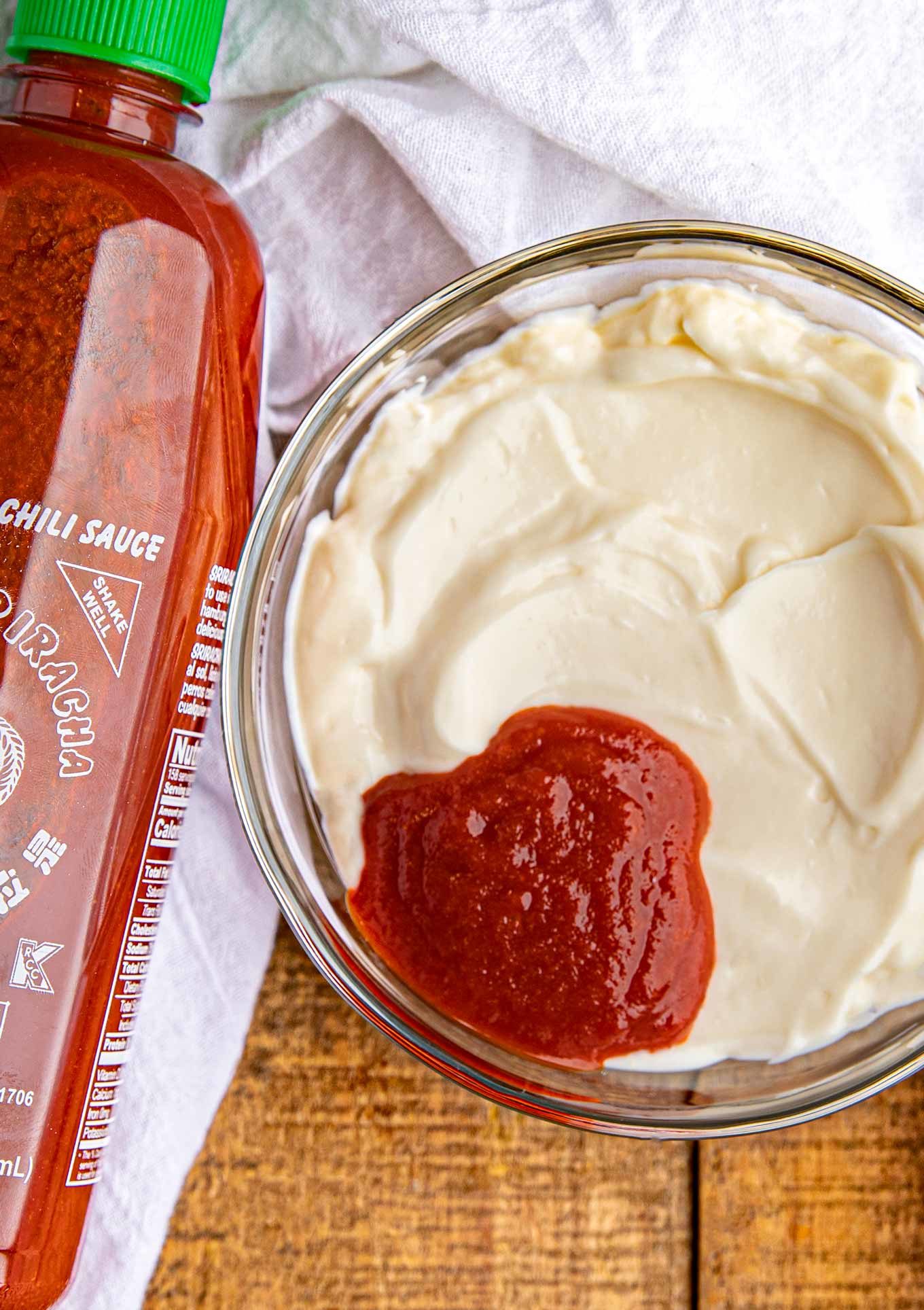 Create a free account to

Save Recipes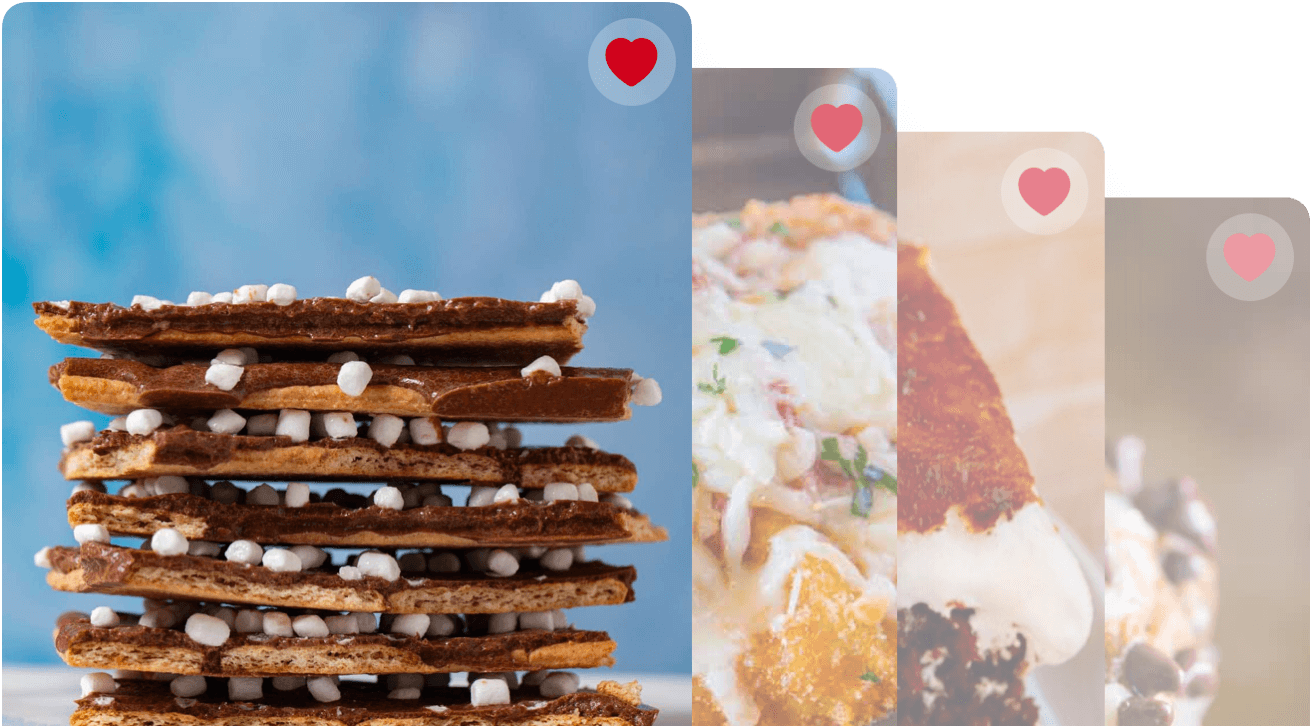 VARIATIONS ON SPICY MAYO
Spices: Try adding in some lemon juice or lime juice, or sesame oil. Stir well and shake the bottle you store it in between uses. The added citric acid or oils make the Spicy Mayo have a more complex flavor, which compliments a whole variety of main dishes.
Mixing sauces: Try adding a little bit of Korean gochujang, sriracha hot sauce, chili sauce, bbq sauce, soy sauce, or Thai peanut sauce to your Spicy Mayo. Based on what kind of food you're making, adding a few drops of sauce to the Spicy Mayo can alter the flavor and make it compliment the rest of the meal better.
WHAT TO SERVE WITH SPICY MAYO
Store: Seal up the Spicy Mayo in an airtight container or empty ketchup bottle and keep it in the fridge. The Spicy Mayo should stay good for up to about a week before you should throw it out and make some more.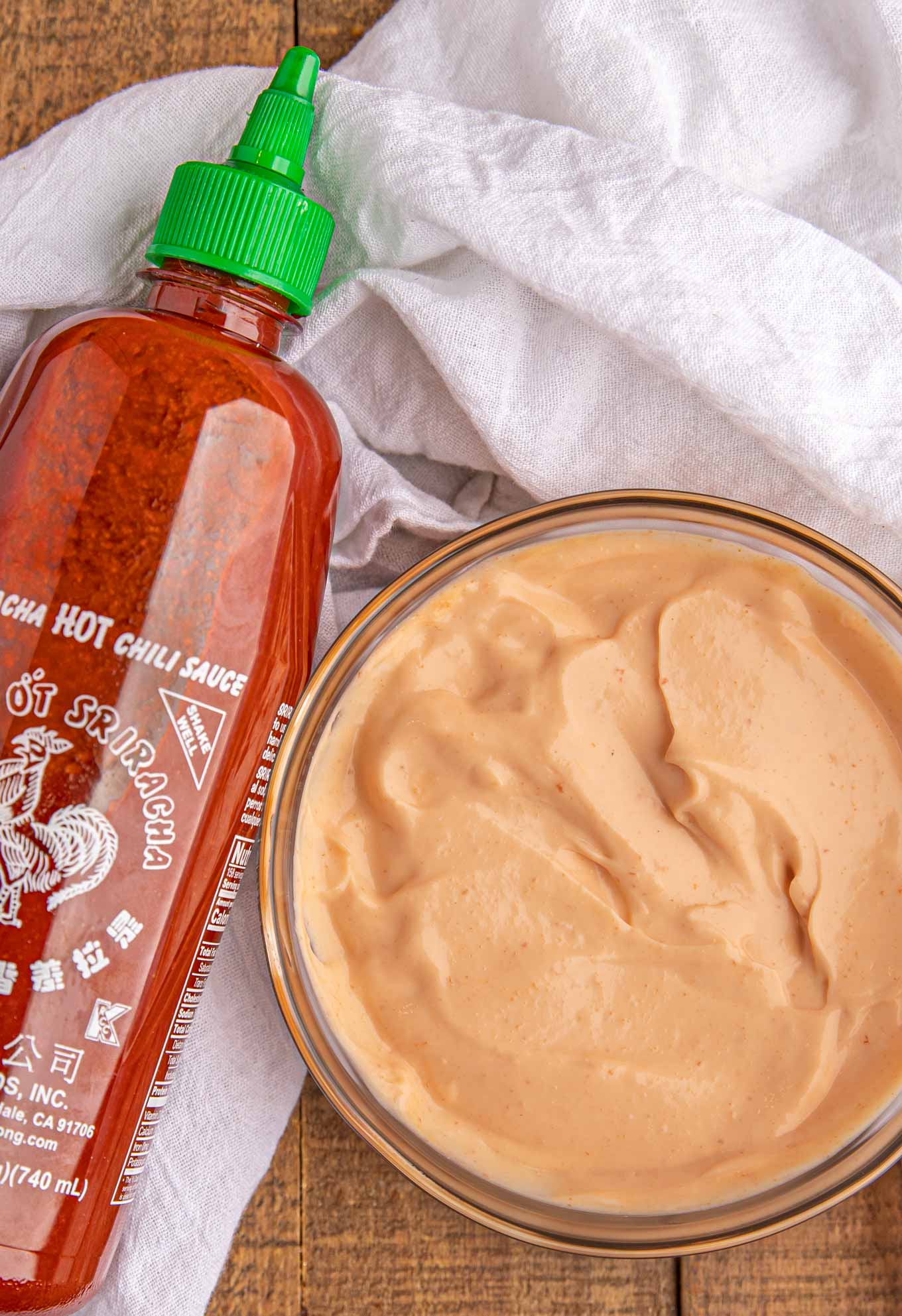 Spicy Mayo
Spicy Mayo is a quick and easy Asian sauce made with mayonnaise, Sriracha and the perfect secret ingredient that makes it restaurant worthy.
Ingredients
1

cup

mayonnaise

3

tablespoons

Sriracha sauce

1/8

teaspoon

sesame oil
Instructions
Combine mayonnaise, sriracha and sesame oil.

Refrigerate for 2 hours before using.
Nutrition Facts
Spicy Mayo
Amount Per Serving
Calories 64
Calories from Fat 63
% Daily Value*
Fat 7g11%
Cholesterol 4mg1%
Sodium 231mg10%
Potassium 9mg0%
Carbohydrates 1g0%
Protein 1g2%
Vitamin A 11IU0%
Vitamin C 5mg6%
Iron 1mg6%
* Percent Daily Values are based on a 2000 calorie diet.