Easy Spanish Rice, also called Mexican Rice, that tastes just like your favorite restaurant side dish with with an easy trick for perfectly fluffy rice!
Spanish Rice is a classic dish sometimes also referred to as red rice (arroz rojo). We love these classic base recipes like Enchilada Sauce and Homemade Taco Seasoning because they make quick dinners a breeze!
 Spanish Rice (Mexican Rice)
My favorite thing about going to Mexican restaurants is the rice. I've even just ordered a plate of red rice and green rice and enjoyed it with a bunch of salsa and chips. I'm pretty easy to please when it comes to piles of rice.
Rules for Cooking Rice:
First, please toast the rice in canola oil until it is translucent. By translucent I just mean it isn't as white as it started. You won't be able to see through the rice, but it will look kind of like foggy clear plastic.
Second, bring your rice to a rolling boil before lowering it to a simmer. If you add the liquids and immediately lower the heat you will not have rice that is done in 20 minutes. It will be almost raw.
Third, make sure you don't open the lid during cooking. When you open the lid of the rice all the steam that is so important to the cooking escapes. This means you will have to cook longer, won't have enough liquid in it and will have unevenly cooked rice.
Let your Rice REST. Once you turn off the heat after 20 minutes, leave the cover on for an additional five minutes. Then open the lid and rake the rice with a fork to fluff it up before serving.
Follow those rules of rice and I promise you're going to be happy.
This recipe is an easy classic, basic Mexican rice recipe. There are TONS of ways you can add flair and different flavors to this recipe to make it a bit more substantial too.
Like This
Like this recipe? Then Like us on Facebook!
Spanish Rice/Mexican Rice add-ins:
Tomato: Fresh diced tomatoes or even canned diced tomatoes are a great addition to the recipe and add lots of flavor.
Salsa: Salsa adds a ton of flavor. Add a cup of salsa and pull back on the chicken broth to just a cup.
Taco Seasoning: Skip the seasonings here and add a tablespoon and a half of taco seasoning.
Onion: 1 finely diced onion cooked for 5-6 minutes in a bit of canola oil before adding the rice to toast is a great flavor enhancer.
Lime Juice/Lime Zest: I add this at the end for a splash of fresh flavors.
Cilantro: Great as a garnish but I also sometimes cook with the cilantro as well.

Create a free account to

Save Recipes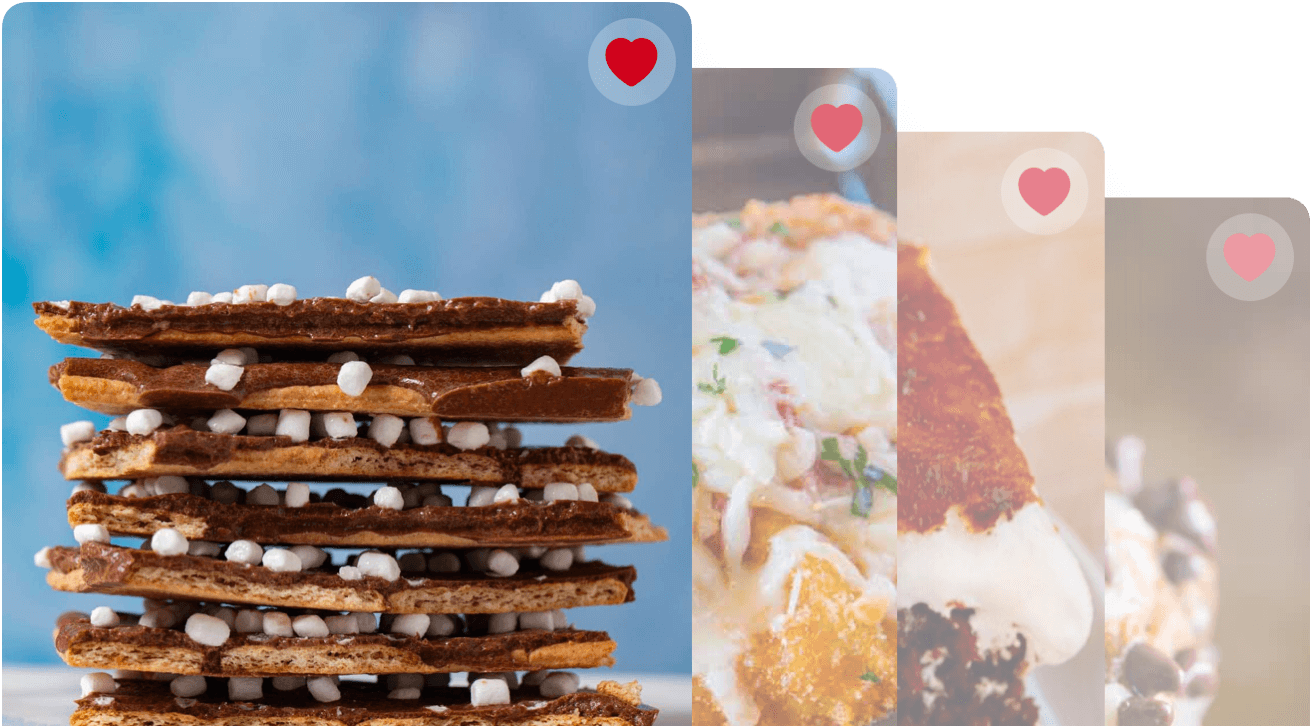 Frequently asked Questions:
Why is my Spanish Rice Sticky? If you don't take the time to cook the rice in oil until translucent you'll have the starch that is coating the rice create a sticky texture instead of a fluffy one.
Why is my Spanish Rice Mushy? Well aside from not cooking in oil to prevent the starch from creating a sticky texture, if your rice is mushy you likely overcooked the rice.
Why is the bottom of the rice burnt? If you cooked on a temperature that is too high (you should always bring to a boil before reducing to a simmer) then the rice will be burnt on the bottom and raw on top.
What kind of rice is best for Spanish Rice: I use long grain rice but you can also use basmati rice. Basmati rice won't be quite as fluffy as the grain isn't as wide. You can also swap brown rice as the flavors will help mask the traditional brown rice flavors kids don't like, but remember brown rice takes longer to cook than white rice.
What to serve with Spanish Rice? Classic recipes like tamales, burritos, quesadillas, taquitos, chimichangas, fajitas and more are obvious options that would pair well with this rice.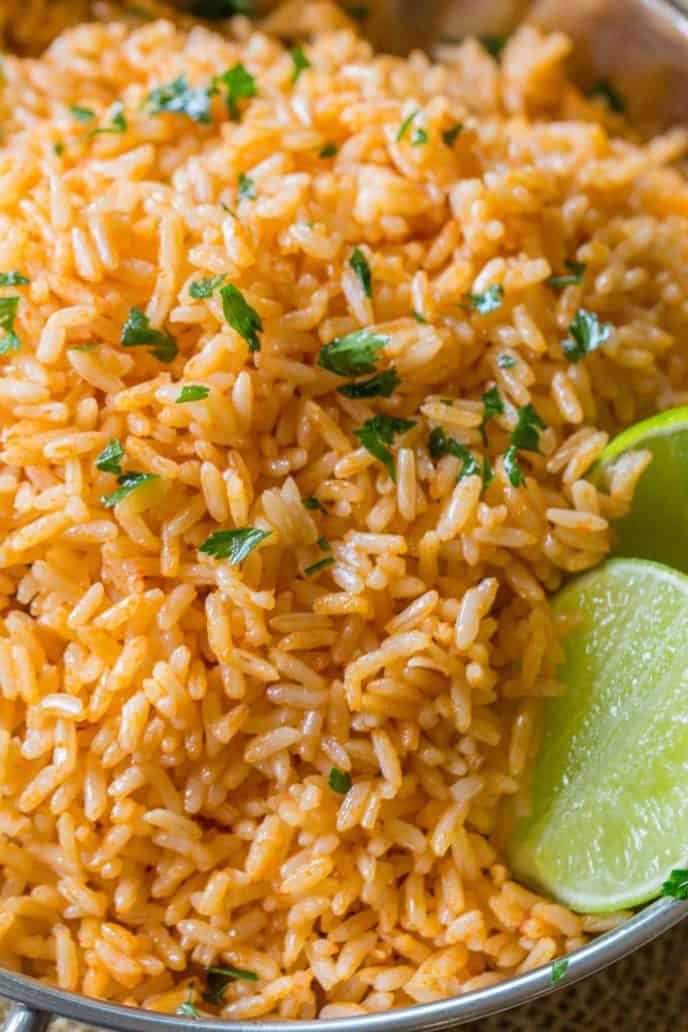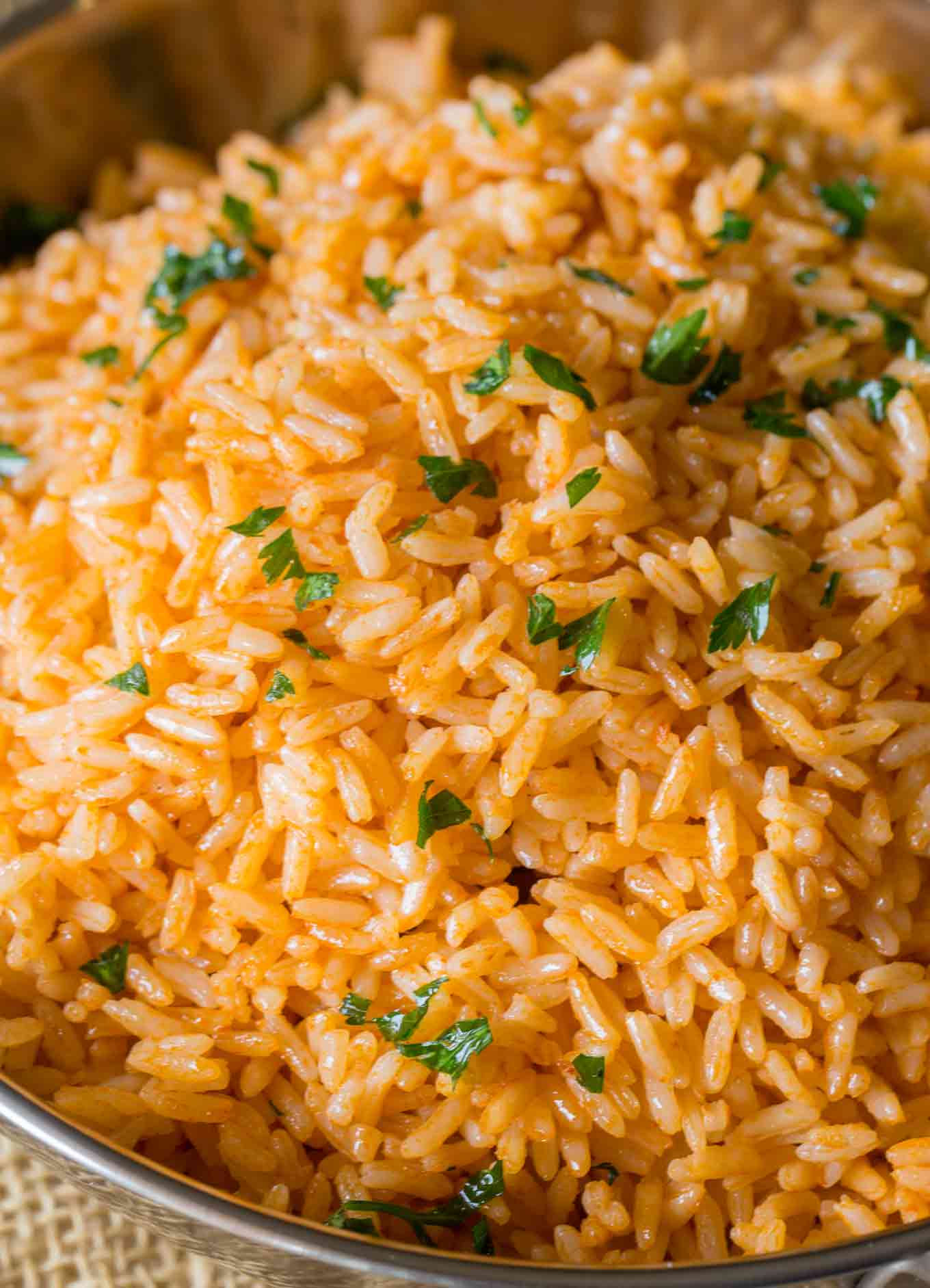 Spanish Rice
Easy Spanish Rice, sometimes called Mexican Rice that takes no time at all and tastes just like your favorite Mexican restaurant with an easy trick for perfectly fluffy rice!
Ingredients
2

tablespoons

canola oil

1 1/4

cups

uncooked white rice

1 1/2

cups

chicken stock

15

ounces

tomato sauce

1

teaspoon

chili powder

1/2

teaspoon

cumin

1

teaspoon

garlic salt

cilantro

optional
Instructions
Add the canola oil and rice in a dutch oven on medium high heat, stirring until translucent (less white, more see-through-ish), about 3-4 minutes.

Add in the broth, tomato sauce, chili powder, cumin and garlic salt. Bring to a boil, then lower the heat to simmer.

Cover, cooking 20 minutes then letting rest an additional five minutes before fluffing.
Nutrition Facts
Spanish Rice
Amount Per Serving
Calories 166
Calories from Fat 36
% Daily Value*
Fat 4g6%
Cholesterol 1mg0%
Sodium 639mg28%
Potassium 261mg7%
Carbohydrates 27g9%
Protein 3g6%
Vitamin A 305IU6%
Vitamin C 3.7mg4%
Calcium 16mg2%
Iron 1mg6%
* Percent Daily Values are based on a 2000 calorie diet.