Savory Sausage French Toast Bake is the perfect make-ahead holiday breakfast with melty cheddar, flavorful sausage, and soft-crunchy french toast.
When it comes to the holidays, or any morning when you need to feed a crowd, breakfast casseroles are the perfect Breakfast Recipe to try. Instead of standing over a skillet making individual servings all morning, you just pop the casserole in the oven. For more easy breakfast casseroles check out our Breakfast Casseroles page for some inspiration!
SAVORY SAUSAGE FRENCH TOAST BAKE
Just like pancakes or waffles, French Toast is one of those classic breakfast recipes that's impossible to get bored of. Especially because, you can change up classic French Toast in so many ways. We love trying new takes on traditional recipes. For some fun ways to experiment with French toast try Easy French Toast Bake, Blueberry Cream Cheese French Toast Bake, or this wonderful, savory French Toast Casserole.
When you think of French toast recipes, your mind probably goes to baked Texas toast with cinnamon-sugar, maple syrup, or other sweet toppings. However, this savory take on French toast is just as delicious and makes a nice change. The pork sausage and melty cheddar cheese pack the casserole with irresistible flavor. It's a favorite with kids and adults alike!
Easy French Toast Casserole is the perfect go-to dish to serve for the holidays or at a brunch. The next time your hosting a breakfast or brunch put out your French toast bake with some easy toppings like maple syrup or bacon bits. Your guests can serve themselves. All you have to do is put out the casserole dish, sit back, and enjoy yourself!
OVERNIGHT SAUSAGE CHEDDAR FRENCH TOAST CASSEROLE
Making French toast into a casserole makes it easy to serve to a crowd, and simple clean up. You can start the casserole a day ahead of your event with Overnight French Toast Casserole. Here are the step-by-step instructions to prep ahead:
Start by browning the sausage as usual. Next, whisk together the egg, milk, sausage and cheese.
Dip your slices of French bread in the egg mixture and lay them across your casserole dish.
Pour the remaining egg mixture over the top. Cover the
French Toast Casserole carefully and refrigerate overnight.
In the morning you'll just have to preheat the oven and bake the casserole to enjoy Overnight French Toast Casserole.
TIPS TO MAKING YOUR FRENCH TOAST CASSEROLE RECIPE
To avoid sogginess make sure you don't use too much milk in the custard. If there's too much dairy then the eggs in the mixture won't bake properly. This will lead to soft and soggy bread. The right amount of milk will make the toast crispy around the edges and outside with a soft center.
Make sure you mix the custard thoroughly. If you don't carefully mix the eggs, then egg whites will show up on the surface of your baked French Toast and make the recipe too eggy.
MORE BREAKFAST RECIPES FOR CHRISTMAS MORNING
DRY OUT BREAD FOR STUFFING OR BAKES
The perfect loaf of bread to make a French Toast Casserole will be crisp on the outside and slightly stale. Using bread that's a little bit stale will help the slices to soak up all the custard. Because of this using slightly old bread is ideal, however if you have fresh bread you can still make a great casserole. Try leaving your bread out overnight, or toast it for 15 minutes at 250 degrees before soaking it in the custard.
For this recipe we've recommended French Bread. The crunchy crust and soft inside of French bread make it a great option, especially if it's day-old bread. Some other good breads to try are sourdough bread, Texas toast, brioche, or even challah bread. Sourdough bread will come out the closest to this recipe because it also has a crisp crust. If you use a loaf of brioche, challah, or Texas toast it will be more soft. Because of this it's even more important to leave softer breads like brioche out overnight.

Create a free account to

Save Recipes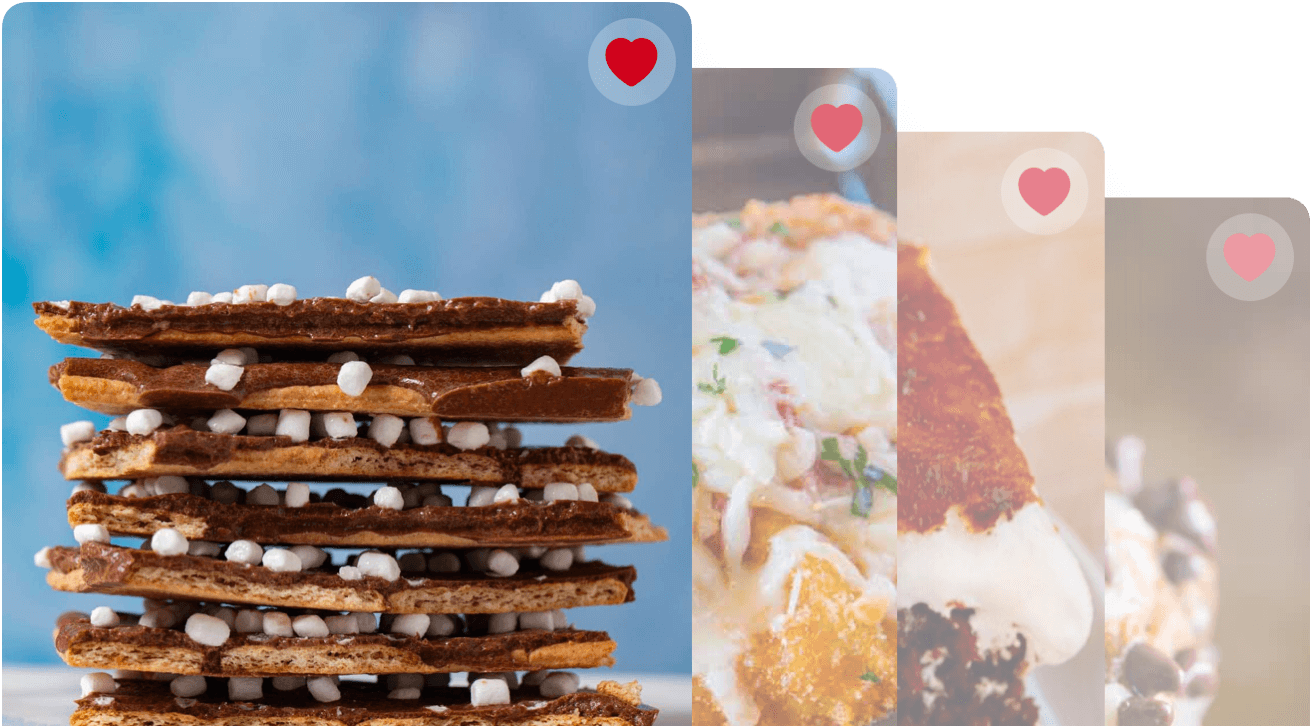 VARIATIONS ON SAVORY SAUSAGE FRENCH TOAST BAKE
Meat: Feel free to experiment with the ingredients based on what you have in your kitchen. Try making your French Toast Bake with bacon, ham, or turkey bacon.
Cheese: Just like the meat you can easily swap out the cheddar cheese for provolone, Swiss, mozzarella, or pepper jack cheese. Or use a blend of a few of your favorite cheeses.
Bread: Exchange the French bread for brioche, sourdough, rolls, or Texas toast. You can even try a gluten-free bread. Just remember to use slightly old bread so it's a little stale.
French Toast Casserole with Heavy Cream: To make a creamier French Toast Casserole recipe, try using one part milk and one part heavy cream or half-and-half in the custard mixture. You can also top the the easy French Toast Casserole with tablespoon sized pieces of cream cheese divided over the top. Parts of the cream cheese will melt into the bake while its in the oven making for an extra creamy and rich French Toast.
Cinnamon and Brown Sugar French Toast Casserole: Next time you make this bake, instead of making a savory French toast, you can ditch the cheese and sausage for a sweet mixture. For the egg mixture whisk together 2 cups milk, 8 eggs, 1/4 cup brown sugar, 1 teaspoon vanilla extract, 1 teaspoon cinnamon, and 1 pinch salt. Soak the bread in it as usual then lay them across the baking dish. Cover the dish and refrigerate overnight. For the cinnamon and brown sugar streusel topping mix 1/2 cup brown sugar, 1/3 cup all-purpose flour, 1/2 teaspoon cinnamon, 1 pinch salt and 4 tablespoons softened butter. Sprinkle the cinnamon topping over the bread and put it in the oven for 25-30 minutes. You can always make this recipe a double batch and make one savory and one sweet to cover all your bases on Christmas morning.
Toppings: Whether you make the savory or sweet version of this bake there are plenty of toppings you can serve with it. For the savory version put out some extra cheese, maple syrup, and bacon bits to sprinkle over the top. If you make a sweet version put out some cinnamon, nutmeg, powdered, sugar, vanilla syrup, or maple syrup. The great thing about maple syrup is that it will taste delicious on either the savory or sweet version of your French Toast Casserole.
Dairy-free Baked French Toast: To make a non-dairy version of this French Toast Casserole, you'll have to replace the cheese and the milk. You should be able to find vegan cheese options at your grocery store, and replace the milk with almond or coconut milk.
MORE SAVORY BREAKFAST RECIPES
HOW TO STORE SAVORY SAUSAGE FRENCH TOAST BAKE
Serve: Don't leave Baked French Toast Casserole at room temperature for more than 2 hours, after baking.
Store: Allow the French Toast Casserole to cool to room temperature before storing it. Cover the baking dish in tin foil or plastic wrap, and refrigerate for up to a week.
Freeze: Keep French Toast Casserole in the freezer for up to 3 months. Let it defrost in the fridge before reheating it.
Savory Sausage French Toast Bake
Savory Sausage French Toast Bake is the perfect make-ahead holiday breakfast with melty cheddar, flavorful sausage, and soft-crunchy french toast.
Ingredients
1

pound

pork sausage

8

large

eggs

2

cups

whole milk

1

teaspoon

Kosher salt

1/2

teaspoon

coarse ground black pepper

2

cups

shredded cheddar cheese

16

ounces

French bread

, (16 ounces, sliced 1" thick)
Instructions
Preheat oven to 350 degrees and spray a 9x13 baking dish with vegetable oil.

Cook sausage in a large skillet on high heat, breaking it apart as you cook it, until it is browned, about 5-6 minutes.

Remove sausage from pan, draining from the fat.

In a large bowl mix together egg, milk, salt, pepper, cheese and sausage.

Dip the bread into the milk mixture then add the French bread to the baking dish in a single layer and carefully pour over the remaining egg mixture.

Bake, uncovered, for 30-35 minutes until browned and the custard is set.
Nutrition Facts
Savory Sausage French Toast Bake
Amount Per Serving
Calories 373
Calories from Fat 189
% Daily Value*
Fat 21g32%
Cholesterol 175mg58%
Sodium 810mg35%
Potassium 260mg7%
Carbohydrates 24g8%
Protein 20g40%
Vitamin A 463IU9%
Vitamin C 1mg1%
Calcium 220mg22%
Iron 3mg17%
* Percent Daily Values are based on a 2000 calorie diet.