Classic Potato Salad with a creamy mayonnaise dressing with relish, mustard and celery salt coating potatoes and chopped hard boiled eggs.
Potato Salad is the most popular summer side dish according to a new poll. We love bbq's and picnics serving this along with Easy Pulled Pork and our fan favorite Fried Chicken.
Easy Potato Salad
Potato Salad doesn't just have to be for summer. I'm fighting summer ending right now and I've been grilling and having outdoor dinners for us every night for the last two weeks.
This potato salad is the classic recipe you're looking for. This is the tested, delicious classic recipe you've grown up enjoying. Except with this recipe you can keep the extra money in your pocket.
Ingredients in Potato Salad:
How do you make classic potato salad? Classic potato salad is made of russet potatoes, hard boiled eggs, mayonnaise, mustard and sometimes relish. You don't *need* to use eggs in your potato salad if you don't prefer them, but for those who do we've included directions below for how to hard boil eggs for this recipe.
Potatoes: The classic potato used in potato salad is the russet potato but you can certainly use red potatoes or even Yukon Potatoes. The yukon (or gold) potato had a more buttery flavor and creamy texture which we love in this Yukon Gold and Green Onion Potato Salad with Bacon Vinaigrette, but in order to keep this as much of a classic as possible we are using russet potatoes.
Eggs: These are an optional, but classic addition. You can certainly leave them out and add in an extra potato instead.
Mayonnaise: Regular or light work great, you won't taste the difference. For swaps look below for more options.
Relish: We use sweet relish but for an added depth of flavor but you can use dill pickle relish in equal quantities if desired.
Mustard: Personal preference, we use dijon mustard in the recipe. Yellow or Spicy Brown will work well too, the mayonnaise tempers the strong flavors well.
Celery: This adds a crunch to your recipe, with the softer texture of your potatoes and eggs having a textural difference is important. If you don't like celery you can swap for red bell peppers or jicama.
Onion: A classic flavor, this is blended into the dressing so you don't bite into onion pieces. If you want to skip the food processor step simply finely mince the onions instead so you don't bite into large pieces of onion.
Celery Salt: Celery salt is a classic flavor in potato salad, you can swap the plain salt for more celery salt if desired.
Ground Mustard: This adds the classic yellow color to your potato salad. You can swap any other mustard you'd like (we recommend 1-2 teaspoons of a bottled mustard).
How To Hard Boil Eggs:
Place the eggs in a large pot with cold water covering them by 1 inch and bring the water to a simmer.

Cover with a lid, turn off the heat and let sit for before removing the eggs and placing in ice water then peeling.
TIPS FOR MAKING HARD BOILED EGGS
Peel the eggs right after they come out of the ice bath, otherwise it might be difficult to get the shell off.
Salt the water when you're boiling the eggs, which helps them peel easily when they're done.
EASY SUMMER SIDE RECIPES

Create a free account to

Save Recipes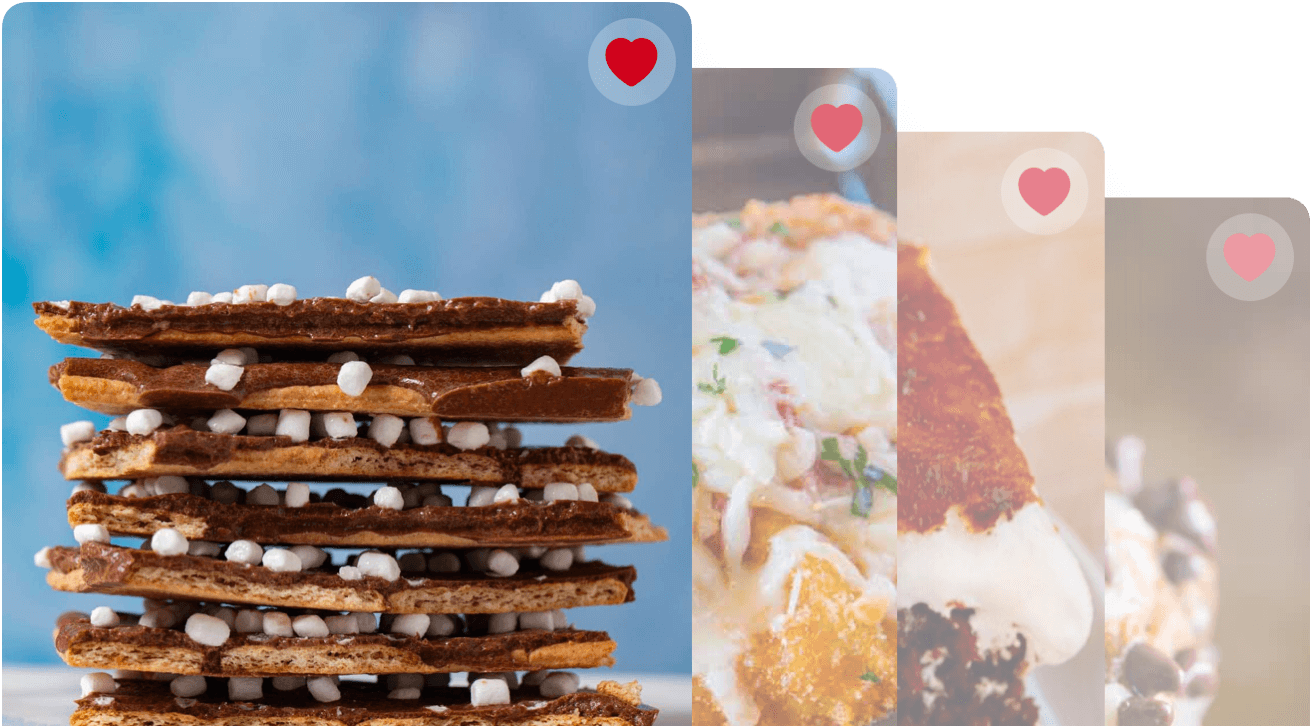 POTATO SALAD FLAVOR VARIATIONS
Dill Pickles or Pickle Juice: This is a classic mix-in idea many people love. If you want a less sweet flavor swap out the relish for finely diced dill pickles instead.
Apple Cider Vinegar and Oil: If you are averse to mayonnaise you can make this potato salad mayo-free with a vinaigrette instead. It won't be creamy but it will still be full of flavor. I would use apple cider vinegar in place of white vinegar which is just too harsh.
Sour Cream: If you want to cut back on the amount of mayonnaise you can swap out some of the mayonnaise for sour cream or greek yogurt, but don't swap out more than half the mayo this way or it won't taste anything like classic potato salad anymore.
Yellow Mustard: If you like a stronger acid flavor but want to keep the mixture creamy add in some yellow mustard instead of ground mustard.
Dijon Mustard or Hot Mustard: Either mellow out the mustard flavor or give the potato salad a kick with either of these options.
Bacon: You'll never go wrong with bacon, add most of to the salad when mixing and garnish with the rest.
Onions: We use yellow, but red onions would be a mellow addition.
EASY RECIPES TO SERVE WITH POTATO SALAD:
Tips For Making Potato Salad
Lighten up the calories in this recipe by using light mayonnaise and boiled and chopped egg whites. You can also swap half the mayonnaise for plain Greek yogurt.
Add a dash of cayenne pepper, curry powder, dill, or paprika to the potato salad to add some spice and flavor.
We sometimes use dijon mustard instead of ground mustard because it adds a deeper flavor.
How to Store Potato Salad:
Serve: Potato Salad is traditionally served up chilled and it has mayonnaise in it, so you shouldn't leave it out for longer than about 2 hours.
Store: You can keep the salad for up to about 3 days in the fridge, as long as it's kept in something airtight.
Freeze: Potato should be eaten fresh or out of the fridge, freezing mayonnaise based recipes is not recommended.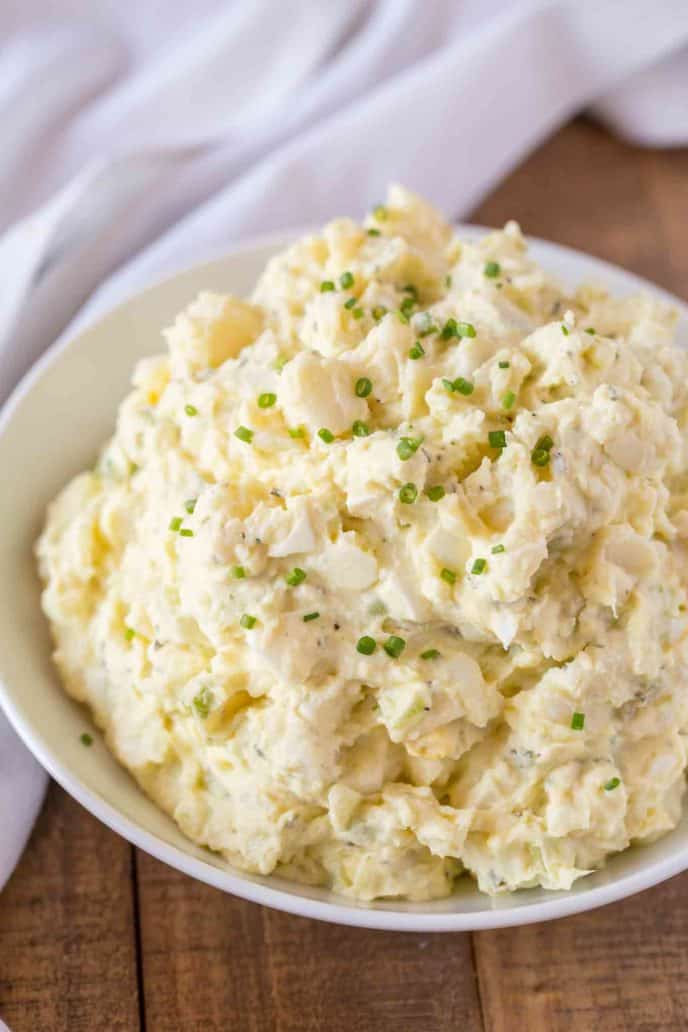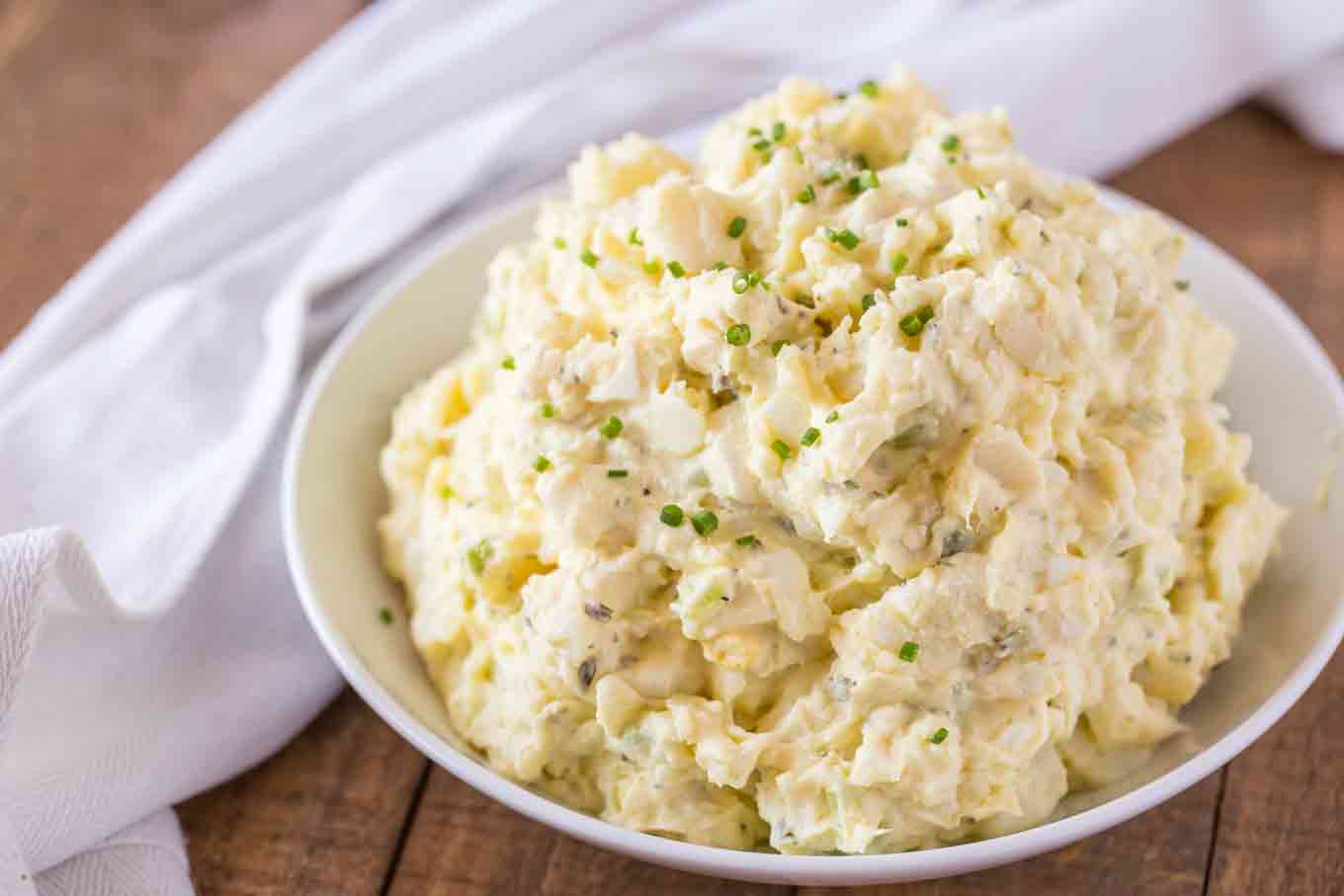 Potato Salad Recipe
Classic Potato Salad with a creamy mayonnaise dressing with relish, mustard and celery salt coating potatoes and chopped hard boiled eggs.
Ingredients
5

medium

russet potatoes

, peeled and cut into 1" chunks

1/2

yellow onion

, diced finely

1/2

teaspoon

kosher salt

1/2

teaspoon

celery salt

1/2

teaspoon

ground mustard

3/4

cup

mayonnaise

, (regular or light)

3

large

hard boiled eggs

, peeled and chopped

1

stalk

celery

, diced finely

1/4

cup

sweet pickle relish
Instructions
Add potatoes to a large pot and fill with water until the potatoes are 1-2" below the water level and bring to a boil on high heat.

Reduce heat to medium-high and cook potatoes for 6-8 minutes until they're easily pierced by a fork but still firm.

Drain the potatoes and let them cool in a large mixing bowl for 10 minutes.

Add the onion, salt, celery salt, mustard and mayonnaise to a food processor to combine or whisk together (if you whisk grate the onion first).

In your large mixing bowl with the potatoes, add the eggs, celery, sweet relish and mayonnaise mixture mix well (gently) before refrigerating for at least two hours.
Nutrition Facts
Potato Salad Recipe
Amount Per Serving
Calories 106
Calories from Fat 81
% Daily Value*
Fat 9g14%
Cholesterol 73mg24%
Sodium 439mg19%
Potassium 46mg1%
Carbohydrates 3g1%
Protein 2g4%
Vitamin A 215IU4%
Vitamin C 0.7mg1%
Calcium 13mg1%
Iron 0.3mg2%
* Percent Daily Values are based on a 2000 calorie diet.