Oatmeal Raisin Cookies are the BEST soft and chewy cookie recipe, made with quick cooking oats, vanilla and raisins, ready in less than 20 minutes!
If you're looking for delicious cookie recipes you'll also love Chocolate Chip Cookies, Lemon Cookies and Brown Sugar Cookies.
OATMEAL RAISIN COOKIES RECIPE
Oatmeal Raisin Cookies are soft and chewy and full of buttery rich flavors! This cookie recipe is about as easy and old fashioned as it gets, and it's definitely one of my personal favorite cookie recipes.
You can add any seasonal spices you'd like to these cookies, like nutmeg, pumpkin pie spice, or allspice. I've also made these with dried cranberries and butterscotch chips before, and they're always popular. Mix-ins are an easy way to take a base recipe and make Christmas baking much easier.
Assemble a double or triple batch and add different mix-ins after you separate the batter into different bowls and you've significantly cut down cookie prep times!
As far as desserts go, these definitely disappear the fastest. I also use an ice cream scoop to help make each cookie the same size.
One of the best tips I've learned to make tasty cookies is to mix your dry ingredients together before mixing everything else in. This makes sure everything gets mixed evenly, and you'll have much better results for it.
WHICH OATMEAL IS BEST FOR COOKIES?
You have a few options when choosing oats for oatmeal cookies. A lot of recipes will call for old fashioned rolled oats, and they do add a lot of chewy texture to the cookie.
Personally, I like to use quick cooking oats for two reasons. First, quick oats tend to make the cookie softer. Second, it's what I always have in my house. Instant oatmeal also cooks faster (even in cookie form), and in my opinion tastes the same as the rolled oats.
Honestly, no matter which oat you choose, the cookies are going to taste incredible, it's just a texture preference.
WHAT KIND OF NUTS CAN YOU USE IN OATMEAL COOKIES?
For this oatmeal cookie recipe you can add chopped pecans, walnuts, or almonds. Either one of these would taste good and add some crunch to the cookie.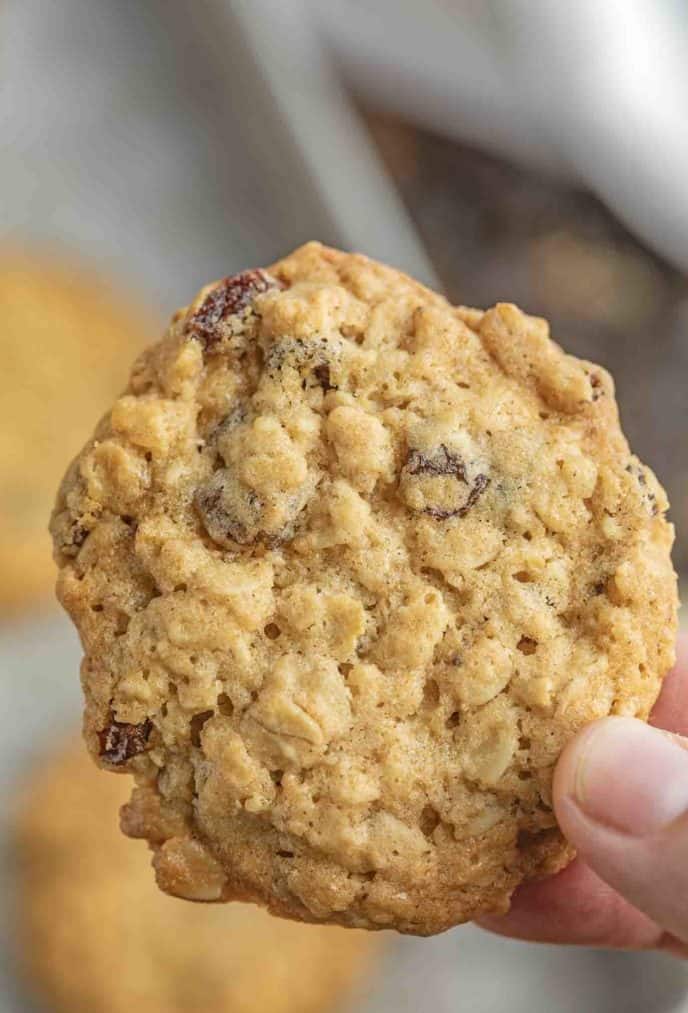 Create a free account to

Save Recipes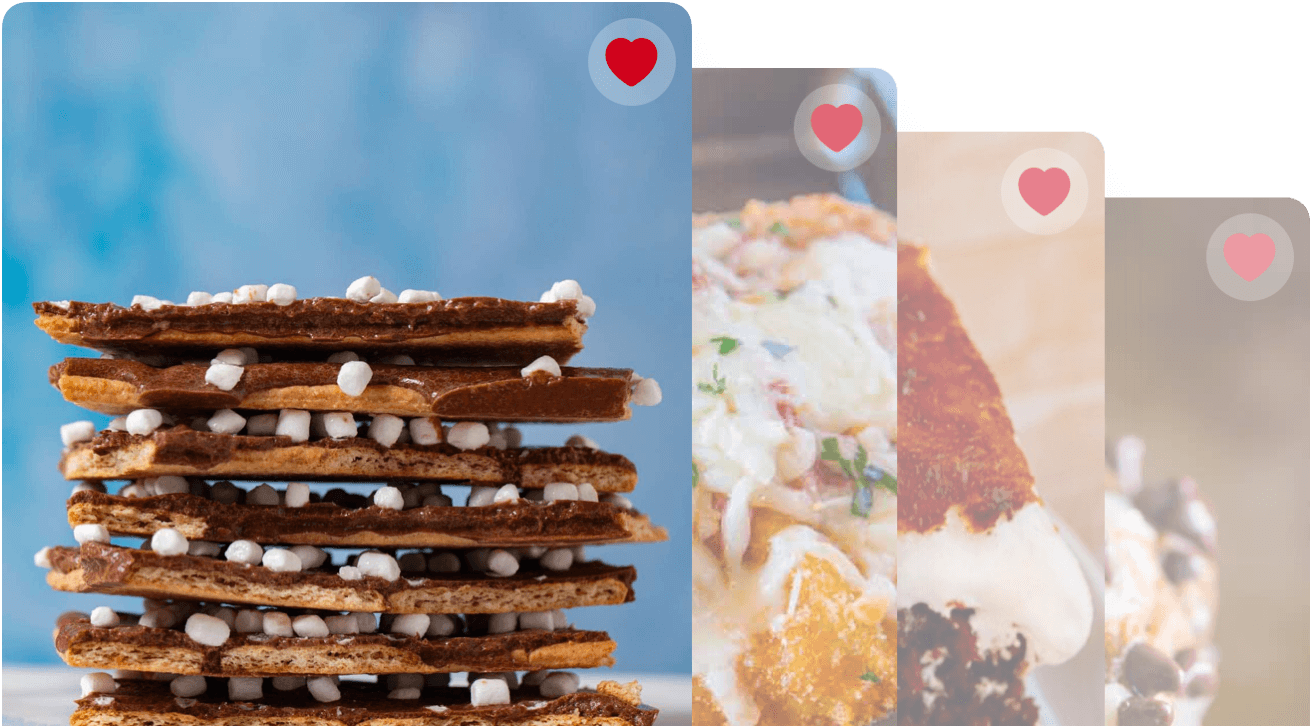 CAN YOU FREEZE OATMEAL RAISIN COOKIES?
Oatmeal Raisin cookies can be frozen in both finished cookie or dough form. For fully cooked cookies, make sure they're at room temperature before wrapping them tightly and freezing.
When you're ready to bake, let them come to room temperature on the counter, or warm them in the oven at 300 degrees F for about 10 minutes before serving.
If you freeze the dough, you can either defrost it in the refrigerator and scoop it onto your cookie sheet when it's soft enough, or freeze it already scooped out into individual cookies.
To do this, scoop your cookies onto the baking sheet and place the baking sheet in the freezer for 30-45 minutes, or until the dough is just starting to freeze. Then place the cookies in an airtight container with pieces of parchment paper in-between to keep them from sticking together.
Bake your cookies straight from frozen, adding 3-4 minutes to the normal cook time.
SUBSTITUTE FOR BROWN SUGAR?
Brown sugar helps give the cookies a deep molasses flavor and golden brown color. If you find yourself without any, you can replace it cup for cup with white granulated sugar.
MORE COOKIE RECIPES TO TRY
TIPS FOR CLASSIC OATMEAL RAISIN COOKIES
Add 1/2 cup of semisweet chocolate chips for oatmeal chocolate chip cookies. You can also use dark chocolate chips for a less sweet flavor, and butterscotch or white chocolate chips for even more sweetness.
If your cookies are spreading too much, try adding a few tablespoons of all purpose flour to your dough, and refrigerating your dough for 20-30 minutes.
Make your oatmeal cookies more crunchy by leaving them in the oven slightly longer than usual. This will dry out the cookie a little bit more and give it that nice crunchy texture.
Line your baking sheet with parchment paper to keep the cookies from sticking, and to make cleaning up easier!
If you make this with gluten free flour and certified gluten free oats, use an extra teaspoon of vanilla extract.
Use dark brown sugar for a richer molasses flavor in the oatmeal cookies.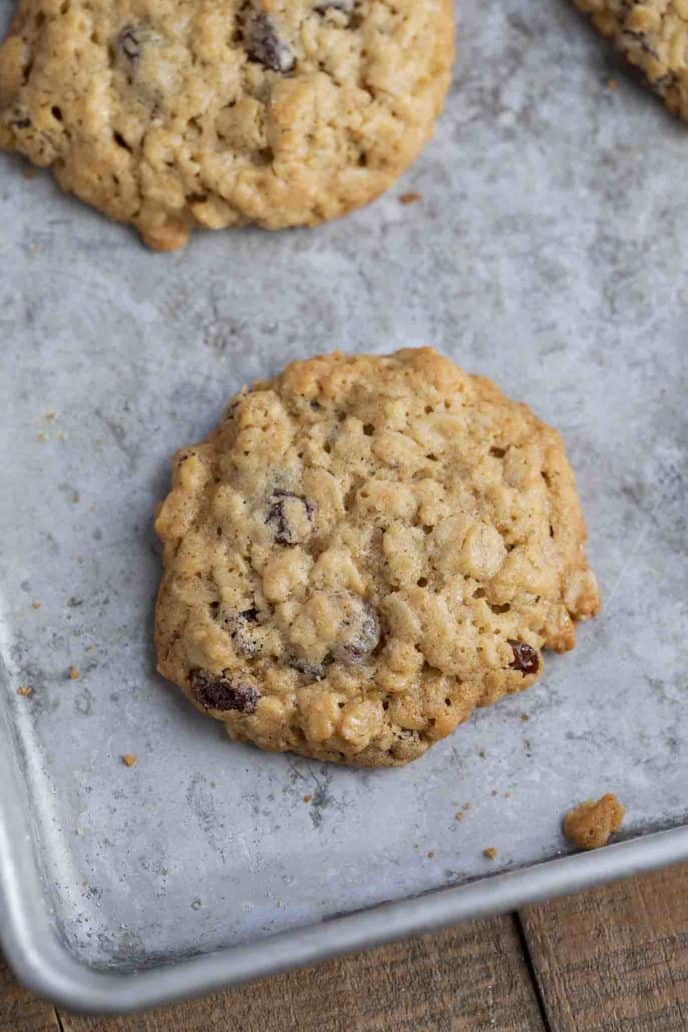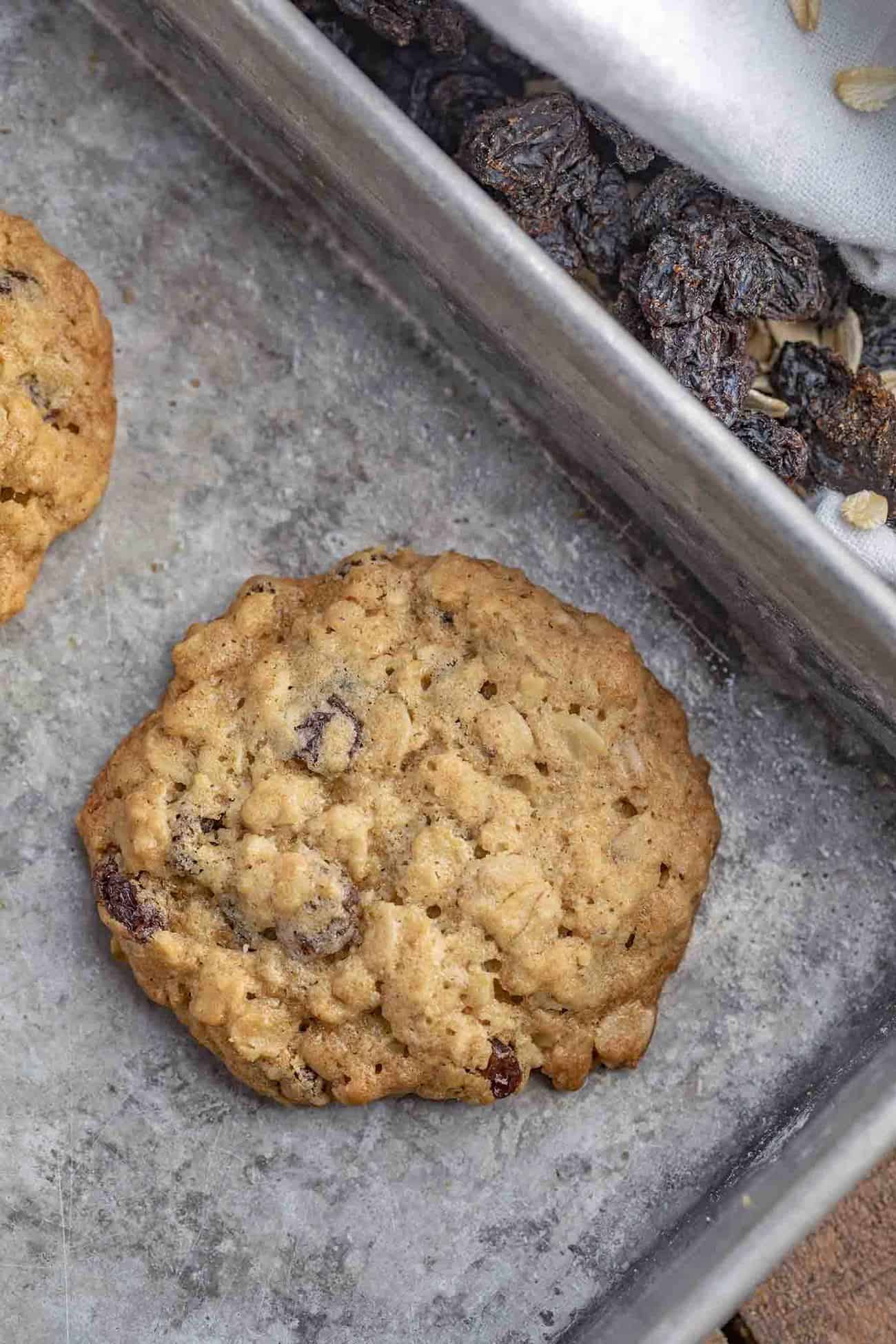 Oatmeal Raisin Cookies
Oatmeal Raisin Cookies are the BEST soft and chewy cookie recipe, made with quick cooking oats, vanilla and raisins, ready in less than 20 minutes!
Ingredients
1

cup

unsalted butter

softened

3/4

cup

white sugar

1

cup

packed brown sugar

2

large

eggs

2

teaspoons

vanilla extract

2

cups

flour

1

teaspoon

baking soda

1

teaspoon

salt

2

teaspoons

ground cinnamon

3

cups

quick cooking oats

1

cup

raisins
Instructions
Preheat the oven to 375 degrees and in a stand mixer cream together the butter, sugar and brown sugar until lightened and fluffy before adding in the eggs and vanilla.

Mix the flour, baking soda, salt and cinnamon together in a small bowl and add it into the stand mixer in small batches until it is all just combined, then add in the oats and raisins.

Roll the dough in two tablespoon sized balls and bake for 8-10 minutes (the middles will look slightly undone, but the edges will have a hint of brown).
Nutrition Facts
Oatmeal Raisin Cookies
Amount Per Serving
Calories 302
Calories from Fat 99
% Daily Value*
Fat 11g17%
Cholesterol 47mg16%
Sodium 205mg9%
Potassium 156mg4%
Carbohydrates 46g15%
Protein 4g8%
Vitamin A 345IU7%
Vitamin C 0.4mg0%
Calcium 29mg3%
Iron 1.7mg9%
* Percent Daily Values are based on a 2000 calorie diet.