Flourless Peanut Butter Cookies with just 4 Ingredients Total!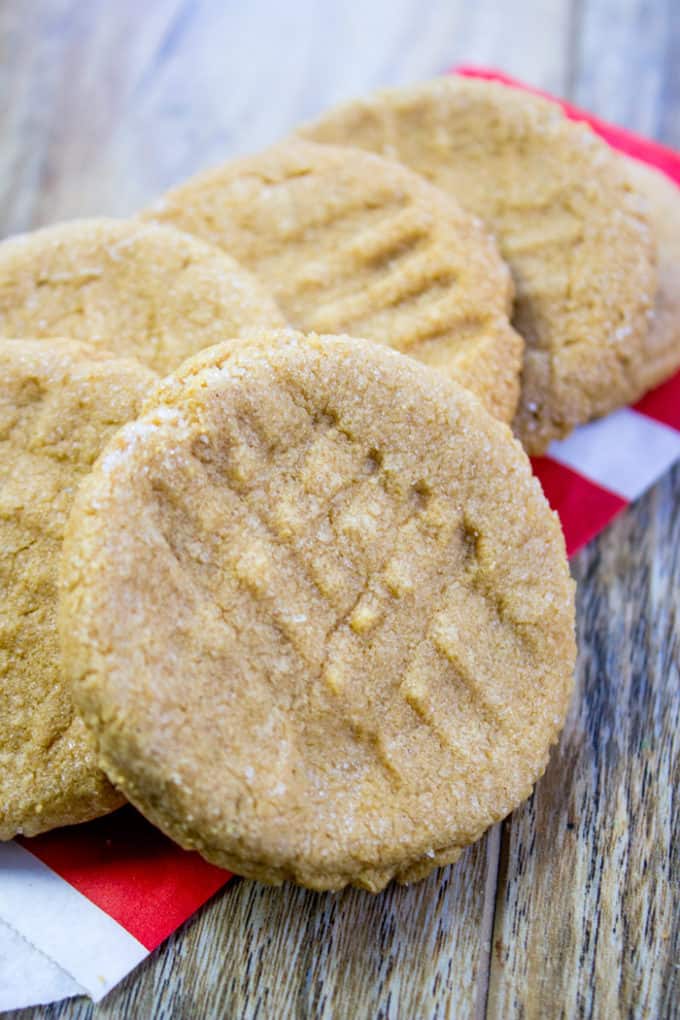 Flourless Peanut Butter Cookies have been a staple of our cookie rotation for almost ten years. They're so easy to make, from start to finish they take about 20 minutes. In fact just pre-heating the oven takes longer than making the batter and scooping it onto the pans.
I first came across this recipe at a family BBQ. A family friend told me about this rule of thumb 1:1:1:1 ratio of the ingredients and how it was the most popular recipe and cookie for a bakery she was working at. I was intrigued because:
No stand mixer, just a whisk and a cookie scooper
One bowl!
4 ingredients
No messing with oil/butter
Uhm, peanut butter? 🙂
So I went home that day and made a batch. Oh my goodness, yes! I understood exactly why the bakery could sell each Flourless Peanut Butter Cookie for so much. They are DELICIOUS. Then a funny thing happened…
Gluten Free totally blew up. Everyone wanted everything made without gluten. I got to a point where I was making desserts for my favorite clients and I'd leave fun surprises behind for them. Truffles were popular, for clients with dietary restrictions these were a total hit.
I had clients email me asking to order dozens of them and wanting cookie dough to freeze. 4 Ingredients guys. SO EASY. So I offered the recipe to them at no charge thinking I couldn't in good faith charge paying clients for this cookie. They replied with, "no, you make them. I want them any time you can make them and I am happy to pay anytime you bring them by." So I began baking them once a month. Then the emails of "can we get more?" started coming in.
4 Ingredients guys.
If you like peanut butter, believe me when I tell you, make these Flourless Peanut Butter Cookies. Some fun ways to play with the recipe?
Roll peanut butter dough in sugar before baking
Add peanut butter and powdered sugar to a mixer and mix on high until lightened and fluffy and scoop between two and sandwich it together. That makes them into 5 Ingredient DOUBLE Peanut Butter Cookie Sandwiches… I know, right?
Chocolate chips in the dough or toffee bits.
Peanut Butter chips for an additional hit of peanut butter.
Marshamallows baked in for a fluffernutter type of cookie.
Make them in double the size add ice cream for an amazing ice cream sandwich.
Roast marshmallows, grab a piece of chocolate and put in between two cookies for an awesome  S'mores Flourless Peanut Butter Cookie sandwich.
Looking for more Cookie Ideas? Check out the cookies on the blog!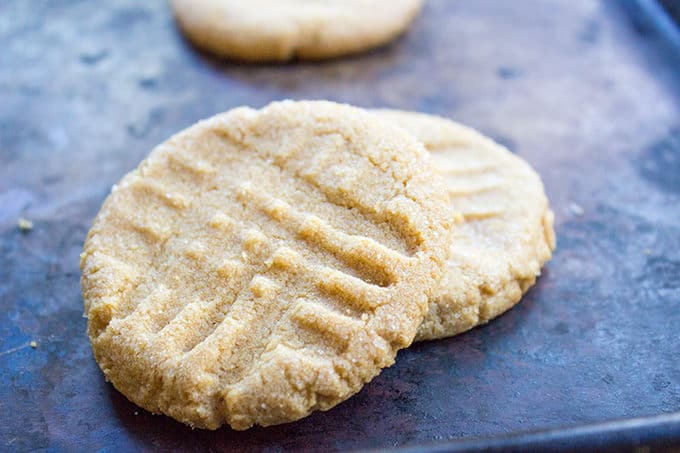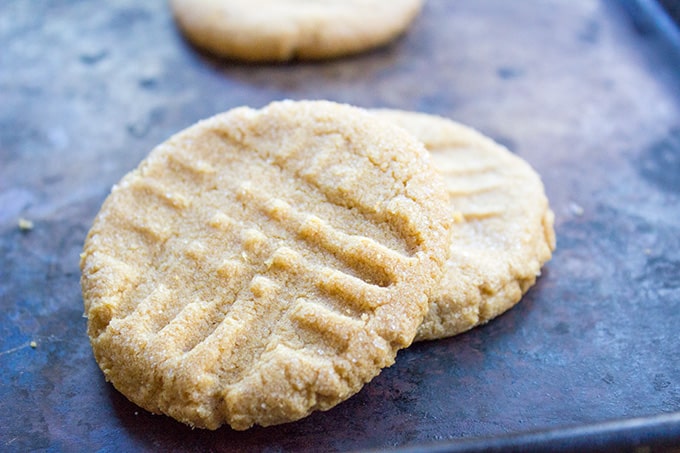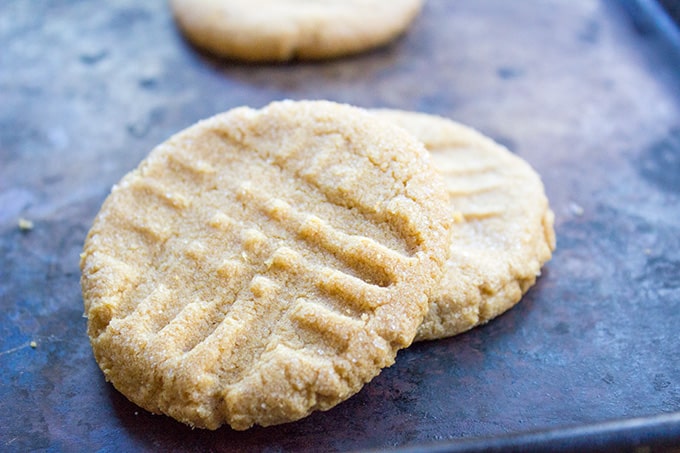 Flourless Peanut Butter Cookies (4 Ingredients Total!)
Flourless Peanut Butter Cookies with just 4 Ingredients Total! One bowl, one whisk and some delicious, amazing Peanut Butter cookies.
Instructions
Preheat oven to 325 degrees.

Whisk all the ingredients together and scoop with a

cookie scoop

or a one tablespoon measure.

Press a fork down onto the cookies to make lines vertically and horizontally.
Nutrition Facts
Flourless Peanut Butter Cookies (4 Ingredients Total!)
Amount Per Serving
Calories 98
Calories from Fat 45
% Daily Value*
Fat 5g8%
Cholesterol 6mg2%
Sodium 52mg2%
Potassium 72mg2%
Carbohydrates 10g3%
Protein 2g4%
Vitamin A 10IU0%
Calcium 6mg1%
Iron 0.2mg1%
* Percent Daily Values are based on a 2000 calorie diet.