M&M Cookies are soft, chewy, and PERFECT for making ahead of time, made with sweet M&M candies and chocolate chips, and bake in only 10 minutes!
We almost always have a plate of chewy cookies on the counter for dessert, and right now we're working on Peanut Butter Cookies,  Chocolate Chip Cookies, and Turtle Cookies!
M&M COOKIES
M&M Cookies are have an incredibly soft and chewy texture, with a little bit of crunch from the M&M candies and fudgy chocolate chips.  Plus they are a quick and easy dessert, with a total time of 12 minutes to bake!
If you are a fan of my chewy chocolate chip cookies, you'll definitely love this M&Ms version. These are my go-to when I want to bake with the kids, because just like my chocolate chip cookies, they love adding the colorful M&Ms to the recipe.
I love making these ahead of time and freezing the dough, so I can take them straight from the freezer to a baking sheet for a quick snack when we have unexpected guests.
CAN YOU FREEZE M&M COOKIES?
This is a great recipe for making ahead of time and freezing. You can place fully baked cookies in an airtight plastic ziplock bag and freeze for 2-3 months. Defrost on the counter for a few hours before eating.
This cookie dough also freezes really well. Just scoop the dough onto a baking sheet, and freeze for about an hour. Then transfer the dough balls to an airtight container, using parchment paper between each layer.
When you're ready to bake, you can place the frozen cookie dough right onto a baking sheet. Preheat oven to 350 degrees F, and bake for 12-15 minutes. These might take an extra few minutes because they're starting out frozen.
HOW DO YOU KEEP HOMEMADE COOKIES FRESH?
Keep your homemade cookies fresh by storing them in an airtight container at room temperature for about 2 weeks. You can also bake the cookies for 3-5 minutes, just to warm them up and make it feel like they just came out of the oven for the first time.
HOW DO YOU MAKE OATMEAL M&M COOKIES?
To make this an oatmeal M&M cookies recipe, bring the all purpose flour down to 2 cups, and add 3 cups of quick cooking oats plus 2 teaspoons of cinnamon. Preheat oven to 375 degrees F and bake for 8-10 minutes.
You can also try my Super Chewy Oatmeal Raisin M&M Cookies. You can use instant oats or rolled outs in oatmeal cookies, depending on how chewy you like your cookies. The rolled oats will have the most texture, while the quick cooking oats will be softer.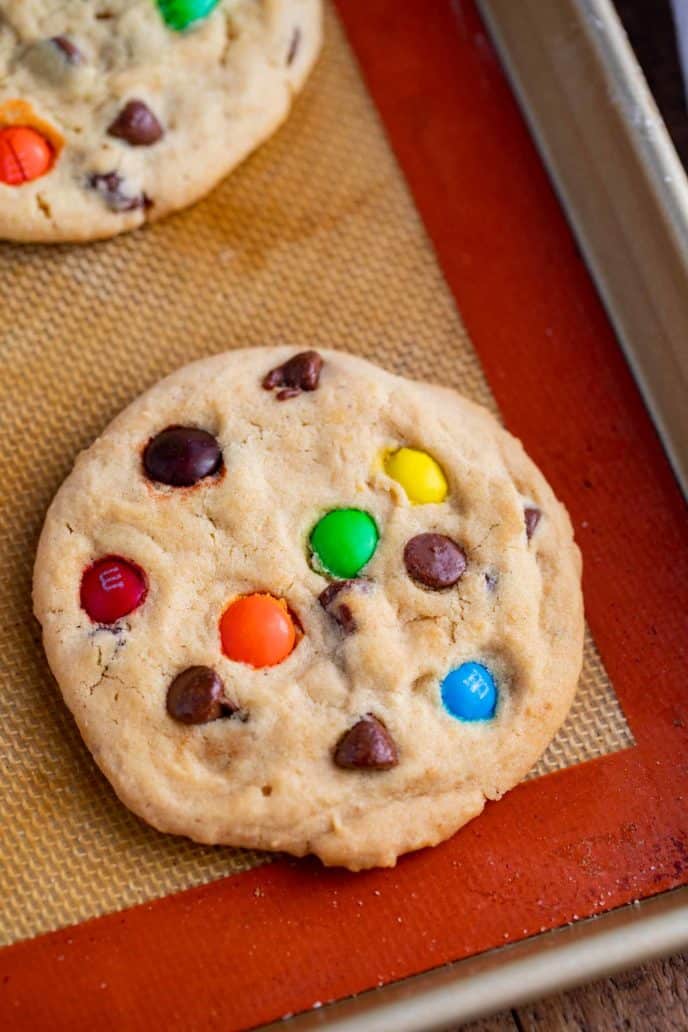 Create a free account to

Save Recipes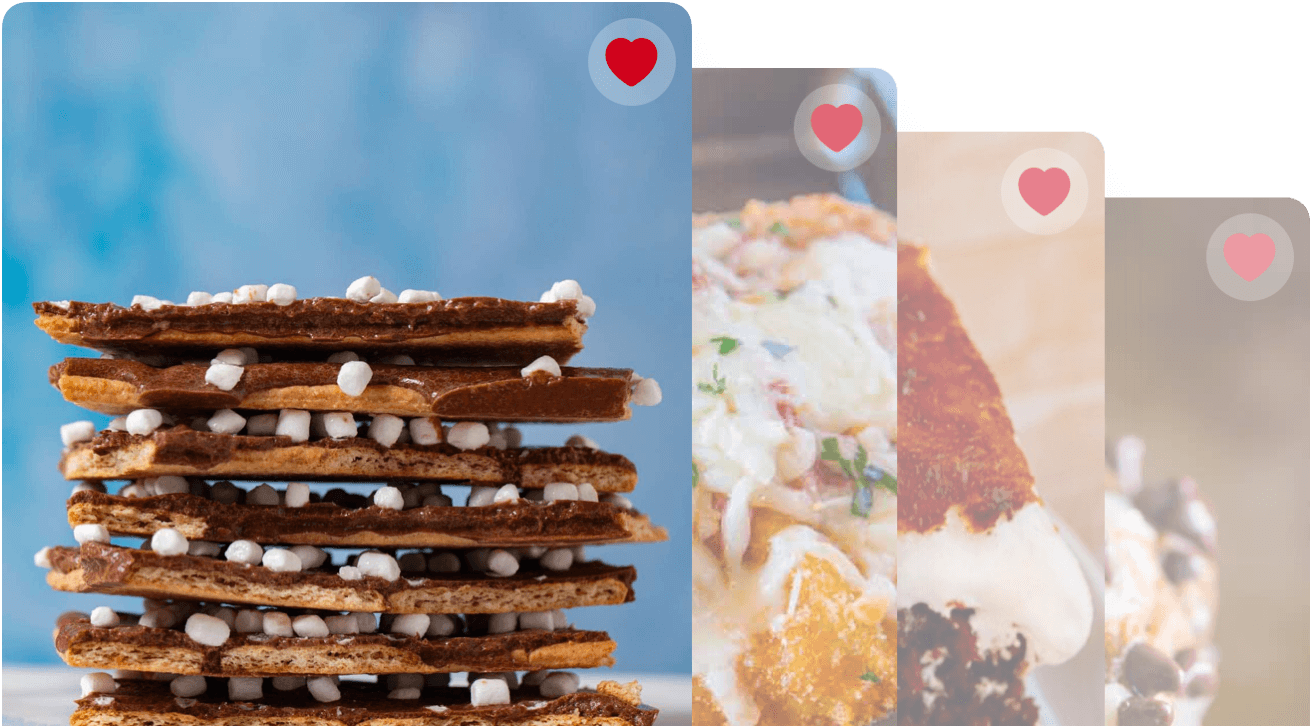 CAN I REPLACE BUTTER WITH SHORTENING?
You can substitute one cup butter with one cup shortening for this cookie recipe, but if you're short on butter I recommend trying to at least split the fats to half butter and half shortening.
Butter adds a lot of flavor and chewy texture to the cookies, and also helps keep them soft by adding a lot of moisture. So while you technically can just use shortening, the butter will give you a better tasting cookie.
MORE COOKIE RECIPES
CAN YOU MAKE M&M COOKIES WITHOUT BROWN SUGAR?
You can remove the brown sugar in this cookie recipe and replace it with granulated sugar, but your cookies may lose some of their chewy texture and instead get a crunchy texture. The brown sugar adds a lot of moisture compared to granulated sugar, making them softer.
TIPS FOR MAKING M&M COOKIES
This recipe calls for refrigerating the dough for an hour, make sure you don't skip this step. You're giving the butter in the dough a chance to solidify, and the colder it is, the slower the cookies will drop in the oven when they are baking. This stops the cookies from spreading too much and becoming crispy.
Use an ice cream scoop to help make all of the cookies the same size.
You can use other candy instead of M&Ms with this recipe. Try peanut butter chips, mini marshmallows, white chocolate chips or dark chocolate chips, butterscotch, or caramels. Or check out my Oatmeal Reese's Peanut Butter Cookies or Chocolate Chip Cookies.
Try this recipe with peanut M&Ms for a peanut butter flavor.
If the dough is sticking to your hands when you roll out the flour, you can dust them lightly with all purpose flour.
Two large eggs can be replaced by two medium or extra large eggs, or three small eggs in this recipe.
If you don't have a stand mixer, you can cream the butter and sugar together with an electric hand mixer, or just do it with a bowl and a spatula.
You can make these cookies less chewy and more crunchy by adding a few minutes to the cooking time. Watch them closely to make sure they don't burn, just look for a deeper golden brown color.
Make sure to line your baking sheet with parchment paper, unless your sheet is non-stick, but even then I still line them just in case.
If your cookies turn out underbaked but browned on the outside, your oven may not be cooking true to temperature. Try using an oven thermometer to make sure it's heating right.
Once you have your cookies scooped out into balls, place a few M&Ms and chocolate chips decoratively on top before baking.
You can replace the vanilla extract in this recipe with other flavors, like almond or peppermint for the holidays.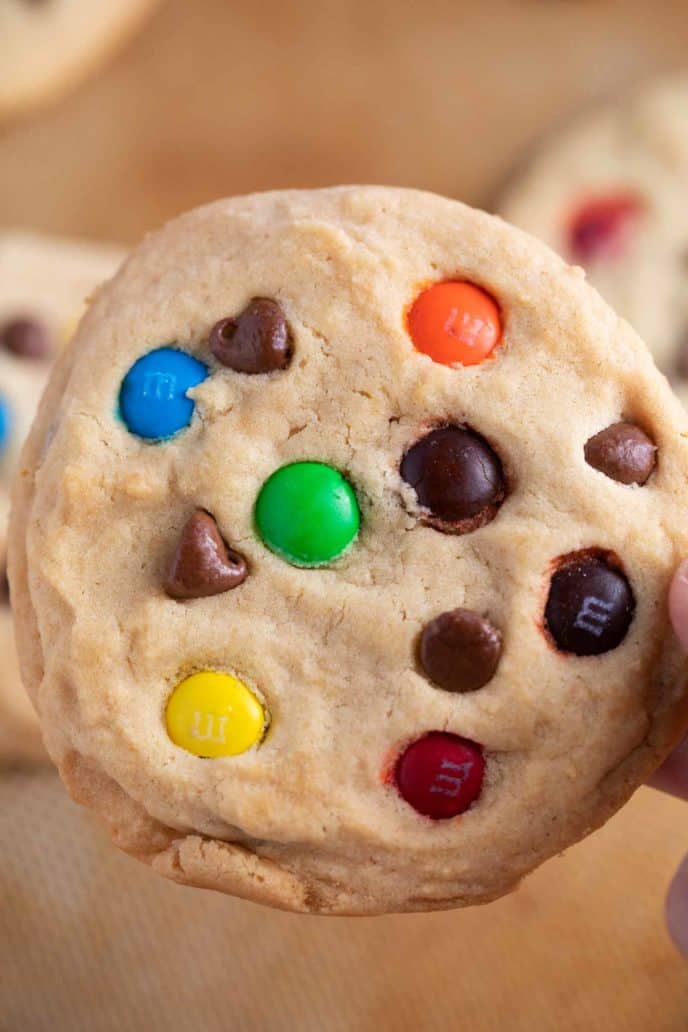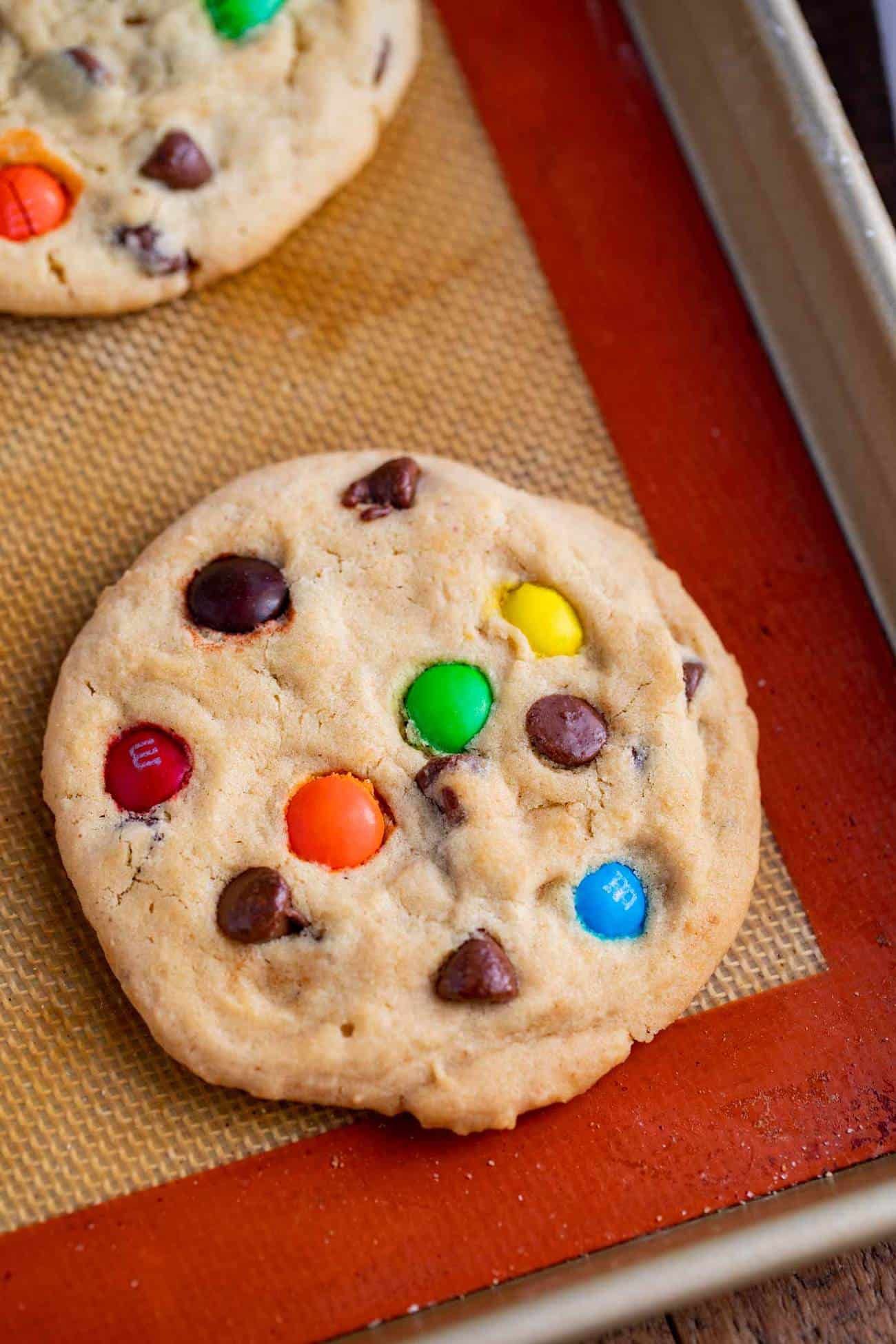 M&M Cookies
M&M Cookies are soft, chewy, and PERFECT for making ahead of time, made with sweet M&M candies and chocolate chips, and bake in only 10 minutes!
Ingredients
1

cup

unsalted butter

1

cup

packed brown sugar

1/2

cup

white sugar

2

large eggs

2

teaspoons

vanilla extract

2 1/2

cups

flour

1

teaspoon

baking soda

1

teaspoon

salt

1

cup

M&Ms

1/2

cup

semi-sweet chocolate chips
Instructions
To your stand mixer add the butter, brown sugar and sugar and beat until light and fluffy before adding in the eggs one at a time.

Add in the vanilla, flour, baking soda and salt until just barely combined on low speed then fold the m&ms and chocolate chips with a wooden spoon.

Refrigerate the dough for an hour then bake 2 tablespoon sized cookie dough balls at 350 degrees for 10-12 minutes.
Recipe Notes
Note: click on times in the instructions to start a kitchen timer while cooking.
Nutrition Facts
M&M Cookies
Amount Per Serving
Calories 237
Calories from Fat 99
% Daily Value*
Fat 11g17%
Cholesterol 35mg12%
Sodium 157mg7%
Potassium 54mg2%
Carbohydrates 31g10%
Protein 2g4%
Vitamin A 275IU6%
Vitamin C 0.1mg0%
Calcium 26mg3%
Iron 1.1mg6%
* Percent Daily Values are based on a 2000 calorie diet.