Gingerbread Cheesecake is creamy and tangy and full of warm holiday flavors that is the perfect ending to your favorite holiday meal.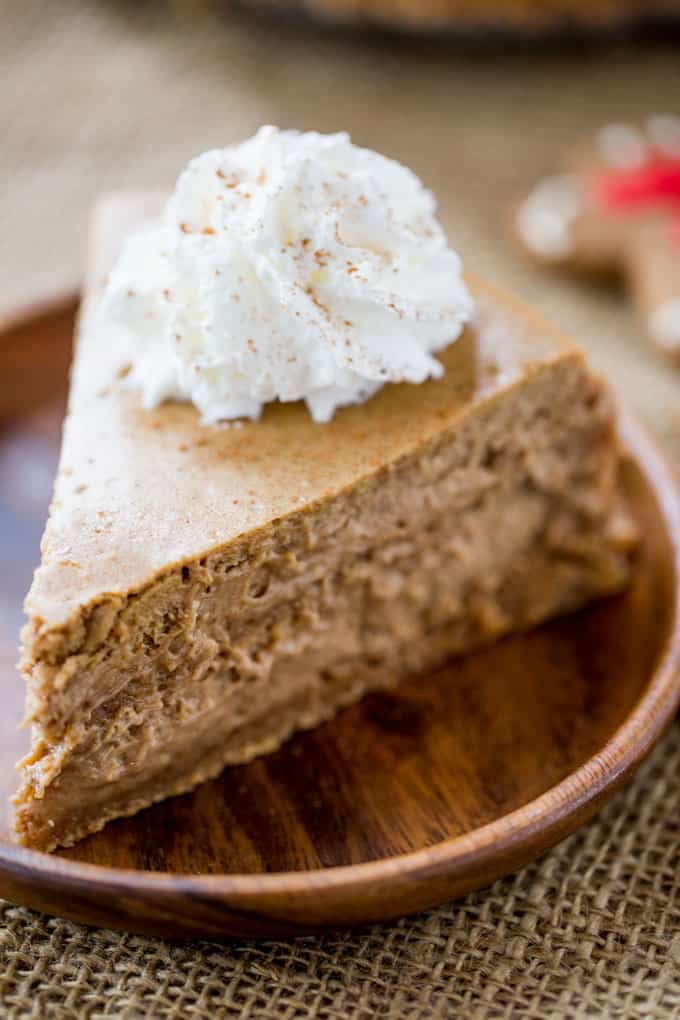 Gingerbread Cheesecake is the perfect marriage of the classic holiday gingerbread dessert and the always popular cheesecake. The warm spices and flavors of this cheesecake are really nostalgic for me as my grandmother used to make gingerbread cake for us every year during the holidays.
When McCormick® reached out to me to work together in creating a holiday recipe using some of their most amazing baking spices I was thrilled because I am obsessed with all things gingerbread and all things holidays! For proof check out my Gingerbread Cookies, Gingerbread Pancakes and Gingerbread Cheesecake Dip from last year, I am a lover of all things gingerbread.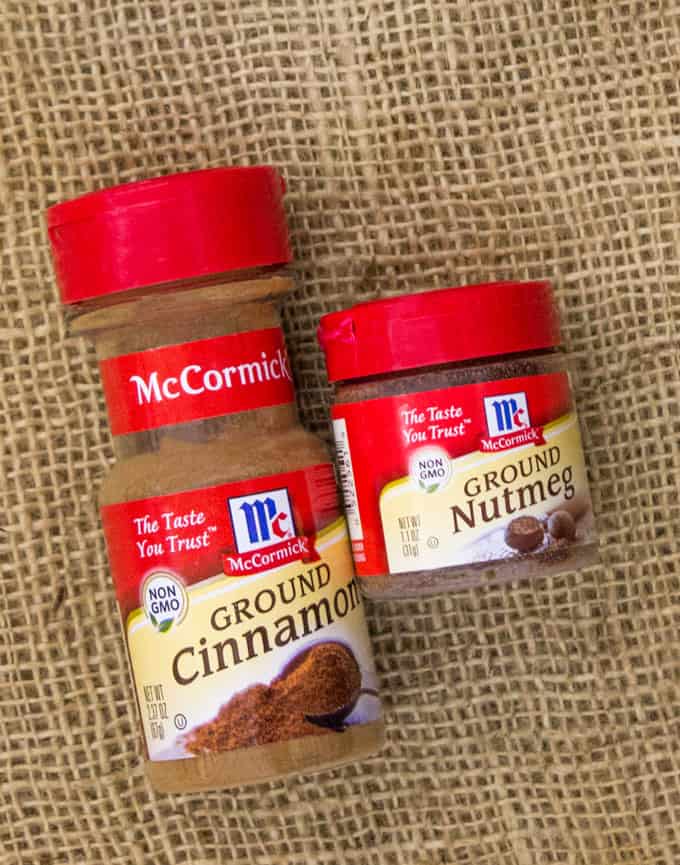 Flavors are memories to me. Aside from the gingerbread cake my grandmother used to make for us when we were kids the scent of these spices bring back memories of french toasts, German chocolate covered holiday cookies, pies and all the holiday seasons filled with goodies as a kid.
It all came flooding back into my head as I was baking this Gingerbread Cheesecake and the smell of these iconic flavors like McCormick Ground Cinnamon and McCormick Ground Nutmeg were wafting through the kitchen.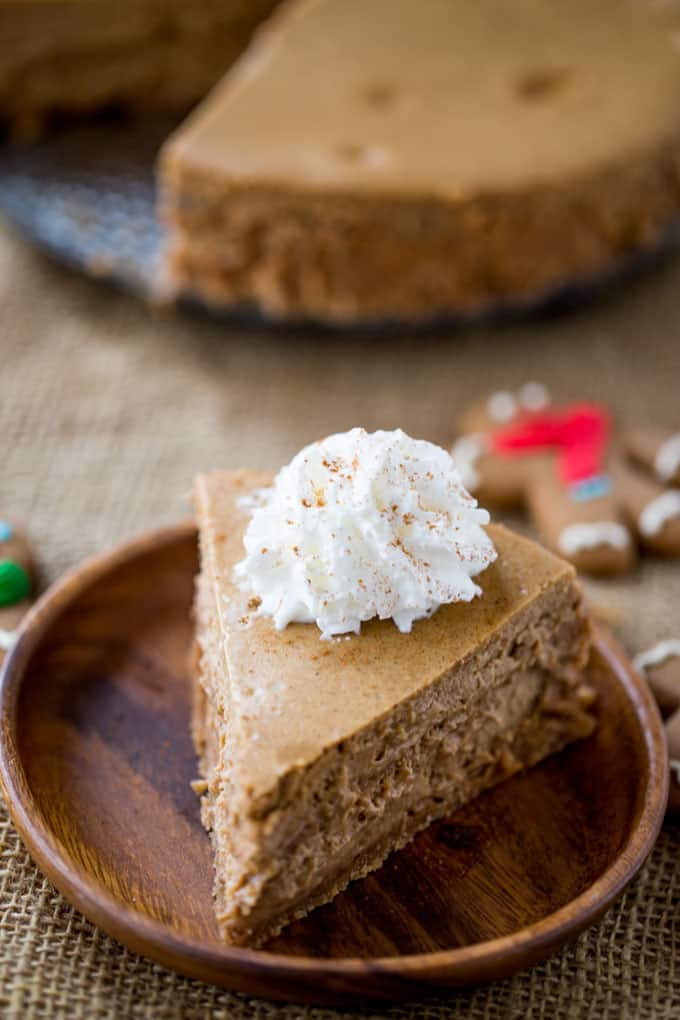 If you're as nostalgic for Gingerbread as I am and you're already printing this Gingerbread Cheesecake out as we speak here are a couple of ideas to make it even more of a showstopper.
Sometimes I make double the crust and put half on the bottom as described in the recipe and the other half through the middle of the batter layer for a delicious spiced ribbon of buttery cookies. Since it is in the middle it won't bake crisp, it will be like cookie butter.
To get the perfect top with no cracking at all, make sure you are using a water bath. To be clear about how to do it, you're going to need a sheet of foil that is wider than your cheesecake pan, I find extra wide foil works perfectly on this. Then put the cheesecake pan in the middle of the sheet and press the sides of it up the outside of the pan. Put the pan in a larger pan and fill that outside pan with an inch of hot water. This controls how the heat cooks the cheesecake and now with the water bath it will cook it evenly for you. Cracked Gingerbread Cheesecake risk averted! 
Top the Gingerbread Cheesecake with mini gingerbread men. I use graham crackers and spices here on purpose because you can mimic the gingerbread flavor with all the same spices in the cheesecake so there is no need to waste delicious gingerbread cookies on the crust. But that doesn't mean they can't get used as decorations on top or even grated over the top instead of a dusting of spice.
To slice the perfect slice of cheesecake make sure you have chilled it all the way through. Even better? Put it in the freezer 1-2 hours before serving and then slice for perfect slices.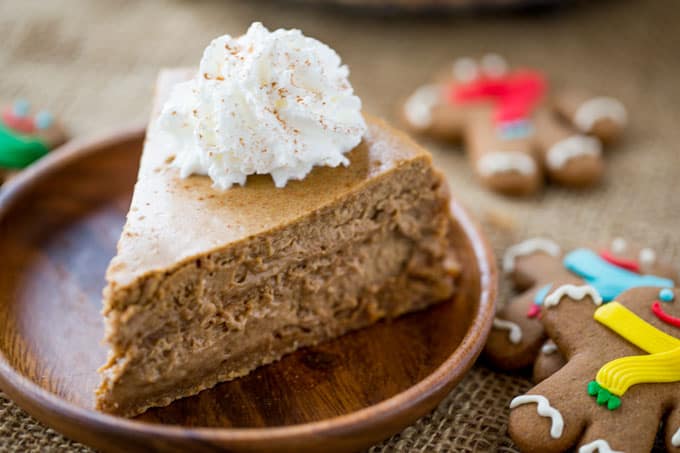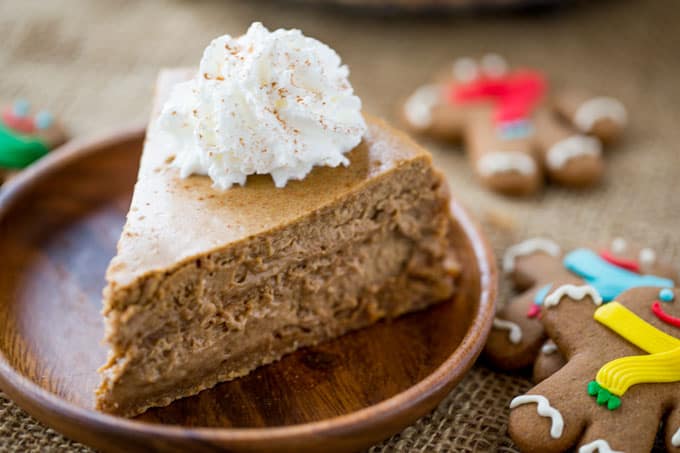 Gingerbread Cheesecake
Gingerbread Cheesecake is creamy and tangy and full of warm holiday flavors that is the perfect ending to your favorite holiday meal.
Total Time
1
hour
30
minutes
Instructions
Preheat the oven to 350 degrees.

Wrap the outside of your springform pan in foil for a water bath.

In a food processor add the graham crackers, ginger, cinnamon, nutmeg and melted butter and process for 15-20 seconds or until all the ingredients have a fine moist crumb.

Add them to the bottom of the springform pan and press up the sides of the pan about an inch.

In a stand mixer add the cream cheese and beat until fluffy.

Add in the brown sugar and beat until fully combined, then add in the vanilla and the eggs one at a time.

Add the molasses, salt, ginger, cinnamon, nutmeg and cloves on medium speed until fully combined.

Pour into the springform pan, place the pan into a larger pan and fill the outer pan with an inch of hot water.

Bake in a water bath for 60 minutes.

When done baking turn the oven off and remove the pan from the water bath and just leave it in the oven to cool gently.

Refrigerate for 6-8 hours or until fully chilled before serving.

Serve with whipped cream dusted with cinnamon.
Nutrition Facts
Gingerbread Cheesecake
Amount Per Serving
Calories 398
Calories from Fat 225
% Daily Value*
Fat 25g38%
Cholesterol 113mg38%
Sodium 385mg17%
Potassium 246mg7%
Carbohydrates 37g12%
Protein 5g10%
Vitamin A 935IU19%
Calcium 104mg10%
Iron 1.5mg8%
* Percent Daily Values are based on a 2000 calorie diet.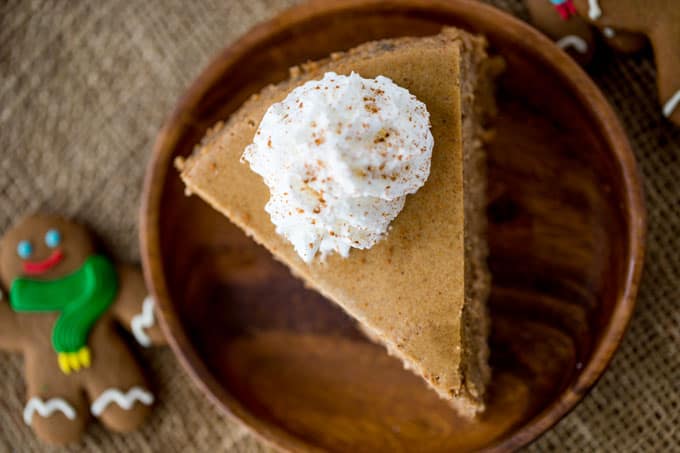 This is a sponsored post written by me on behalf of McCormick®.