Crispy Slow Cooker Turkey Thighs are juicy, crispy, tender and a total breeze to make on a weeknight! Also includes 10 different flavor ideas.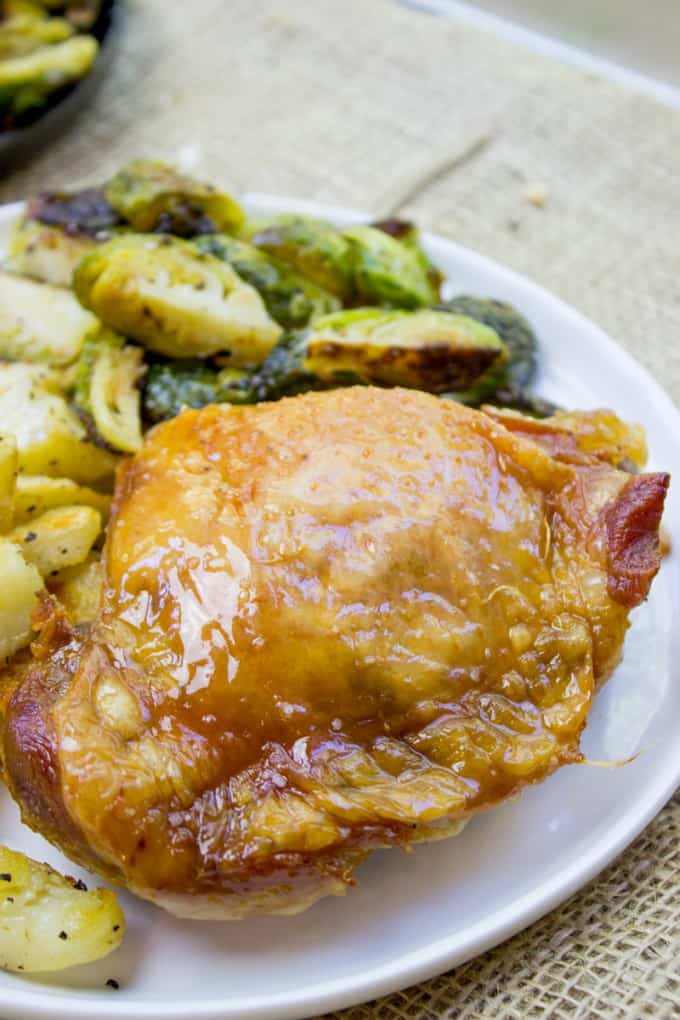 Crispy Slow Cooker Turkey is one of our favorite easy dinner options around here and I am totally honored to have the National Turkey Federation sponsoring this post and all of this amazing turkey deliciousness. If you have been a reader of the blog for any period of time you've probably heard me wax poetic about my love for Crispy Slow Cooker Chicken which is the same method as this turkey and makes the best rotisserie style chicken ever.
The Crispy Slow Cooker Chicken recipe also happens to be one of the top 10 recipes on the blog. Over 1000 people a day check out that recipe because if there is one thing I know about dinnertime, easy slow cooker recipes are king. I have a sinking suspicion you all will love this Crispy Slow Cooker Turkey just as much! And it is even more awesome than normal slow cooker meals because the skin is crispy and who doesn't love crispy skin!?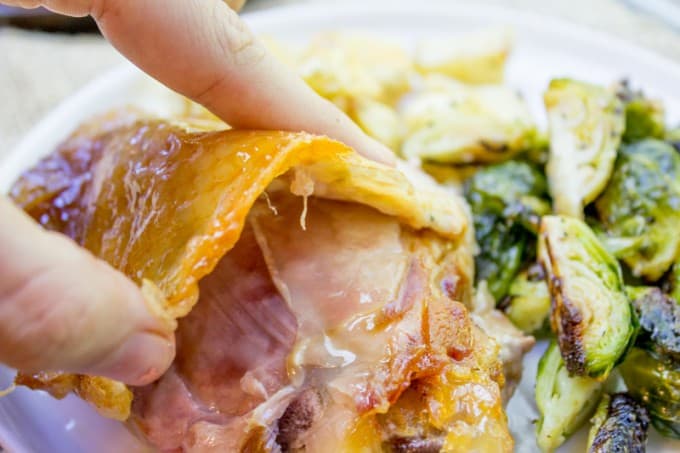 The National Turkey Federation is a non profit trade association in Washington, D.C. (yay for our old stomping grounds!) that works to strength the turkey farmers' ability to responsibly provide wholesome products, raise awareness about how turkey can be a healthy, delicious and easy source of protein. Visit their site to learn more about their efforts and to check out any of their over 2000 turkey recipes!
There is a grocery store here near us that has a hot deli section that makes turkey pot roast. I know, I know, the name sounds a bit strange, but what it is really just 1/2 a turkey, dark meat only that has been cooked rotisserie style. So the meat is crispy and tender. We used to buy it every time we saw it in the store because it was always so popular it would sell out well before the regular rotisserie chickens. Plus, expensive!! It was usually over $10.00 which is quite a lot compared to the $5.00 rotisserie chickens, but it was always the first thing we would grab for.
I'd include some action shots for you all…but there's no action needed! It is as easy as putting the turkey in the slow cooker and hitting 7 hours on low!
I'm proud to say this method of cooking Crispy Slow Cooker Turkey has completely negated those purchases. We make this Crispy Slow Cooker Turkey at least once a month, sometimes more, and every time we do dinner is full of excitement. I think we are used to turkey being a deli meat or a Thanksgiving dinner option and for us that couldn't be further from the truth.
There is a reason we all eat our body weights in turkey for Thanksgiving each year, turkey is awesome! I think the misconception about turkey is that it takes so much time to make it because we're used to cooking the entire bird. To be honest? I cook a whole turkey on Thanksgiving because A. the cost is so low for them! and B. I think everyone expects one….but I also make two slow cookers full of turkey legs and thighs because lets be honest… they're my favorite pieces.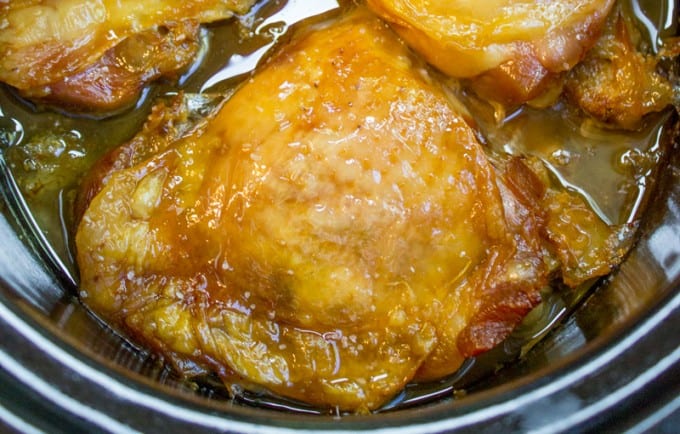 So lets get some different flavors going on with this Crispy Slow Cooker Turkey, remember – NO liquids:
 Salt and pepper: Seriously, we do this version 9 times out of ten. Crispy salted turkey thighs are just heaven.
Salt, pepper, garlic, with a squeeze of lemon: Add salt and pepper and 2 tablespoons of garlic to thighs. When done, add a squeeze of lemon on top.
Salt, pepper, rosemary, garlic: Classic flavors, 2 tablespoons garlic, 2 teaspoons minced fresh rosemary.
Salt, pepper, orange zest, rosemary, sage: zest of one orange, 2 teaspoons minced rosemary and thyme.
Salt, pepper, celery, carrots and onions: roughly chopped veggies under the turkey, it'll feel and smell just like thanksgiving.
Salt, pepper, butter and flour: Now this one is a bit more complex, because you're going to make it the classic way, then reserve the liquids left behind, remove the fat and add the liquid to a saucepan to thicken with 2 tablespoons of butter and 2 tablespoons of flour. Mix the flour and butter in a small bowl with a fork, add to the turkey liquids and thicken for an awesome quick gravy.
Salt, pepper, garlic and Parmesan rind: 2 tablespoons minced garlic and chopped up Parmesan rind. Don't waste good cheese for it, just the leftover rind to add flavor.
Salt, pepper, cumin, cayenne and garlic powder: Easy spicy, latin flavors, I serve this with my toasted Mexican Rice.
Salt, pepper, sage and dried cranberries: I know, I know, dried cranberries? YES! they will plump up to these delicious red little flavor balloon! Add 1/2 teaspoon dried sage or 1 teaspoon fresh minced sage and a big handful of dried cranberries.
Salt, pepper, cajun seasonings and garlic: Oh yes, this version is a huge hit in our house, lots of cajun seasoning rubbed on the thighs, 2 tablespoons minced garlic. 
Tools Used in the making of these Slow Cooker Brown Sugar Garlic Chicken Thighs:
Slow Cooker: Love this slow cooker and how programmable it is, it has been a workhorse for me… until…
My New Slow Cooker: This recipe was made in this slow cooker. For larger roasts I also brown the meat in the insert and not lose a bunch of the flavor by transferring the meat and leaving the browned bits behind. If you're thinking of a new slow cooker, consider it if your budget is open.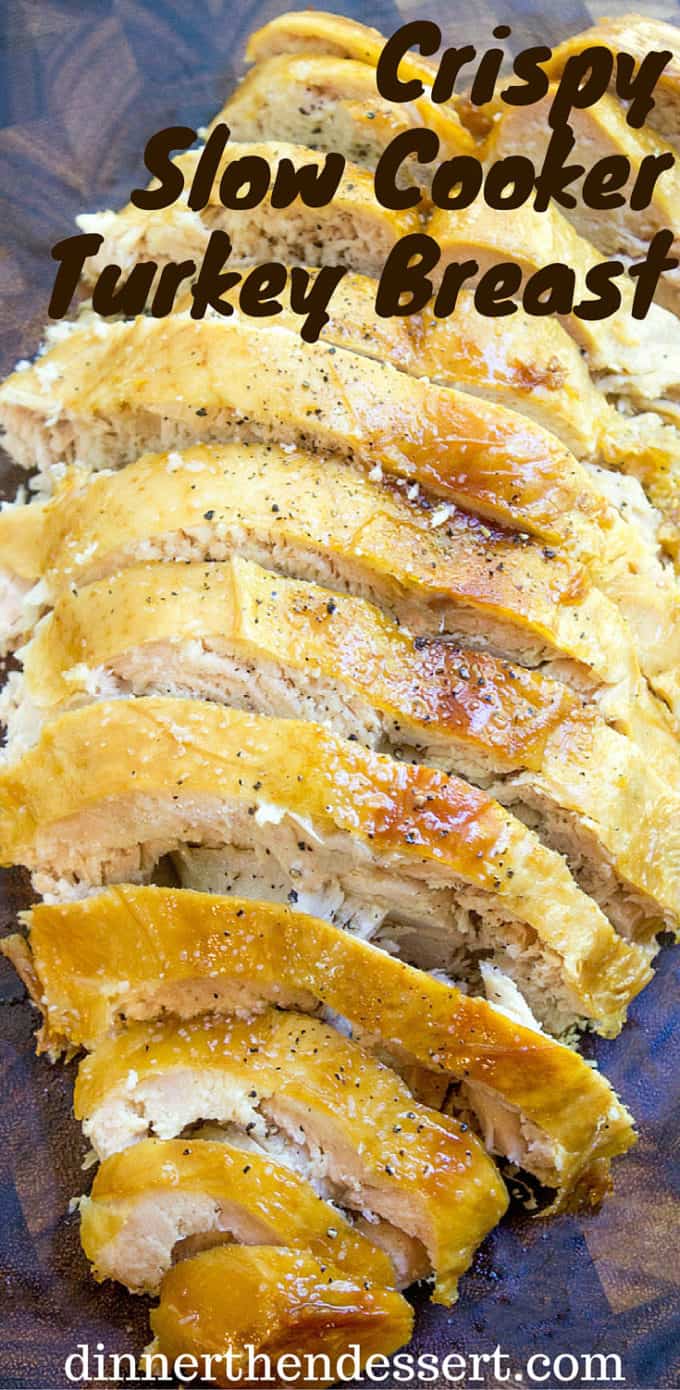 Crispy Slow Cooker Turkey
Crispy Slow Cooker Turkey Thighs are juicy, crispy, tender and a total breeze to make on a weeknight! Also includes 10 different ways to add different flavors with almost no effort!
Total Time
7
hours
5
minutes
Ingredients
4

turkey thighs

, skin and bone on

kosher salt

cracked black pepper
Instructions
Add salt and pepper to taste (I do about 1/2 teaspoon Kosher salt and 1/4 teaspoon black pepper).

ADD NO LIQUIDS AT ALL.

Put the turkey skin side up and cook on low for 7 hours.

If you have any issues with the skin crisping, you can brown under a broiler, six inches from the heat, for 1-2 minutes or let it cook with the top slightly opened for the last hour to let any steam escape.
Nutrition Facts
Crispy Slow Cooker Turkey
Amount Per Serving
Calories 178
Calories from Fat 81
% Daily Value*
Fat 9g14%
Cholesterol 70mg23%
Sodium 495mg22%
Potassium 273mg8%
Protein 21g42%
Calcium 9mg1%
Iron 1.7mg9%
* Percent Daily Values are based on a 2000 calorie diet.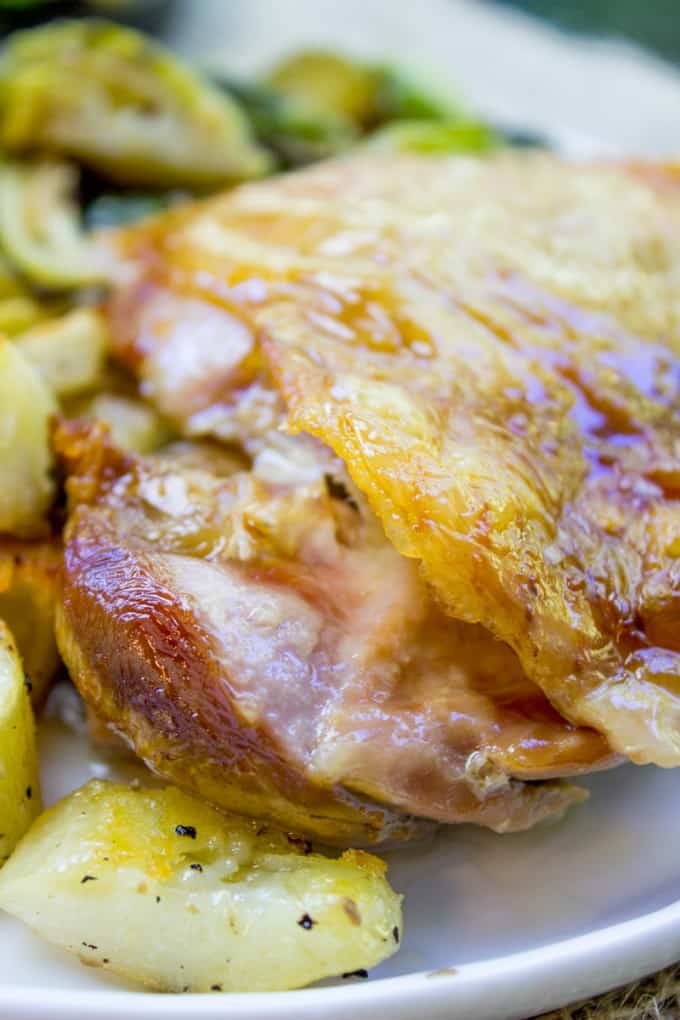 Need more turkey? I don't blame you one bit! Check out the National Turkey Federation's site to learn more about the nutritional benefits of turkey and grab one of those 2000 delicious recipes! Also keep up with them on Facebook (for tips, tricks and delicious turkey videos!) and Twitter for all the turkey updates and turkey conversation you can handle. 😉