Crispy Slow Cooker Turkey Breast, never pay for turkey deli meat again!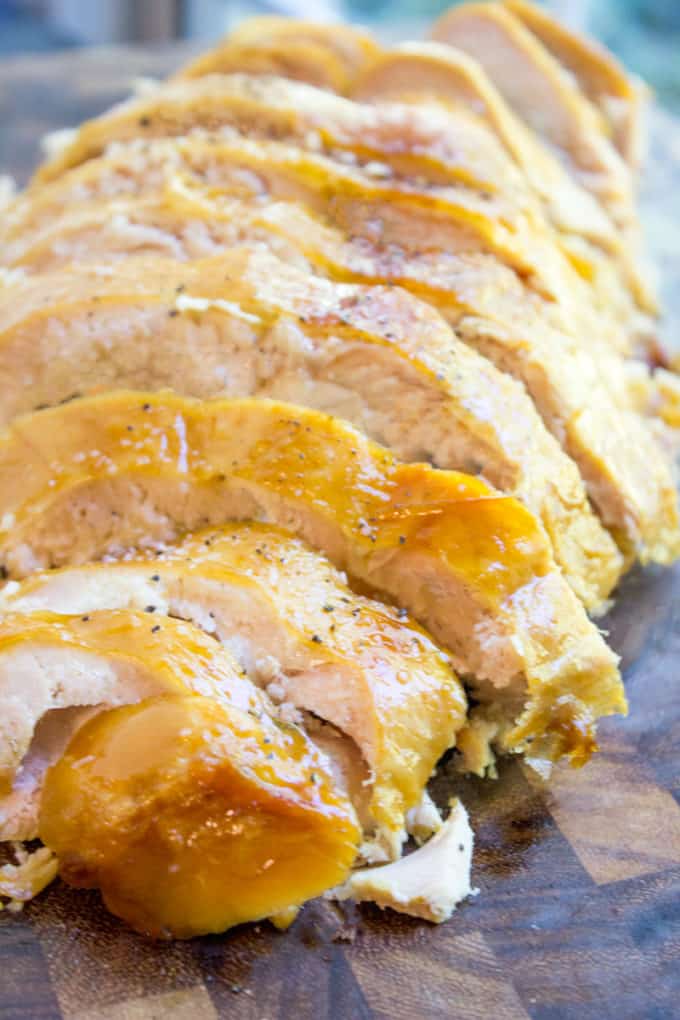 Crispy Slow Cooker Turkey Breast is right in line with how I roll with my slow cooker. If you've been following along with the slow cooker posts on the blog you know that every one of my posts (I'm racking my brain here to make sure this sentence isn't a lie right now! Haha) is meat. Not a soup or stew or saucy concoction you may immediately think about when you think "slow cooker" but 90% of the time it is for simple crispy meat recipes.
Some similar recipes to this Crispy Slow Cooker Turkey Breast:
Worried cooking in the slow cooker won't give you a tender, juicy turkey breast? Look at this, tender, juicy meat and look at how thin and browned that skin is. It came out as crispy as it would in the oven.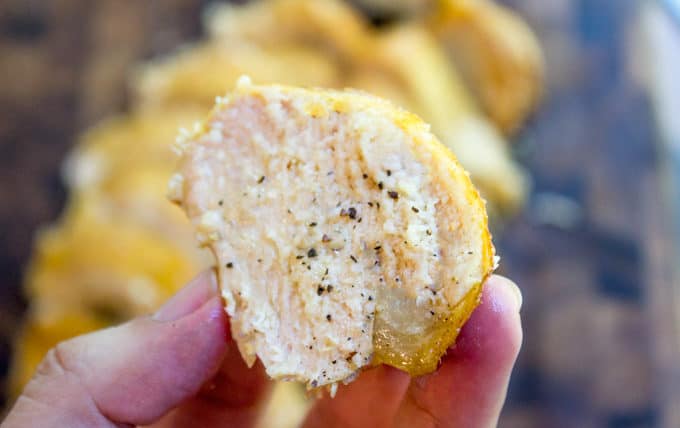 So you could say I'm a fan of crispy slow cooker meals. This Crispy Slow Cooker Turkey Breast is no exception, and for the second time I'm honored to be working with the non-profit National Turkey Federation to bring you this crispy turkey deliciousness.
The National Turkey Federation is a non profit trade association in Washington, D.C. (yay for our old stomping grounds!) that works to strength the turkey farmers' ability to responsibly provide wholesome products, raise awareness about how turkey can be a healthy, delicious and easy source of protein. Visit them on Twitter and Facebook to learn more about their efforts and to check out any of their over 2000 turkey recipes!
Why am I cooking turkey in the Summer?
Well aside from the fact it is super easy to make, doesn't warm up my kitchen at all (slow cookers for the win!) and makes lunch time a breeze… Turkey dishes are super healthy and low in fat while being high in protein and keeping me full longer. Did I mention the health benefits of not buying processed meat products? This recipe is a win win.
How am I using turkey in recipes?
Everywhere! I add this turkey breast to sandwiches, to salads in cubes, in baked pastas and in enchiladas last night! Turkey is an easy swap for any protein you normally cook with, and the health benefits of swapping red meat for turkey are pretty clear.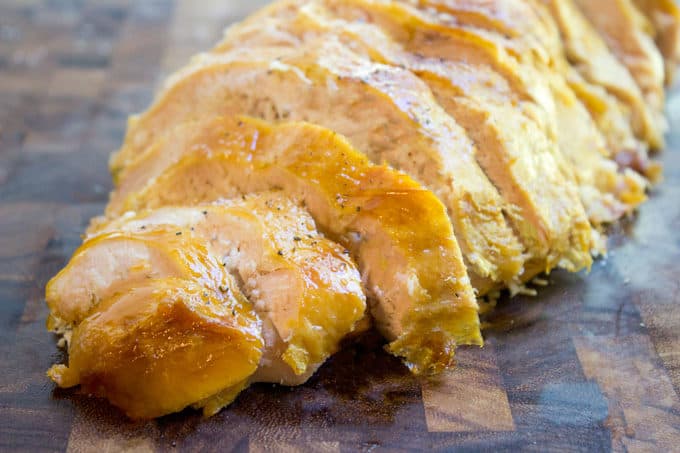 Plus if you check back in tomorrow you'll see exactly how awesome this sliced Crispy Slow Cooker Turkey Breast is in the best turkey sandwich you'll ever have. Some have even said this sandwich was the only good thing in their life. Well…until a coworker ate their sandwich. 😉 Yes, my Friends, tomorrow I bring you the Moist Maker in all its glory.
Pssst. I also had a list of ten different seasonings/flavors you could add to the Slow Cooker Turkey Thighs
So please, take a shot on this recipe! All you really need is some bone in-skin on turkey breast and you're on your way to an awesome dinner for 8 or a two weeks of delicious lunches!
Tools Used in this Recipe:
Slow Cooker – I use this slow cooker about half the time (I have to admit I have four slow cookers) and love the thermometer it comes with.
All Clad Slow Cooker – This is the slow cooker I used in this recipe. No, you don't need this fancy slow cooker. It was a very generous wedding present to me and we love it, but using the one above will give you fantastic results as well.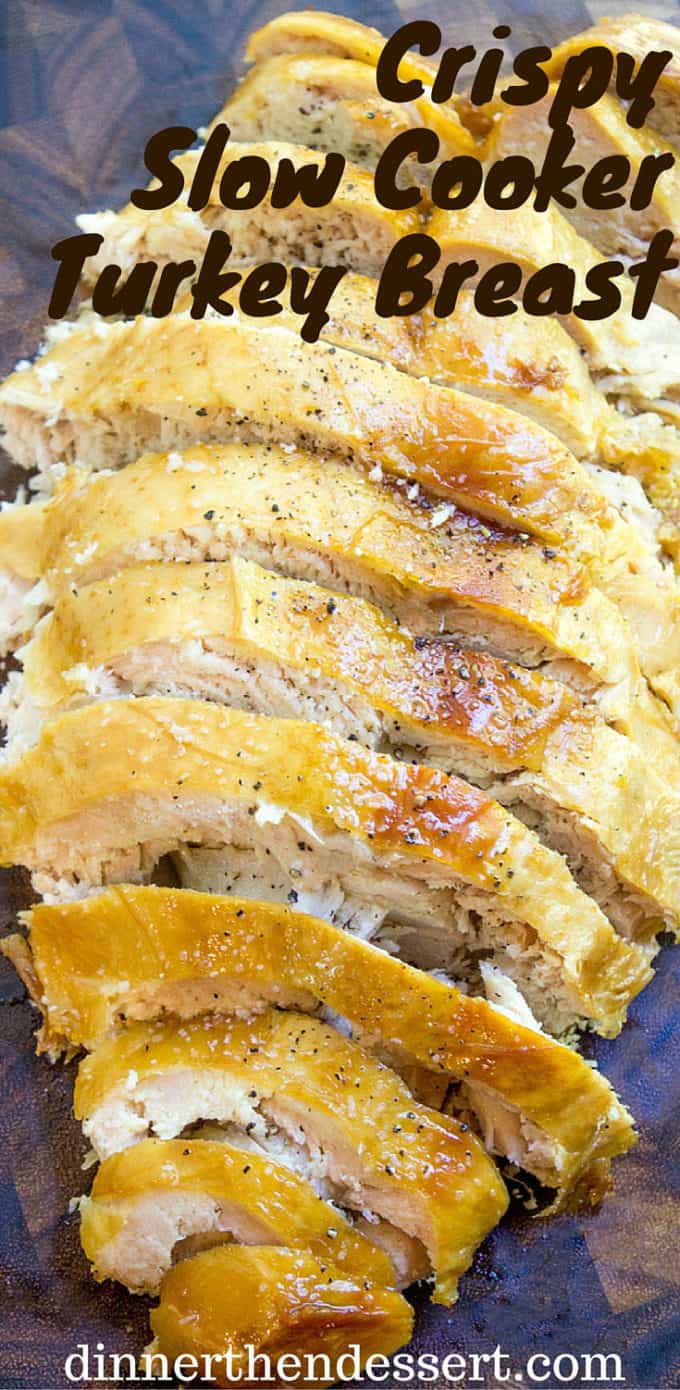 Crispy Slow Cooker Turkey Breast
Crispy Slow Cooker Turkey Breast takes all the effort and guesswork out of preparing healthy turkey breast and is perfect sliced thinly in sandwiches. Never pay for turkey deli meat again!
Total Time
5
hours
5
minutes
Ingredients
1

Turkey Breast

, skin and bone on (5-6 pounds)

Kosher salt

Cracked black pepper
Instructions
Add salt and pepper to taste (I do about 1 teaspoon Kosher salt and 1/4 teaspoon black pepper).

ADD NO LIQUIDS AT ALL.

Put the turkey skin side up and cook on low for 5-6 hours.

If you have any issues with the skin crisping, you can brown under a broiler, six inches from the heat, for 1-2 minutes or let it cook with the top slightly opened for the last hour to let any steam escape.
Nutrition Facts
Crispy Slow Cooker Turkey Breast
Amount Per Serving
Calories 65
Calories from Fat 9
% Daily Value*
Fat 1g2%
Cholesterol 35mg12%
Sodium 133mg6%
Potassium 157mg4%
Protein 14g28%
Vitamin A 15IU0%
Calcium 9mg1%
Iron 0.3mg2%
* Percent Daily Values are based on a 2000 calorie diet.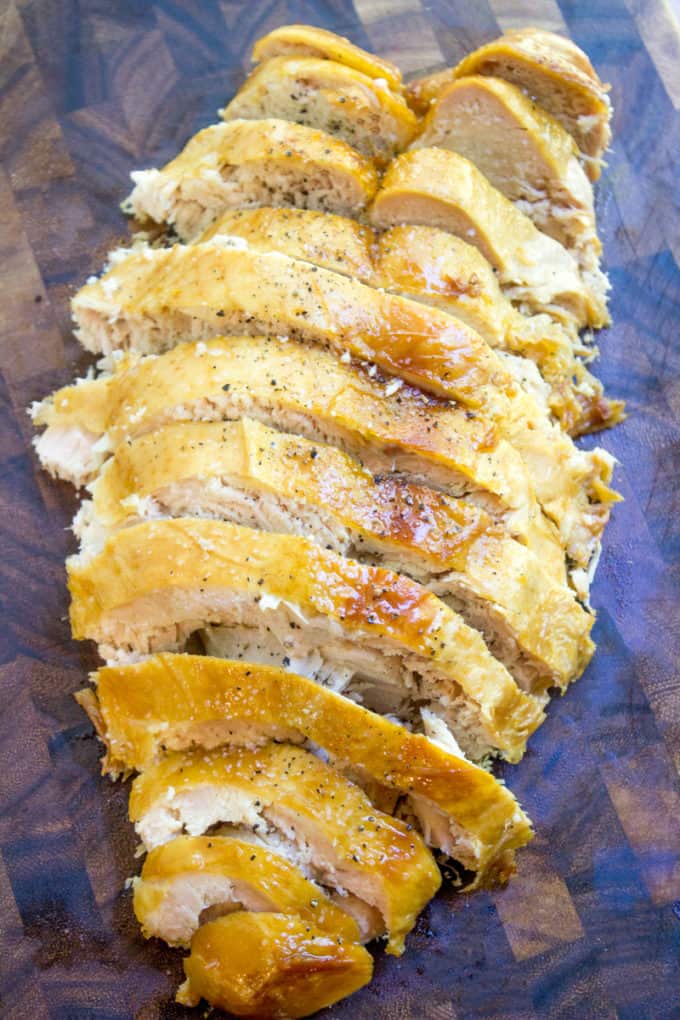 Don't forget to visit the National Turkey Federation on Twitter and Facebook to learn more about turkey, its amazing healthy benefits and of course to check out any of their over 2000 turkey recipes!