Coconut Macaroons are sweet and chewy, made from coconut flakes, sweetened condensed milk, almond and vanilla flavor, and incredibly EASY to make!
Coconut Macaroons are among our favorite dessert classics including Vanilla Pound Cake, and Easy Chocolate Cake!
COCONUT MACAROONS
Coconut Macaroons are one of my all-time favorite cookies, made from sweetened shredded coconut, condensed milk, flour, and both almond and vanilla extract. They're soft and moist, with chewy coconut pieces in the texture. This is a great recipe to make any time of the year, during the spring or to give out as gifts around the holidays.
You can eat these macaroons as-is, or dip them in chocolate. This coconut macaroon recipe is only three easy steps, and made without egg whites. You can use plain coconut to bring the sweetness down in these cookies, or use unsweetened condensed milk.
WHAT IS THE DIFFERENCE BETWEEN A MACAROON AND A MACARON?
These get confused a lot because the spelling is so similar and they share some common ingredients. But they are very different in taste, texture, and how you bake them in general.
Macarons are typically made out of ingredients like almond paste and egg whites, with a light airy texture and chewy crispy outer shell sandwiched around a creamy center made of ganache or frosting. You can find macarons in many different flavors and colors, and they're tricky desserts to make.
Macaroons are primarily based on coconut, and much easier to bake. They're dense and chewy, and often dipped in chocolate. It has some similar ingredients, but these are very different cookies in the end. You can find macaroon recipes that call for ingredients like a meringue made of egg whites, or no flour in the recipe. The ingredients can vary depending on where you are.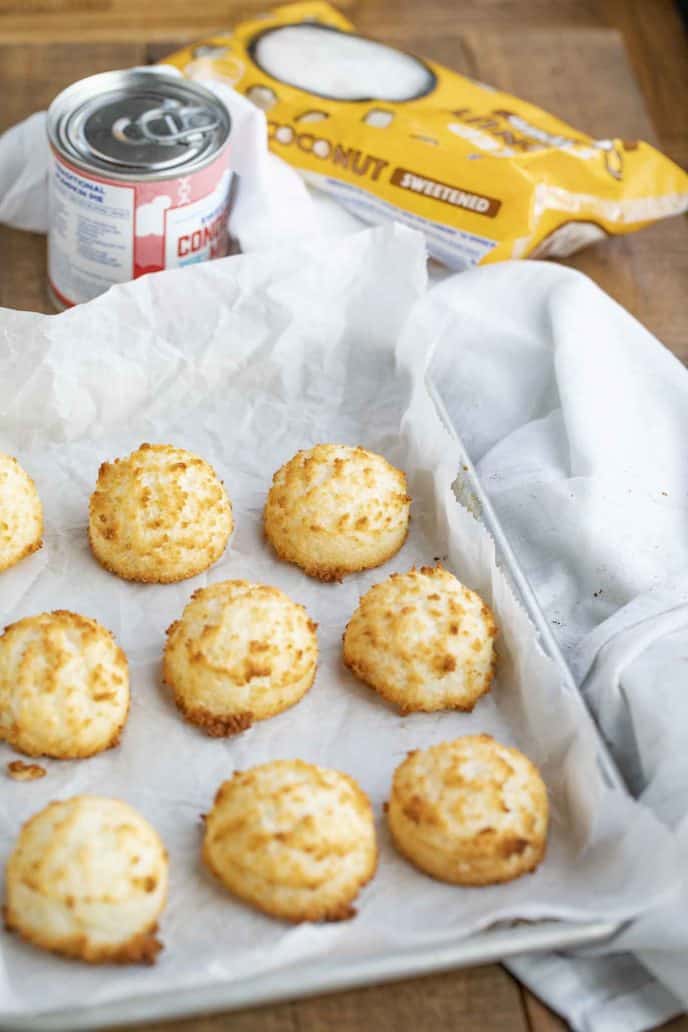 Create a free account to

Save Recipes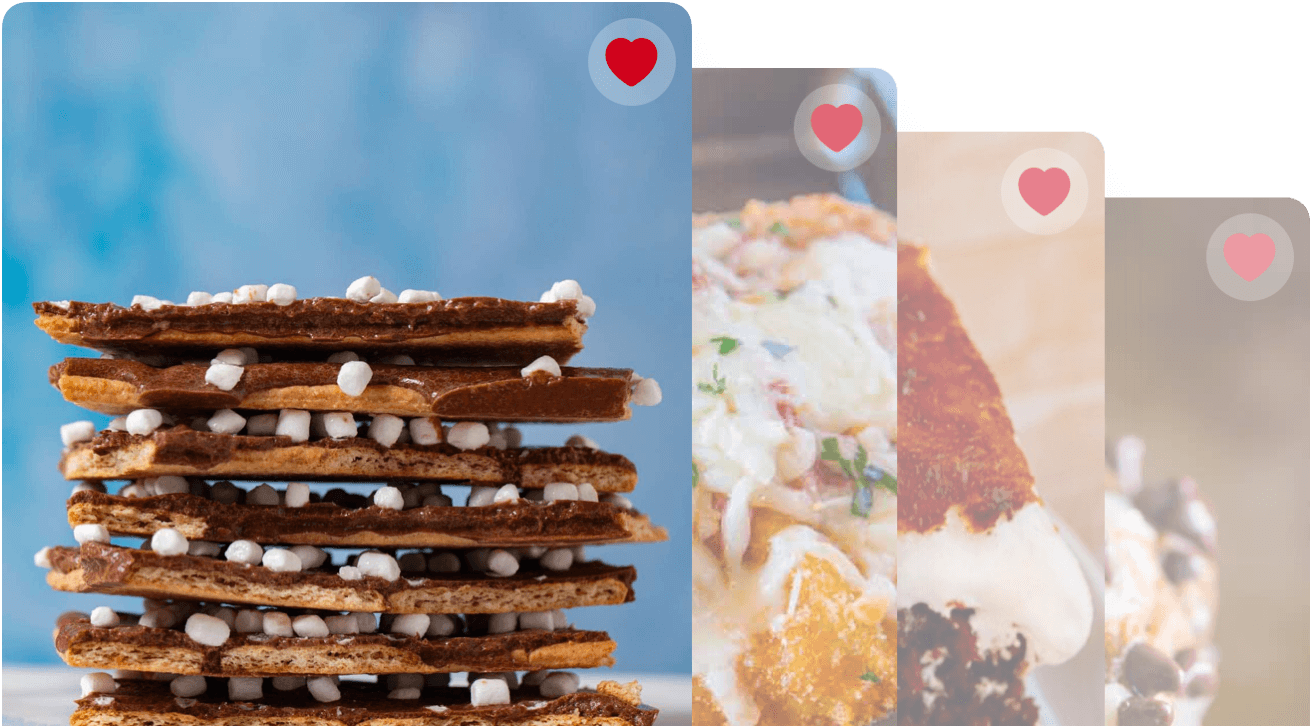 WHY DID MY COCONUT MACAROONS SPREAD?
Macaroons are supposed to spread a little bit when they're baking, but not by a lot. If your macaroons are spreading too much, they may not be cold enough. I like to start by making a small batch of 2-3 macaroons, to make sure they're ready to bake.
If they spread too much, return the macaroons to the refrigerator for another 20 minutes. Once the batter has a chance to get cold, the macaroons shouldn't spread in the oven when baking.
Also make sure you're not over-mixing, which may cause the coconut macaroons recipe to spread. Next time you make these, make sure you're measuring your flour correctly, as too much or too little can cause the macaroons to spread.
HOW TO STORE COCONUT MACAROONS
Coconut macaroons can be stored in an airtight container on the counter for 3-4 days, or several weeks in the refrigerator. Any longer than that, and I would recommend freezing this coconut macaroons recipe.
WHAT ELSE CAN YOU ADD TO MACAROoNS?
Semi-sweet chocolate chips
Sprinkles
Almonds
White chocolate or dark chocolate drizzle
Dried cranberries
Butterscotch chips
CAN YOU FREEZE MACAROONS?
Coconut macaroons are perfect for making ahead and freezing. In an airtight container, layer the macaroons between pieces of parchment paper. When you're ready, defrost on the counter before serving. These macaroons will last in the refrigerator for 3-4 months.
MORE COOKIE RECIPES
TIPS FOR MAKING COCONUT MACAROONS
Coconut will burn easily once it reaches a certain point. Make sure you check the coconut macaroons recipe after 15 minutes. They should just be golden brown.
Use an ice cream scoop to scoop the coconut mixture. This will ensure that all of the cookies are the same size and that they have that PERFECT rounded top and filled out look. This exact look in the picture is a combination very cold batter and scooping the batter with an ice cream scoop against my bowl with some pressure then pressing against the cookie sheet when releasing.
Use extra coconut to make these macaroons less dense.
If you want to dip these coconut macaroons in chocolate, use 8 oz of chocolate melting discs. Melt for 30 second increments in a microwave-safe bowl, or in a saucepan over low heat, until smooth. Dip the bottom of the cookies, then lay on a piece of parchment paper and refrigerate to harden.
Wrap these in plastic with ribbons for a decorative and easy gift to hand out during the holidays.
This recipe is egg free, make it gluten free by using gluten free all purpose cup for cup flour. Be careful, not all macaroon recipes are egg free!
If your coconut macaroons consistently burn on the bottom when they bake, use an oven-safe thermometer to make sure your oven is baking true to temperature.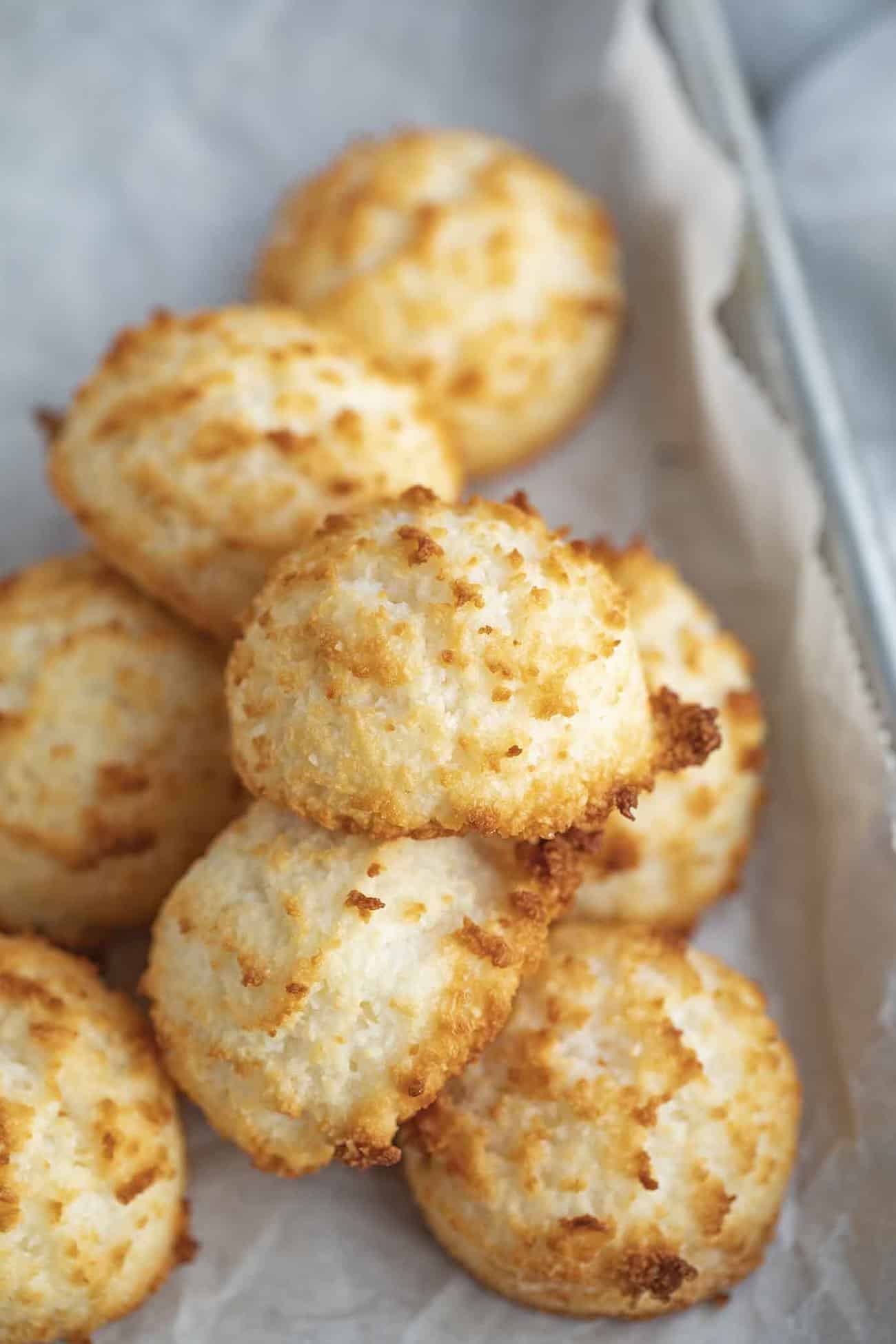 Coconut Macarons
Coconut Macaroons are sweet and chewy, made from coconut flakes, sweetened condensed milk, almond and vanilla flavor, and incredibly EASY to make!

Ingredients
14

ounces

sweetened condensed milk

1

teaspoon

vanilla extract

1

teaspoon

almond extract

2/3

cup

flour

5 1/2

cups

sweetened coconut flakes

14 ounce bag

1/4

teaspoon

kosher salt
Instructions
Mix the extracts in with the condensed milk before adding in the flour, coconut flakes and salt and mixing well.

Refrigerate for one hour before using ice cream scoop to scoop 18 macaroons onto parchment paper and baking in a 350 degree preheated oven for 15 minutes.
Recipe Notes
Note: click on times in the instructions to start a kitchen timer while cooking.
Nutrition Facts
Coconut Macarons
Amount Per Serving
Calories 207
Calories from Fat 81
% Daily Value*
Fat 9g14%
Cholesterol 7mg2%
Sodium 134mg6%
Potassium 180mg5%
Carbohydrates 29g10%
Protein 3g6%
Vitamin A 60IU1%
Vitamin C 0.6mg1%
Calcium 66mg7%
Iron 0.6mg3%
* Percent Daily Values are based on a 2000 calorie diet.