Ultimate Clam Chowder is creamy and savory, made with potatoes, cream, seasoning, and minced clams, ready in 30 minutes!
Creamy soups are one of our favorite things to make when it's cold outside, and this week we're making Corn Chowder, Broccoli Cheese Soup, and Slow Cooker Ham and Potato Soup.
ULTIMATE CLAM CHOWDER
Ultimate Clam Chowder is unbelievably creamy, hearty, and savory with a combo of heavy cream and whole milk added to seasoned vegetables, clam juice, clams, and red wine vinegar. This is my go-to version of New England clam chowder, due to the dairy and white color. It's great for starting a meal, or as a meal all by itself. Plus it's ready in 30 minutes, so it's perfect for weeknights!
WHAT IS THE DIFFERENCE BETWEEN MANHATTAN AND NEW ENGLAND CLAM CHOWDER?
The easiest way to tell the difference between the two chowder dishes is by the color of the broth. In Manhattan clam chowder, the broth is made with tomato instead of milk, giving it a red color.
Manhattan chowder is similar to Rhode Island clam chowder, but Rhode Island chowder has less vegetables. While New England clam chowder uses milk or cream with no tomatoes, with the addition of potatoes and a thicker consistency.
HOW DO YOU MAKE CHOWDER WITH FRESH CLAMS?
If you want to make this with fresh clams instead of canned, then you'll have to cook the clams first. Clean the clams by scrubbing them to remove any sand on the shells. Then add 1 cup of chicken broth to a large pot, for about 2 pounds of clams.
Cook over medium-high heat, until the water boils and clams steam open in about 10 minutes. Any clams that don't open should be discarded. Then remove the clams from the shells, discard the shells and drain the water. You can also reserve some of the drippings to make the chowder in place of the clam juice.
WHAT KIND OF POTATOES DO YOU USE FOR CLAM CHOWDER?
You can use peeled russet potatoes, but I like to use Yukon gold or red potatoes for clam chowder, because the skin is soft enough so you don't have to peel them. Yukon gold potatoes also have a buttery flavor that pairs perfectly with creamy soups.
HOW DO YOU STORE CLAM CHOWDER?
Let the chowder cool completely, then store in an airtight container for 2-3 days refrigerated. I don't recommend freezing this clam chowder recipe, because the broth has dairy and it won't freeze well. If you're making a Manhattan clam chowder that does not have dairy, you can freeze it for several months.

Create a free account to

Save Recipes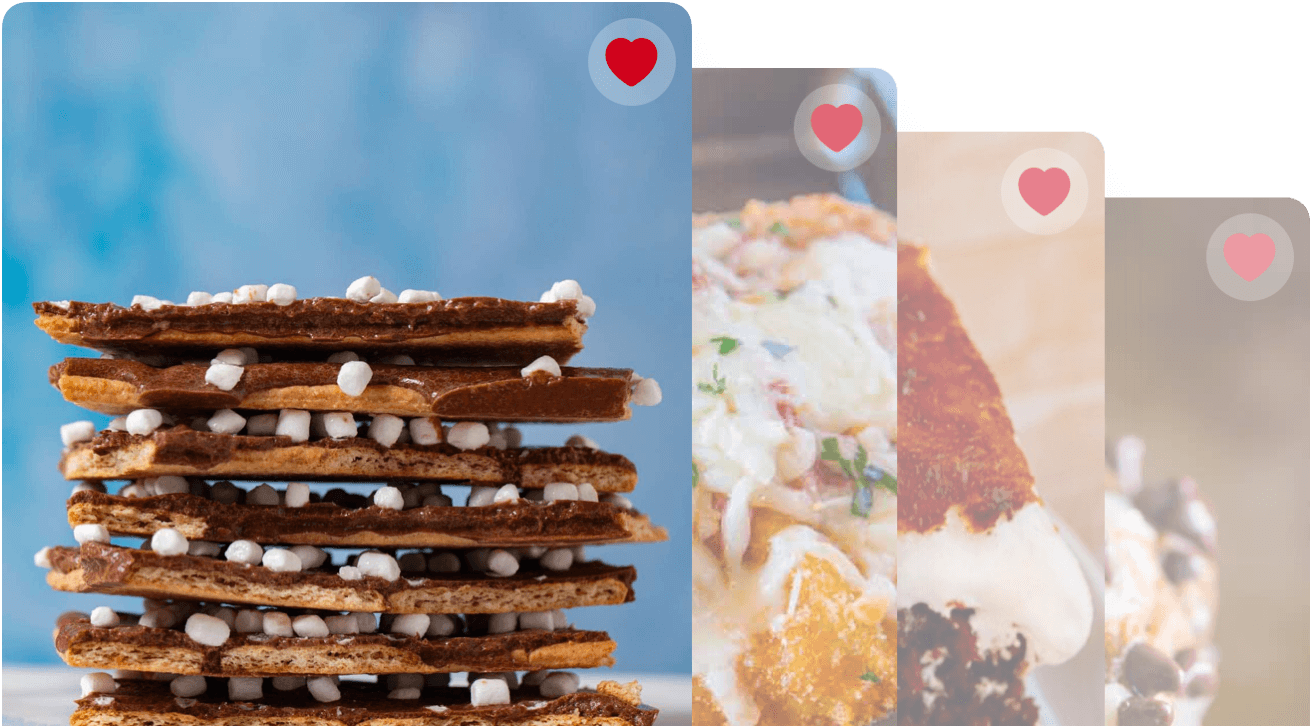 HOW DO YOU THICKEN CLAM CHOWDER?
If your chowder turns out too thin, you can thicken it by removing some of the broth, and whisking 1-2 tablespoons of cornstarch into it. Then slowly adding it back into the chowder. Wait a few minutes, whisking, while the broth thickens.
This clam chowder recipe starts with a quick roux. You can also try whisking the all purpose flour for slightly longer before adding any other liquids.
MORE SOUP and Stew RECIPES
TIPS FOR MAKING CLAM CHOWDER
Add additional seasoning to the clam chowder, like cayenne pepper. bay leaf, or thyme, for different flavors. You can also garnish with fresh thyme.
This recipe calls for heavy cream and whole milk, but you can substitute half-and-half if that's what you have. I would not make this with skim milk, because the fat is important for the creamy texture of the broth. I also like to use real bacon and not turkey bacon, for flavor.
You can use chicken stock or vegetable stock instead of clam juice in this recipe if you want to. Or use the clam stock you made by boiling fresh clams.
I prefer to use unsalted butter, because I like to control the flavor myself in a recipe.
Top the clam chowder with fresh herbs before serving, like thyme or chives.
This recipe already calls for celery and carrots, but you can also add parsnips, spinach, or more.
Serve this clam chowder with toasted bread, oyster crackers, and a glass of your favorite white wine!
Make this faster by chopping your vegetables ahead of time and using clams from a can with bottled clam juice.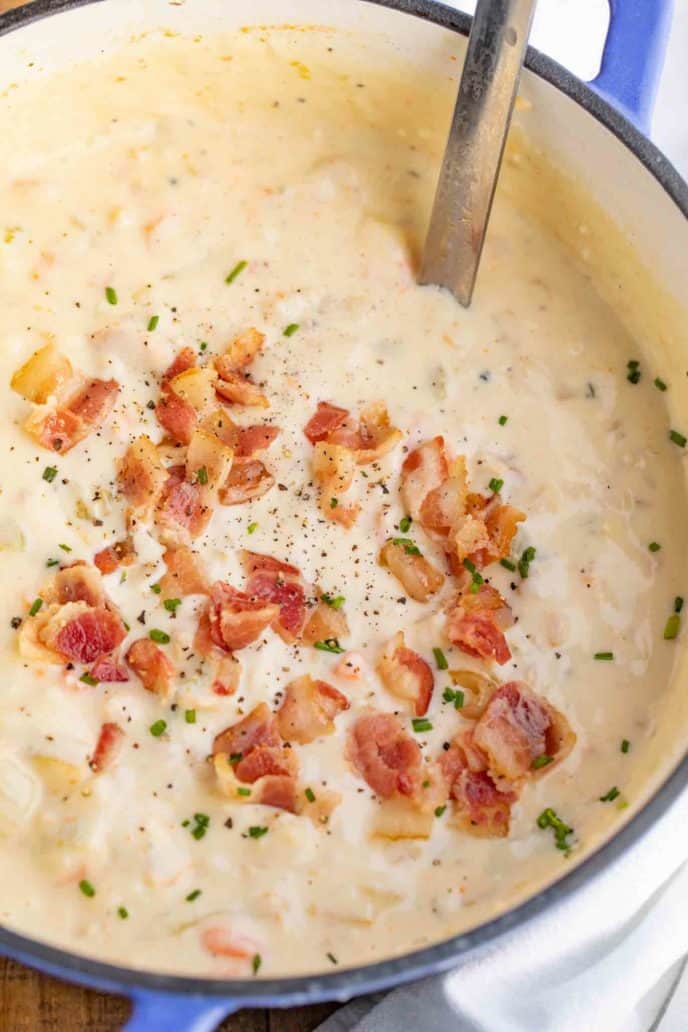 Ultimate Clam Chowder
Ultimate Clam Chowder is creamy and savory, made with potatoes, cream, seasoning, and minced clams, ready in 30 minutes!
Ingredients
4

pieces

bacon

diced

1

yellow onion

diced

1

clove

garlic

minced

2

stalks celery

diced

2

carrots

diced

2

teaspoons

kosher salt

1/2

teaspoon

coarse ground black pepper

3

6.5 ounce cans minced clams

2

yukon potatoes

diced

2

cups

clam juice

16 ounces

3/4

cup

butter

3/4

cup

flour

2

cups

heavy cream

2

cups

whole milk

1

tablespoon

red wine vinegar
Instructions
Add the bacon to a large dutch oven over medium heat and cook until crisp, remove and leave fat behind then add in the onion, garlic, celery, carrots, salt and pepper and cook for 3-4 minutes before adding in the juice from all the cans of clams, the clam juice and the potatoes and cook on medium heat for 15 minutes until the carrots and potatoes are tender.

In a medium saucepan add the butter and flour whisking together for a minute to cook out the raw flour taste before whisking in the heavy cream and whole milk until smooth then pour it into the pot with the vegetables and warm (do not let this boil).

Just before servings add in the clams and red wine vinegar and garnish with the crumbled bacon.
Recipe Notes
Note: click on times in the instructions to start a kitchen timer while cooking.
Nutrition Facts
Ultimate Clam Chowder
Amount Per Serving
Calories 434
Calories from Fat 324
% Daily Value*
Fat 36g55%
Cholesterol 112mg37%
Sodium 826mg36%
Potassium 377mg11%
Carbohydrates 21g7%
Protein 6g12%
Vitamin A 3330IU67%
Vitamin C 7.7mg9%
Calcium 114mg11%
Iron 1.7mg9%
* Percent Daily Values are based on a 2000 calorie diet.