Chocolate Sandwich Cookies that are rich and chewy with a creamy marshmallow filling just like from your favorite bakery!
We love sandwich cookies like these copycat Girl Scout Do-si-do's, and my favorite Christmas sandwich cookie, Linzer Cookies (you can't see these cookies at Christmas without smiling and eating a handful).
 Chocolate Sandwich Cookies
Chocolate Sandwich Cookies had an interesting road to the blog through a trip to Napa Valley, CA. We had eaten a box of desserts from Bouchon Bakery and I was both in a food coma and feeling a bit light in my wallet when I got to the chocolate sandwich cookie.
I remember the first time I knew I was going to create this recipe immediately. Thomas Keller has his version of a homemade Oreo Cookies (I will make that recipe for the blog too) that is just ridiculously good, so good I didn't want to share it. But that being said I just realized how did I not have a classic chocolate sandwich cookie on the site. This is basically childhood in its purest form. Chocolate cookies with cream filling? Yes. Yes please.
HOW TO MAKE COOKIES CHEWY
Keeping these cookies refrigerated before baking helps to keep the fat cold and keep them from melting and baking too hard.
Under bake by 1-2 minutes if you find your cookies are coming out more crisp than you'd like.
Use a silicone mat on your baking sheets if you find the bottoms of your cookies are browning too much.
Use a cookie scoop or roll them into a ball, don't flatten the dough before baking or it will spread too much.
Refrigerating these cookies lets the butter harden again before baking. I call for 60 minutes, this is a minimum.


Create a free account to

Save Recipes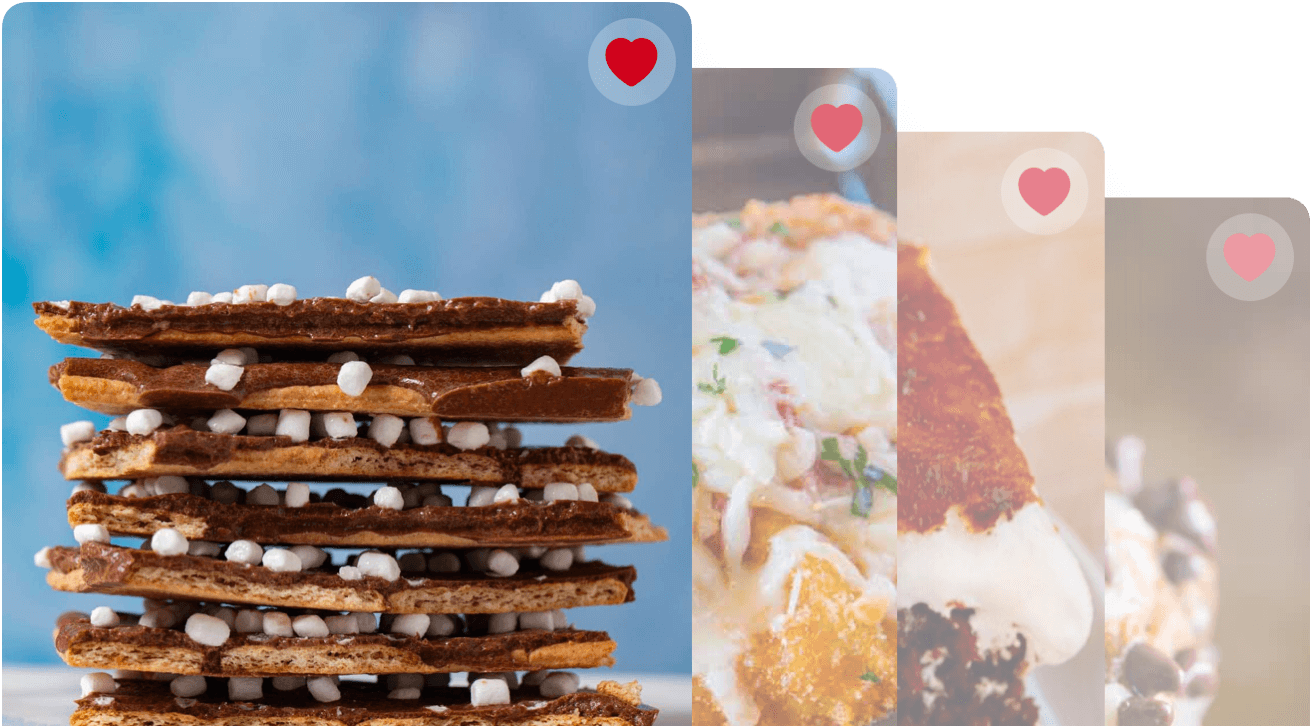 HOW TO STORE YOUR COOKIES:
Store them in an airtight container on your counter in a cool room. If the room gets too warm the filling will melt and ooze out of the sides. If you need to, refrigerate the cookies but be sure to let them come to room temperature before serving for optimum taste. If you serve them cold they won't taste as sweet.
Can you freeze these Chocolate Sandwich Cookies? Yes, you absolutely can, just freeze them with parchment paper between layers and wrap them well with plastic wrap to avoid freezer burn.
Baking Frozen Cookie Dough: If you want to freeze this cookie dough just freeze the dough balls after scooping. They will require 2-3 additional minutes of baking. Do not freeze the frosting as the texture will suffer in defrosting.
COOKIE BAKING DO'S AND DONT'S:
Preheat your oven well ahead of time and check the temperature with an oven thermometer.
Store them in a good tupperware container (this will ensure it stays airtight and they don't go stale).
Make sure to only mix in the dry ingredients until just combined.
You can use unsalted butter in place of the shortening but since I'm using shortening in the frosting it was easy to use it in both spots.
Use an electric mixer to beat the shortening and sugar well until very fluffy before adding in any more ingredients.
Remove your cookies from the cookie sheets as soon as they are firm enough with a large flat spatula
Cool your cookies completely on a wire rack before filling with marshmallow creme filling.
Use confectioners' sugar (also known as powdered sugar) until you get the consistency you want in your filling but if you make the filling too creamy just know as the filling gets warmer it will melt. I err on the side of firmer rather than softer.
If you have any remaining cookie sandwiches you don't fill with marshmallow creme you can also fill them with ice cream, like my Vanilla Ice Cream.
Make sure you are filling the flat side of the cookies before closing the cookie sandwiches.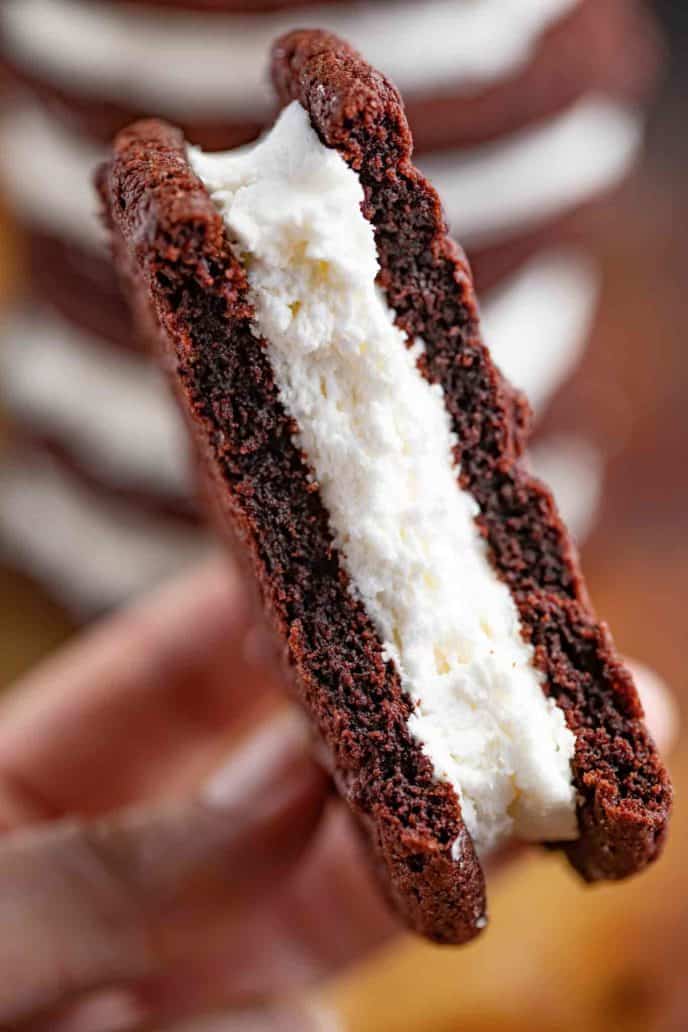 HOW TO MEASURE FLOUR CORRECTLY:
When measuring all purpose flour for baking do not put your measuring cup directly into your flour container. This is not an accurate way to measure flour as the scooping packs in more flour than you need. Instead use a clean spoon to spoon flour into your measuring cup, then level it off.
Do not use any utensils in measuring ingredients before using them with your flour, this can cause cross contamination in your flour container according to FoodSafety.gov.
More Cookie Recipes: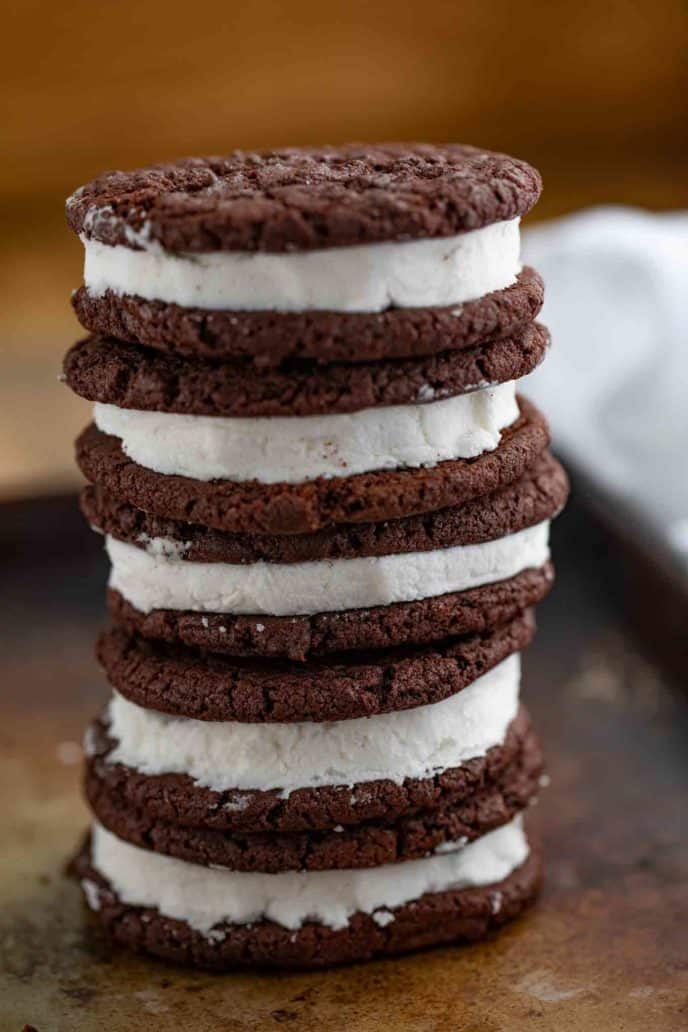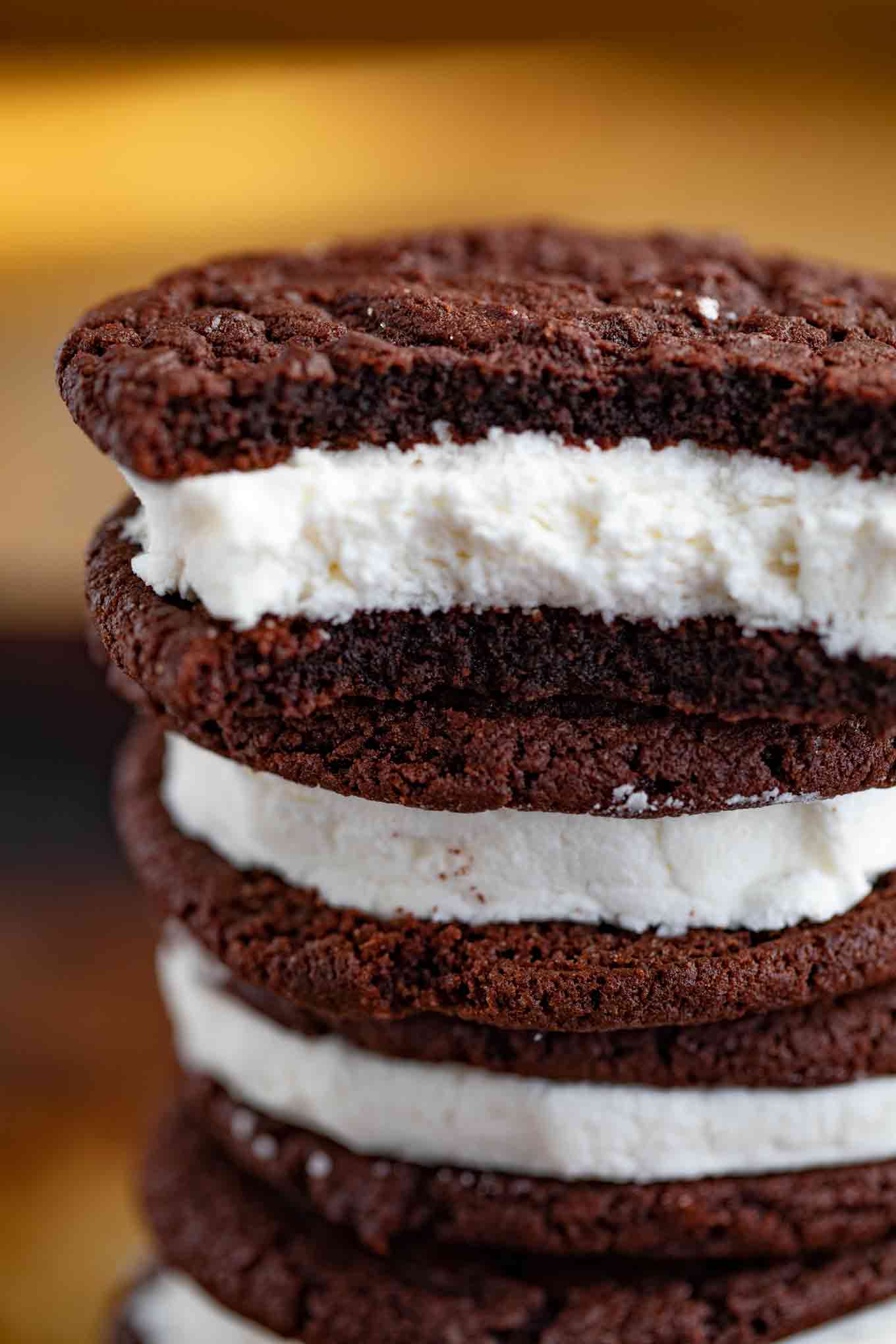 Chocolate Sandwich Cookies
Chocolate Sandwich Cookies that are rich and chewy with a creamy marshmallow filling just like from your favorite bakery!
Prep Time
1
hour
10
minutes
Total Time
1
hour
25
minutes
Ingredients
Cookie:
3/4

cup

vegetable shortening

1 1/2

cups

sugar

2

large eggs

2

teaspoons

vanilla extract

3

cups

flour

1

cup

unsweetened cocoa powder

1/2

teaspoon

salt

1

tablespoon

baking powder

1 1/2

cups

milk
Filling:
2

cups

marshmallow fluff

1 1/3

cups

vegetable shortening

2

cups

powdered sugar

1

tablespoon

vanilla
Instructions
Add the shortening and sugar to your stand mixer on medium speed until light and fluffy, about 1-2 minutes then add in the eggs and vanilla until fully combined.

Sift together the flour, cocoa powder, salt and baking powder then add it in, alternating with the milk until all the ingredients are combined.

Refrigerate the dough an hour before baking.

Preheat the oven to 375 degrees and using a 2 tablespoon measure scoop 2 tablespoon sized scoops of dough onto the baking sheet and bake for 11-13 minutes.

To make the cream filling add the ingredients into your stand mixer on low speed until combined.

If the filling is too stiff to spread add water by the teaspoons until spreadable.
Nutrition Facts
Chocolate Sandwich Cookies
Amount Per Serving
Calories 359
Calories from Fat 171
% Daily Value*
Fat 19g29%
Cholesterol 15mg5%
Sodium 62mg3%
Potassium 147mg4%
Carbohydrates 46g15%
Protein 3g6%
Vitamin A 45IU1%
Calcium 48mg5%
Iron 1.3mg7%
* Percent Daily Values are based on a 2000 calorie diet.