Ultimate Garlic Pork Loin Roast made with just five ingredients, it is easy enough for a weeknight meal and fancy enough for your holiday dinner parties!
Ultimate Garlic Pork Loin Roast
Want to make a dish that looks hard but is actually incredibly easy? A show stopping but EASY Garlic Pork Loin Roast is the way to go and you'll love the savings over the more expensive Perfect Garlic Prime Rib you may have been planning on making for your family holiday dinners.
Garlic Pork Loin Roast sounds like it would be a hard dish to make, but it actually takes almost no time at all. Part of the magic of this dish is the cut of the meat we are using. A pork loin (very different from the tenderloin) is a great cut of meat that comes with its own built in baster because of a thin fat cap it has along the top of the cut of meat.
By seasoning aggressively and using this fat cap we can make a really flavorful and delicious meal that has a crispy seasoned top and is super tender and flavorful.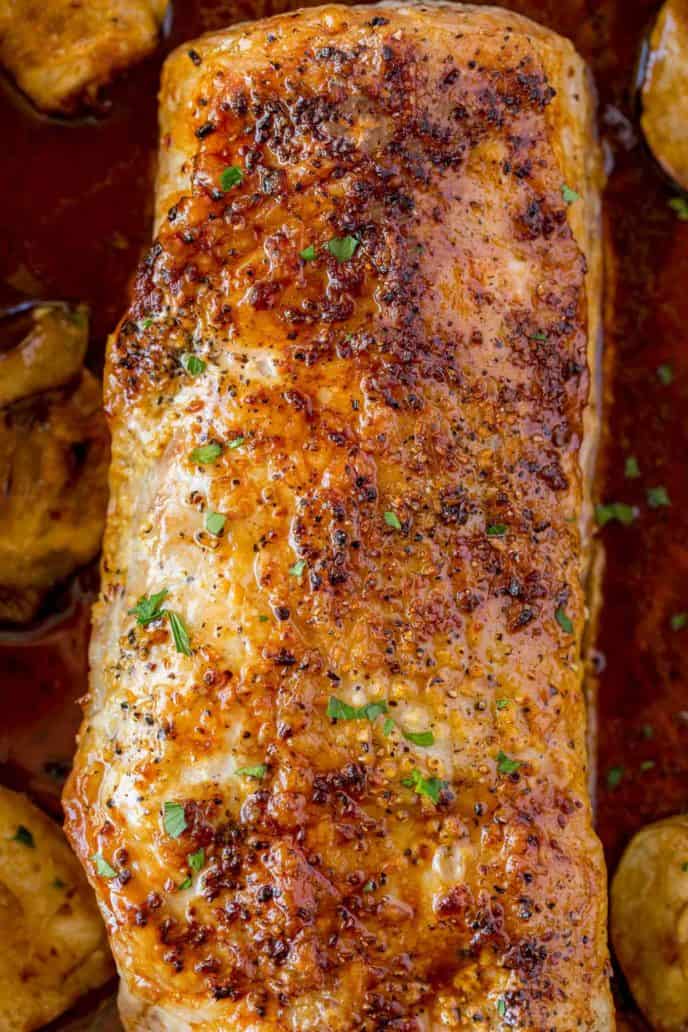 Can I cook a pork loin in the slow cooker:
You can certainly also make the Pork Loin Roast in the slow cooker, I have done it twice! Once I wrapped it in bacon and made a Slow Cooker Bacon Garlic Pork Loin and the second time was just last week when I make Slow Cooker Honey Apple Pork Loin where I stuffed the pork with sliced apples. Both options are great, and easy as well.
Tips for making your Garlic Pork Loin Roast:
Make sure you are cooking it with the white fat cap side up.
To have seasonings adhere even more you can score the top with your knife in an x pattern. You don't have to cut very deeply, just enough to create grooves the seasonings can sit in.
Cook on high heat.
You can add vegetables or apples onto the sides, but beware this will increase cooking time as it will keep some of the heat from cooking the pork.
A quick and easy side side instead of serving applesauce with your pork would be adding apples. I added 3 quartered Granny Smith apples and let it roast along side the pork.
What is a safe temperature to cook pork to?
The National Pork Board recommends cooking to an internal temperature between 145 and 160 degrees. This is a perfectly safe temperature to cook to even though it used to be higher in the past. Since we are cooking a roast here and it will continue to cook through once outside the oven, we will stick to 150 degrees doneness and let it rest for 5-10 minutes before serving.
How long do I cook a pork loin per pound:
To cook a pork loin (which is different and larger than a tenderloin) safely, you should cook it for roughly 25 minutes per pound of the loin you are cooking assuming the roast is 3-4 pounds. If you are cooking and entire loin (8-10 pounds) this figure changes completely. For a full pork loin reduce heat to 350 degrees and cook for about 10 minutes per pound.
Looking for more Pork Dishes?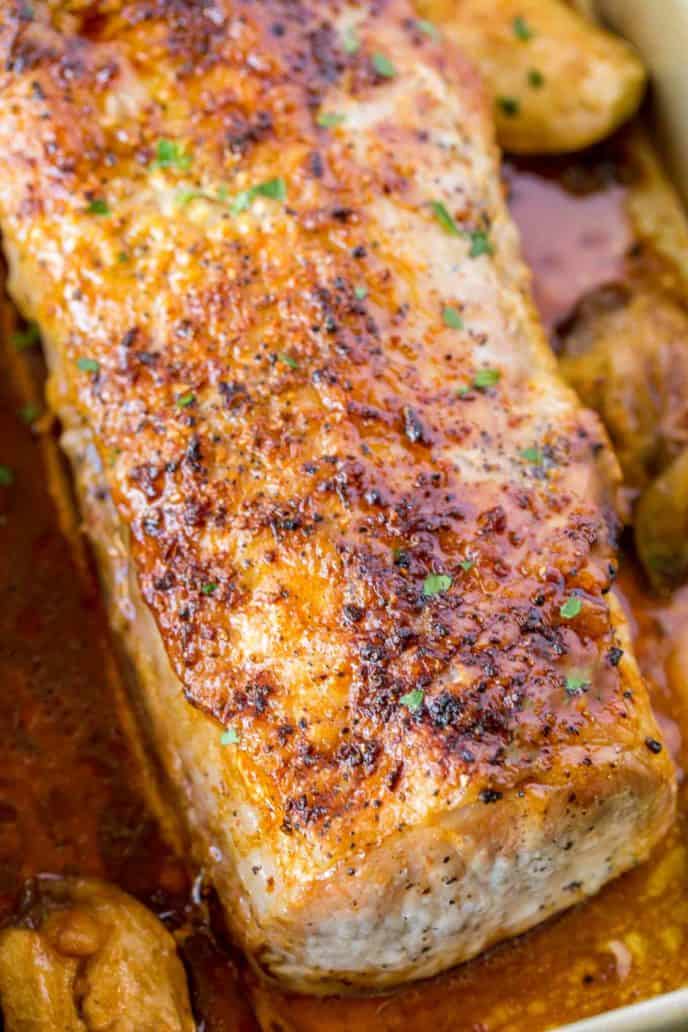 Tools Used in the making of this Garlic Pork Loin Roast:
9×13 pan: Keeps the liquids the pork releases from ending up on the bottom of the oven and browns great.
Oven Thermometer: Easy to test if your pork is done and safe to eat without opening the oven to check and slow down the cooking.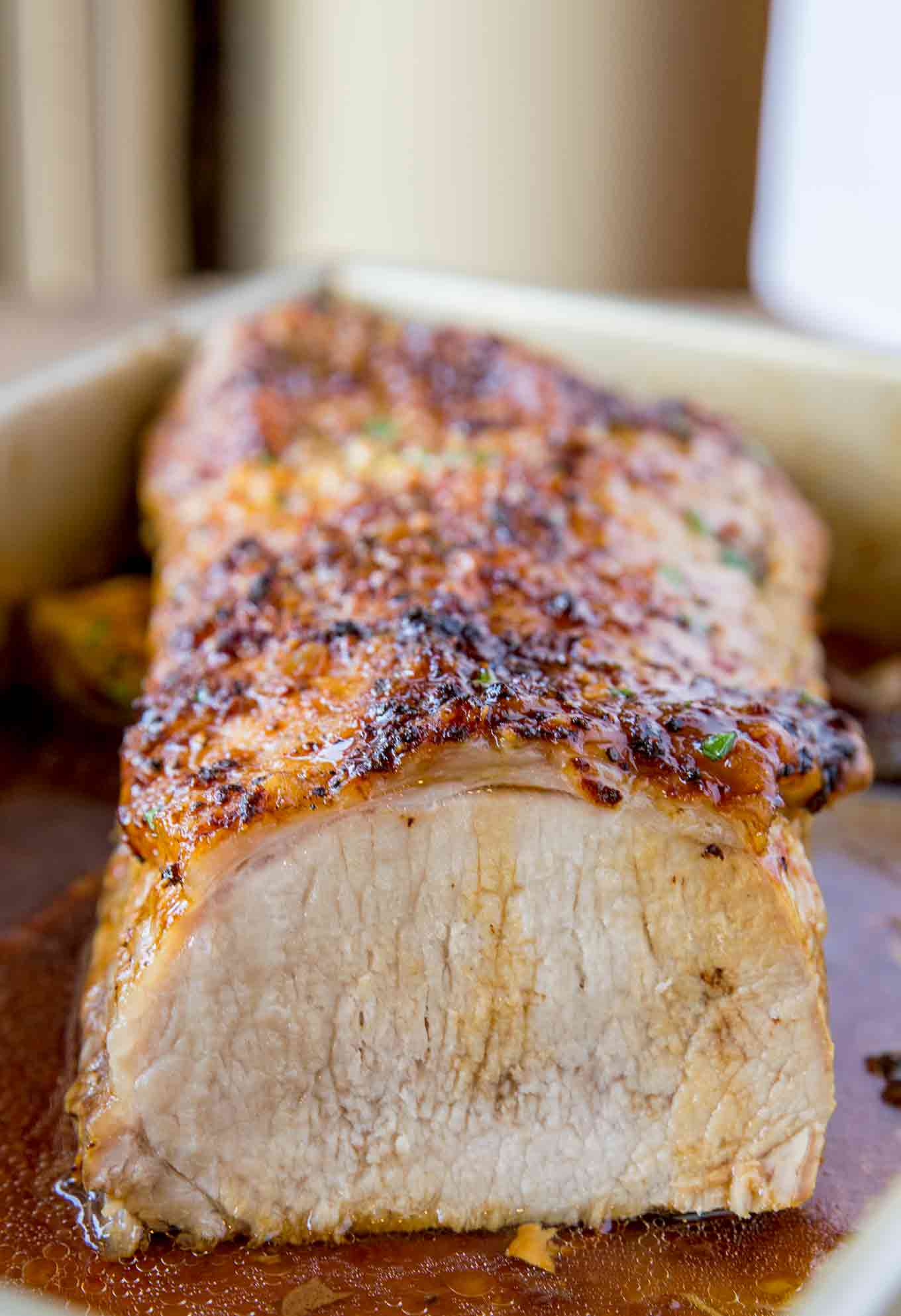 Ultimate Garlic Pork Loin Roast
Ultimate Garlic Pork Loin Roast made with just five ingredients, it is easy enough for a weeknight meal and fancy enough for your holiday dinner parties!
Total Time
1
hour
5
minutes
Ingredients
3

pound

pork loin

not tenderloin

4

cloves

garlic

minced

1/2

teaspoon

Kosher salt

1/2

teaspoon

coarse ground black pepper

1/4

teaspoon

paprika
Instructions
Preheat your oven to 375 degrees.

Add the pork loin to your baking pan.

Coat with the garlic on top of the fat cap.

Mix the seasonings (salt, pepper and paprika) in small bowl and rub it on the pork.

Cook the pork for 60-75 minutes or until it has reached a temperature of 150-160 degrees.

Remove from the oven and let rest for five minutes before serving.
Nutrition Facts
Ultimate Garlic Pork Loin Roast
Amount Per Serving
Calories 250
Calories from Fat 36
% Daily Value*
Fat 4g6%
Cholesterol 147mg49%
Sodium 314mg14%
Potassium 912mg26%
Protein 47g94%
Vitamin A 40IU1%
Vitamin C 0.7mg1%
Calcium 15mg2%
Iron 2.3mg13%
* Percent Daily Values are based on a 2000 calorie diet.