Slow Cooker Creamed Corn is super creamy, made with just a few ingredients and it won't take up any oven space or active cooking time when you're busy preparing for the holidays!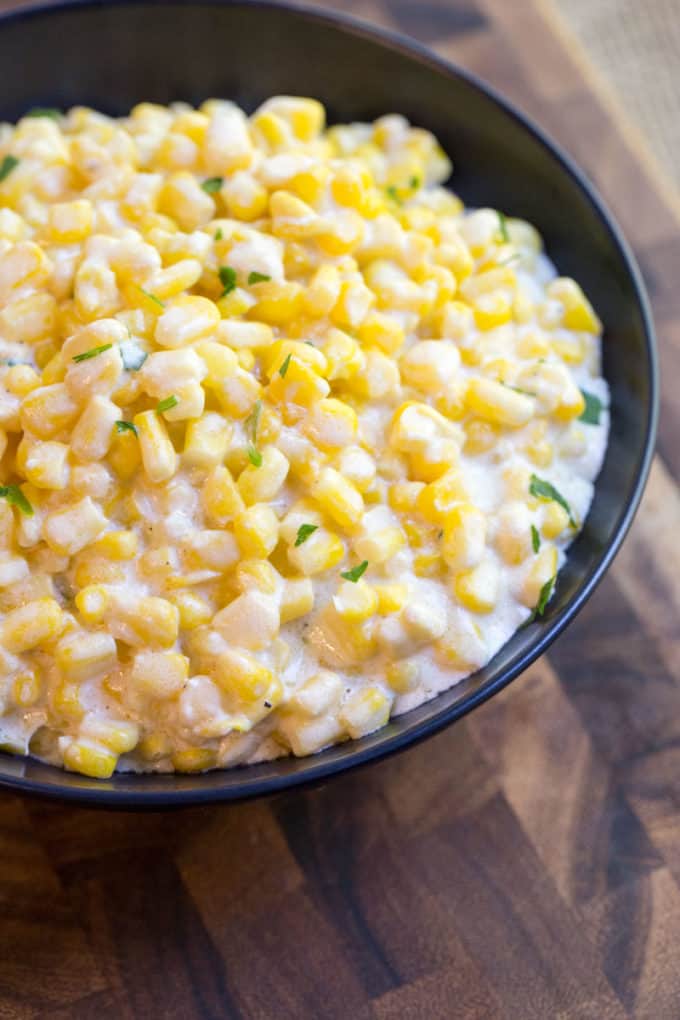 Creamed Corn in the Slow Cooker
Slow Cooker Creamed Corn may sound like a funny recipe to include in August (still can't believe it is August already!) but it is perfect all year round. We enjoy the recipe as often as we can and I always appreciate not having to remember to check the oven/skillet/microwave/any other cooking device because all the magic in this creamed corn is in the slow cooker.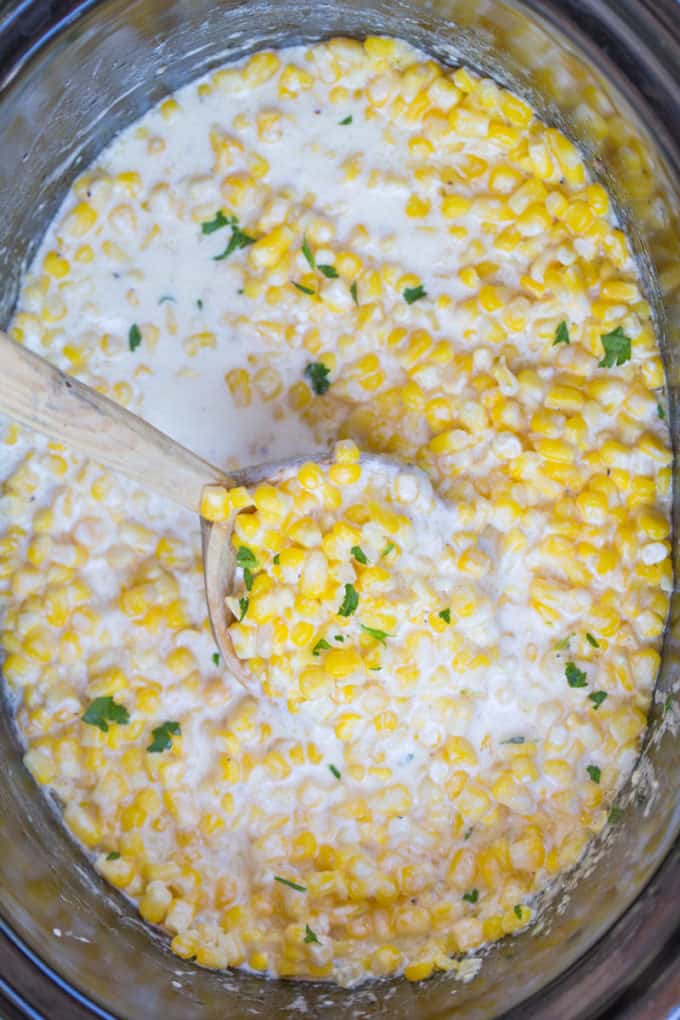 Creamed Corn Is Perfect for Holidays, or Any day!
But Sabrina, seriously, creamed corn in the Summer? YES! Some awesome ways to enjoy Slow Cooker Creamed Corn:
In the summer! Do you want to stand in front of a hot stove right now or open a hot oven door? I sure don't! And this creamed corn is the perfect side to anything you've got going on the grill! Plus…even better, do you have fresh summery sweet corn you can use? 
During the holidays! Hands down, this crock pot creamed corn is a LIFESAVER during the holidays. If I have ever catered an event for you or you've ever been to our home for the holidays you know it looks like a buffet of foods. To me, that means four things on my stovetop, both ovens in FULL use and possibly even my steamer and or ice cream maker. Basically, my kitchen is bursting at the seams. Enter this slow cooker creamed corn! I LOVE it, it works on its own and I usually make a triple batch because it is so popular people look like they came for the creamed corn and had a bit of everything else!
Did I mention the holidays? It is worth noting calories officially don't count in the months of October, November and December. Any doctors want to agree with me on this one? 😉
Office Party? Add all the slow cooker creamed corn ingredients right before you leave for the office, then plug it in to cook away while everyone is working in the morning. Right around lunchtime it will be FRESH and ready to be eaten! No bringing the savory dish warmed up in the microwave! 
Flavor options for Slow Cooker Creamed Corn
The best thing about this Slow Cooker Creamed Corn is that it makes the perfect BASIC recipe for your arsenal, but you can totally mix things up and have it taste completely different too!
Some awesome flavor alternatives for creamed corn you may enjoy:
Spice it up! Bring out some Latin flair and add some diced jalapenos, cumin, oregano and garlic powder to the mix! It would be perfect alongside some carne asada skirt steak!
Go New England with it! Add some diced bell peppers, a bit of Old Bay seasoning and enjoy with your favorite seafood dish!
Steakhouse Style! Add some amazing fresh cracked black pepper to the base recipe and garnish with some chopped chives.
Making Short Ribs, or anything else you would pair with creamy cheesy grits? Instead of a whole pack of cream cheese add half, then add the sharpest cheddar cheese you love and enjoy the creamy cheesy sharp cheddar Slow Cooker Creamed Corn. 
So many fun ways to play with this creamed corn recipe, if you have any other flavors you would throw in let me know! I think this recipe is one of those you keep in your back pocket for easy impressive sides.
Tools Used In This Crock Pot Creamed Corn:
Slow Cooker: Love this slow cooker and how programmable it is, it has been a workhorse for me… until…
My New Slow Cooker: This beauty arrived only a few days ago and I'm already going gaga for it. Obviously common sense says you do not need such an expensive option, but the thing I LOVE about it is the cast aluminum insert that I can brown in and put in the oven. Now for roasts I can brown the meat in the insert and not lose a bunch of the flavor by transferring the meat and leaving the browned bits behind. If you're thinking of a new slow cooker, consider it if your budget is open. (this slow cooker will be appearing more and more in the future on here) ps. totally not a sponsored plug even though I have worked with them before, this beauty was out of pocket!
Kosher Salt: 3 pounds for less than 3 dollars I have had the same box for 2 years and the difference in flavor between table salt and Kosher Salt is night and day. Once you start cooking with it you will hardly use table salt again.
Old Bay Seasoning (optional): The perfect option for a quick New Englad style fix, I also use it on fries and meats.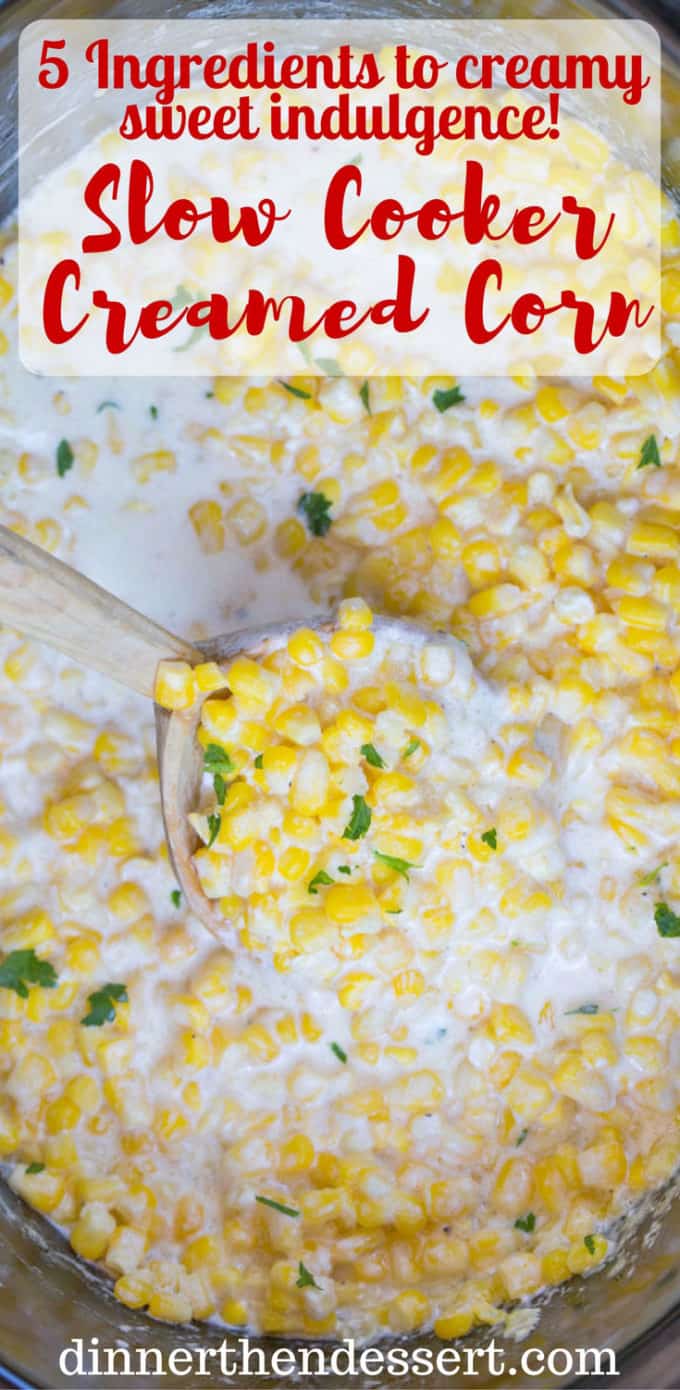 Slow Cooker Creamed Corn
Slow Cooker Creamed Corn is super creamy, made with just a few ingredients and it won't take up any oven space or active cooking time when you're busy preparing for the holidays!
Total Time
2
hours
5
minutes
Ingredients
2

pounds

frozen sweet yellow corn

(I use either Trader Joes Super Sweet or Whole Foods Organic Frozen Corn)

1/2

cup

milk

(anything but non-fat)

4

tablespooons butter

, salted or unsalted (if you use salted skip the Kosher salt below)

1

teaspoon

Kosher salt

1

(8-ounce) package

cream cheese

(anything but nonfat)

1

tablespoon

sugar*

Chopped parsley for garnish
Instructions
Add everything but the parsley to your slow cooker leaving the cream cheese on top.

Cook on low for 4 hours or on high for 2.

Take the lid off and stir, then let cook and additional 15-20 minutes with the lid off.

Stir again, the mixture should be thicker than before you took the lid off.

Garnish with the chopped parsley and serve.

Check for flavor, you can additionally add salt or pepper if needed, but remember creamed corn isn't necessarily meant to be particularly salty like a corn on the cob could be.
Recipe Notes
Recipe adapted from Gimme Some Oven <---serious blogging idol right there.
* If you use a normal frozen corn (ie. not a super sweet) you can add this sugar. Using the Trader Joe's Super Sweet one or another labeled as "sweet" I would not add the additional sugar.
Nutrition Facts
Slow Cooker Creamed Corn
Amount Per Serving
Calories 102
Calories from Fat 18
% Daily Value*
Fat 2g3%
Cholesterol 2mg1%
Sodium 241mg10%
Potassium 213mg6%
Carbohydrates 20g7%
Protein 3g6%
Vitamin A 270IU5%
Vitamin C 5mg6%
Calcium 17mg2%
Iron 0.4mg2%
* Percent Daily Values are based on a 2000 calorie diet.