Oven Baked Loaded Garlic Fries tossed in slightly warmed chopped garlic, olive oil and kosher salt, just like you enjoy at the ball game!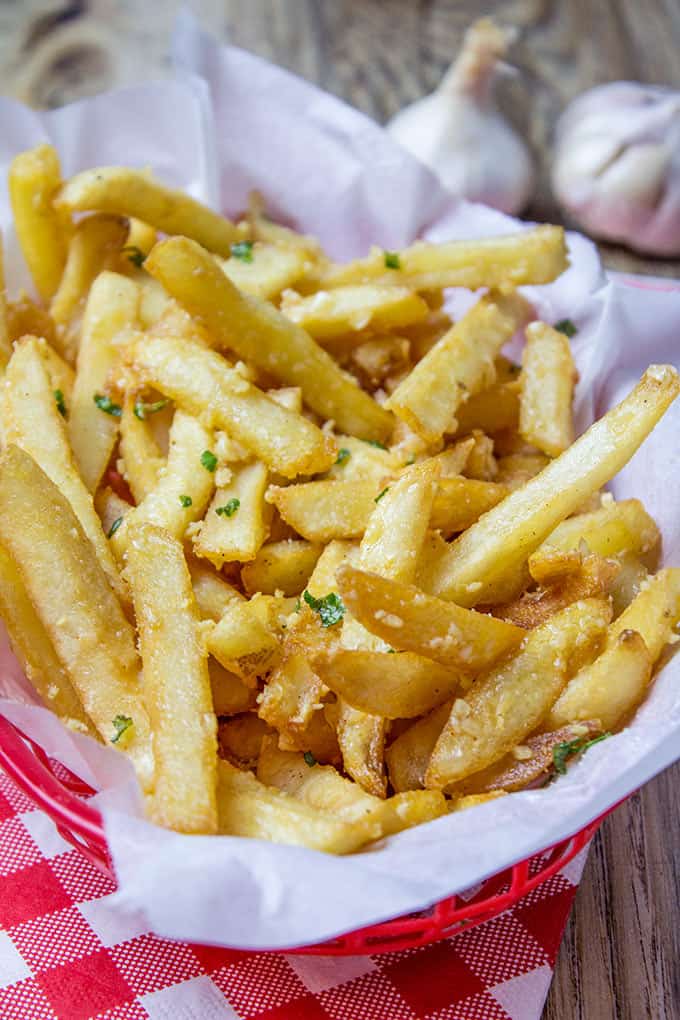 Easy, stadium-worthy Garlic Fries
Loaded Garlic French Fries are one of the main reasons I love going to ball games (Go Dodgers!) and outside of the amazing Dodger dogs and giant bags of salted peanuts, it isn't a baseball game if your breath isn't all garlicky!
I make fries two ways in our house. The first way is the easier one and the method I used on these garlic fries. Packaged frozen french fries!
Wait! No! Don't click away! Haha, I am kidding, but yes, it is pretty unlike me to use frozen french fries. The thing about french fries though, is that while they may seem so easy to make (potatoes, oil…done right?) they are actually a long process to do correctly, like with my In-N-Out Animal Style Fries. There is the peeling, cutting, soaking, drying, first fry, rest, second fry.
When I am running low on time or want a quick fix, I grab a bag of frozen fries (I love Alexia and Cascadian Organic), bake them and toss most (kids get unseasoned) of them with a seasoned topping.  The garlic and olive oil are my favorite hack because it makes instant garlic fries!
loaded fries flavoring/topping ideas:
Cheddar powder and powdered milk with a bit of salt for Cheddar and Sour Cream Fries!
Blue Cheese Powder (this is my new addiction since I discovered it at the Fancy Food Show in January) and chopped bacon.
Taco Seasoning packet with a dipping sauce of sour cream and a bit of hot sauce mixed in.
Creole Fries the Bold Creole seasoning from Tony Chachere's (another Fancy Food Show find I've loved!)
Ground or fresh (super finely minced) ginger, a touch of sesame oil mixed with canola oil, minced garlic and salt dipped in teriyaki sauce
So grab some fries, toss them with this garlic/olive oil for easy, but delicious garlic fries. But make sure you are surrounded by those who will love you no matter how strong your garlic breath is!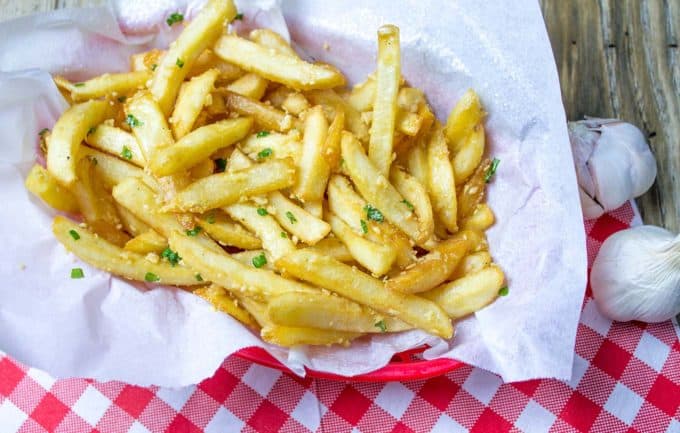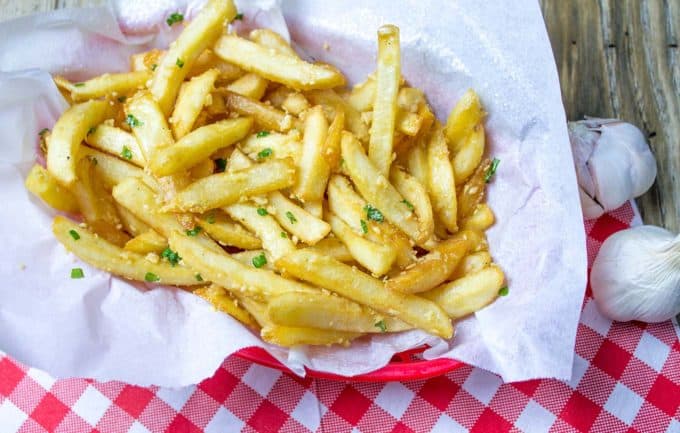 Loaded Garlic French Fries
Oven Baked Loaded Garlic French Fries tossed in slightly warmed chopped garlic, olive oil and kosher salt, just like you enjoy at the ball game!
Ingredients
1

bag frozen french fries

6

cloves

of garlic

, very finely minced

1

teaspoon

Kosher salt

2

tablespoons

canola oil

chopped parsley for garnish
Instructions
Cook the fries according to the directions on the bag.

When the fries come out of the oven, put them in a large bowl.

A minute or so before serving the fries, put the garlic in a small fry pan with the oil.

Heat on medium and cook for 15-30 seconds, not long enough to brown the garlic, just long enough to take mute the raw garlic flavor.

Toss the fries with the garlic oil mixture and salt.

Serve hot and garnish with parsley if desired.
Nutrition Facts
Loaded Garlic French Fries
Amount Per Serving
Calories 41
Calories from Fat 36
% Daily Value*
Fat 4g6%
Sodium 387mg17%
* Percent Daily Values are based on a 2000 calorie diet.