Krispy Kreme Oreo Cake Doughnuts are a fun play on the Krispy Kreme chocolate glazed cake doughnut and Oreo doughnut that is double glazed!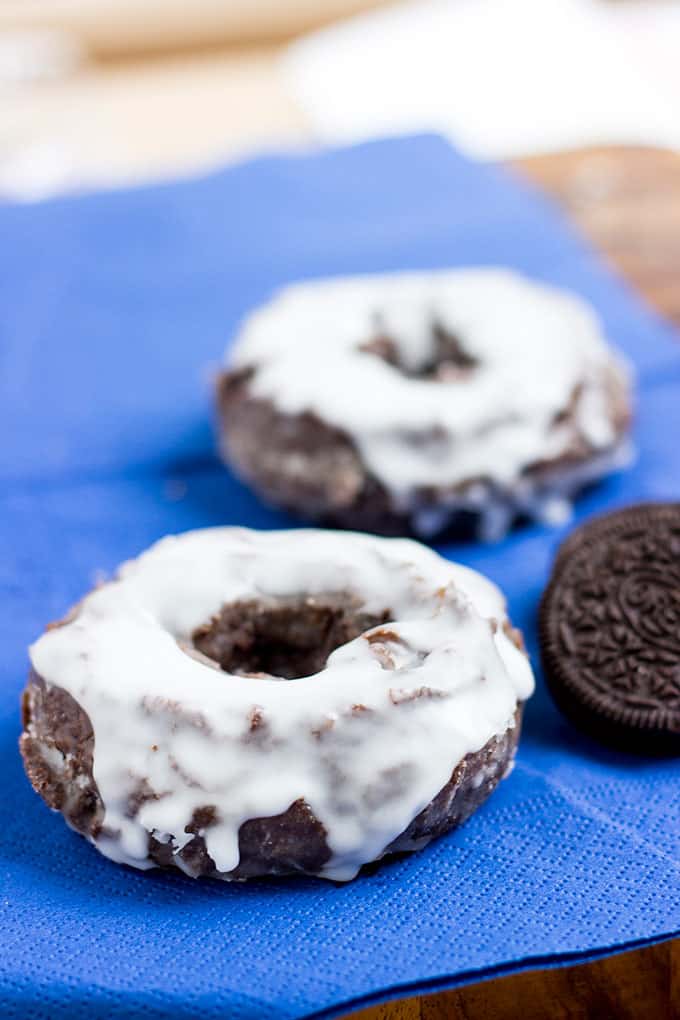 These Krispy Kreme Oreo Cake Doughnuts are the more decadent version of my Krispy Kreme Sour Cream Doughnuts I made over the holidays because they have Oreo crumbs in the batter along with cocoa powder. Plus with that double icing, it tastes like you have an Oreo cookie with the creme filling!
These doughnuts came about pretty honestly just after Christmas. We had made the original Sour Cream Doughnuts and my husband who loves chocolate a bit more than any person should said "you should make a nutella version of these." So of course that sounded like something I couldn't wait to try (especially since he ate the last of the original batch and I was still hungry), so I decided to whip together a batch immediately. I've never had such a serious Nutella fail before. The consistency of the Nutella just did not play nicely with my batter, no matter how many changes I made. I ended up wasting a whole giant jar of Nutella (which is enough to make you almost cry), I was full from tasting the failures but still craving a good doughnut and I was frustrated I couldn't even send the results off to my husband's office.
The next day I saw a photo of these Krispy Kreme Oreo Cake Doughnuts from and I knew Oreo was the way to go. As long as you are careful to process the Oreo crumbs until they are as fine as your food processor can get them you will end up with the most amazing Oreo Cake Doughnuts.  The recipe and directions are based off of the recipe for the Original Sour Cream Doughnuts.
Some quick tips for this recipe I learned the hard way:
I lowered the amount of sugar from the original recipe by a 1/4 cup. I like them being a little less sweet because of all the oreo crumbs and double glaze, but if you want the true Krispy Kreme experience feel free to bump the sugar back up to 1 1/4 cups.
For some reason even though I have made these a half dozen times now, the icing will always vary in consistency at least a little bit. Play it by sight. The first round really is pretty thin, then dries into a shattery crisp layer and the second layer of glaze is much thicker.
For the second layer you may feel like the glaze is too thick but you are looking for just a tiny bit thinner than peanut butter. If you even get to the thickness of honey, you've gone too far and it will drip down all the sides and will still look pretty translucent.
I dip the whole doughnut, bottoms too. Aside from being awesome totally enrobed in the glaze, it almost helps keep it fresher even.
If I had more Oreos I would've totally crushed them into small chunks and sprinkled them on top. I mean at that point why not, right?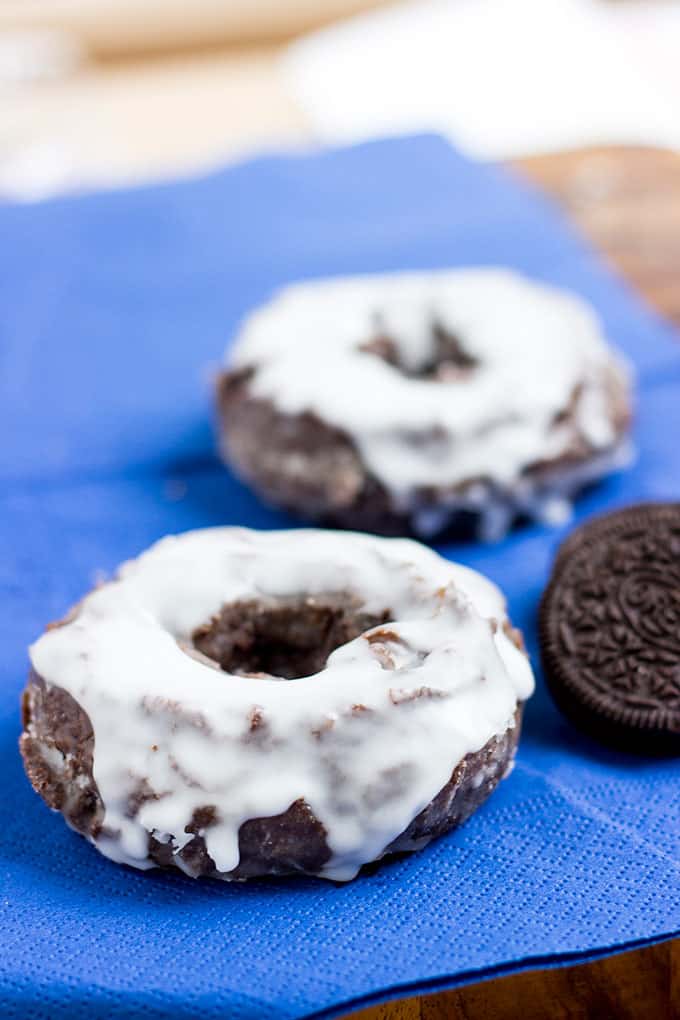 Krispy Kreme Glazed Oreo Cake Doughnut (Copycat)
These Krispy Kreme Oreo Cake Doughnuts are a fun play on the Krispy Kreme chocolate glazed cake doughnut and Oreo doughnut that is double glazed!
Ingredients
1

cup

sugar

1 1/3

cup

all-purpose flour

1/3

cup

oreo crumbs

, very finely processed

1/3

cup

cocoa powder

3/4

teaspoon

baking powder

3/4

teaspoon

baking soda

3/4

teaspoon

salt

2

large egg yolks

1

teaspoon

vanilla extract

3

tablespoons

shortening

2/3

cup

sour cream

1/3

cup

whole milk

2

cups

powdered sugar

, divided

2

teaspoons

vanilla extract

2 1/2

tablespoons

milk
Instructions
In a large bowl, whisk together the sugar, flour, Oreo crumbs, cocoa powder, baking soda, baking powder, and salt.

In your mixer fitted with a paddle (I use a silicone paddle so there isn't anything the paddle misses), mix the sugar and shortening for 1 minute (It will look grainy)

Add in the yolks and mix for another minute.

The color of the mixture will be distinctly lighter in color.

Add in your dry ingredients alternating with the sour cream 1/2 of each at a time on low speed.

If you are using a silicone flat paddle like me you won't have to scrape the bowl, otherwise scrape the sides down after each addition.

Move the mixture to another clean bowl and cover with saran wrap for an hour.

In a cast iron skillet or another heavy bottomed pan, add 2 inches of canola oil.

Heat oil to 325 degrees (I use a candy thermometer for this).

Roll out the dough to 1/2 inch thickness on a lightly floured surface.

Using a doughnut cutter or cutters in your favorite sizes cut into doughnut shapes.

Carefully take your scraps and continue to re-roll as needed.

Carefully add the dough to the hot oil.

Fry until the dough floats to the top, then an additional fifteen seconds.

Flip and fry for another minute.

Remove to cooling rack to glaze.

For the glaze: Mix 1 cup of the powdered sugar, vanilla and milk until completely mixed.

Dip the doughnuts in the glaze and let harden for 10-15 minutes.

Add the last cup of powdered sugar and whisk again.

Dip the donuts a second time for the thicker glaze on top.

Top with your extra Oreo crumbs or chunks
Nutrition Facts
Krispy Kreme Glazed Oreo Cake Doughnut (Copycat)
Amount Per Serving
Calories 290
Calories from Fat 72
% Daily Value*
Fat 8g12%
Cholesterol 40mg13%
Sodium 251mg11%
Potassium 120mg3%
Carbohydrates 52g17%
Protein 3g6%
Vitamin A 140IU3%
Vitamin C 0.1mg0%
Calcium 46mg5%
Iron 1.5mg8%
* Percent Daily Values are based on a 2000 calorie diet.