Fried Pickles – how to make fried pickles with sliced dill pickles, breaded in seasoned flour, and fried crispy. Homemade fried pickles are a fun side dish to add to your bbq plate and take just a few minutes to make.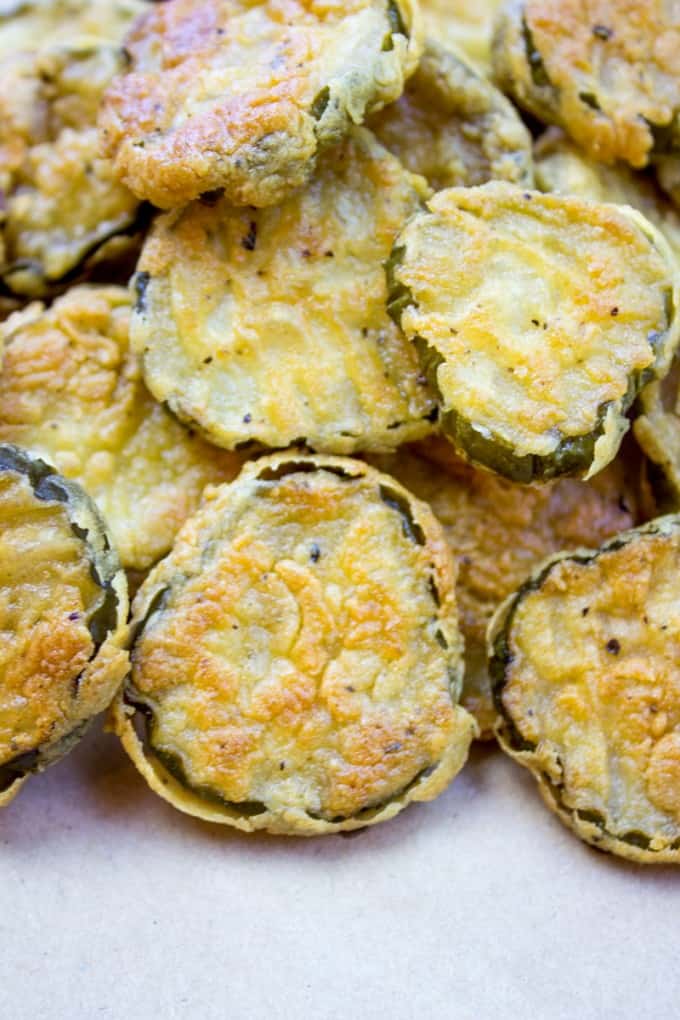 Fried Pickles
Fried Pickles have been a popular recipe for years with clients when BBQ was on the menu. They are crispy, slightly spicy and sour. Fried pickles taste amazing dipped in ranch or honey mustard. The first time I tried Fried pickles was actually because a client wanted me to make some for a BBQ at their beach home I was catering, and I had never had one. So, I went to a local BBQ house and ordered some. I immediately wondered how on earth I had never had fried pickles before because they were amazing!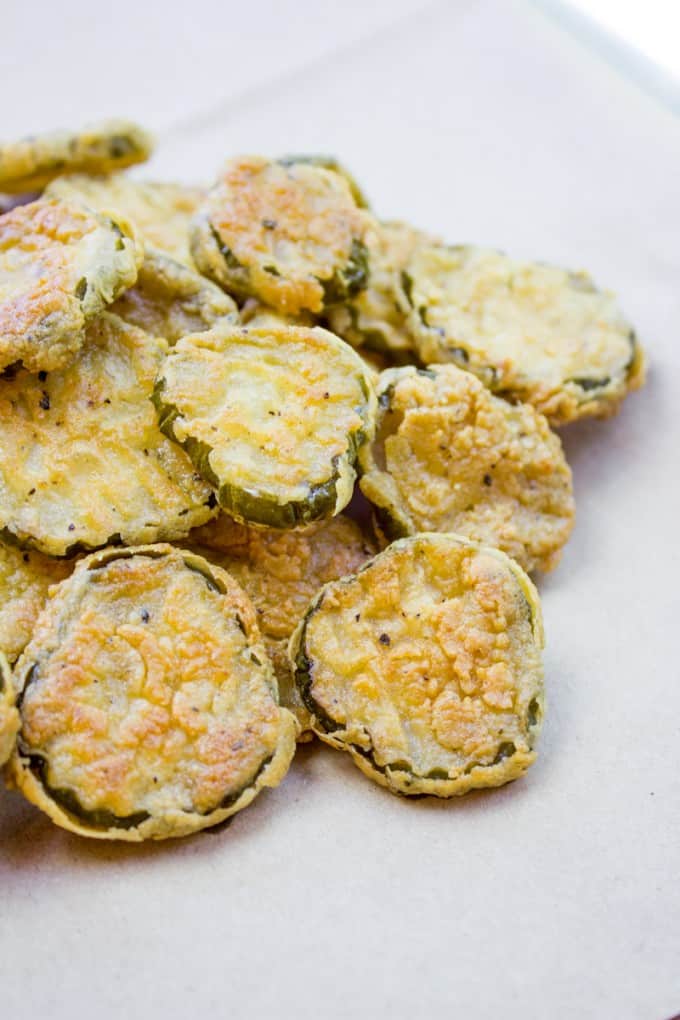 How to Make Fried Pickles – A Couple Tips
Mind you I am pretty much addicted to pickles, so frying them and dipping them in a sauce isn't a huge leap for me. I met the chef and told him I was looking to recreate them for my clients and he was totally cool about it and not only shared his recipe, but he actually showed me how to make fried pickles.
The one thing I immediately noticed was he was slicing whole pickles! I would've guessed he would've used pre-sliced ones for convenience sake, but he said that they are usually too thin and too soggy once you dry them out. So a quick slice with a crinkle cut knife is all it took, and the pickle chips looked amazing.
I did the frying in my trusty cast iron skillet because I made a bigger batch, but use a pan as small as you need. No point wasting more oil if you don't have to, the pickle flavor will stick around!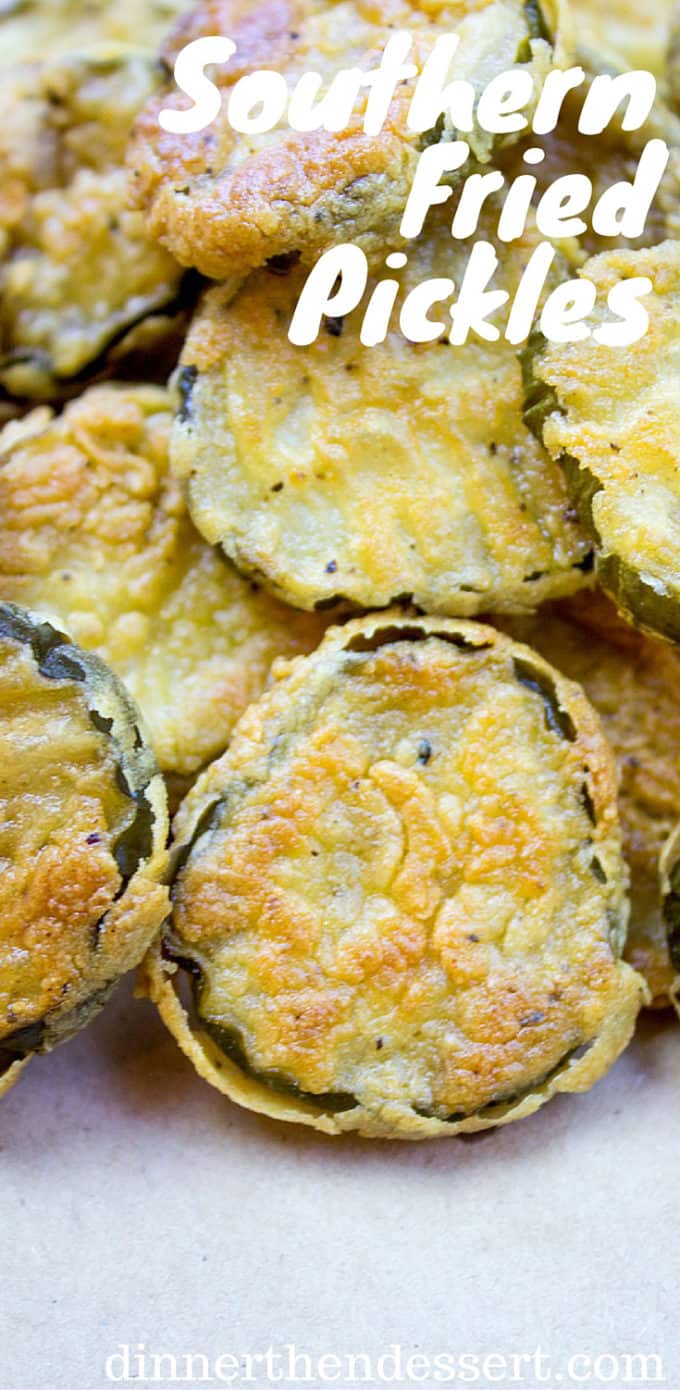 Fried Pickles
Fried Pickles made with sliced dill pickles breaded in seasoned flour and fried crispy are a fun side dish to add to your bbq plate and take just a few minutes to make.
Ingredients
1

jar of whole dill pickles

2

eggs

, beaten

1/2

cup

buttermilk

1

cup

flour

1

teaspoon

salt

1/4

teaspoon

black pepper

1

teaspoon

garlic powder

1/2

teaspoon

paprika

1

pinch cayenne

vegetable or canola oil for frying

(depending on the size of pan you use)
Instructions
Slice the dill pickles 1/4 inch thick with your

crinkle cut knife

and dry them very well between sheets of paper towels.

Add your flour, salt, black pepper, garlic powder, paprika and cayenne to a bowl and mix.

Add the eggs to the buttermilk in a separate bowl and whisk to combine.

Add the pickles to the dry ingredients and coat.

Remove from the dry ingredients.

Add the pickle chips to the milk mixture one at a time and dredge back through the dry ingredients a second time.

Coat all the pickle chips before you begin frying, once you start frying you won't have time to mess with the pickle chips and your fingers getting caked in egg/breading mixture.

Heat your oil to 350 degrees.

Fry the pickles in small batches to avoid crowding, for two minutes or until golden brown.

Remove and drain onto a brown paper bag. If you drain the oil onto paper towels the pickles will soften from the steam it creates.

Serve with ranch or honey mustard dipping sauce.
Nutrition Facts
Fried Pickles
Amount Per Serving
Calories 85
Calories from Fat 9
% Daily Value*
Fat 1g2%
Cholesterol 42mg14%
Sodium 393mg17%
Potassium 64mg2%
Carbohydrates 13g4%
Protein 3g6%
Vitamin A 215IU4%
Calcium 29mg3%
Iron 1mg6%
* Percent Daily Values are based on a 2000 calorie diet.