Easy Mushroom Rice in just 30 minutes with buttery mushrooms, caramelized onions and thyme. So much flavor you can even skip the stuffing!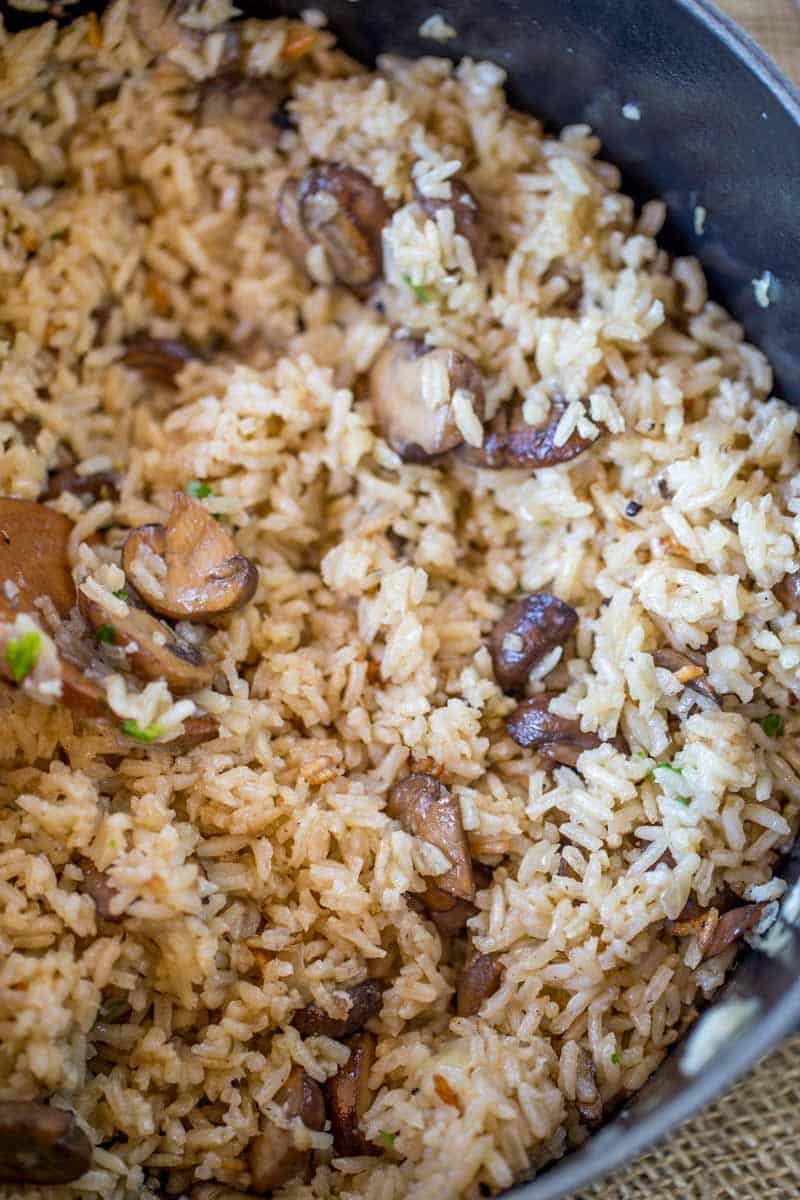 Easy Mushroom Rice was NOT meant to be posted on the blog as a stand alone recipe. I actually had this recipe within the recipe for the 
Slow Cooker Mushroom Rice
 I posted just a few weeks ago. I also happen to have a button on my site that says "Jump to recipe."
So when the emails started pouring in asking for a stovetop version of the recipe I directed them back to the post where it was described in detail. By about the tenth one I realized I should just include a separate recipe because I didn't fully get how you all like to use the site.
As a rule I tend to stay on topic with recipes, I like to give tips and tricks, give complementary dish ideas and also link to similar recipes. I don't really go into stories or personal topics because A: I'm not all that interesting and B: After almost 10 years as a working chef I find most people care about the food.
So, if you saw the previous recipe and wondered why this is here, now you know, haha.
Tips for this One Pot Stovetop Mushroom Rice:
Just like the slow cooker version, I use butter instead of oil. The butter and mushroom flavors are the best together.
I like to pump up flavors using a base which is a broth/stock that has been cooked down to a paste. It is all natural/organic and the flavors are super concentrated, so you don't have to wait to reduce liquids. A good small spoonful in this recipe will take it from good to outstanding.
After cooking I like to leave it off and covered for 5-10 minutes. I find rice to be fluffier and better cooked if not stirred and served immediately after the heat is turned off.
CHEF SECRET: So…. I'd like to say chefs about your waistline. But as someone who has cooked for hundreds of families and over a hundred dinner parties I can tell you, we care more about you saying "WOAH, this is amazing." The way to do that? Add in a tablespoon of butter when you stir/fluff the rice. The difference in flavor and texture will be huge.
Want Baked Mushroom rice?
Once you get the pot up to a boil, add it to a 325 degree preheated oven for 20-25 minutes.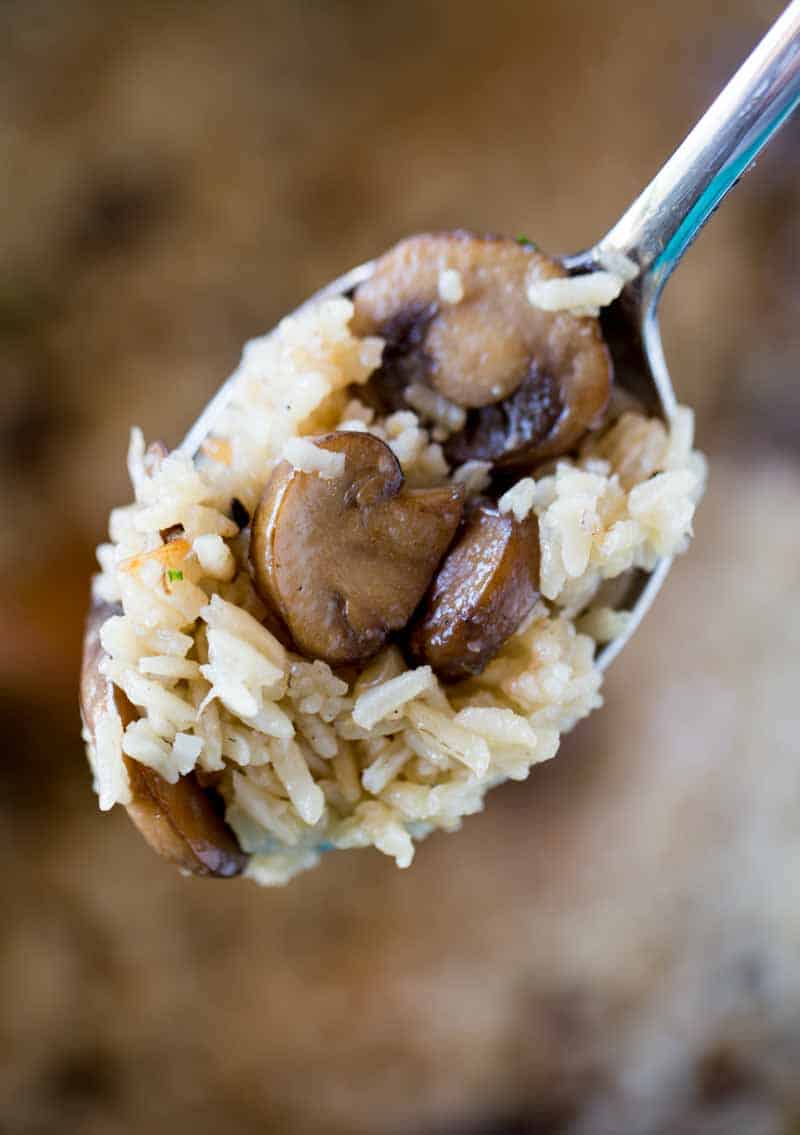 Looking for more side dishes?
Tools Used in the making of this Easy Mushroom Rice:
Better Than Bouillon: I almost never buy boxes of broth because I keep the beef, chicken and vegetable version of this Better Than Bouillon.
Mushroom Base: Made from the same people above, this is an easy way to pump up the mushroom flavor. Also helps if you're using white mushrooms. It is much cheaper than buying by the box and you don't have to worry about an opened box going bad in the fridge.
Cast Iron Dutch Oven: This is my most used pot in my kitchen. Like the skillet version it is heavy, keeps heat well and gives the BEST sear ever.
Easy Mushroom Rice
Easy Mushroom Rice in just 30 minutes with buttery mushrooms, caramelized onions and thyme. So much flavor you can even skip the stuffing!
Ingredients
3

tablespoons

butter

, divided

1

pound

crimini mushrooms

, sliced

1

yellow onion

, diced

2

cloves

garlic

, minced

1/2

teaspoon

Kosher salt

1/4

teaspoon

coarse ground pepper

1/2

teaspoon

dried thyme

(or 1 teaspoon fresh thyme)

2

cups

rice

4

cups

vegetable or beef broth
Instructions
Cook on medium high for 3-5 minutes or until they start to caramelize.

Stir and cook an additional 3 minutes.

Remove the mushrooms.

Add in the onions, salt, pepper and thyme along with the last tablespoon of butter and cook on medium for 3-5 minutes or until they start to turn golden brown.

Add in the garlic and mushrooms, then stir and cook for 1 minute.

Add in the rice and broth.

Bring to a boil, then reduce to low heat and cook covered for 18-20 minutes.

Leave covered for an additional 10 minutes before serving.
Nutrition Facts
Easy Mushroom Rice
Amount Per Serving
Calories 234
Calories from Fat 45
% Daily Value*
Fat 5g8%
Cholesterol 11mg4%
Sodium 636mg28%
Potassium 392mg11%
Carbohydrates 41g14%
Protein 6g12%
Vitamin A 130IU3%
Vitamin C 1.2mg1%
Calcium 36mg4%
Iron 0.9mg5%
* Percent Daily Values are based on a 2000 calorie diet.